FAQ: Doing Laundry on Disney Cruise Line Ships
You're sailing the seven seas! The sun! The salty air! The endless buffet! The laundry?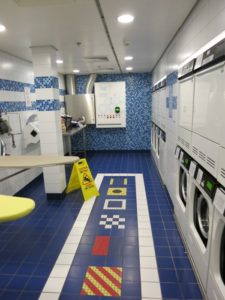 The last thing you probably want to be thinking about during your Disney Cruise Line vacation is laundry, but there are many situations where you might have to freshen up your clothes while traveling. Some of these might include:
You've spilled something on a key piece of your travel attire.
You have an ill child who soiled some of their clothing
You want to avoid luggage fees and are trying to get by with only carry-on-size bags with minimal clothing
You're making a lengthy trip and it's not practical to bring enough outfits for your entire stay
The weather was not as predicted, forcing you to re-wear your most climate-appropriate outfit
Your formal attire became wrinkled in your suitcase
You want to dry swimsuits before packing them to go home
OK, you've convinced me that I might need to do laundry. Does that mean there are laundry rooms on the Disney Cruise Line ships?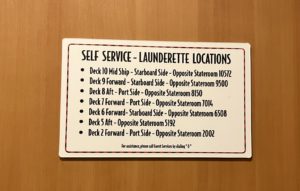 You guessed correctly, there are laundry rooms for guest use on Disney Wonder, Magic, Dream, and Fantasy. We're presuming that there will laundry rooms on the Disney Wish (debuting this summer).
Where are the laundry rooms?
On the Wonder and Magic, self-service laundry rooms are on Decks 2, 6 and 7. On the Dream and Fantasy, they're on decks 2, 5, 6, 7, 8, 9, and 10.
Are there specific hours that laundry rooms are open?
The laundry rooms are open 24 hours per day.
How much does load of laundry cost?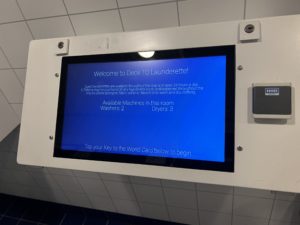 For the self-service machines, each wash starts at $3.00 and each dry starts at $3.00. Nearby vending machines offer detergent and fabric softener, starting at $1.00 each.
You're welcome to bring your own detergent and fabric softener if you have brand preferences. Many guests travel with a few detergent pods and fabric softener sheets in their luggage.
Do I need to bring coins for the machines?
No, all payment is made via your Key to the World Card (room key). There is no mechanism to use cash at the machines. Payment instructions are posted in the laundry rooms.
How long will it take to do a load?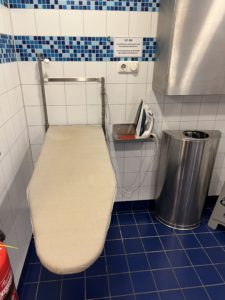 Wash times vary from about 11 minutes to about 52 minutes, depending on the setting you choose (from warm rinse to hot heavy wash). Most dryer cycles take about 45 minutes.
Do I have to stay by the machine while I'm doing laundry?
No – with a caveat.
Since the laundry payment process is now linked to your Key to the World card and your onboard account, you can check on the status of your washing using the DCL Navigator app. You'll get an alert when your load is done. Please pay attention to the alerts and head back to the laundry room in a timely fashion – other guests may be waiting for your machine.
I see irons in the laundry room photos here. Can't I do touch-up ironing in my room?
No. Unlike the hotels at Disney World (and most other U.S. land-based locations), you will not find an iron, steamer, or ironing board in your stateroom. These are a fire hazard at sea. There are irons in the laundry rooms, but they must stay there.
Are the laundry rooms busy?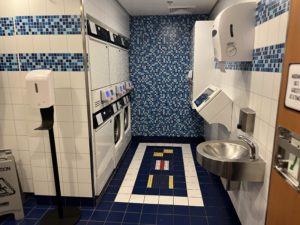 This varies widely depending on they type of sailing you're on.
When I've been on three or four-night sailings in the Caribbean, I've rarely seen guests using the laundry rooms. If you need to do a quick load or touch up dress shirt, you'll likely be able to do so right away.
When I've been on 7+ night sailings in Europe, competition for the laundry facilities is a full-contact sport. Most guests are from the U.S., which means that their travels in Europe are longer than a week (sometimes much longer) which means clothes will need to be washed and reworn, plus longer sailings are more likely to have semi-formal and formal nights that require pressed garments.
If you're on a sailing of a week or longer, try to think about when less popular wash times will be. Afternoons on sea days are particularly popular – avoid those if you can.
What if I have laundry, but I don't want to do it myself?
Disney Cruise Line also offers full service laundry.
There will be a fabric bag and a laundry order form inside your stateroom closet. If you don't see it, just ask your stateroom attendant. (Be aware that if take the laundry bag home, DCL will charge you a $10.00 fee.)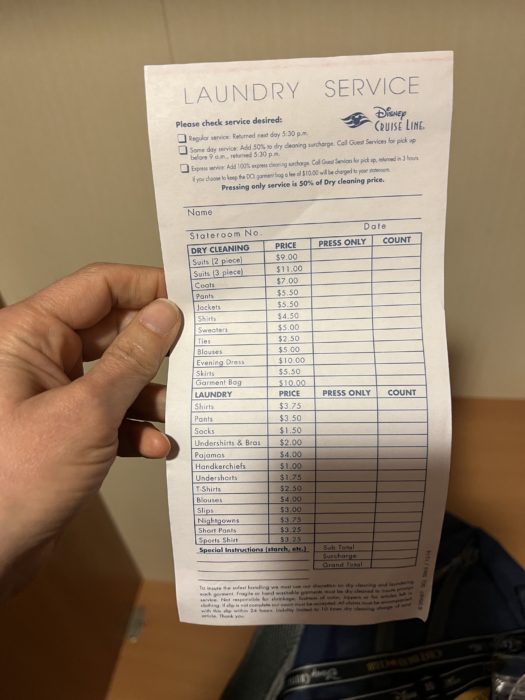 How do I start the full-service laundry process.
Just tell your stateroom attendant or call guest services from your stateroom phone and they'll send someone to pick it up.
How long does it take to get my laundry back if I send it out?
Almost always within 24-hours. Three-hour rush service is available for an upcharge.
How much does full-service laundry cost?
Basic items (tee shirts, pajamas, socks, jeans, underwear, etc.) cost between $1.50-4.00 per piece. This can add up quickly – it may be an option that you want to use sparingly.
Dry cleaning is also available. A suit costs $9.00 and an evening dress costs $10.00. (Compared to the price of dry cleaning near my home in New York, these rates are quite favorable.) While you may not a suit or dress cleaned onboard, it is common to need them pressed. Pressing is available at half the price of cleaning.
Anything else I should know?
In addition to retrieving your completed laundry in a timely manner, another important courtesy is to please keep talking to a minimum in the laundry area. The machines themselves are fairly quiet, or at least sound mostly like white noise, but I have heard guests with staterooms located near the laundry rooms complain about the noise from guests chatting outside their doors while waiting for their wash to be done. Please be considerate of your fellow travelers. (And when you're selecting your stateroom, try to avoid those immediately adjacent to the laundry areas.)