Five Things to Know About Expedition Everest – Legend of the Forbidden Mountain
Each park at Disney World has at least one big-draw coaster. In other parks you can enter the grid with Tron Lightcycle/Run and travel to space with Guardians of the Galaxy: Cosmic Rewind, but in Animal Kingdom you'll go to Asia and ride Expedition Everest — Legend of the Forbidden Mountain. Expedition Everest is one of those uniquely Disney experiences: great storytelling and a thrilling ride.
Here are 5 things to know that make it such a remarkable experience. (And if you just want to take a shortcut to the mountain top, you can skip ahead to the nuts and bolts section.)
1. You won't need your passport or personal sherpa to ride.
Expedition Everest – Legend of the Forbidden Mountain is a one-of-a-kind roller coaster ride. You can't miss it, because it's 199.5 feet tall, rising above the surroundings. Why is it that height and no higher? If a structure is 200 feet or more, it's required to have a blinking light on top so aircraft know it's there. But this height makes it just taller than Tower of Terror for those of you who love trivia.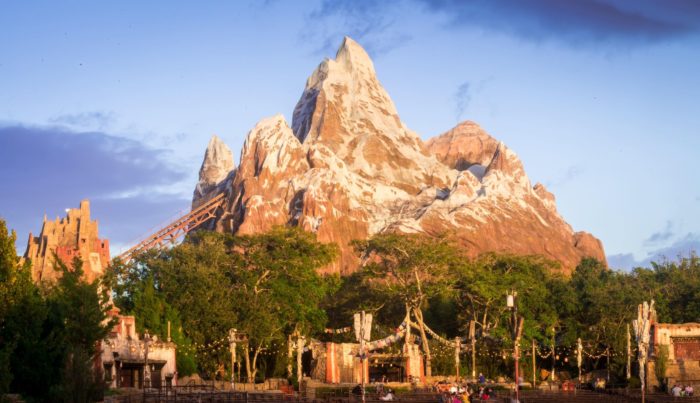 Once there, you'll find that even though you're taking a tour through the Himalayan mountains, you won't actually get to Mount Everest. Instead, you'll be making a journey by "train" to the Forbidden Mountain, home of the fierce and turf-guarding Yeti. Be warned: Yeti doesn't like visitors to the mountain.
2. The queue is one of the best in the World.
Expedition Everest opened on April 7, 2006. The Imagineers spent six years taking research trips to the Himalayas as they worked on the attraction. And their work certainly shows.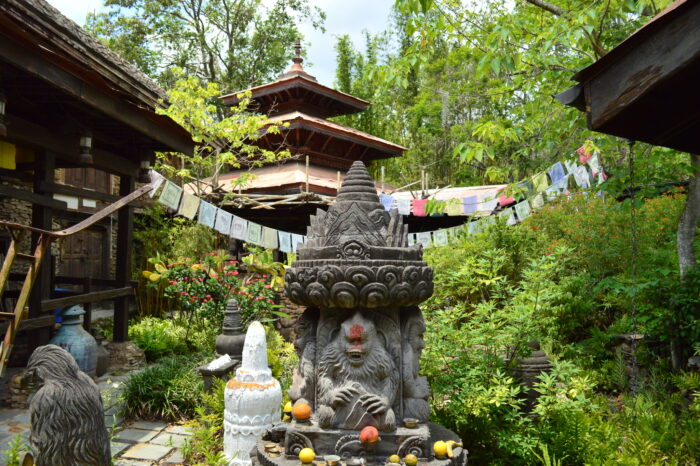 If this is your first-time riding Expedition Everest, our advice is to go early when lines are shorter and enter through the queue. It's a testament to the Disney Imagineers' devotion to detail. And let me add that if, like me, you don't do coasters, I recommend that you at least experience the queue and take the chicken exit from the boarding area.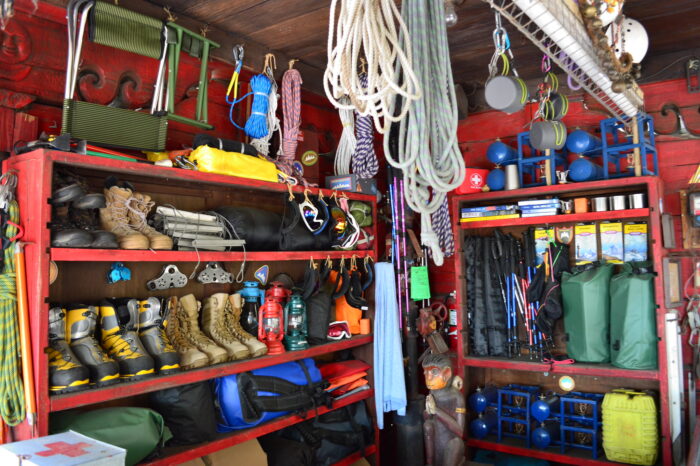 The queue winds indoors and outdoors as you progress. You'll start in the tour company office which is absolutely packed full of amazing touches. Then you wind outdoors and go through Tashi's Trek and Tongba Shop, chock-full of supplies for your trip. Pay attention to displays in the Yeti Museum that document sightings and reinforce warnings about what you may encounter, supporting the coaster's backstory and giving a hint of what you'll see during your ride.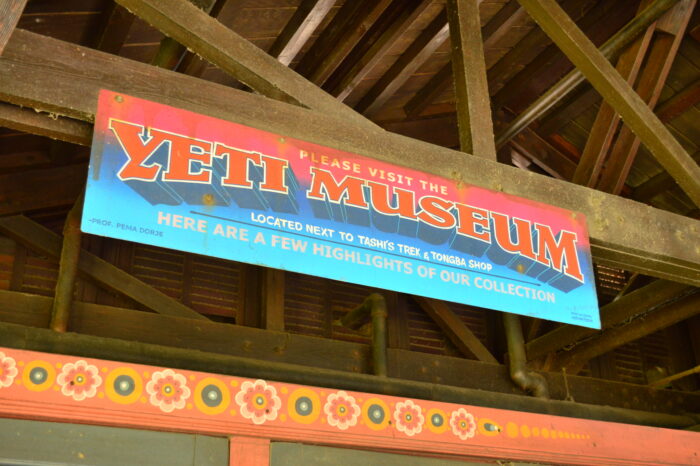 3. Once onboard, hold onto your hats. And your lunch.
The ride lasts about 3 minutes total, but it will go by quickly. Although there are no inversions and no loops, there is no shortage of coaster thrills in the form of drops, jerks, and lurches.
You'll board your ride vehicle, built to resemble an expedition train. Your journey starts off well enough, but suddenly you come to a stop – the Yeti has torn up the tracks ahead! Your train plunges backward and into the mountain, reaching speeds of 50 mph.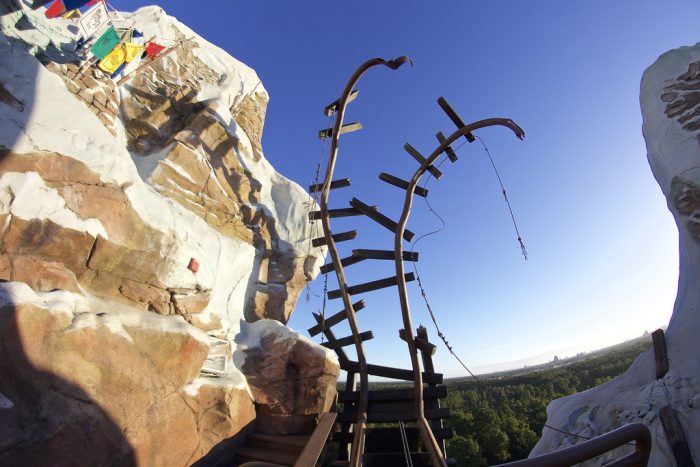 Inside the mountain, you'll see the Yeti's silhouette as the train reverses direction and continues forward, winding in and out of the mountain and coming perilously close the Yeti himself! (Or herself? Itself?)
If you haven't closed your eyes, the views you're afforded during the ride are some of the most spectacular panoramas in Walt Disney World. On a clear day, you can see the buildings of Coronado Springs Resort, EPCOT's Spaceship Earth, and possibly downtown Orlando. This makes a ride after dark an entirely different experience.
4. He used to move; Yeti is not now.
As mentioned above, toward the ride's end you'll get a brief look at the Yeti. Brief may be an understatement: it's quick and it's dark as well. The truth is that some riders don't even see the Yeti. But when the ride first opened, it was a different story. The twenty-two-foot-tall Yeti was an audio-animatronic, capable of moving and swinging his arm toward the guests as they rode by. The movement was both impressive and frightening, to say the least. But no longer.
A few months after opening, the Yeti's concrete foundation cracked and Yeti's movements were halted. Currently in what Disney calls "B-Mode," Yeti is stationary and has a strobe light effect that's meant to suggest movement. Because of the strobe, some refer to the figure as "Disco Yeti."
5. The Nuts and Bolts.
Getting to Expedition Everest is a bit of a trek in itself, but worth the trip. After you enter Animal Kingdom, follow the walkways to the right. Pass the Tree of Life and continue right towards the back of the park. Expedition Everest will be on your right as you reach the Asia section of the park.
Expedition Everest offers a terrific queue, but if you want to avoid a long wait you have some options. Ride early in the day (it's open for Early Theme Park Entry), near to park closing time, or use the Single Rider line if you don't mind being split up from your party. You can also make Lightning Lane reservations using Genie+.
The ride vehicle resembles a train and can hold 34 passengers, 2 per seat. Seats have hard plastic backs and individual lap bars for each guest. Riders need to transfer from a wheelchair or ECV. Service animals are not allowed.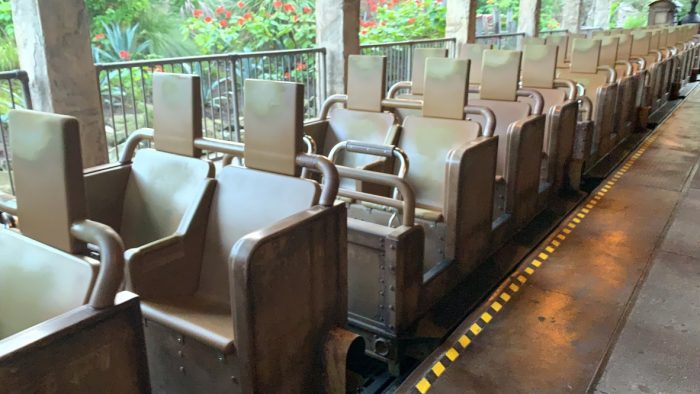 Per Disney, riders should also be in good health and free from high blood pressure, heart, back, or neck problems, motion sickness, or other conditions that could be aggravated by this adventure. Expectant mothers should not ride.
Be aware that if, like me, you're not a fan of heights, the amazing views of the park may actually be frightening instead of remarkable. Younger children may find the whole experience scary. The minimum height to ride is 44 inches, and Rider Switch is offered for this attraction.
As an outdoor attraction, Expedition Everest will shut down for heavy rains or severe weather. And the queue itself has outdoor stretches where there are overhead fans that can prove frustratingly ineffective against the Floridian heat and humidity.
The Bottom Line.
We think Expedition Everest – Legend of the Forbidden Mountain is not to be missed. The queue itself is a testament to the incredible work of the Imagineers. And the ride is one of the best Disney World has to offer.
Will you ride Expedition Everest on your next trip? What's your favorite part of the attraction? Let us know in the comments.