Five Things to Know About Peter Pan's Flight
Have you ever dreamt you could fly? On Peter Pan's Flight, you can! All it takes is a little pixie dust and some happy thoughts. This classic Disney ride showcases everything Disney does best: fun, fantasy, and family-friendliness. If you're like me, it provides an experience you'll want to have again and again.
Here are five things to know about Peter Pan's Flight. And, as always, if you want to skip over all the background material and just hear about where to find this attraction and when the lines will be longest (answer: all the time), you can head straight to the Nuts and Bolts section.
1. The story is the ride is the story.
Whether or not you've seen the movie or read the book, you probably know the basics of the story — and you'll follow them faithfully on the ride. You'll board a pirate galleon and follow Peter Pan as he gathers the Darling children and transports them to Neverland. After a short time to enjoy the scenery, Peter Pan saves Wendy from walking the plank, Captain Hook is defeated, and everyone sails happily into the moonlit night.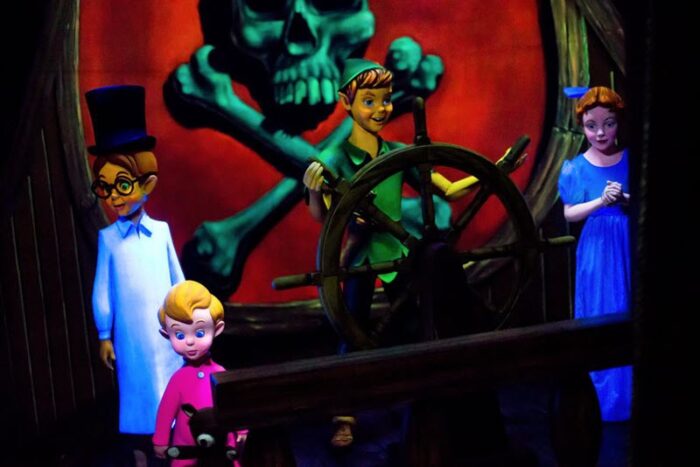 That accurately describes captures the storyline of the ride, but we think a better description is this: Peter Pan's Flight is superbly designed and absolutely delightful, combining beloved Disney characters, beautiful effects, and charming music.
It must also be said that in the last few years, concerns have been voiced about the portrayal of Native Americans in one of the ride's scenes. The same criticism has long been leveled at the movie, which has similar stylistic depictions. Disney has not removed the scene from the ride but has updated the map in the queue to read, "Never Land Tribe." At this point, there is no word if further changes may be made.
2. The ride is great fun, but don't skip the queue!
For years, our family would use the FastPass queue (now the Lightning Lane) to bypass the long lines and board the ride as quickly as we could. Then a couple of years ago, my wife and I actually waited in the standby line. And we were impressed! The interactive queue is an attraction all its own, and one of the best in the Magic Kingdom in my opinion.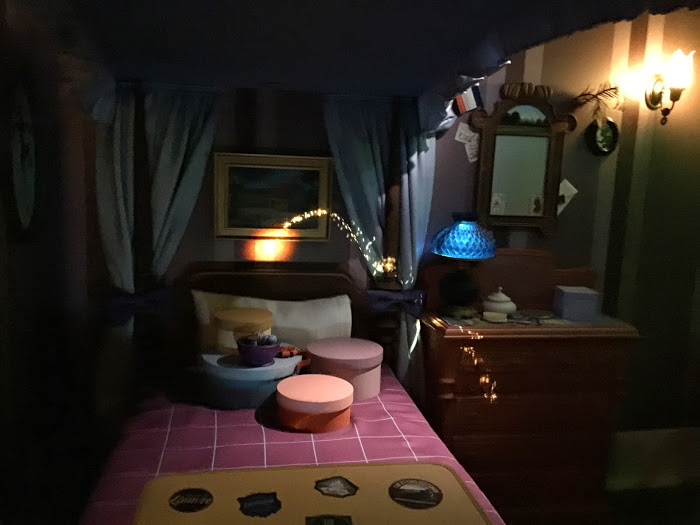 You enter the Darling home where Wendy, Michael, and John live, passing portraits of the family in the hall. Then you come to the nursery which is filled with interactive activities! Tinkerbell flits through the room, interacting with different items and leaving a trail of pixie dust in her wake. Your own shadow can interact with shadow elements on the nursery wall: for instance there are shadow bells that you can ring by "touching them" with your own shadow. You can also play a game exclusive to this attraction on the Play Disney Parks app.
Finally, just as you exit the queue, Tink sprinkles you with (virtual) pixie dust! You can fly!
3. Walt Disney felt a special connection with Peter Pan.
As a boy, Walt saw the play Peter Pan when a touring company came to Marceline, Missouri. A classmate put on his own version, and Walt was cast in the starring role. He said, "No actor ever identified with the part he was playing more than I."
Walt never forgot the story of Peter Pan and wanted to develop an animated feature. So, in April 1937, his brother Roy attempted to acquire the rights from the Great Ormond Street Hospital for Sick Children in London. However, the rights had already been acquired by Paramount Pictures. After unsuccessful attempts to have the studios make an agreement with each other, Disney purchased the rights from Paramount in 1938 and Disney subsequently signed a contract with the hospital.
Fifteen years later, Disney's Peter Pan premiered on February 5, 1953. And when Disneyland opened in 1955, Peter Pan's Flight was on the opening day roster. At Disney World, Peter Pan's Flight opened on October 3, 1971, two days after the Magic Kingdom debuted. Since then, Peter Pan's Flight has been duplicated in Tokyo Disneyland, Disneyland Park in Paris, and Shanghai Disneyland Park.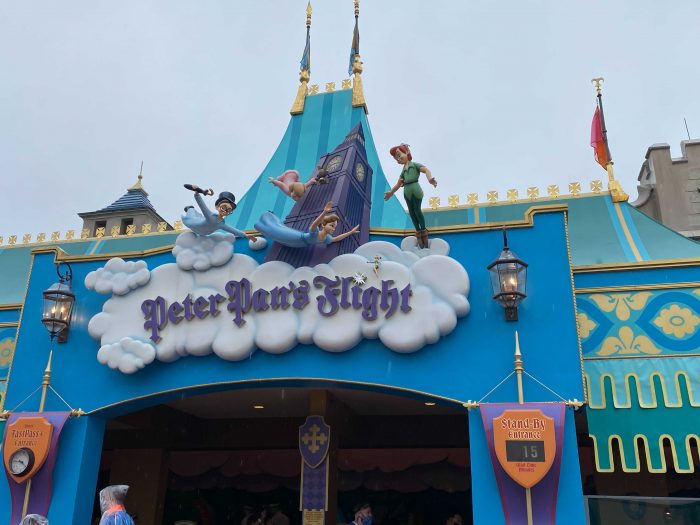 Fun fact: when it opened, the Disneyland ride operated on the premise that you, as a rider, played the role of Peter Pan flying over London, heading to Neverland. So, Peter was never shown in the attraction! Hardly any of the riders caught on to this idea, so the Disney World version included Peter from the start. (Peter was finally added to the Disneyland version in 1983.)
4. There's something to see no matter where you look.
As your boat goes through the window of the nursery to fly over London town, Peter yells "Off to Neverland!" Look up to your right and you'll spot Tinker Bell.
While in the air over London, most folks look down at Big Ben and its surroundings. But if you look at the moon to your left, you'll see the shadows of Peter, Tink, Wendy, John and Michael crossing the face of the full moon.
Yes, that's Ariel with the other mermaids on the shore. When the ride was refurbished, she was specifically added to this scene!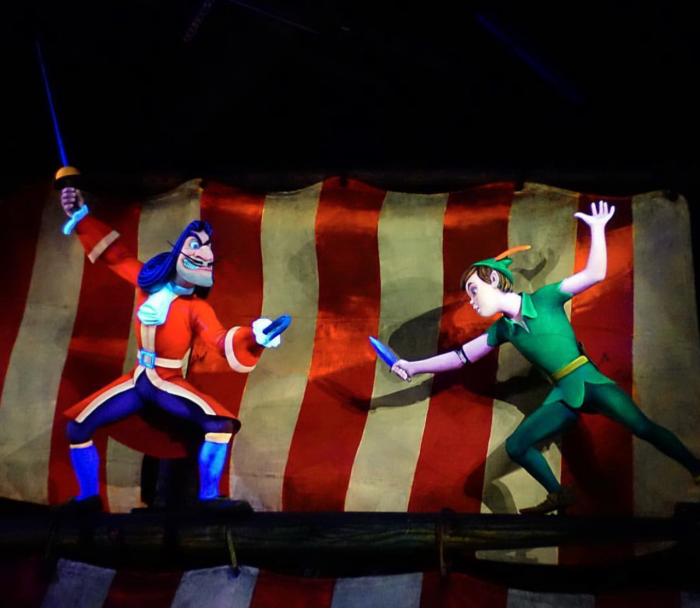 In the final scene where Peter has beaten the pirates who are all sprawled out on the deck, look up over Peter and Wendy and you'll see Tink flying. She's been with you the whole time, it seems!
As you leave the attraction, look for the barrel outside that reads, "Lost Boys Fire Brigade." It hides a working fire hydrant.
Lastly, what's that tune you're hearing as you ride? It's "You Can Fly!" of course!
Bonus fact for word nerds like me: "Never Land" is sometimes two words, sometimes "Neverland" or sometimes "Never Never Land."
5. The Nuts and Bolts
Peter Pan's Flight is located in Fantasyland at the Magic Kingdom, across from "it's a small world." The ride lasts just under 3 minutes (2:48 to be exact). You can enter through the standby line or purchase a Lightning Lane entry through Genie+. Know that you can pretty much expect long lines all day. Our advice is to ride during the first 30 minutes the park is open, during a parade, or just before the park closes.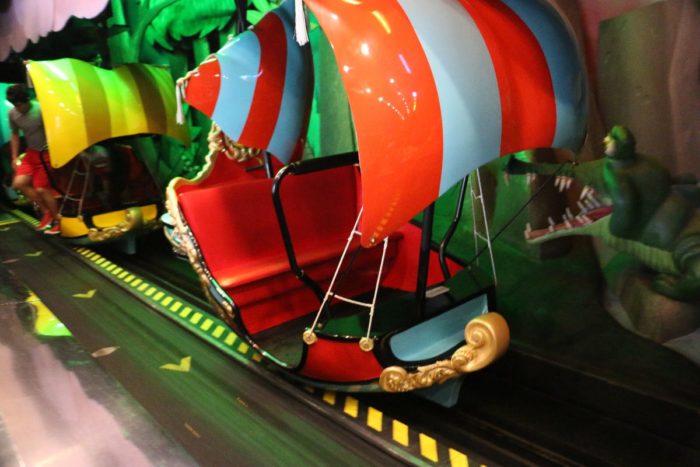 Your ride vehicle is a pirate galleon that runs on a track suspended from the ceiling and you'll board via a moving walkway that keeps pace with the slow-moving ships. Unlike many newer rides, guests must be ambulatory; wheelchair and EVC users must transfer to the standard ride vehicles. And the ride vehicles will not slow down or stop to help people board. (Service animals are not permitted.)
Typically, two adults and a small child can ride comfortably in each galleon. You'll sit on a plastic seat bench with a tall back and a single pull-down lap bar. During the ride, your ship is suspended about 17 feet off the ground. If you have a fear of heights, know that most of the ride involves looking down and around at the scenery below you. (I'm not a fan of heights, but I have no problems with the ride.) There are a few gentle swoops, barely worthy of the description, but there are no jolts, no drops, and no sudden turns.
Thanks to this gentle ride experience, there are no health and safety advisories for Peter Pan's Flight, and no height requirement. To be accessible to more guests, Audio Description and Handheld Captioning devices are available from Guest Services for a refundable fee.
Peter Pan's Flight is open for Early Theme Park Entry and Extended Evening Theme Park Hours. Lastly, since Peter Pan's Flight is an indoor ride and its queue is covered, bad weather doesn't affect this attraction.
The Bottom Line.
We think Peter Pan's Flight is not to be missed. The flight over London alone is what keeps me coming back over and over. While not a thrill ride by any stretch of the imagination, it's classic Disney that the whole family can enjoy together.
What are your thoughts about Peter Pan's Flight? Let us know in the comments.