Five Things to Know About Rock 'n' Roller Coaster Starring Aerosmith
Rock 'n' Roller Coaster is one of the most intense, and one of the most popular, coasters at Walt Disney World. What makes it so intense? Well, some people think it's the fact that it's the only coaster at Disney World with an inversion, and you'll briefly pull up to 5 g's. Other people think that it's the mad rockin' soundtrack of Aerosmith hits, coming at you in full surround as you zoom around on the indoor track. We'll tell you five things you should know about Rock 'n' Roller Coaster to help you fully appreciate your limo ride, but if you want to skip to the whys, wheres, and hows, walk this way.
1. You don't just "end up" in a limo
Rock 'n' Roller Coaster has deservedly become a favorite of coaster fans at Walt Disney World. The fun starts with the preshow that sets up the ride's clever storyline. You enter the headquarters of the fictional G-Force Records company. The halls are lined with posters of various recording artists and rock stars. There's also a display of old-timey recording equipment, which can be fascinating to pause and study if that's the kind of thing you're interested in. (I am.) You enter a room that looks like you're in a recording studio. What appears to be a window (it's actually a big screen) looks into the control room.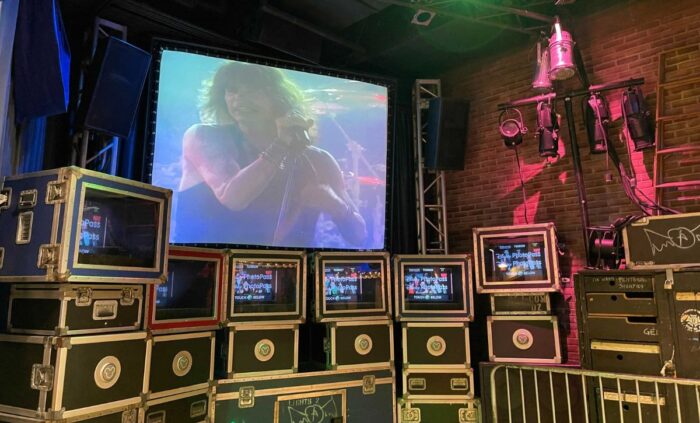 You'll see Aerosmith working at the mixing board to fine-tune a recording. They notice you've arrived and say hi, which is nice of them, before their manager enters suddenly enters to remind them that they're supposed to be doing a show. As they prepare to go, Steven Tyler objects to leaving you behind. The band has their manager get you all a ride and backstage passes to their show, which is also nice of them. As the band hops into their limo, you'll exit the "studio" to enter the Lock 'n' Roll Parking Garage and board yours. As you wait to board, you'll see others scream as they're launched into the darkness. (This is where you can head for the chicken exit, by the way.)
2. You'll rock this way
Each ride vehicle is built to look like a "super-stretch limo." It's equipped with 125 speakers, 24 sub-woofers, and 32,000 watts of audio amplifier output power! Five speakers surround each rider: four around your head and one subwoofer under your seat. In total, there are over 900 speakers in this attraction! Surprisingly, it's not all that loud. The sound level isn't jarring or painful, but it definitely evokes that feeling you get when driving down the highway with the radio up, singing at the top of your lungs.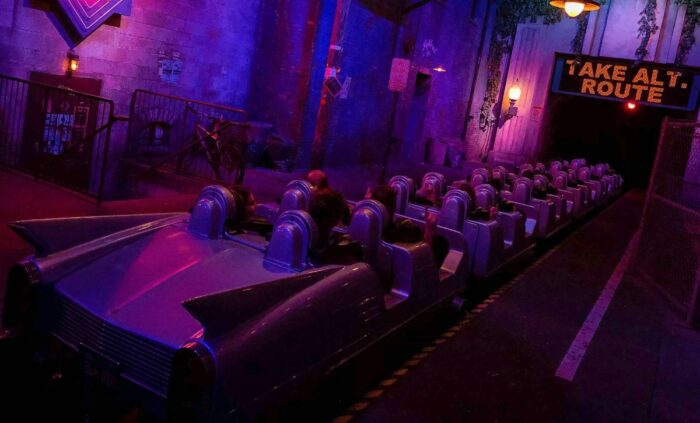 Each limo plays a different hit song, so you can hear different tunes each time you ride. Among them: "Walk This Way," "Dude (Looks Like a Lady)," "Sweet Emotion" and "Back in the Saddle." If you know the lyrics to their classic "Love in an Elevator," you'll pick up on the fact that the lyrics you hear say "Love in a Roller Coaster" which the band recorded especially for this attraction.
3. You'll be living in the fast lane
Your ride starts out with a launch from 0 to 57 mph in a matter of seconds. This makes it the third fastest roller coaster at Disney World, after Tron Lightcycle/Run and Guardians of the Galaxy: Cosmic Rewind. You're launched straight into an inversion. When you enter the first loop, that's when you'll feel the force of 5 g's. (FYI, when the space shuttle took off, astronauts experienced a pull of 3 g's.) One thing to note: while that 5 g number is impressive, it's also over very quickly, and many riders would tell you that it doesn't feel like as much of a pull as you'd think.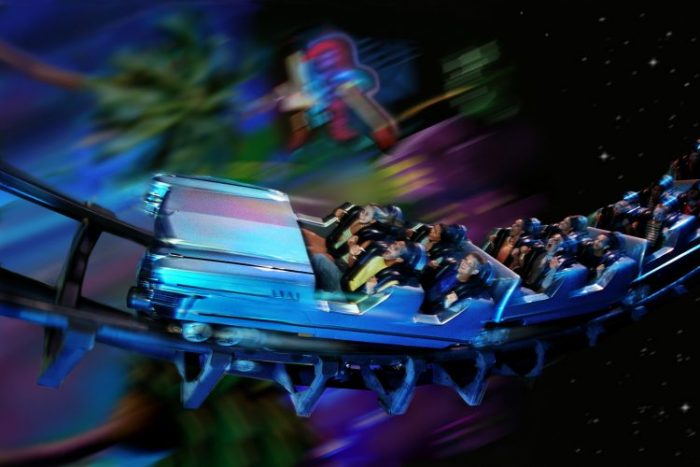 The steel track takes you through the dark, jammed streets of Los Angeles, with lighted road signs and ads along the way. Before your ride is over, you'll go through a total of two rollover loops and one corkscrew, along with a few dips. And we already mentioned the soundtrack, but I'm just going to mention it again. Safe and sound (get it?) you arrive at your destination: the Aerosmith "concert," and depart through the gift shop (of course).
4. A few bonus liner notes for fans.
The coaster officially opened on July 29, 1999, in a ceremony attended by Aerosmith.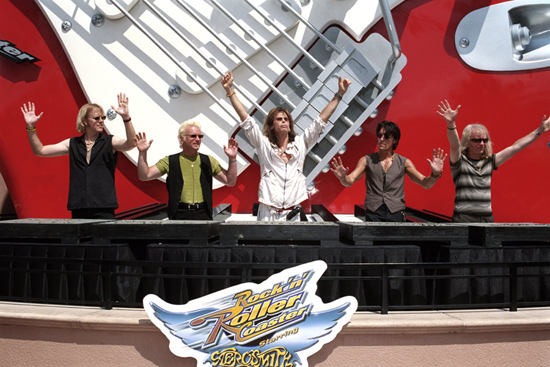 The ride vehicles for Rock 'n' Roller Coaster are intended to resemble a limousine without the top. They took their design inspiration from the style of a 1962 Cadillac. Each has a different license plate: 1QKLIMO, 2FAST4U, BUYBYE, H8TRFFC, and UGOBABE. I've read that the last one used to read "UGOGIRL" but was changed to sound less sexist – which is a matter for debate.
There's an electrical box in the loading area with the address 1401 Flower Street. That was the address of Walt Disney Imagineering in Glendale, California. And of course, there's a Hidden Mickey: the recording studio of the preshow if you check out the floor of the studio, you'll see some cable coiled on the floor in a familiar shape.
Also of note: the Imagineers were hoping for the Rolling Stones but they wanted too much money.
5. The Nuts and Bolts.
Rock n' Roller Coaster is at Hollywood Studios, and you'll find it on Sunset Boulevard to the left of the Twilight Zone Tower of Terror. Since it's an indoor coaster, it doesn't close for weather. A goodly portion of the queue is outdoors, but is covered.
The coaster train is divided into sections with two rows making up one car. Each car accommodates 24 guests, divided into rows of two. Individual seats are lightly padded bucket-style seats with individual over-the-head harnesses that rest on your shoulder and waist. The seating and restraints on this attraction may prohibit guests of certain body shapes or sizes from riding; if size is a concern Disney's recommendation is that the front seats are roomier. There are handles for you to hold onto during their ride. And bags for storing personal items are right in front of each seat.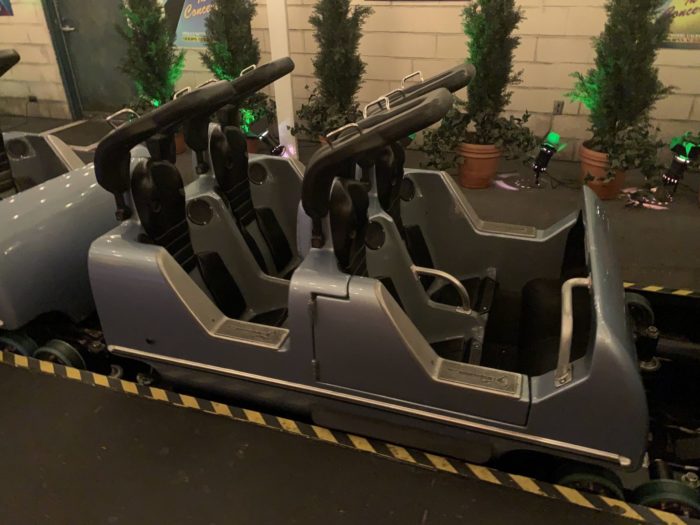 To board your "limo," you need to take a moderate step up over a wall.  Guests must transfer to a standard wheelchair, and then to the ride vehicle. Guests must be at least 48 inches to ride Rock 'n' Roller Coaster. Like all rides with a height requirement, RNRC offers Rider Switch. For safety, you should be in good health and free from high blood pressure; heart, back, or neck problems; motion sickness; or other conditions that could be aggravated by this adventure. Expectant mothers shouldn't ride. And it's not the best choice for preschoolers or some seniors (I include myself in that group.)
Since RNRC is such a popular ride, your best bet at a short wait is early in the morning; it's open for Early Theme Park Entry. Alternatively, you can book a Lightning Lane via Genie+. Although there is a single-rider line, the ride only takes singles when there is an odd-numbered group, and it's not uncommon for the single-rider line to take just as long as the regular queue.
The Bottom Line.
We rate this attraction as not be missed. If you love a good coaster and have a need for speed, Rock 'n' Roller Coaster is hard to beat. Which is why it's remained a premiere attraction at Disney Hollywood Studios since it opened!
Have you ridden Roc 'n' Roller Coaster Starring Aerosmith? How would you compare it to other coasters at Disney World? Let us know in the comments.