ROCK THE UNIVERSE: Here's a Few Things to Know Before You Go
Rock the Universe is billed by Universal Orlando as Florida's largest Christian music festival. In 2022, this is being held January 28 and 29. The event runs from 4 p.m. to 1 a.m. both nights. Rock the Universe is primarily an after-hours paid event that is not included with regular day admission. Tickets will be needed to be purchased through Universal Orlando.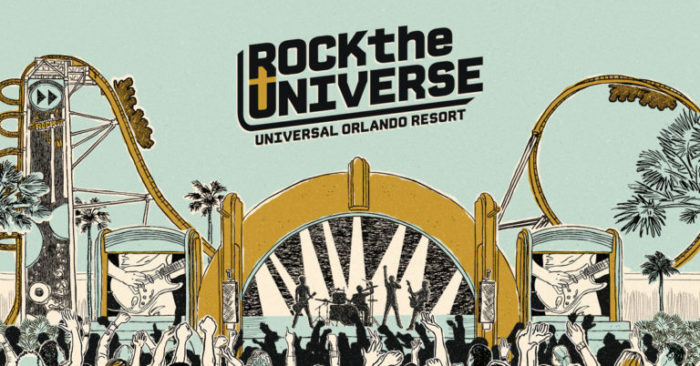 Ticket Prices
The standard Rock the Universe ticket allows entry at 4pm to Universal Studios Florida. The event does not really start until 6 p.m. when park closes to the day guests. The one-night ticket (either Friday or Saturday) will cost you $73.99. A two-night ticket is $113.99. There are usually discount tickets for Universal Orlando annual passholders but those have not been announced yet.
You may also select a Rock Your Weekend ticket. These are $129.99 for one day and $174.99 for two days. These tickets include admission to Rock the Universe but also allow guests to enjoy the parks during the day before 4 p.m.
What Is Included with Rock the Universe?
The highlights are the major contemporary Christian recording artists in concert. They will be featured on the Universal Music Plaza stage.
On Friday January 28th, the headliner group is "for KING & COUNTRY." Joel and Luke Smallbone are part of a famous Christian music family. They have won four Grammy awards. They have created some impressive music videos such as "The Proof of Your Love", "Shoulders", and "Burn the Ships" to name a few. They were in the movie "Priceless." Their shows are well done and undoubtedly will feature more than a few drum solos. Also on Friday night, Crowder, Matthew West, Rhett Walker, Jordan Feliz, and Riley Clemmons will perform on Universal Music Plaza stage.
On Saturday January 29th, the ground-breaking group Casting Crowns is the headline act. This group led by Mark Hall started in 1999. They are still leading worship and performing concerts. Saturday night will also feature a larger variety of styles of music with other talented artists such as Zach Williams, Big Daddy Weave, We the Kingdom, Cory Asbury of Bethel Music, and Social Club Misfits on the Universal Music Plaza stage.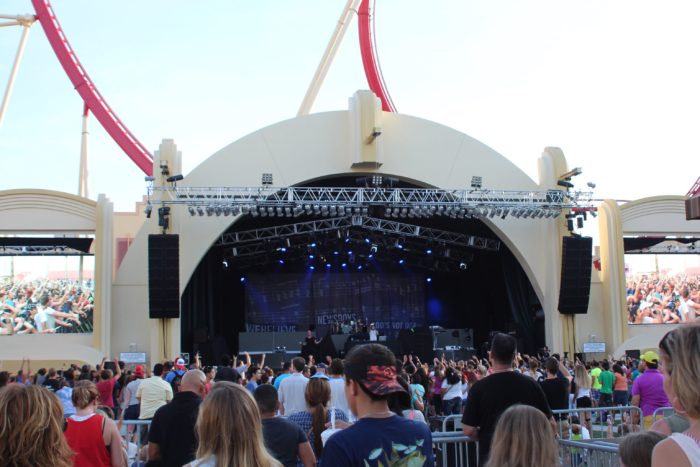 In addition to the main acts, there is normally a secondary stage, autograph sessions, a live DJ, and a candle-lighting ceremony. The Coca-Cola Fan Zone, usually located in the New York area of the park is home to these activities. This will offer fans a chance to connect with their favorite musical artists. There will be special stage set up for other performers. When performers are not playing there, a DJ will be entertaining the crowds.
On Saturday night, at the Music Plaza stage, there will be a candle lighting ceremony. This is a modified mini worship service that usually includes some of the headlining musical artists. On Sunday morning, there will be a non-denominational worship service. This is included with all Rock the Universe ticket options.
Last thing, many of the theme park attractions will be running such as Rip Ride Rock-it and Transformers. You can purchase Express Passes for the evening for shorter waits in those attraction queues.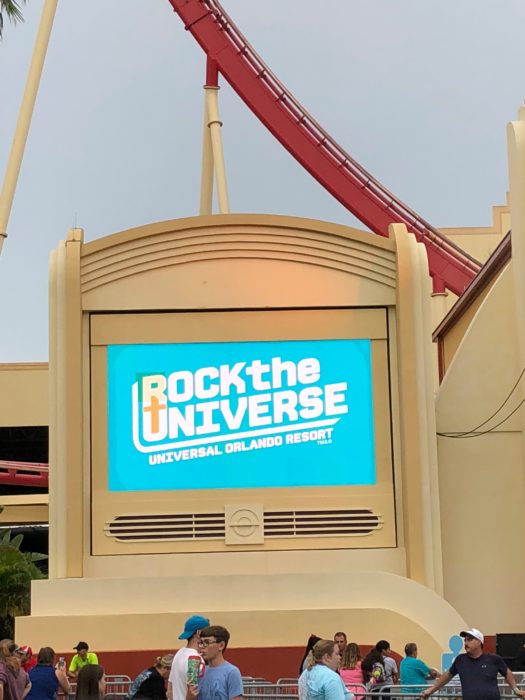 A Few Helpful Hints if You Decide to Rock Your Universe
This event happens in the winter. I realize that Florida winter is not winter in Canada. However, you should make sure to have a hoodie/sweatshirt/jacket. The event runs until 1 a.m. so it could get quite cool. Even if not cold, you will be outdoors. It might rain! You will need to plan for that.
Once you have decided to experience this event, you should plan the bands/groups you wish to enjoy. For popular groups, you will need to get to the concert location early.
Make sure you know where closest restrooms are located. For example, the closest restrooms to Universal Music Plaza are located to the right of concert stage near Jimmy Fallon attraction. If you are unaware of this, then you could be walking a long way to find a restroom.
Photos and videos may seem like a good idea. Feel free to take a few of these. However, these concerts are designed as an experience. I would recommend you limit phone use so you can enjoy the concerts.

Photo by Wandering_Witches on Instagram

 If you plan to attend the Saturday or Sunday worship event, you will need to plan. For the Saturday worship event, you should arrive very early. If you are planning to attend the Sunday worship service, you will most likely need to register in advance.
A piece of advice with a large disclaimer…, my "real job" is as an American Baptist (ABC-USA) minister. I have attended many contemporary Christian concerts. Having said that I have seen the best and worst of Jesus followers at these events. If you have not attended this event or similar events, let me caution you about the probable crowd. A vast majority of the people there will be there to enjoy the concerts and even worship in their faith tradition in a genuine way. However, the crowd will have many teenagers. Teenagers, no matter their quality of faith, do not always act sensibly. In fairness, are any of us proud of every decision we made as teenagers? I mention that just to caution you not to expect perfectly behaved crowds. Even teens with genuine faith can sometimes seem like roving chainsaw groups during Halloween Horror Nights. This will be the exception but do not attend an event like this with rose-colored glasses.
Also, as you may know, there are many different tribes of Jesus followers. In some more conservative tribes, there is a concern about anything involving magic. Since Universal Orlando has areas dedicated to a boy wizard, you might hear some people talking about the Wizarding World in a negative way. In fairness, this used to happen at the Walt Disney World version of this event also. Once again, none of us want to be judged by the extreme versions of our worldview. Still, if planning to attend this great event, it is best to be prepared.
Be prepared to stand. These concerts do not happen in indoor venues with seats. You will be outdoors on the music plaza lawn.
This event can be an incredible experience. Yet, like any theme park experience, it is best to be prepared!