Five Things to Know about The Barnstormer Starring the Great Goofini
If you're looking for a good way to introduce your littles to the fast and furious fun of a roller coaster ride, the Barnstormer is just the ticket. Step right this way to hear all about it, but if you prefer to bypass the 3-ring circus and cut to the grand finale, here's your shortcut.
1. You'll fly the Goofy way.
The Barnstormer is a "kiddie" roller coaster designed to be a family-friendly experience. As such, it's a nice way to give youngsters a taste of what riding a roller coaster is all about. Goofy appears as his daredevil stunt pilot alter ego, the Great Goofini. He's put together an aerial stunt show in the tradition of old-timey fairs – and you have a chance to be part of the show!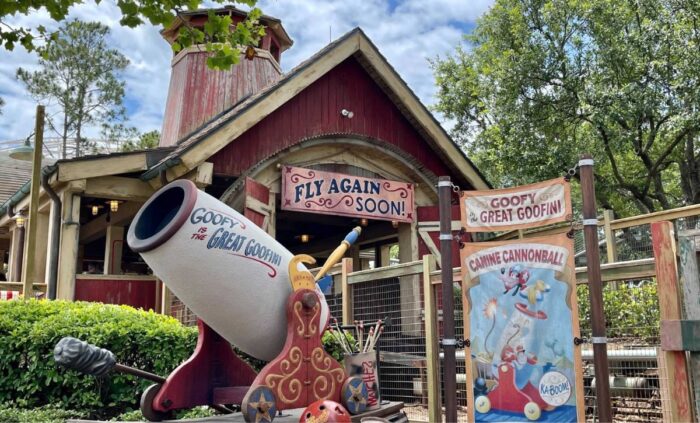 The very short duration of this brief but zippy coaster ride contributes to making this attraction suitable for the whole family. From the time you climb aboard until you pull into the barn to get out about 53 seconds have passed. It takes 32 seconds to leave the loading area and be ratcheted up the track, then a short while rolling around the track, and before you know it you're braking in the off-loading area. You're zooming around the track for a total of 21 seconds, reaching a top speed of 25 mph. That's the slowest roller coaster speed in all of Walt Disney World.
2. We have preflight cautions before you fly with Goofy.
Even though it's a brief ride, you may want to think twice before hopping on board your biplane. The 21 seconds spent on the actual ride portion is a bit rough, especially for adults. The track layout takes you on a series of twists, turns, and small hills that can be quite jerky. If you're at all prone to getting motion sick, you might want to skip this. And because the coaster is out in the open, if you have a fear of heights, this elevated track is not your friend.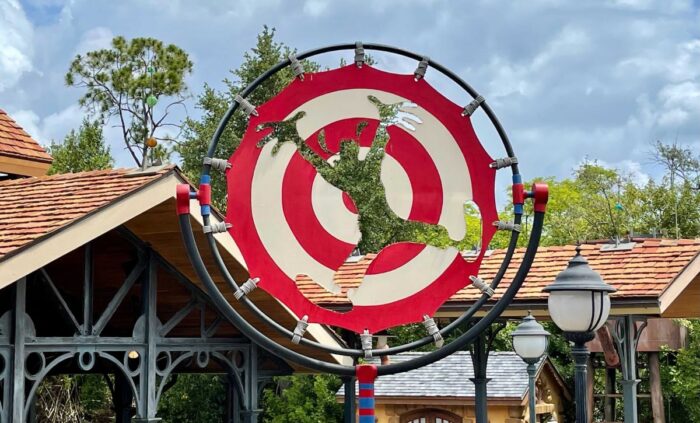 We've quoted some readers in our Unofficial Guide, and we share this particular insight here for your edification. A Westport, Connecticut, reader warns adults that the ride may not be as tame as it looks: A nightmare that should have gone in your "Eats Adults" section. It looked so innocent—nothing hidden in the dark, over quickly—but it took me hours to stop feeling nauseated.
3. A bit about the Barnstormer's biplanes.
We usually don't talk about ride seating until the Nuts and Bolts, but we're making an exception here. Goofy has designed and built a special "Multiflex Octoplane." The plane-shaped coaster train has 8 rows with side-by-side seating. An average size adult and a medium size child are a typical load per row. Two average-size adults are somewhat tight. One adult and two small children would be very tight or impossible. Larger adults may want to ride alone. This set-up can be problematic for an adult with two children who are both under the age of 7 because each child must have an adult with them.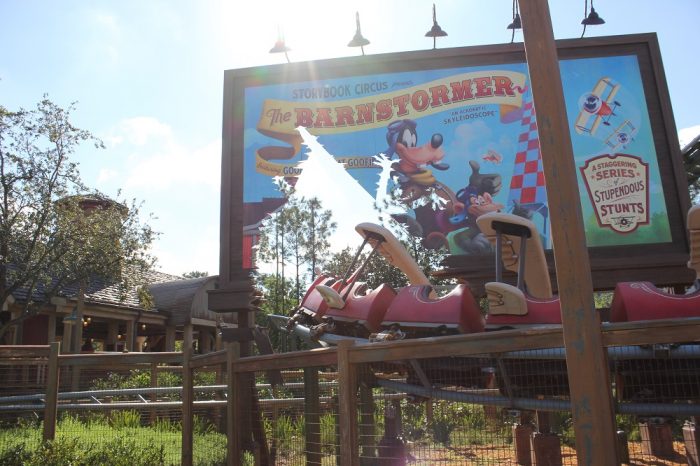 The cars are too small for most adults and tend to whiplash taller people. However, it's worth noting the emergency escape parachute has been "cut for budgetary reasons!" In short: the Barnstormer may be kid-friendly but unlike most kiddie rides at Disney World, it's not the most welcoming experience for adults.
4. The Barnstormer has quite a backstory.
The area where The Barnstormer and Storybook Circus are presently located was originally home to Grandma Duck's Petting Farm. Back in 1988, this portion of the Magic Kingdom was called Mickey's Birthdayland (later Mickey's Starland in 1990). In 1996, this space was re-imagined into Mickey's Toontown Fair where the first iteration of the Barnstormer debuted as The Barnstormer at Goofy's Wiseacre Farm on October 1, 1996.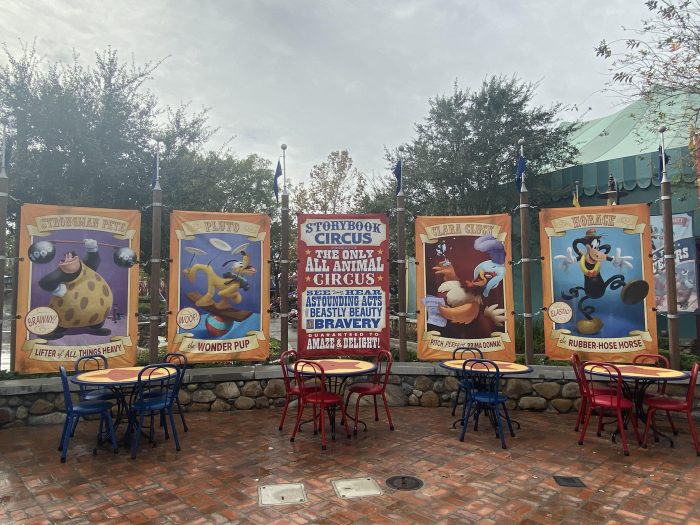 Mickey's Toontown Fair closed in February 2011, for the park's New Fantasyland overhaul and expansion. The entire area was converted into the Storybook Circus we have today. The Barnstormer coaster received the new theming of an aerial stunt show to fit in with the circus idea. This version opened to guests in March 2012 along with the first phase of New Fantasyland. It's worth mentioning that the ride itself didn't really change, only some of the details you see in the queue plus a few other elements here and there. All in the service of helping to bring out the circus theme. (For a really detailed look at the background, including the story of Minnie Moo, the Holstein cow with a hidden Mickey, check out this article.)
5. The Nuts and Bolts.
The Barnstormer is located at the back of the Magic Kingdom in the Storybook Circus area of Fantasyland. It's next door to Dumbo the Flying Elephant, and the entrance is just across from the Casey Jr. Splash 'n' Soak Station. The queue is outdoors and even though there's a little shade and some mounted fans, you'll be out in the heat and elements. Because The Barnstormer is an outdoor attraction, it will shut down for heavy rain or if there's severe weather or lightning in the area.
The seats are a hard bench with a back, and guests must step over the side of the vehicle and then down to be seated. A single pull-down lap bar accommodates all riders in a row.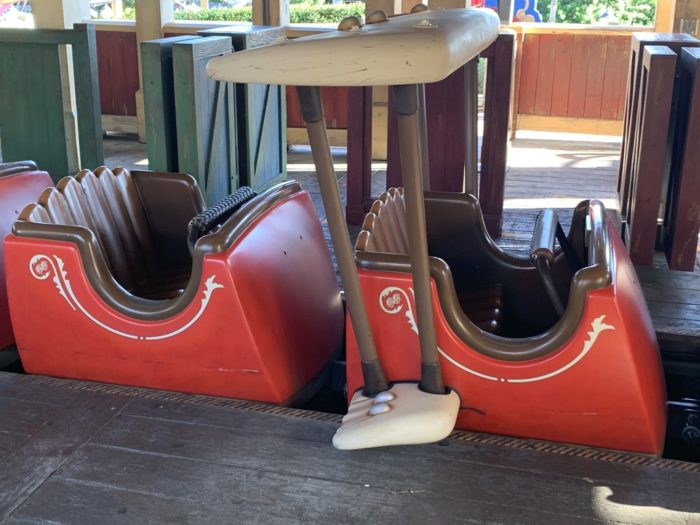 Guests must transfer from a wheelchair/ECV to the ride vehicle to ride The Barnstormer. Service animals are not permitted. Guests must be at least 35 inches tall to ride, so this attraction offers Rider Switch. As is true for other coasters, for safety, guests should be in good health and free from high blood pressure, heart, back, or neck problems, motion sickness, or other conditions that could be aggravated by this adventure. Expectant mothers should not ride.
The lines can be slow-moving. So, if The Barnstormer is truly a must-do for your children, try to ride within the first 2 hours that Fantasyland is open. While you can reserve Lightning Lane entry via Genie+ for the Barnstormer, we think there are usually better uses for your reservation opportunities. Lastly, The Barnstormer is open for Early Theme Park Entry and Extended Evening Theme Park Hours.
The Bottom Line.
The Barnstormer can be a good way to give children their first roller coaster experience. On our last visit, our grandkids loved it and had to ride it on repeat. Even so, to be honest, we think you should skip this attraction if you don't have kids who are eager to ride. And if you love the Great Goofini and want to see more of him, you can greet him at Pete's Silly Sideshow, just across the way.
Does the old-timer appeal of the Barnstormer make it a must-do for your family? Or is it best to fly right past it? Let us know what you think in the comments!