Getting to Know Universal – Mythos Restaurant
This week in Getting to Know Universal we are covering the ins and outs of Island of Adventure's Mythos Restaurant. Opening with the park in 1999, Mythos originally offered a high-end dining experience featuring oysters, steak, and whole lobster. It rightfully earned itself the award of Best Theme Park Restaurant as voted by Theme Park Insider, but over time its ambition was scaled back to the more approachable menu featured today.
This week's chapter of Getting to Know Universal is the "it takes a village edition" with photos and reviews from Twitter!
The Experience
Mythos is located in The Lost Continent section of Islands of Adventure, the first building on your left while entering from Seuss Landing. The restaurant resembles a sandstone cave system with massive statues carved into the exterior. Large waterfalls and pools exude a mythological Greek vibe that matches the Poseidon's Fury attraction entrance located across the path.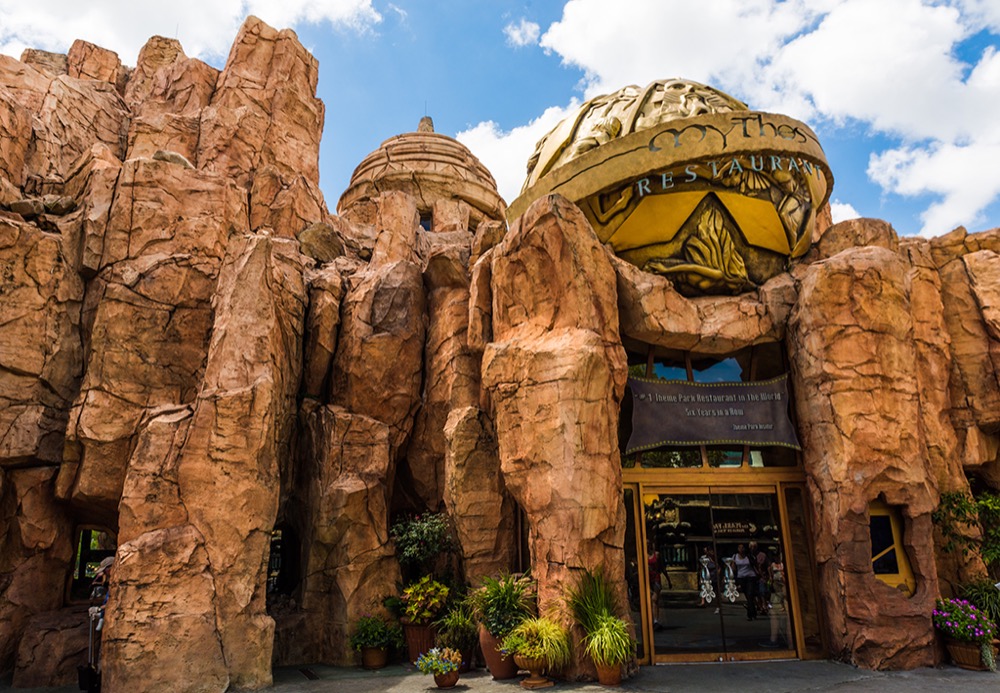 Inside guests find a cavernous dining area eroded away by small streams that still exist in the restaurant. Large, picturesque windows overlook the exterior waterfalls and the central Islands of Adventure lagoon. Sandstone pillars and dividers separate the tables into seating areas. If you get a little deja-vu with Mythos that is not coincidental: the same man who designed Mythos is also the designer behind The Cheesecake Factory.
The Food & Drink
Mythos's menu simplified since opening with recent versions focusing on an elevated American-Greek cuisine with Asian influences. Flatbreads, sushi, hummus, and calamari are routinely featured as appetizers at affordable prices ($10-$12). Entrees range in price from $18 to $36 and include beef tenderloin, bone-in pork chop, lamb chops, chicken, seasonal risotto, pad thai, pasta, and seafood. The blue cheese and cranberry crusted pork chops are an exceptional value at $19.
The drink selection features standard theme park options, the mixed drinks recall a time when oversized sweet cocktails were the fad instead of craft beer and cocktails. Your standard beer, wine, and mixed drinks are available without much fuss. Additionally, the usual non-alcoholic drinks are available.
The Opinion
Mythos attempts to straddle affordability and high-end dining with mostly successful results. Nothing at Mythos will top the service, style, quality, or ambiance of Disney's finest restaurants so keep the button-down shirts at home. What Mythos does offer is an affordable, sit-down, in-theme-park meal that delivers more than burgers and fries.
Here are what some of our readers say:
Arguably the best bang-for-your-buck theme park restaurant in all of Orlando. Great food, great atmosphere, great views, and great service. – Theme Park Josh

Mythos is a great in-park table service option at UOR, a light and delicious meal set in some of the best theme park restaurant theming. – More Than Thrills
Mythos frequently closes prior to the rest of the park. Check the restaurant hours if you wish to dine for dinner.
Thank you to Travel Caffeine, Theme Park Josh, Pink Monorail, Zacstack, More Than Thrills, and more who responded to my Universal Themed Butter shaped bat-signal!