Getting to Know Universal – E.T. Adventure
Reunite with E.T., fly over L.A., and save an alien planet in E.T. Adventure at Universal Studios Florida. Recently celebrating the movie's 40th anniversary, this ride serves as a semi-sequel to the movie. In this article, we will look at the E.T. Adventure experience and give you touring tips for this classic attraction.
Quick Glance
Location: Woody Woodpecker's KidZone
Attraction Type: Indoor dark ride where guests "fly" over sets on bikes
Scope: Major Attraction
Touring Plans Rating: ★★★ 1/2
Height Requirement: 34 inches (87 cm)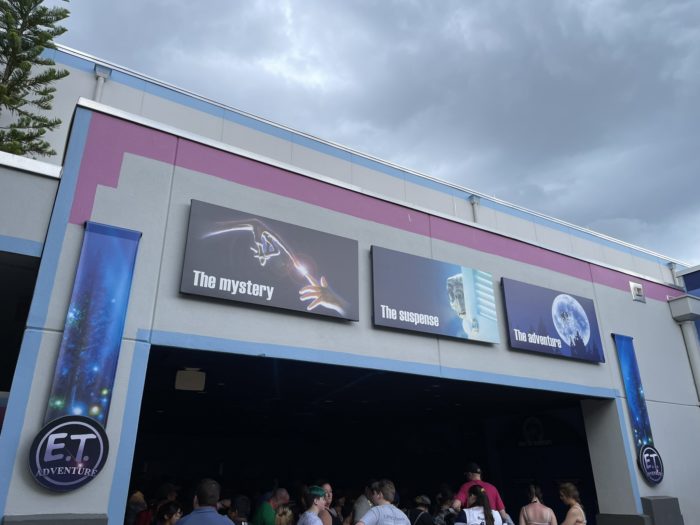 The Experience
Located in KidZone, E.T. Adventure is a suspended dark ride through the woods and to the Green Planet. The ride is similar to Peter Pan's Flight at the Magic Kingdom – the suspended vehicle simulates the iconic bike ride from the movie including "flying" past the moon. Unlike Peter Pan, this attraction includes more intense scenes such as a chase sequence. If your kids can handle the original E.T. movie they will be able to handle the ride.
Guests are held in an outdoor queue prior to entering the building. The exterior queue is covered and features drinking fountains, TVs, and fans but no theming or props. Immediately inside the building is a prewshow where Stephen Spielberg gives us the rundown – recover E.T. from authorities, get back to the Green Planet, and save his home.
In the next room are banks of computers with Team Members ready to assign our "intergalactic passport". Leave your documentation at home, all you need for these is your name.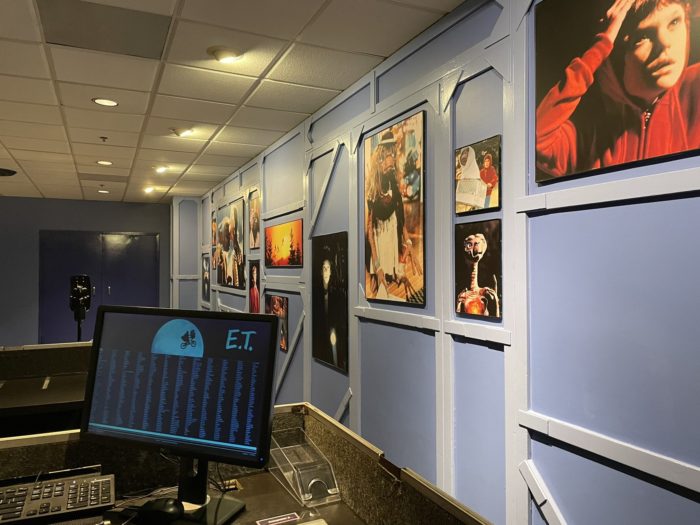 The passports as credit card-sized and feature a barcode assigned to your name. Hold onto these cards as they will be given to the Team Member at the load platform.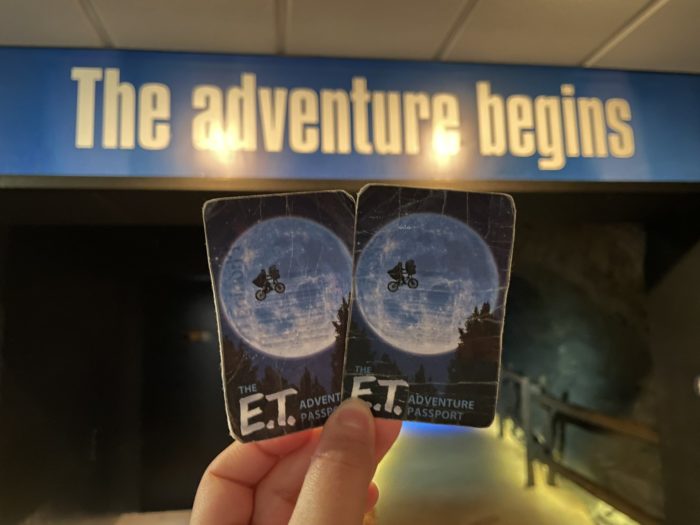 The queue is themed to a California forest at night, just as E.T. is making his escape. The iconic Speak-and-Spell from the movie appears along with the sounds of agents in the bushes. E.T.'s teacher figure, Botanicus, occasionally appears as a robotic figure to remind guests of our mission. Get E.T. home and save his planet.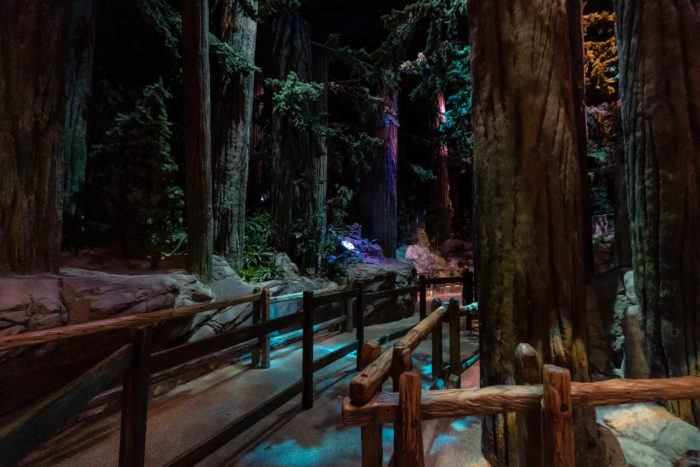 Guests board 12-person ride vehicles, three rows of four passengers, each on faux bicycle seats. Do not worry, these seats are more of a bucket seat style and not a Schwinn. Guests are held in with lap bars, feet rests are provided for shorter guests.
After a quick ride up a hill E.T. pops up in our vehicle's basket, and the cops see it too. It is a mad dash through the forest, through caves, and evading cop cars. Finally, while cornered by cops, our vehicle flies over L.A. with E.T. along for the ride. After a quick warp portal, we are met with a steamy, boiling planet. Freed from the earth, E.T. now can heal his friends and revive the planet.
Which looks like this: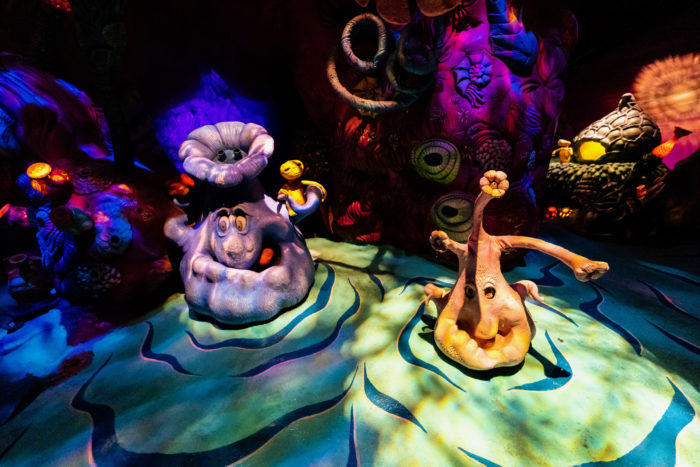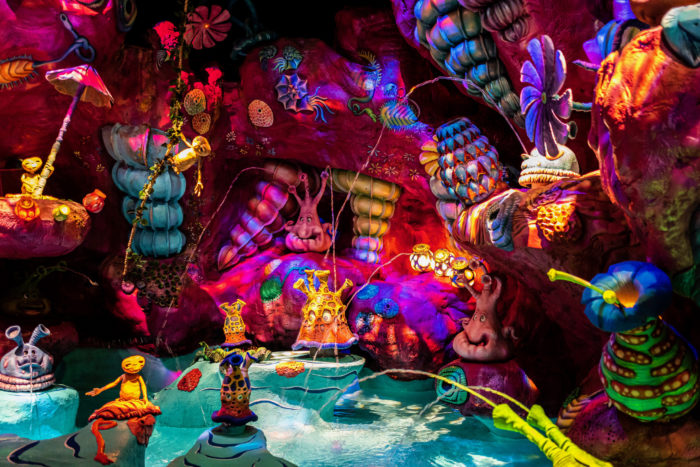 E.T. parties with his friends and little relatives as they swing by the ceiling, play with plants as instruments, and spray water everywhere (do not worry, you will not get wet). Before we fly back to earth we talk one last time to E.T. He personally says goodbye to each of us in the vehicle! See, those Passports from earlier you handed the Team Member at load were scanned into the ride.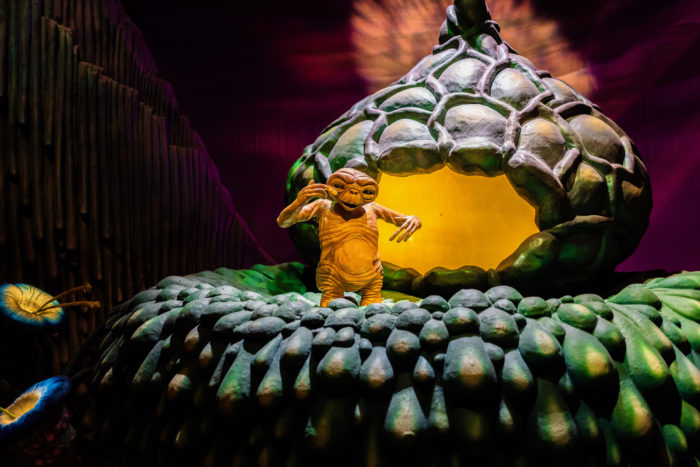 A puff of smoke and some lights, and we are back at load. E.T. Adventure empties into a gift shop that sells stuffed E.T.s plush, E.T. t-shirts, E.T. photo opportunities. and Reese's Pieces (of course).
The Opinion
Guest opinion on E.T. Adventure is split. Some see it as a cute replica of 80s nostalgia, only an experience a theme park attraction could offer. Those who do not like the attraction point to the tonal whiplash of the two halves of the ride, a family ride that can still startle kids, and the outdated and hokey effects.
E.T. Adventure is a contradiction of an attraction. I love the attraction, it's delightfully camp and holds up for an era of late 80s attraction design. I believe it is a must-see attraction, featuring an iconic character set in an iconic timeframe. But the attraction is desperately out of date with antiquated animated human figures, dated effects, and a creeky ride system.
My sister might have said it best after she got off it the first time – "What the *bleep* was that?!?"
Restrictions & Accommodations
Guests riding ET Adventure must be at least 34 inches tall to ride (87 cm).
Guests under 48 inches tall must ride with supervising companion (112 cm).
Guests in wheelchairs do not have to transfer to a ride vehicle.
Guests in ECVs must transfer to a wheelchair before riding.
Service Animals are permitted on this attraction.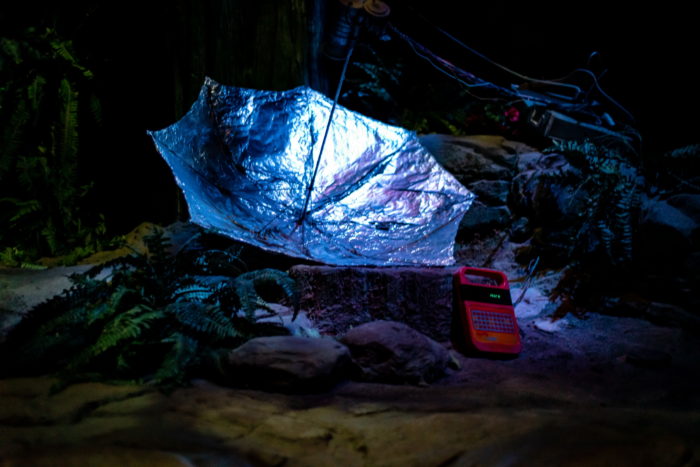 Touring Tips
E.T. Adventure is located in a quiet corner of the park and is mostly ignored till noon. Wait times increase through the late afternoon till early evening followed by a sharp decline in the last two hours of park operation. We advise experiencing E.T. Adventure before lunch or the final two hours the park is open.