Getting to Know Universal – Hollywood Rip Ride Rockit
This week we put you into your very own music video with Universal's Hollywood Rip Ride Rockit at Universal Studios Florida. Rockit is an outdoor thrill coaster that allows guests to choose their 0n-ride soundtrack. It opened in 2009 as an addition to the park tucked between soundstages and the theme park.
Quick Glance
Location: Production Central
Attraction Type: Outdoor thrill coaster
Scope: Headliner
Touring Plans Rating: ★★★★
Height Requirement: 51 inches (129.5 cm)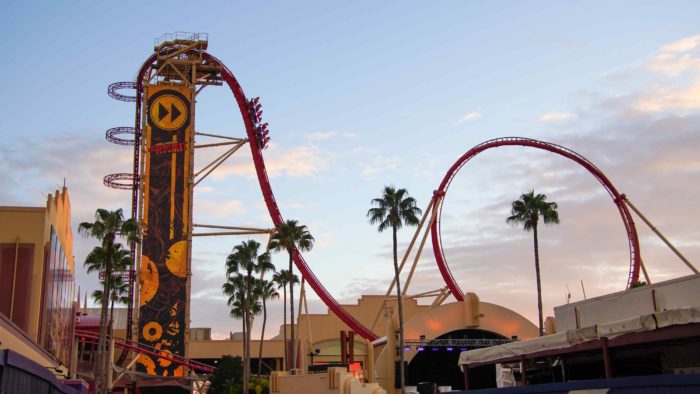 The Experience
Hollywood Rip Ride Rockit is an outdoor thrill rollercoaster located in the Production Central area of Universal Studios Florida. Designed by Mauer Rides in Germany, Rockit is the tallest rollercoaster at Universal Orlando at 167 ft and takes guests 65 mph between soundstages and through facades. What makes this coaster special are several unique features like its 90-degree vertical lift hill, a non-inverting loop, the ability to select your own custom ride soundtrack, and the option to purchase an on-ride video of your experience.
As the name implies, Rockit is a music-themed coaster where guests choose a song to make their own music video on the ride. The queue is loud and all outdoors, featuring music videos from bands featured on the ride interspersed with instructions on how to board the coaster and pick a song. Unfortunately, you are stuck with the music videos, all loose items must be placed in a locker and you will pass through metal detection like on The Incredible Hulk or VelociCoaster.
Rockit coaster trains hold twelve guests in rows of two, a Team Member will assist parties to stand on marked circles that correspond with a seat on the train. Once a train approaches guests to walk onto a moving walkway and board the ride vehicle, similar to Hagrid at Islands of Adventure. Once the safety lapbar comes down now is your chance to select a song for your ride on a small touch screen. Songs are broken down into genres like Rap and Hip-hop, Rock, Pop and Disco, Club and Electronic, and Country. A secret list of songs is available for guests if they press down on the Rockit logo on the touch screen. If completed correctly a numeric pad pops up to enter a song into. A list of songs and their numbers can be found online (Blog: Hollywood Rip Ride Rockit Hidden Tracks)
Once strapped in guests quickly ascend up the 90-degree lift hill and face the first drop. Immediately after the coaster train enters what appears to be a regular inverting loop but at the top, the coaster track rotates so the train does not invert. This manuever is called a non-inverting loop. Throughout the rest of the track layout, guests zoom between soundstages, through the facades in New York, and finally head out to CityWalk for some banked turns and bunny hills.
After the ride guests have the opportunity to purchase a music video of your ride or purchase a more traditional on-ride photo. The music video features the music you chose for the ride along with your on-ride POV interspliced through a video of guests partying in USF. Guests who have a photo package through Universal get the on-ride photo for free but must pay for the video.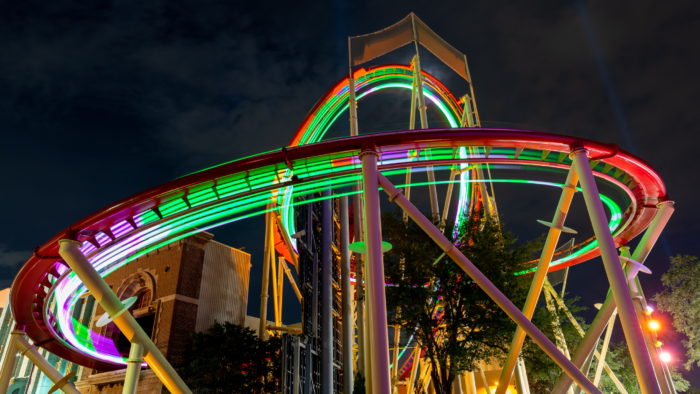 The Opinion
Rockit is the most divisive ride at Universal, and possibly in Orlando.
The general public loves it – grade-schoolers to seniors rate is four stars or better. Our very own Derek Burgan even dedicated a Saturday Six to die on the hill Rip Ride Rockit is a great ride (Blog: Saturday Six Presents). I understand that reasoning, it is the only traditional outdoor rollercoaster in the park and the pick-your-own music gimmick is cool. Keep on truckin' if you love this ride.
I have been on over 200 coasters and Rockit (in the words of Gen Z) is just mid. It just is not a very fun or exciting coaster. My biggest issues with the ride are with the track and coaster trains. The soundstages the ride is placed between creating a wind tunnel effect which can cause the coaster trains to not make it through the full course. To fix this issue the ride manufacturer added block break sections liberally throughout the coaster, breaking up the pacing into awkward chunks. The trains were modified to limit problems and increase reliability and now have a rougher ride than most other coasters. For me, this is a skippable coaster, but for others, it is a must-ride on every trip. Your mileage will vary.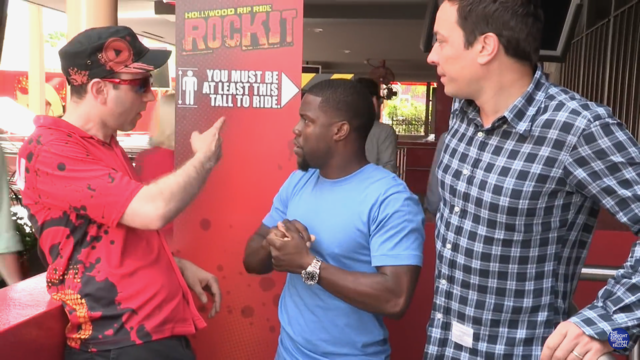 Restrictions & Accommodations
Guests must be 51 inches (129.5 cm) or taller to ride.
Guests in wheelchairs and ECVs must transfer to the ride vehicle.
Prosthetic limbs must be removed or secured during the ride; guests must be able to brace themselves while riding.
Due to restraints guests with waistlines larger than 40 inches might not fit the restraints; use the test seat outside the ride entrance to ensure you can be accommodated.
All loose items such as cell phones, keys, and wallets must be placed inside a free locker. Metal detection is used in the queue.
Rider Swap is offered for parties with members under the height requirement; see a Team Member at the entrance for assistance.
This attraction is intense; it rattles most adults.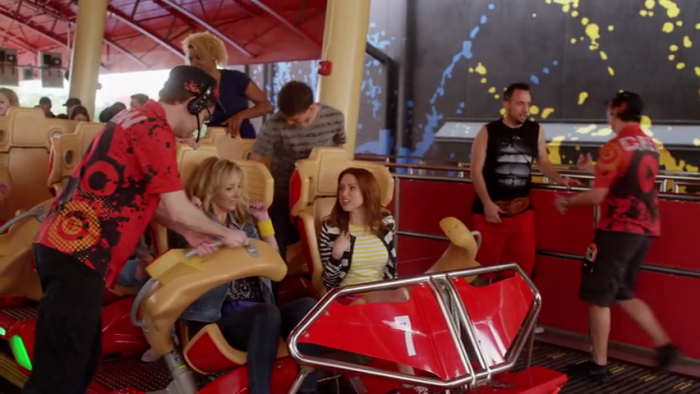 Touring Tips
Hollywood Rip Ride Rockit is positioned in such a way that everyone entering the park or in CityWalk will see it and it is among the closest rides to the front of the park. This double whammy of theme park design causes the ride to develop lines quickly in the morning and to last throughout the day. If Diagon Alley and the Escape from Gringotts are a must then ride Rockit in the half hour the park is open, if not then ride Rockit immediately at the park opening.
Rockit features a single rider line but it frequently closes due to the queue getting too long. The two-across seating allows odd parties to be handled more efficiently, leading to Team Members pulling fewer guests out of the single-rider line. Check with the Team Members at the front of the attraction to see if the Single Rider Line will save you any time.