SATURDAY SIX Presents: Theme Park Hills To Die On – In Defense of HOLLYWOOD RIP RIDE ROCKIT
This week's SATURDAY SIX is an exciting new edition of our popular series, Theme Park Hills To Die On! Quick backstory: when at the theme parks, there are the occasional moments where we enjoy things that seem like no one else does. Yet despite the rolling eyes and incredulous gasps from our family and friends, we will defend these treasured moments to the death.
Enter the Theme Park Hills To Die On series, where myself and celebrity guest authors will take something from the theme park world that many scoff at and explain why we love it so much. I kicked it off with a look at the SKILL GAMES at Universal's Springfield USA, and Alicia Stella followed up with a passionate defense of PizzeRizzo at Disney's Hollywood Studios. Today we look at our first theme park attraction, Hollywood Rip Ride Rockit in Universal Studios Florida….
# 6 – "As seen on TV!"
If you're like me, seeing the theme parks represented on TV just makes my day. Whether it's seeing Dan Conner run out of the Magic Kingdom upon realizing they don't sell alcohol on Roseanne, Sabrina the Teenage Witch going to Animal Kingdom, or even Hulk Hogan riding Splash Mountain on Thunder in Paradise, being able to see our beloved theme parks through different eyes is a blast. While we get to see Disney attractions relatively often over the years in filmed entertainment, it is much more rare to see Universal attractions, especially on TV shows. Rip Ride Rockit is the sole exception. When Universal opened Race Through New York Starring Jimmy Fallon, they also hosted a whole week of The Tonight Show tapings at Universal Orlando. In a memorable segment, Jimmy and comedian Kevin Hart rode Rip Ride Rockit.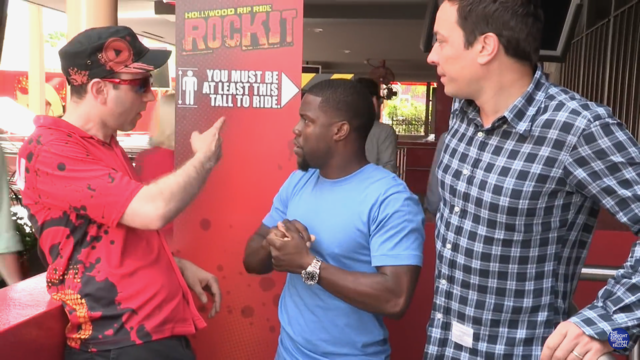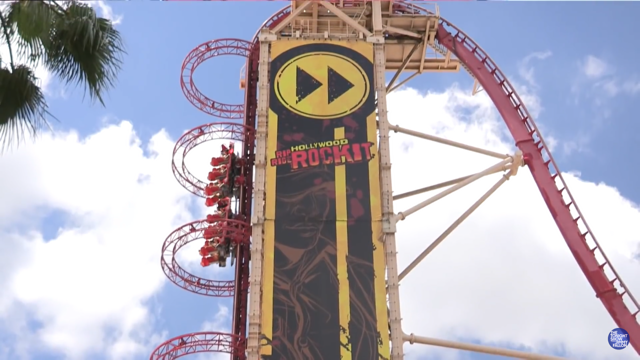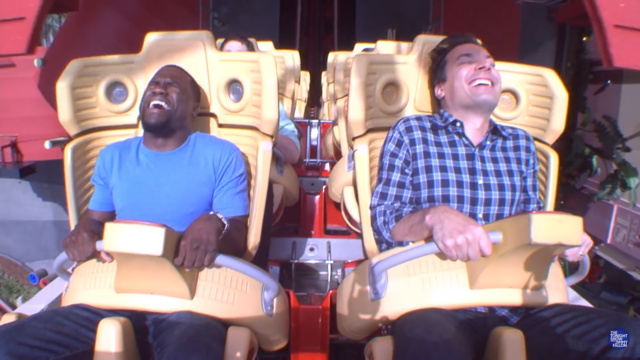 Here is the full segment, including the five star height check gag:
In Unbreakable Kimmy Schmidt episode "Kimmy Finds Her Mom" (season 2, episode 13), Kimmy and her mom rode Rip Ride Rockit.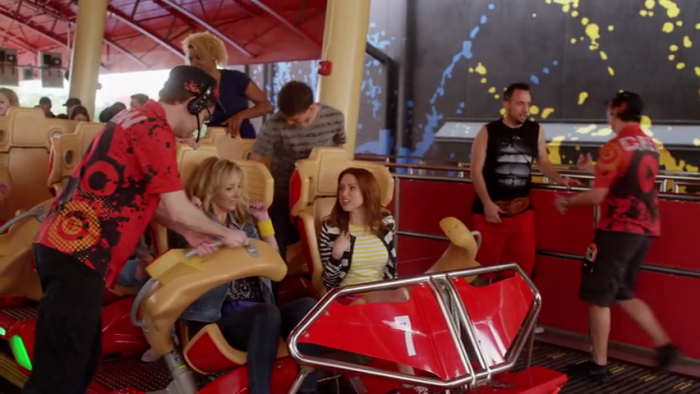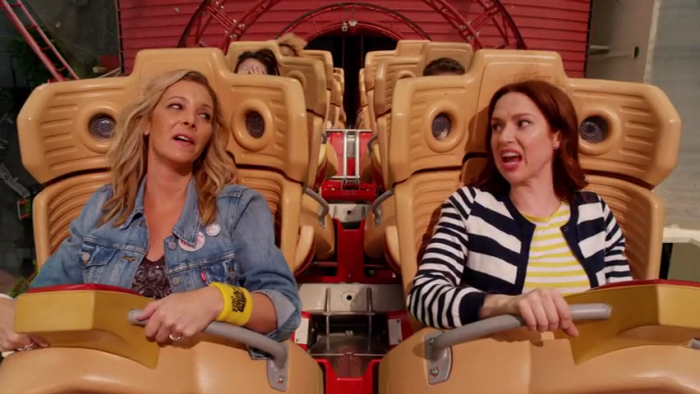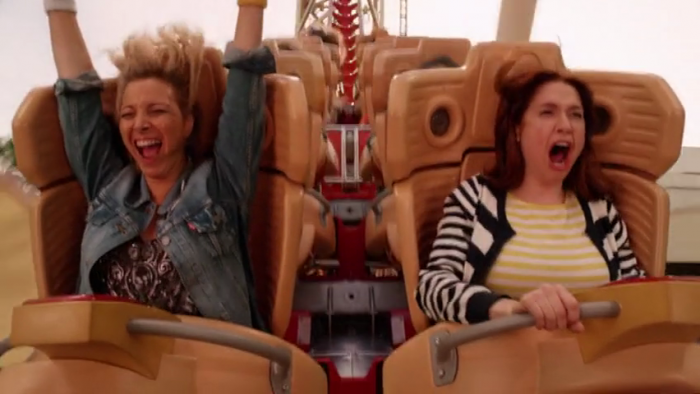 When one describes their "Mount Rushmore" of cinema, you'll generally see the classics. The Godfather. Jaws. Citizen Kane. Sharknado 3: Oh Hell No! Oh wait, that last one may be just for Universal Orlando Resort fans only because it is next level bonkers, but uses the theme parks and hotels in a hilariously great way. While the made-for-TV- movie incorporated all the classic elements of Universal Orlando in a unique way – such as the globe outside USF and IOA's lighthouse – the one ride we got to spend an extended time with was none other than Rip Ride Rockit.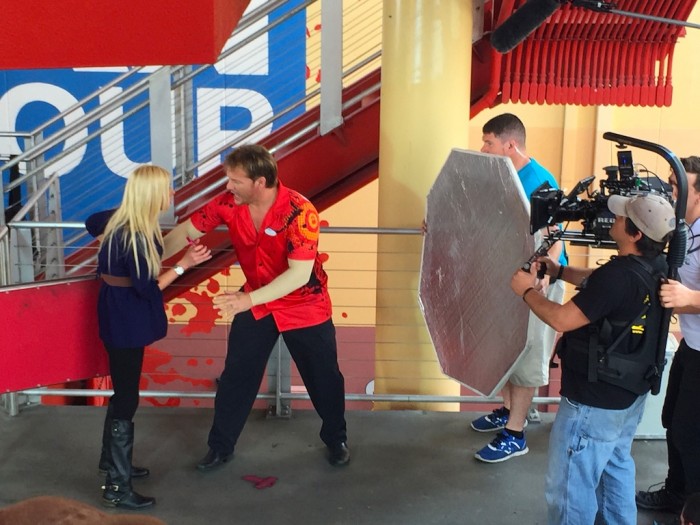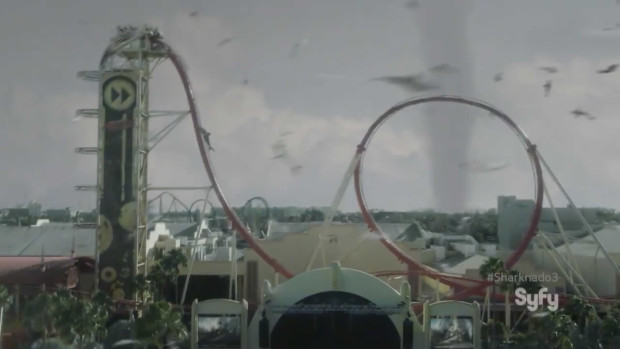 You're going to need a bigger boat ride vehicle."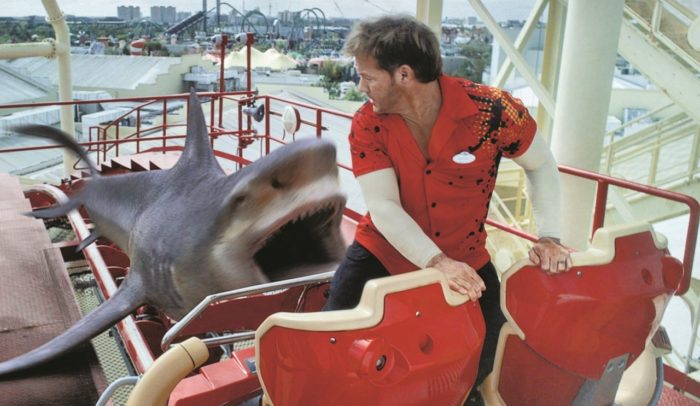 # 5 – You Pick Your Own Sountrack!
One of the things I love the most about Rock 'n' Roller Coaster starring Aerosmith, is that it is one of the only coasters that not only incorporates music into the ride experience, but recognizable songs. Rip Ride Rockit takes it to the next level by allowing guests to choose their own songs for the ride.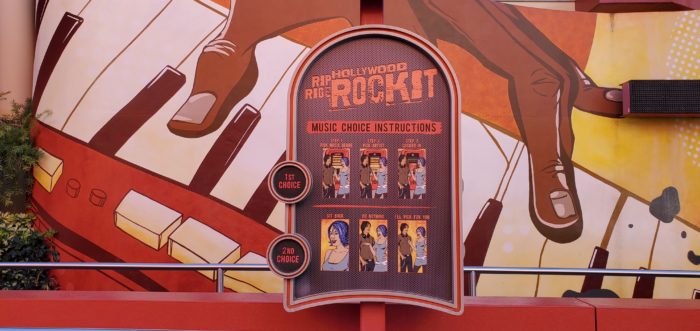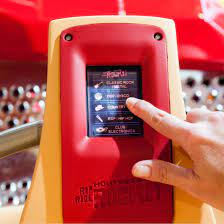 Once you get seated on the ride vehicle and secured in, a touch screen allows you to choose a song from the following categories: classic rock and heavy metal, club and electronica, country, rap and hip hop, pop music and disco. Each category has between 5 and six songs to choose from including ZZ Top – "Gimme All Your Lovin'", Daft Punk – "Harder Better Faster Stronger", The Charlie Daniels Band – "The Devil Went Down To Georgia", Cypress Hill – "Insane in the Brain," and (certainly an appropriate song choice for a roller coaster) Gloria Gayner – "I Will Survive." My personal choices are usually Motley Crue – "Kick Start My Heart" or Beastie Boys – "Sabotage".  If you don't chose a song, a random selection will be chosen for you.  The speakers for each ride train are designed so that you will only hear the song you chose, as you can't even hear a note of the song the person next to you chose.
For me, the option to pick your own soundtrack makes Rip Ride Rockit one of the more cooler experiences in any theme park. It is one thing to input my general likes and information on the touch screens on Spaceship Earth for their cute end-of-ride videos, but this option for Rip Ride Rockit puts a song that I love playing in the background during an E-Ticket thrill ride attraction experience. It's just awesome.
Having on-ride photos has become ubiquitous in our theme parks, but Rip Ride Rockit also gives guests an option to purchase a special music video featuring your ride experience.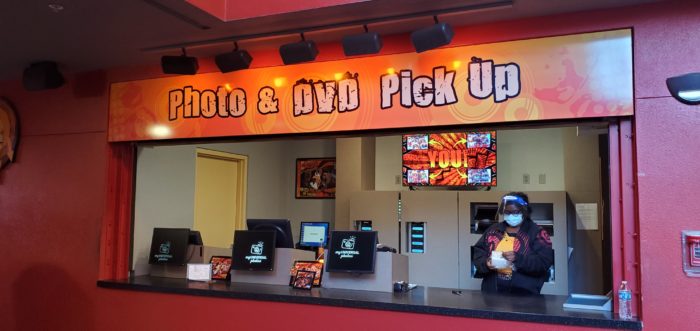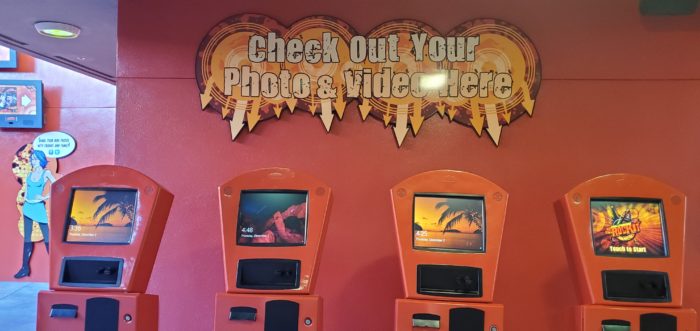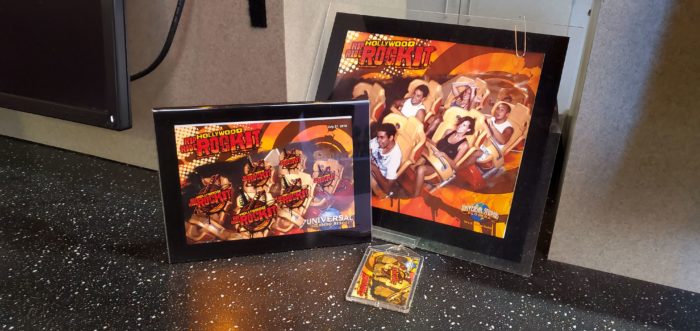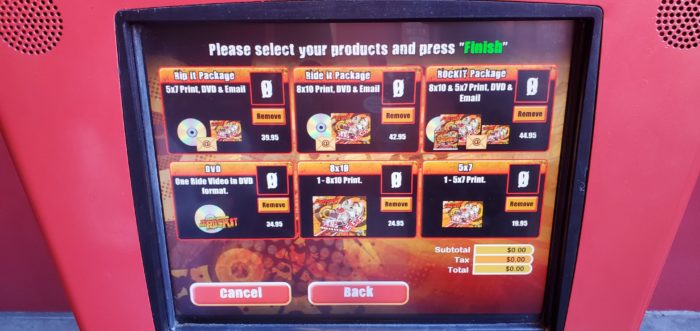 The ride video uses the song that you chose during the attraction and incorporates a lot of fun extras into the experience.
# 4 – The 90 Degree Lift Hill
I enjoy roller coasters, but I am far from a "coaster enthusiast."  For me, things like tallest drop is a NAY NAY and I enjoy  other factors on coasters, such as the launches and barrel roll over the water on VelociCoaster and the incredible free fall in Hagrid's Magical Creatures Motorbike Adventure. Rip Ride Rockit has an iconic 90 degree vertical lift hill which starts the entire experience. It's a unique way to start a coater experience and one that I love.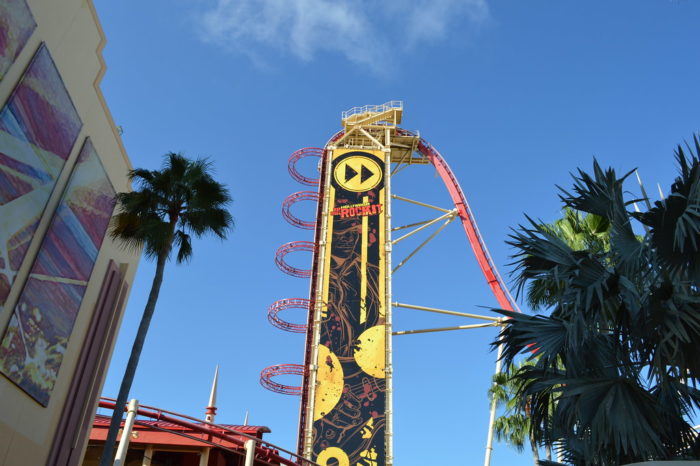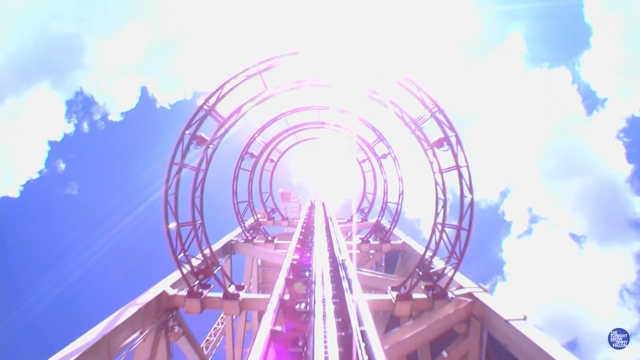 # 3 -It Goes Through Multiple Areas Of The Park and THROUGH A BUILDING
Rip Ride Rockit walked so that Hogwarts Express could run.
Rip Ride Rockit was the first attraction at the Universal Orlando Resort to go between two different "lands." The ride experience begins in Production Central, but the coaster itself travels to the New York section park as well, including through a (fake) building.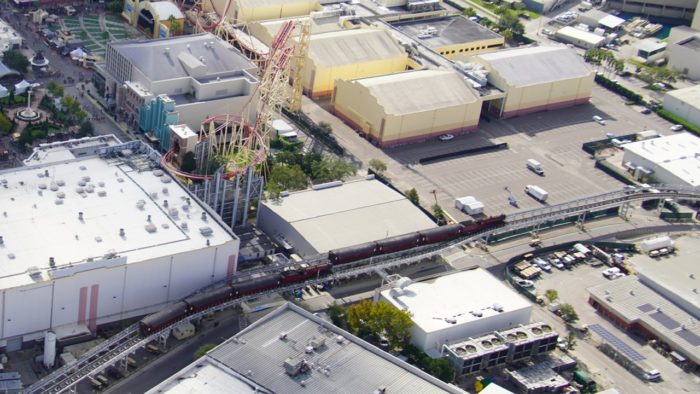 When coasters go through tunnels or facade elements – even something as simple as The Barnstormer in Disney's Magic Kingdom – it's just plain fun, and for me elevates the ride experience.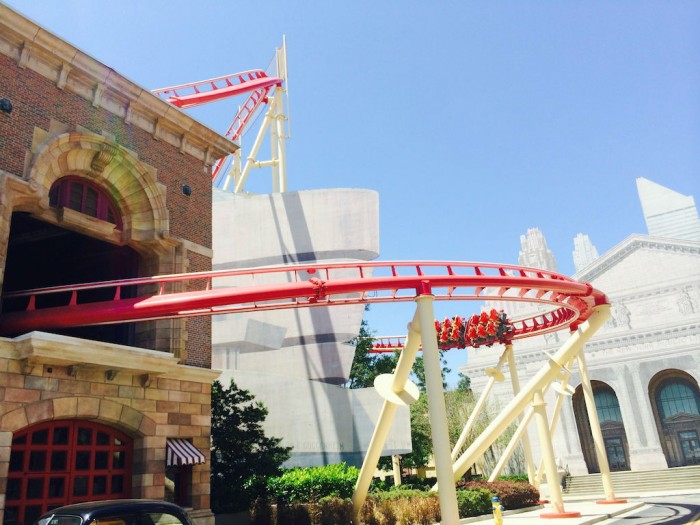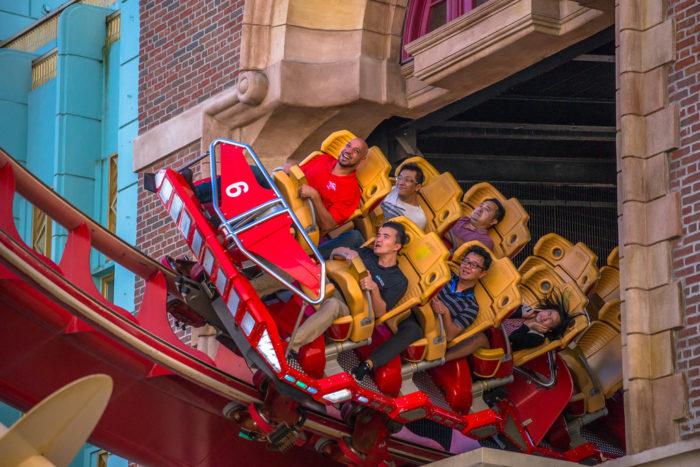 # 2 – The EXHILIRATION!!!
The thrill of speed, drops, loops, and corkscrews is why most people enjoy roller coasters, and Rip Ride Rockit delivers in that area as well. I will fully admit the ride experience is nowhere near as smooth as what you get on a coaster like VelociCoaster, but you know what they say, no pain, no gain. Coaster fans will understand the terminology of Rip Ride Rockit having "positive G forces and goes through a first-of-its-kind non-inverting loop." I have no idea what any of that means, but I do know I like it!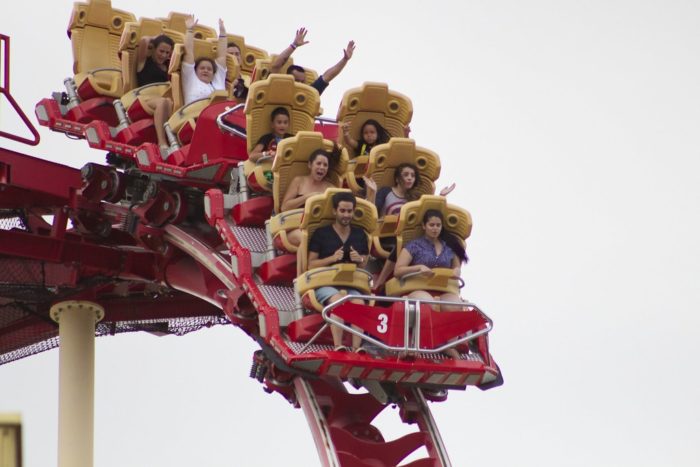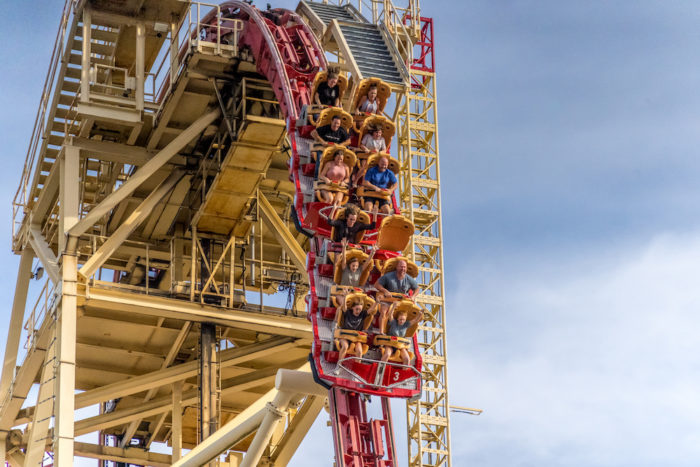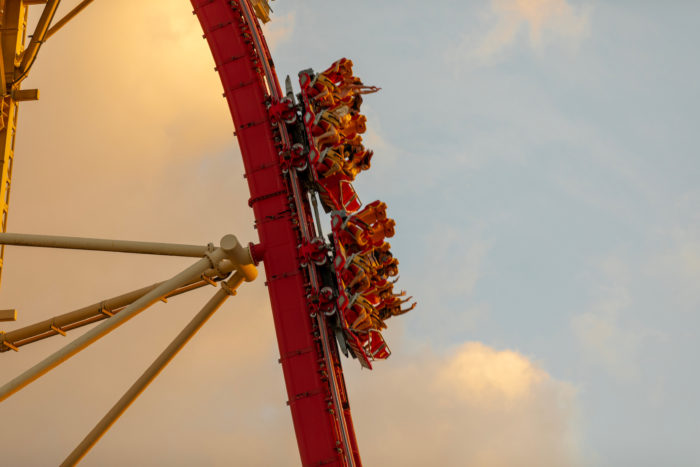 The sheer happiness you see on coasters like Rip Ride Rockit is something most theme park attractions can't touch. Look at some of the faces below, that's why we love theme parks.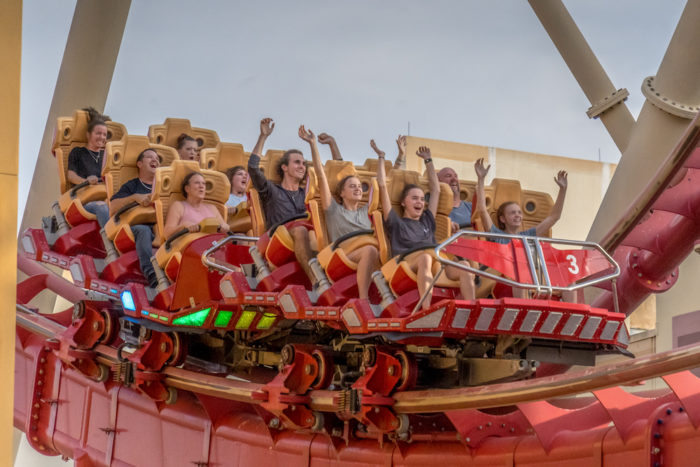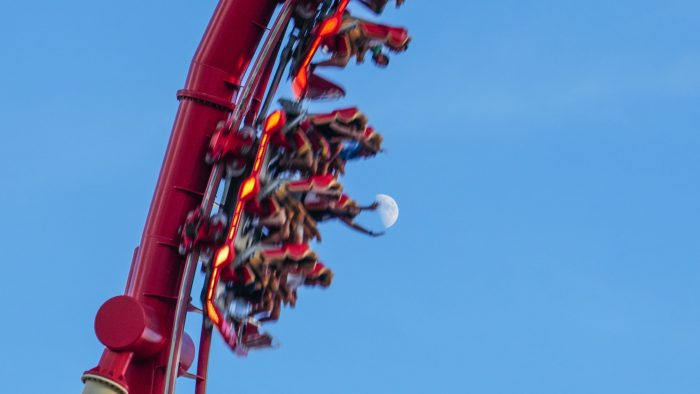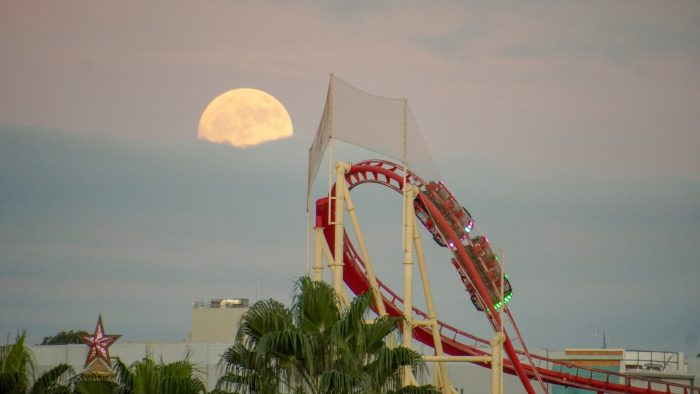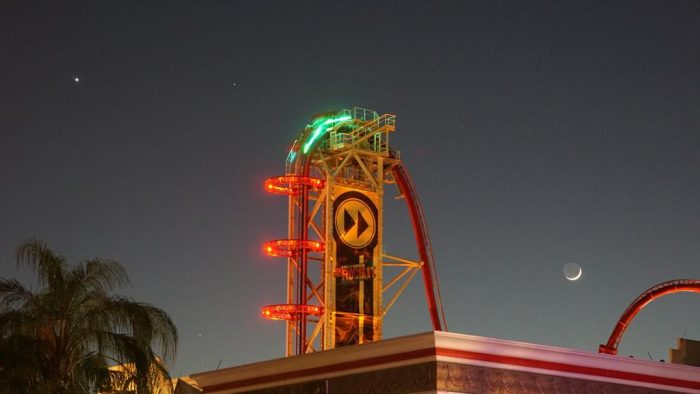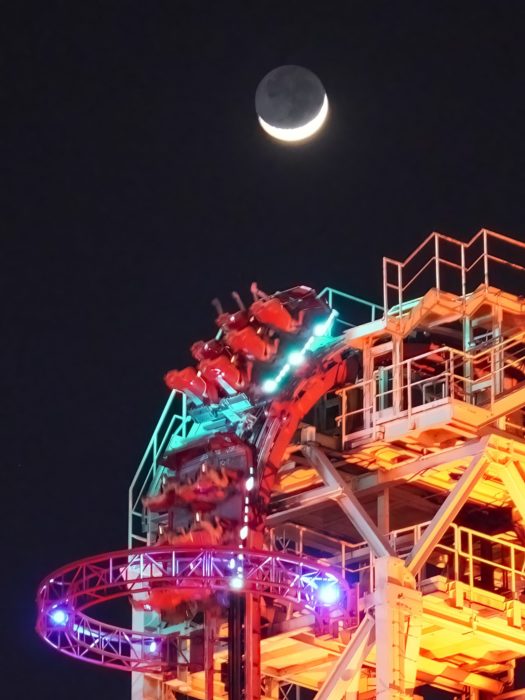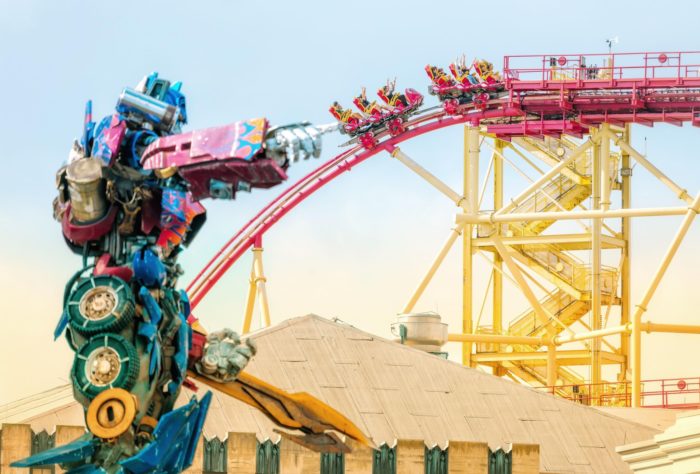 # 1 – Rip Ride REALLY Rocks It at NIGHT!!
Once the sun goes down, Rip Ride Rockit's lighting package takes the entire experience to the next level. In my opinion, not only is it more thrilling for the guests on the ride, but those on the ground get a visual treat. Not only does the track have a lighting package, each train on the track is also equipped with multi-colored lights. Guests on the ground get a visual treat while guests on the ride get the thrills. This ride just looks COOL. It grabs the attention of anyone walking by, including the nearby CityWalk.
It's important to remember that we are inside a theme park and visual design elements are a major factor of our experience. What separates Universal and Disney from amusement parks is they don't just have huge coasters that have nothing else going for them other than the experience of the drops. There are plenty of places you can get that. A coaster that has songs you choose, a moving loading platform, going through multiple areas of a theme park? There's only one place for that.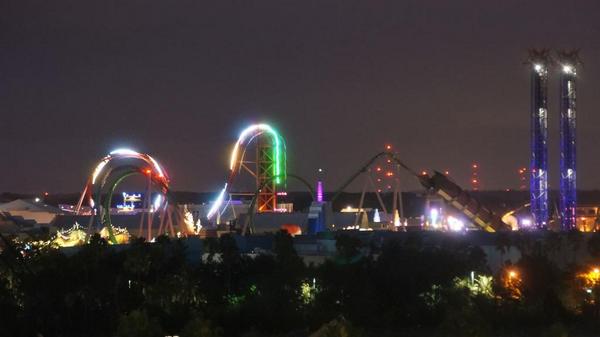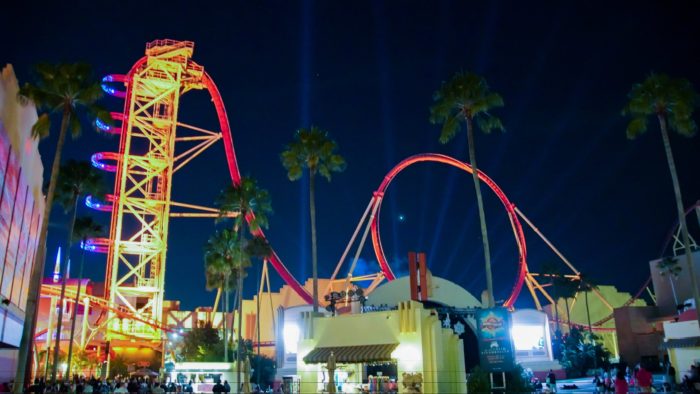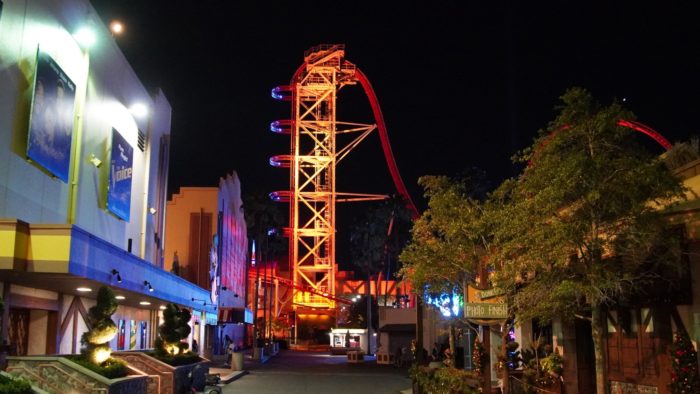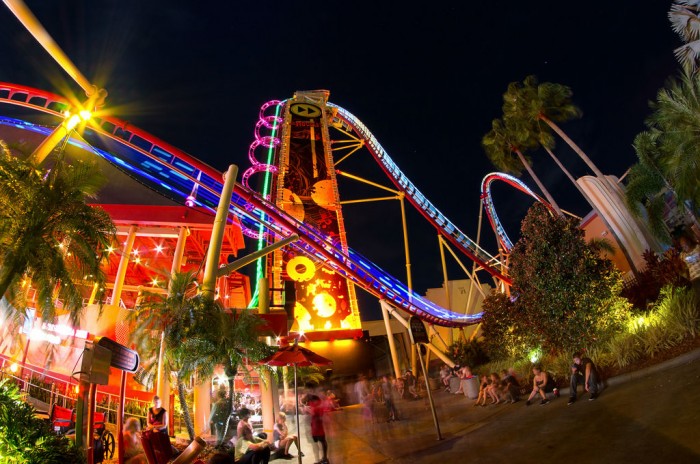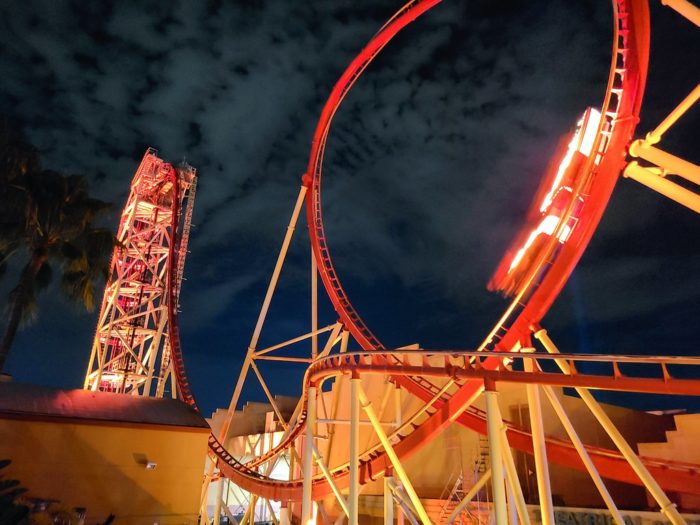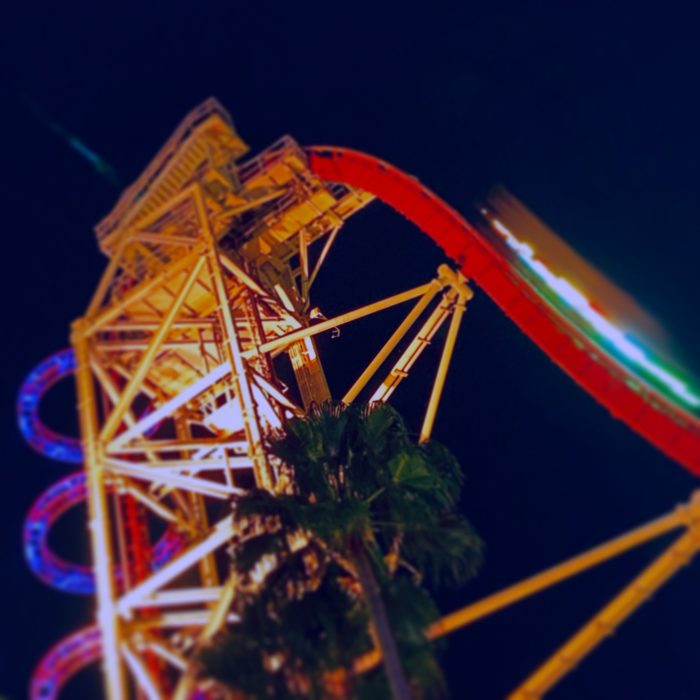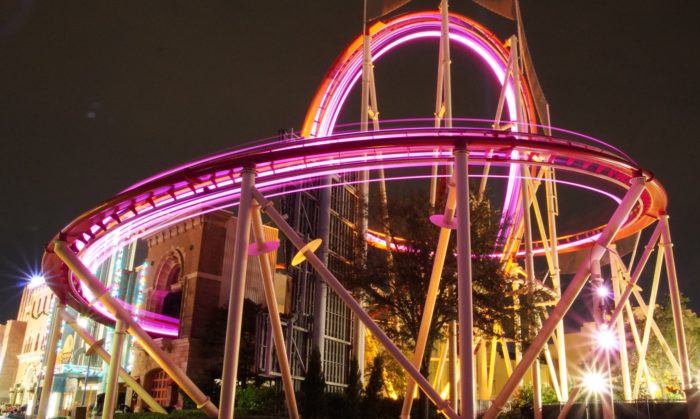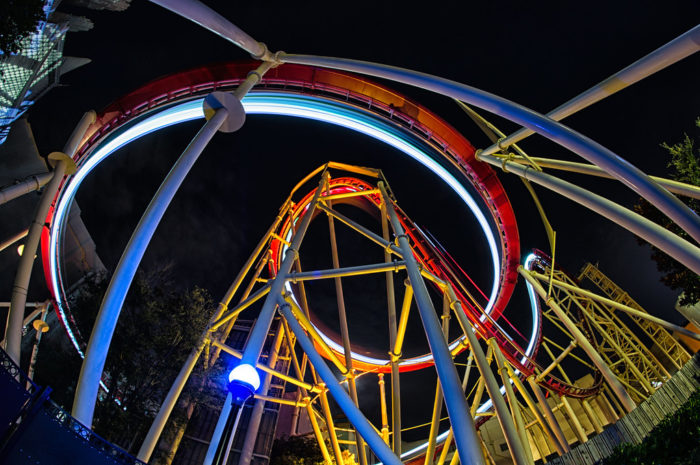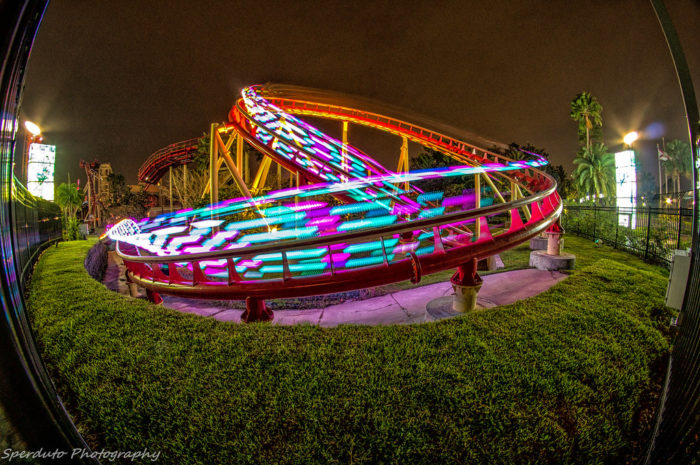 Honorable Mention: Oh, It's MUSIC You Want?!
Rip Ride Rockit is located directly behind the main musical stage at Universal Studios Florida. That means whenever a concert is being held, guests enjoying the music will also have the visual element of Rip Ride Rockit in the background.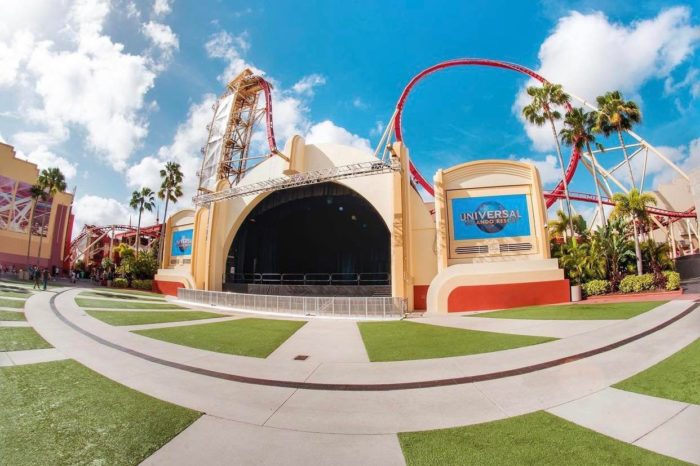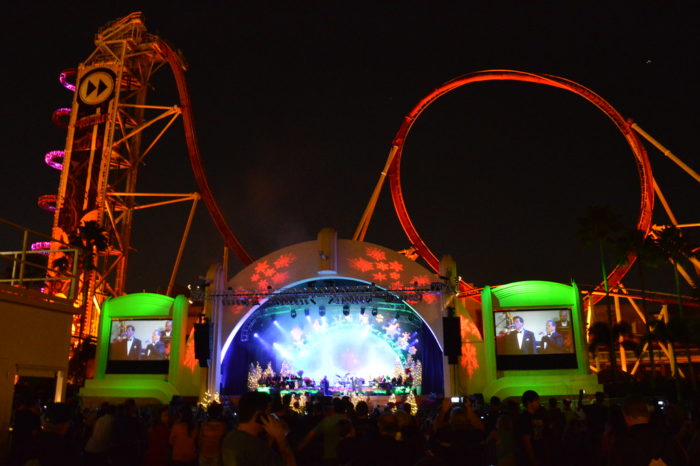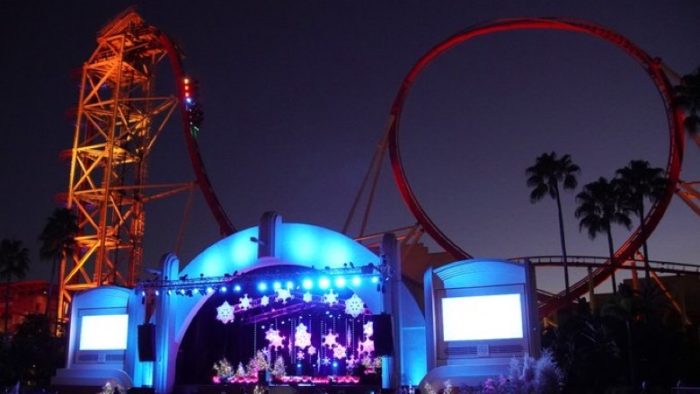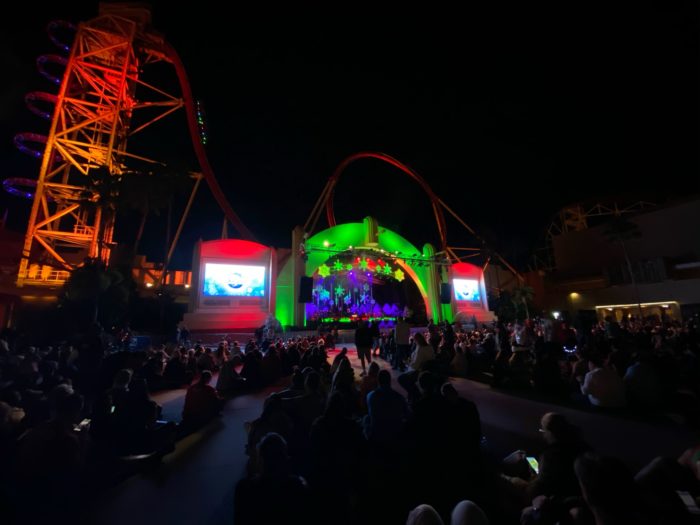 So there you have it: Theme Park Hills To Die On – Vol 3. RIP RIDE ROCKIT! See you next weekend for the latest installment of the SATURDAY SIX, where we'll look at something fun from the world of Disney and Universal. You can also follow Your Humble Author on Twitter (@derekburgan).
If you enjoyed this article, you will surely like the following: 
SATURDAY SIX Presents: Theme Park Hills To Die On – Vol 1. SKILL GAMES in Springfield USA
SATURDAY SIX Presents: Theme Park Hills To Die On – Vol 2. PIZZERIZZO in DHS
DAVID & DEREK: The Do's and Don'ts of COVID-19 Safety Protocols at the Theme Parks
6 Pieces of Disney Merchandise That Don't Exist (but Totally Should)
SATURDAY SIX Presents: The Disney Signage Hall of Shame
Special Thanks to The Elite Brandon Glover, Digital Maestro Scott Walker, the bio-est of all reconstructs @bioreconstruct, the mighty maven of merchandise Hedgehog's Corner, Captain Cruiseline Scott Sanders of the world famous Disney Cruise Line Blog, my personal protege Hunter "Elvey" Underwood, artist @SonderQuest, the SAT SIX Fun Squad of Parkscope Joe and "the Dadalorian" Nick, hot shot Michael Carelli, charter member of the Universal Four @Nitro230, and Hermione Granger's tutor Megan Stump for their invaluable assistance with this article. Absolutely no help was added by SeaWorld Influencer @SuperWeenieHtJr. The SAT SIX is inspired each week by goofballs Aengus Mackenzie and LitemAndHyde and you Potterheads will  enjoy Meg's other blog work over at the Central Florida Slug Club.