Getting to Know Universal's Hot Dog Hall of Fame
The connection between hot dogs and baseball goes back more than a century. The Hot Dog Hall of Fame at Universal Orlando plays into the United States' fascination with baseball and hot dogs, with everything about this location designed to remind you of hot dogs and baseball. Here's what you need to know about this quick service location.
Quick Glance
Location: CityWalk
Cuisine: Hot dogs and other ballpark food
Service: Counter service
Price: $9-$18 per entrée (vast majority are under $10)
Universal Dining Plan Accepted: Yes, the quick service version!
TouringPlans Rating: 89% reader approval
Seating: Outdoor, mostly covered
Experience
As mentioned, this quick service location is baseball themed. You will hear baseball sounds. You might see a baseball game being shown on the screen above the counter. Many seats look and feel like real baseball stadium seats for a good reason. Since this location is off the beaten path in CityWalk, located near Antojitos, then it can be a break from your busy theme park day until after the parks close. (This assumes that the constant sounds of baseball do not annoy you.)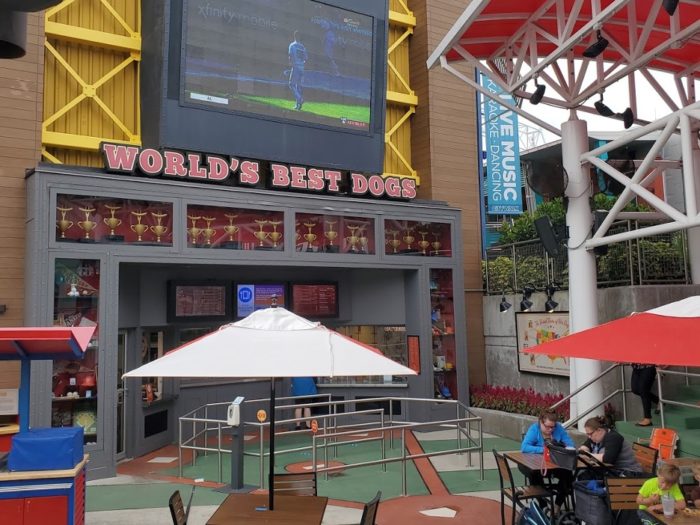 This food service idea, developed by Steven Schussler, a creative food service expert, serves well its goal of being a tribute to the traditional baseball food. The food is prepared fresh. If you are willing to share or are very hungry, there is even a two-foot-long hot dog you can enjoy. Some of the features of this quick service location (like the mustard bar arranged by the National Mustard Museum) are still missing due to COVID procedures, but we hope that everything will return soon.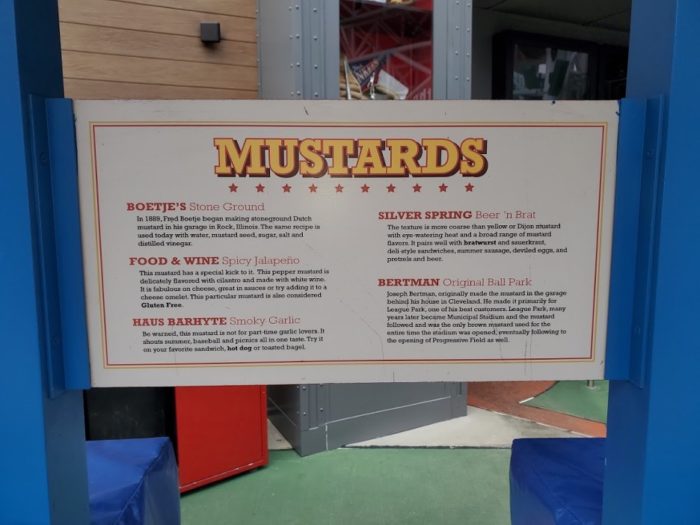 Food and Drink
The menu for Hot Dog Hall of Fame is quite simple. There are primarily hot dogs themed to professional baseball cities. The current menu options are:
Chicago: Vienna all-beef dog, poppy-seed bun, neon relish, sport peppers, diced onions and tomatoes, celery salt.
Colorado: Nathan's Famous hot dog, grilled peppers & onions, sauerkraut.
Kansas City: Vienna all-beef dog, pulled pork, coleslaw, pickles, barbecue sauce.
Boston: Kayem all-beef dog, toasted New England-style bun, spicy brown mustard, diced onions, relish.
Washington: Hebrew National dog, buffalo sauce, coleslaw, bleu cheese dressing, celery salt.
New York: Sabrett all-beef dog, sauerkraut, mustard.
Arizona: Vienna all-beef dog, smoked bacon, pinto beans, grilled onions & peppers, cheese.
Milwaukee: Bratwurst Sausage, hoagie roll, grilled onions, spicy brown mustard.
Detroit: Koegel dog, Abbott's Coney chili, diced onions.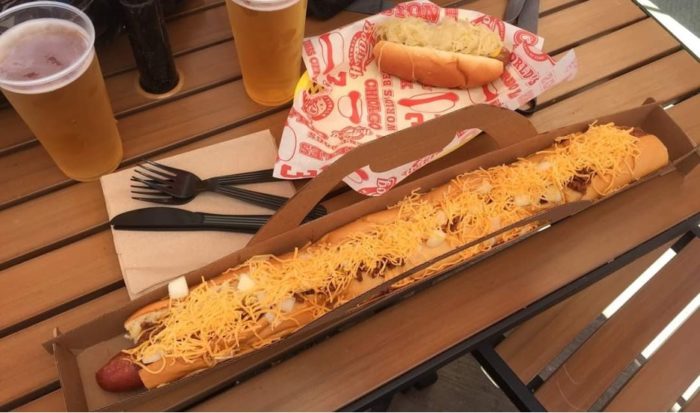 There are also Vegan dogs, Italian sausages, gluten free, and foot-long versions with the previously mentioned two-foot-long variety. Currently, all hot dogs can be turned into platters with fries for $1. Sometimes during slow periods of year, the platters are served with chips versus fries.
To stay with the baseball theme, you can also buy Cracker Jacks, peanuts, and ice cream while you watch a baseball game on the big screen. In addition, it cannot be a baseball theme without beer sales. Currently, you can get a draft beer for around $10 with these brands being sold: Budweiser, Bud Light, Miller Lite, Yuengling, Blue Moon, Sam Adams, & Angry Orchard.
Our Review
For the 4th of July in 2020, I was disappointed that this quick service location had not reopened. I had some ice cream that day. I had visited Captain America in my Captain America shirt getting a photo op in Marvel Super Hero Island. I was missing only this piece of stereotypical USA culture. I, for one, am glad this food option is back.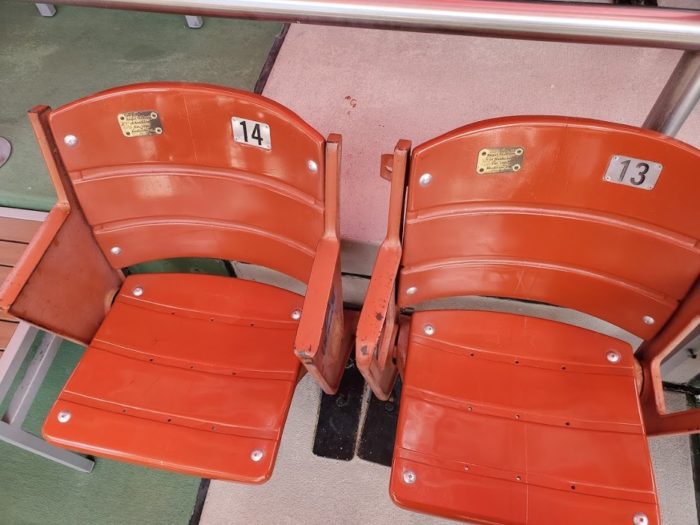 Hot dogs are not fine dining by most standards. There are plenty of hot dogs sold at this resort and others. However, in taste tests, these hot dogs are among the best theme park quick service versions anywhere. If you are looking for a break from the park and desire an inexpensive meal, this place is a fantastic option. It is difficult to recommend the cost-effective aspect of the alcoholic beverages here, but you can get a quality hot dog and fries/chips for about $10 at a theme park resort. This price for a hot dog and side is less than in the actual theme parks with lower quality hot dogs. These hot dogs will not change your life. However, if you are a baseball fan and want a hearty meal with shorter queues for food, this is a place you need to check out on your next trip to Universal Orlando. Play ball!
Are you a fan of Hot Dog Hall of Fame? Let us know which hot dog is your favorite in the comments.