This Not That – Universal Orlando Dining
A theme park vacation can be overwhelming at times, especially when your party is hungry. With dozens of dining options to choose from it can be hard to find the best dining location. Thankfully our amazing readers have weighed in, voting on the best and worst restaurants at Universal Orlando. In this article, I will compare three low user-rated restaurants at the resort and offer comparable substitutes based on location, price, and cuisine.

Universal Studios Florida
Restaurant: Classic Monsters Cafe
Approval Rating: 72.9%
Classic Monsters Cafe's menu has seen a radical shift in quality away from the old burgers and fries towards a new fast-casual BBQ concept. Even with the change guests vote the monster-themed restaurant down.  Instead, we suggest walking past Shrek 4D to Today Cafe which specializes in fresh salads and sandwiches.
Restaurant: Richter's Burger Co.
Approval Rating: 75%
An earthquake-themed venue, Richter's serves up burgers, chicken sandwiches, and fries. If a burger or chicken sandwich is what you crave head across the lagoon to Fast Food Boulevard in Springfield. Next door in the Wizarding World of Harry Potter – Diagon Alley is the iconic Leaky Cauldron, featuring British pub favorites like fish & chips and chicken sandwiches. Over in the New York section of the park seek out Louie's Italian Restaurant which serves pizzas, pasta, and salads.
Restaurant: Mel's Drive-In
Approval Rating: 75.5%
Burgers, chicken sandwiches, and fries. Sense a theme here? In addition to Leaky, Louie's, and Fast Food Boulevard listed above, we also suggest Central Park Crepes, a snack stand that serves fresh, filling sweet and savory crepes.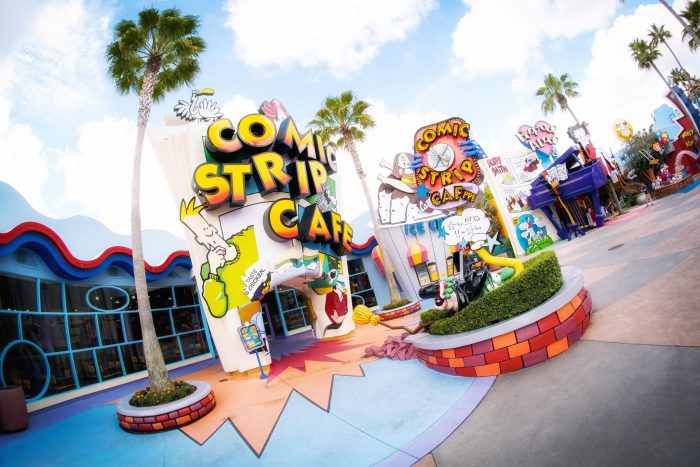 Islands of Adventure
Restaurant: Captain America Diner
Approval Rating: 55.6%
The lowest-rated dining option in the Universal parks, Captain America Diner does a disservice not just to Steve Rogers but also to The Avengers. Cafe 4, also located in Marvel Super Hero Island, is also poorly rated. For a better burger and pizza option try the full-service restaurant Confisco Grille located in Port of Entry.
Restaurant: Circus McGurkus Cafe Stoo-pendous
Approval Rating: 59%
Seuss Landing's major dining venue, Circus McGurkus features lively decorations – even the High in the Sky Suess Trolly runs through the restaurant. The food, outside of the fried chicken, leaves much to be desired. Skip McGurkus and head to Green Eggs & Ham for their totchos and seasonal items or Fire Eaters Grill in Lost Continent for gyros, chicken tenders, and salads.
Restaurant: Comic Strip Cafe
Approval Rating: 80%
I will just quote the Touring Plans review:
Long notorious for serving the worst fast food in IOA, Comic Strip Cafe attempts to serve something for everyone and ends up satisfying no one. The "Chinese" dishes are pretty dire. Better fish-and-chips can be found at Three Broomsticks, and better pizza is at Cafe 4. The least awful entrée is the fresh baked cod on warm pita with tropical salsa, but it takes up to 20 minutes to prepare.
Skip Comic Strip Cafe and head to Thunder Falls Terrace in Jurassic Park. The menu at Thunder Falls includes rotisserie chicken, ribs, salads, and turkey legs, and the venue overlooks the Jurassic Park River Adventure splashdown.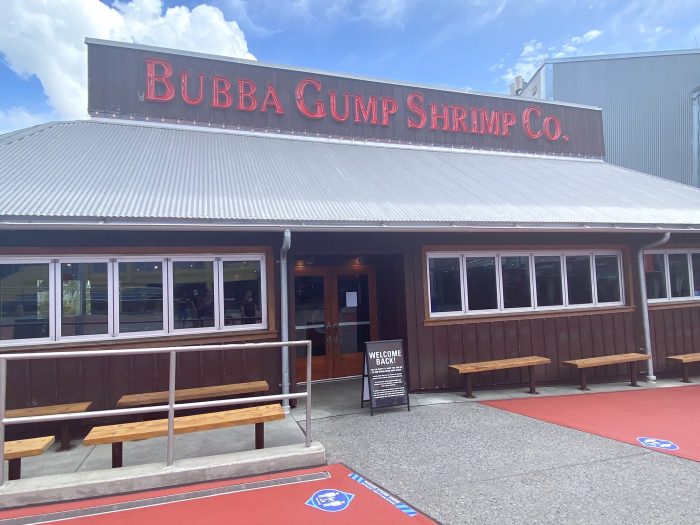 CityWalk
Restaurant: Panda Express
Approval Rating: 74.5%
CityWalk is full of chain restaurants and the lowest rated is Panda Express, which serves fast food American Chinese. Portions are large and filling but the quality, service, and overall feel of the food court venue leave much to be desired. Instead, we recommend checking out Red Oven Pizza Bakery for their fresh-baked pizzas or Bread Box Handcrafted Sandwiches which offers a selection of sandwiches, sides, and shakes.
Restaurant: Bubba Gump Shimp Co.
Approval Rating: 78.9%
Named after Bubba from the Forrest Gump movies, Bubba Gump Shrimp Co. features a menu of fresh and fried seafood. While this restaurant would easily be forgotten in CityWalk, normally it is prominently featured as the first thing guests see walking into CityWalk (and the last thing while leaving the parks at night). The food is okay, nothing better than other chain seafood locations. Instead of Bubba Gump, we suggest BigFire American Fare or Vivo Italian Kitchen, each offering several seafood options. (My sister raves about the mussels from BigFire to this day.)
Restaurant: Moe's Southwest Grill
Approval Rating: 81.6%
Moe's offers burritos, burrito bowls, and tacos in an assembly line format. Food is fine but the food court (same as Panda Express) is underwhelming. If you are looking for other fast food options we suggest Red Oven and Bread Box (see above) but if you want Mexican check out Antojitos which offers a great street Mexican menu with delicious margaritas.
Have you tried any of these best and worst options? Got anything you'd recommend? Let us know in the comments.\