The Best Outdoor Dining at Universal Orlando's Theme Parks
Enjoying a meal you can't get anywhere else is one of the joys of traveling. Orlando's theme parks offer some unique dining options that are destinations themselves. Many of us prefer to dine outside right now, and options can be limited. We've previously discussed the best outdoor dining at Walt Disney World. Now, let's head a few miles up Interstate 4 and review the best outdoor dining at Universal Orlando's theme parks.
Best Outdoor Dining at Universal Studios Florida
The original park at Universal Orlando has changed quite a lot over the years. And with those changes to Universal Studios comes improvement in dining options. But some of the best outdoor dining is available at classic locations. Along the Universal Studios Lagoon is Lombard's Seafood Grille, a table service restaurant that has been there since opening day. There are a limited number of tables outside on the back deck that overlook the iconic lagoon. If you want a relaxing meal at a classic Universal Studios venue, Lombard's is a great choice.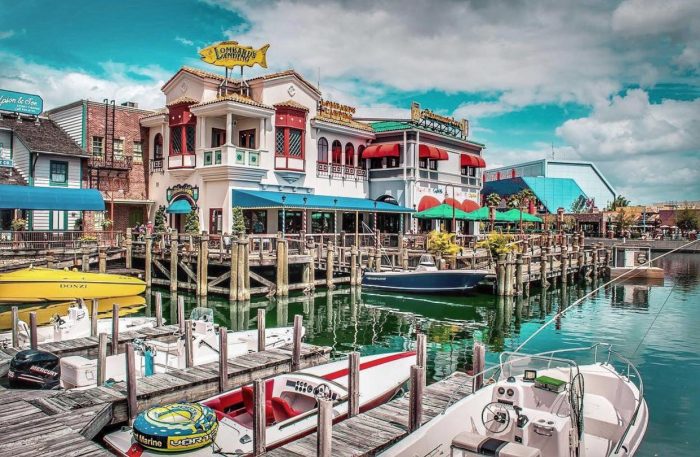 Another classic venue also near the lagoon is Richter's Burger Co. This earthquake-themed counter service burger spot is casual and full of details that definitely give nostalgia vibes from Universal's early days. You won't have the best meal ever here, but the views outside are lovely.
On the other side of the lagoon is personally one of my favorite lands, Springfield U.S.A., which re-creates the zany world of The Simpsons. Here you'll find multiple quick service options under one roof. Fast Food Boulevard is exactly that, full of fast food favorites like burgers, pizza, fried chicken, and more. If you want a quick, casual meal that's nothing fancy, in a fun atmosphere it is a good choice – personally I really enjoy the Krusty Burger. Of course, my love for The Simpsons may be causing some bias here. There's a great outdoor seating area here overlooking Springfield U.S.A. You can also grab some tacos from Bumble Bee Man's Taco Truck and enjoy the outdoor seating, or snag a table at Duff Brewery overlooking the lagoon.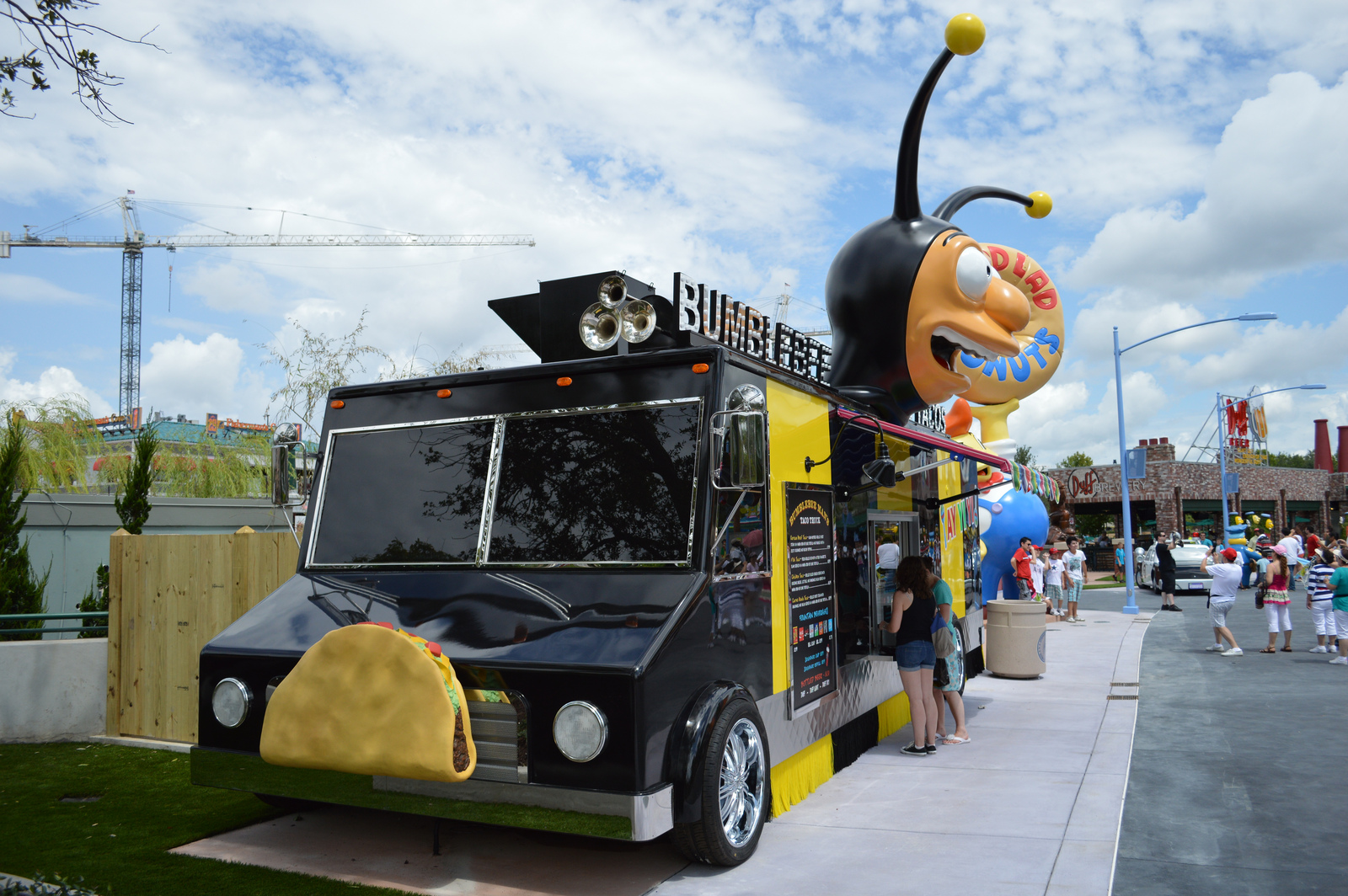 Finally, the latest quick service restaurant at Universal Studios Florida offers some great corner cafe outdoor seating. Enjoy fresh breakfast and lunch favorites at TODAY Cafe. Sitting outside will afford you beautiful views of the park's main avenue as guests come and go, excited about their day.
Best Outdoor Dining at Islands of Adventure
As scenic as Islands of Adventure is, it lacks an abundance of outdoor dining options for full service restaurants. However, there are lots of counter service options with outdoor seating. If you want to start your day with some baked goods, the cozy Crescent Moon Bakery has a limited number of chairs outside, overlooking the main avenue at Port of Entry.
Over at Lost Continent Fire-Eater's Grill offers basic fare like chicken fingers but also gyros. It is a walk-up window so there is outdoor seating only. Tables and chairs sit among an exotic market. Around the bend is Hogwarts, the original Wizarding World of Harry Potter. This jaw dropping land offers a lot to experience, including a popular dining destination in the books and movies, The Three Broomsticks. The interior here is magnificent, but there is an outdoor seating area around the back with views of Hogwarts Castle and Jurassic Park.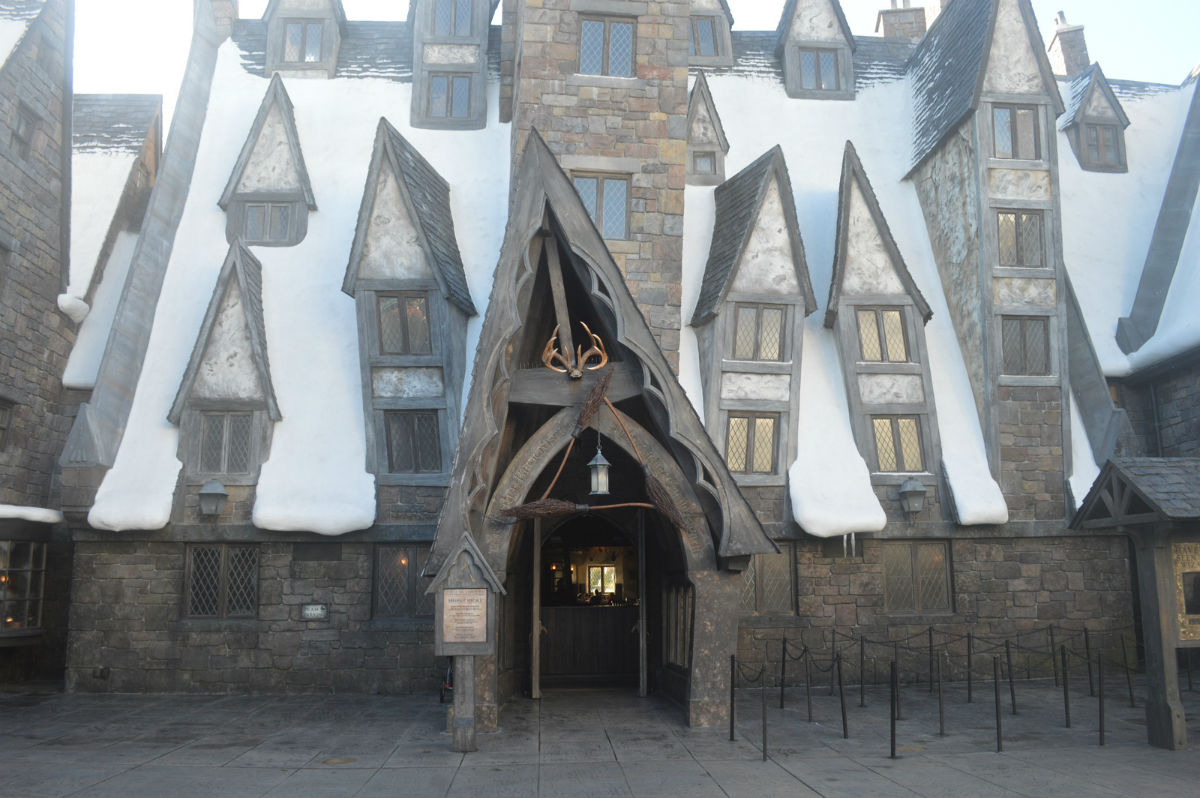 Over at Jurassic Park itself is Thunder Falls Terrace. Prior to the arrival of the Wizarding World of Harry Potter, Thunder Falls was the most popular quick service spot in Islands of Adventure. The interior is an interesting dinosaur lodge theme, and the outdoor dining overlooks the energetic walkways of Jurassic Park. Also, it is near the epic splashdown of the Jurassic River Adventure Ride.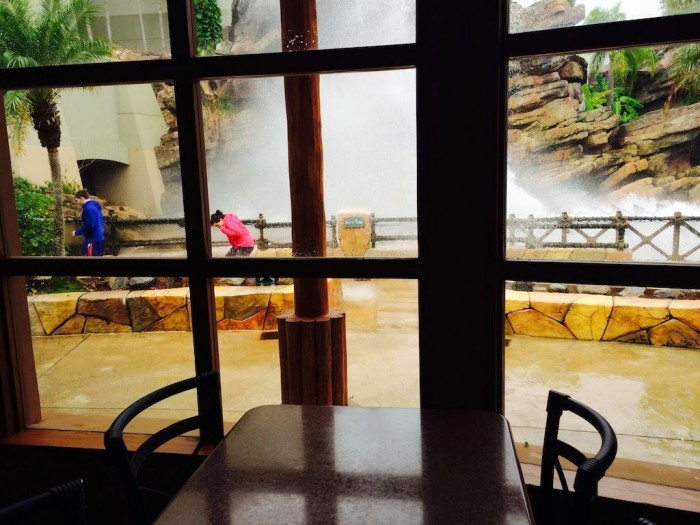 Finally two spots that are open seasonally and beloved by many are Wimpy's in Toon Lagoon, and Green Eggs and Ham in Seuss Landing. Both are located in colorful, cartoon themed lands, and only have outdoor dining.
What are your favorite outdoor dining spots at Universal Orlando's theme parks? Are there any that we missed? Let us know in the comments.