Guardians of the Galaxy: Cosmic Rewind – The Spoiler Review
Nearly five years in the making, Guardians of the Galaxy: Cosmic Rewind is now open for previews before its official debut on May 27, 2022.  Christina and I got the chance to ride a few times yesterday.
Here's our review.  Warning: Spoilers ahead.
The ride's premise is that it's EPCOT's newest World Showcase pavilion, with a twist: you're not visiting another country – you're visiting another planet – Xandar.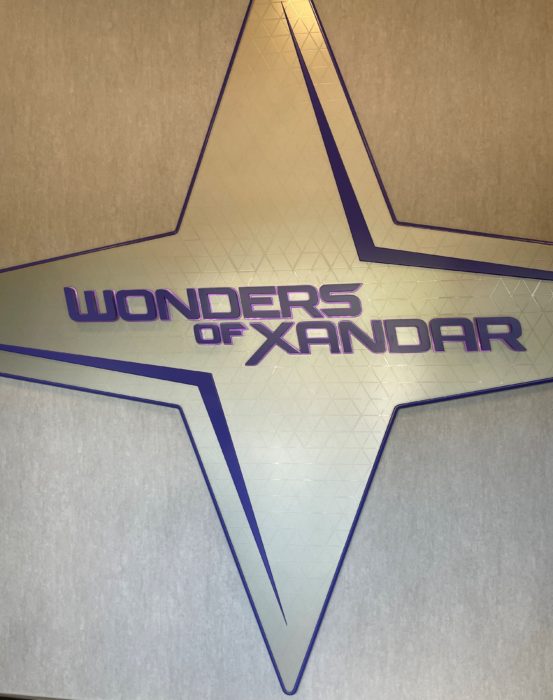 You'll start your interplanetary voyage at the Guardians of the Galaxy building near EPCOT's front entrance, in World Discovery (formerly Future World East).
If you're using the standby queue, you'll be directed to doors on the left side of the entrance. If you're using Lightning Lane at Guardians of the Galaxy, you'll enter the pavilion through doors on your right. As at other attractions, you'll skip a lot of the pre-show elements by using the Lightning Lane – but none of what you're missing is needed for the attraction.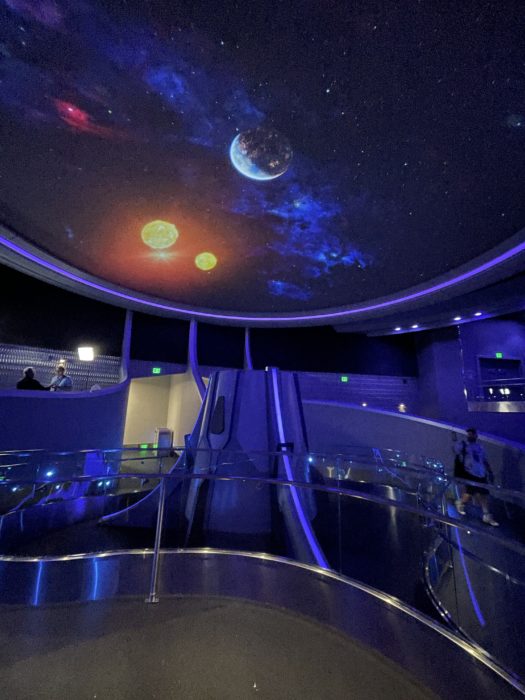 Once inside, the pre-show area looks like a cross between EPCOT's current Test Track pavilion and Animal Kingdom's Dinosaur: lots of walkways curved around various display items, from the history of Xandar to the introduction of the
Guardians of the Galaxy
cast for those who haven't seen the movies.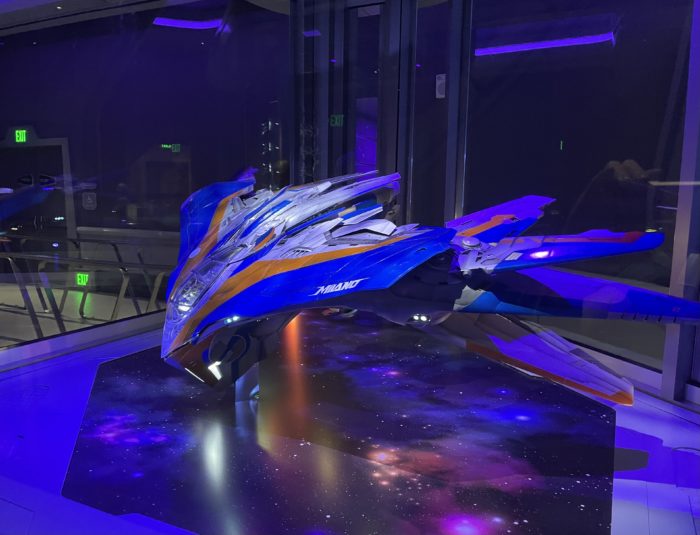 The queue is set up to incorporate several holding areas – small rooms through which guests are "pulsed" through in regular intervals.  The idea here is that by switching you from lines to rooms to lines again, you'll feel better than if you were just in one long, uninterrupted line.
Eventually, you make it to the final pre-show room, where the ride's actual plot is revealed. Like most modern Disney rides (Rise of the Resistance, Millennium Falcon: Smugglers Run, Mickey and Minnie's Runaway Railway, Remy's Ratatouille Adventure), Guardians of the Galaxy uses the "and then something went wrong" trope.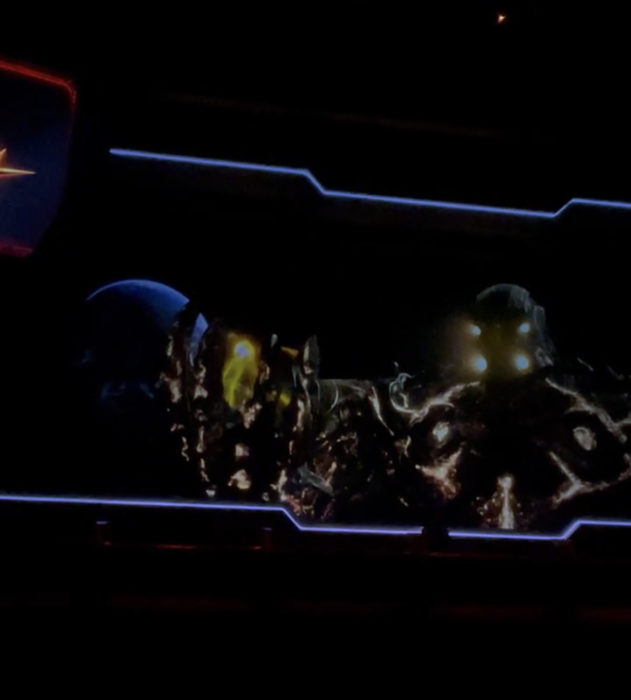 It's facile, it's tired, and it's predictable.  In this case, the thing-going-wrong is a villain stealing a very important power supply.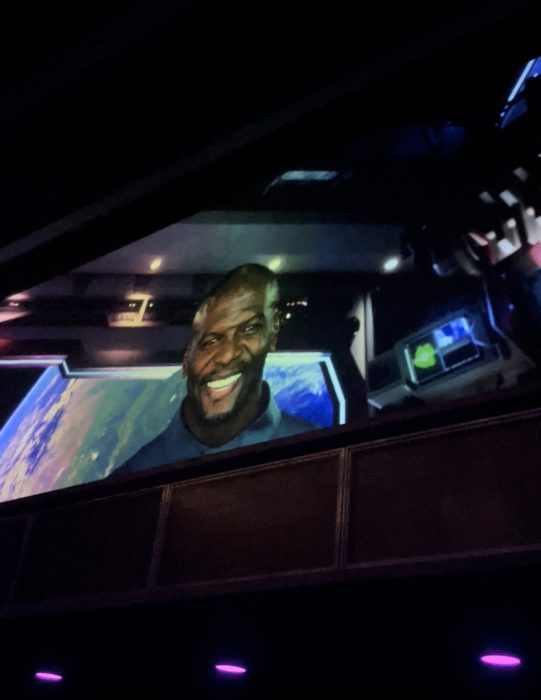 Actor Terry Crews delivers the bad news about the power supply – and let me say that Terry's acting is one of the highlights of the ride; if we ever detect an asteroid hurtling towards Earth, I want Terry Crews to break it to me.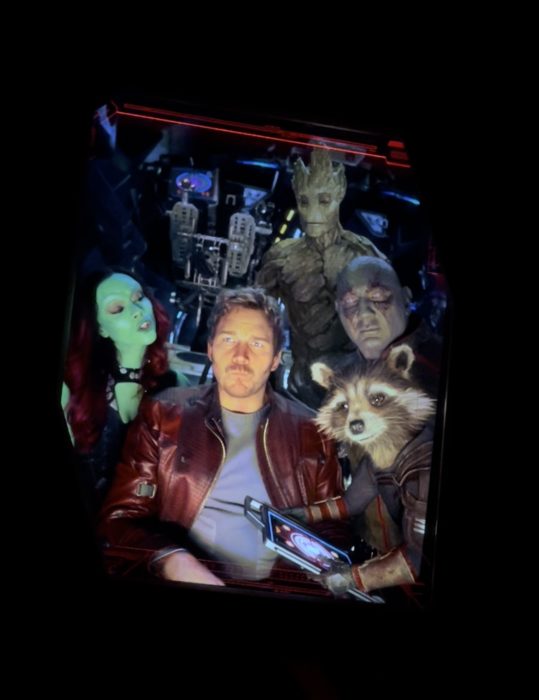 Terry tells you to join the Guardians of the Galaxy to get back the power supply.  (There are a couple of other neat show elements in this scene: one will be familiar to anyone who's been on the Haunted Mansion; the other will be familiar to anyone who's seen Mickey's PhilharMagic or Avatar: Flight of Passage.)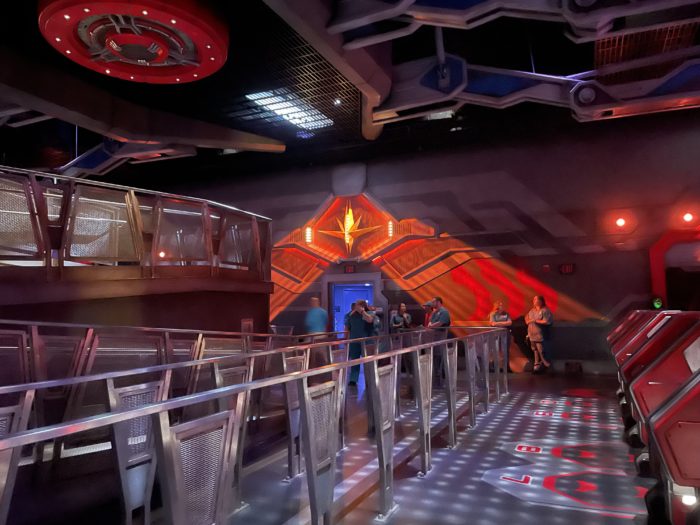 From there you enter the ride's loading area.  It's a large room with loading platforms to your left and your right.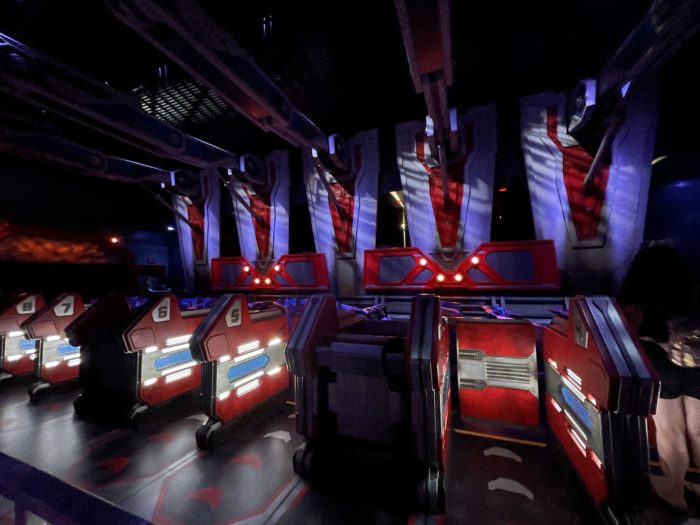 Both sides are otherwise identical, and having two distinct loading areas allows faster ride dispatches.  That keeps wait times low.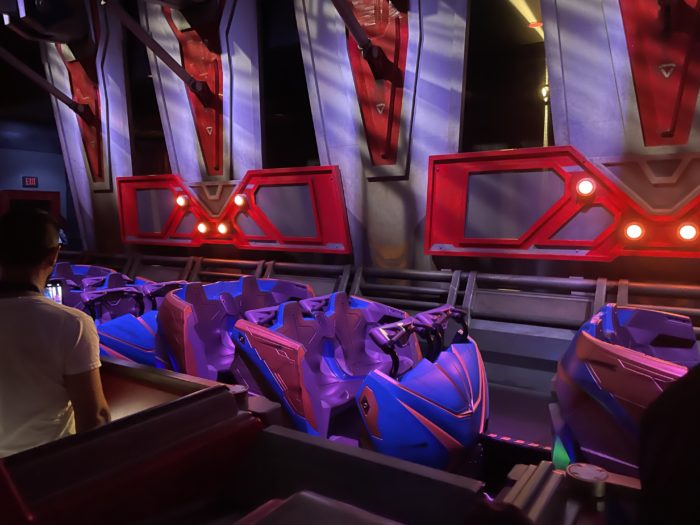 The ride begins with a familiar ride element: a backward launch, very, very smiliar to the one in Expedition Everest over at Animal Kingdom. Then your ride vehicle turns around to face forward, at the exact moment you're supposed to enter deep space.
This might be the best effect of the entire ride. Disney's programmed the ride vehicle to spin and tilt down just a bit, as you enter the massive room, pitch-black other than some simulated stars and planets. On my first ride, I actually felt like I was floating in space – an actual "wow!" moment.
Much of the rest of the ride felt similiar to Rock 'n' Roller Coaster: lots of tight turs past a few scenic objects. Guardians of the Galaxy's ride track doesn't have any loops or invesrions, though, while Rock 'n' Roller Coaster does. And, like Rock 'n' Roller Coaster, you'll get a rock-and-roll soundtrack during your ride. Songs include A Flock of Seagulls' "I Ran," Blondie's "On Way or Another," and Earth, Wind, and Fire's "September."
The ride ends with the Guardians' mission succeeding. The whole onboard experience takes just under 3 minutes. That potentially gives Guardians an hourly capacity of around 2,500 to 2,800 riders per hour, which is very good.
A few other operational notes for Guardians:
It has a height requirement of 42″ (107 cm)
Audio descriptions and assistive listening devices are available
Guests must transfer from wheelchairs/ECVs to the ride vehicle
Touring Tips: Guardians of the Galaxy is one of EPCOT's three thrill rides, calling it a "family thrill ride". In practice, this means it's about as intense as Space Mountain or Expedition Everest.
Guardians of the Galaxy will use Boarding Groups when it opens to the general public. That's typical for a new ride, especially one with new technology. We expect boarding groups to run out very quickly, so you'll need to be quick (and lucky) right at 7 a.m. on the day of your visit.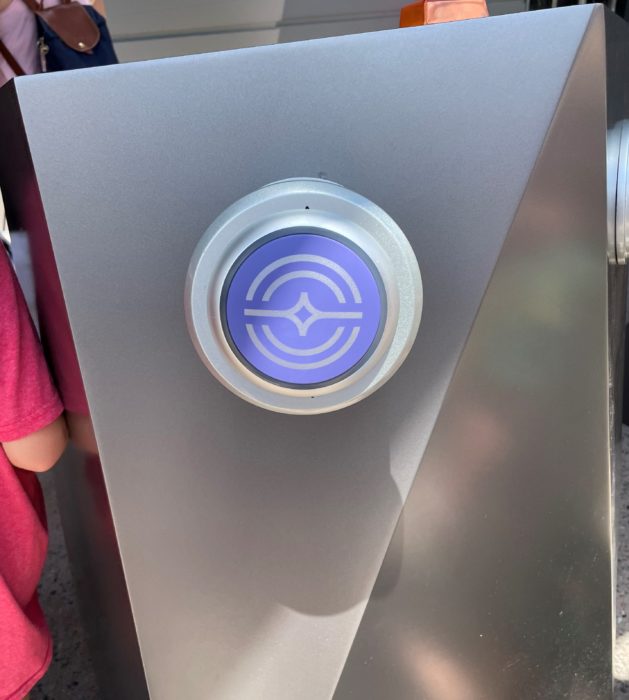 If you're unable to get a boarding group or Lightning Lane, your best bet to experience Guardians without long waits in line is to ride as soon as the park opens. Disney resort guests will (eventually) be able to ride during Early Theme Park Entry, which will help keep waits low. Off-site guests should expect waits of at least an hour once they're admitted to the park.
We don't think boarding groups will run at Guardians for very long. During its testing phase, Guardians was more reliable than Remy's Ratatouille Adventure, Frozen Ever After, Test Track, or Spaceship Earth. So if EPCOT's willing to accept more than an hour of downtime per day, on average, for those attractions, without boarding groups, then there's no reason to use boarding groups for Guardians once the ride is broken in. We're guessing it'll be about 4-6 weeks at the most, assuming no major ride systems issues are uncovered.
Likewise, we expect Guardians to be available for Early Theme Park Entry and Extended Evening Theme Park Hours once that 4-6 week break-in period is done.
Are you looking forward to experiencing Guardians of the Galaxy: Cosmic Rewind on your next trip? What do you think of this new addition to EPCOT? Let us know in the comments!