Halloween Horror Nights Orlando 2023 Guide – Part 3: Food, Drinks, & Merchandise
Universal Orlando's Halloween Horror Nights (HHN) is a haunted after-hours event voted the Best Halloween Event by the Golden Ticket Awards for over a decade. In this three-part series, we will cover all you need to know and This article will cover the food, drinks, and merchandise of Halloween Horror Nights 2023. Tickets are on sale now through Touring Plans Travel Agency or online at Universal Orlando.
While Mickey's Not So Scary Halloween Party at Walt Disney World focuses on family-friendly activities, Universal embraces its horror roots to create an edgy, adult-oriented event.
Food Booths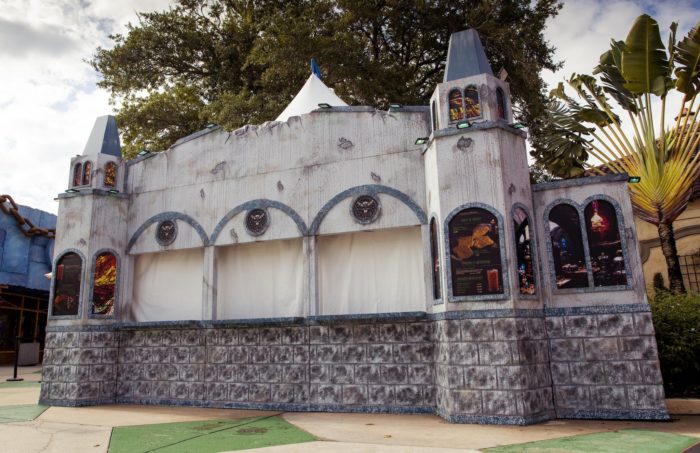 Universal has embraced the culinary decadence of Halloween with unique treats with food festivals to conjure up items found only at Horror Nights. The menu spans the gamut from specialty burgers to outrageous visual creations to international street food with this year's menu inspired by The Last of Us, Stranger Things, and original concept houses.
Here is a sample of the food options at this year's event:
Left Behind Ravioli – a fun take on rations, features fresh mini ravioli, fried mushrooms, and marinara
Walking Taco – the elementary school classic, a bag of Fritos with ground beef and other fillings
Peanut Bludder Burger – smash burger with peanut butter (don't hate it till you try it) on an atomic red bun
Surfer Boy Hawaiian French Bread Pizza – pineapple, spam, and a lot of stuff that does NOT belong on a pizza. I said what I said.
Bloody Campground Poutine – fries topped with Asian-inspired gravy, roasted pork, cheese curds
Fried till the End Chicken – popcorn chicken with Nashville hot sauce and ranch drizzle
Mummy Pop – cookies and cream cheesecake popsicle
Sour Apple Pie Funnel Fries – funnel cake fries with apple pie filling and sour apple ice cream on top
Vegan Churros – freshly fried dough sticks with vegan ice cream and coconut agave nectar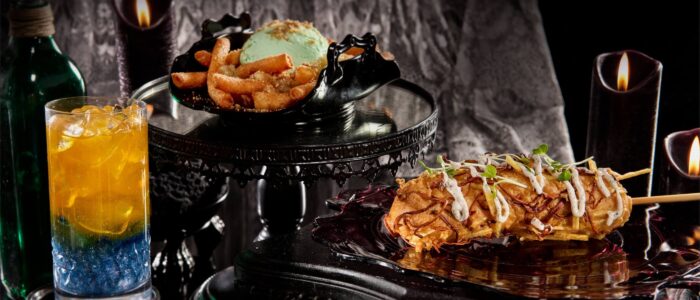 Items are tapas-sized, similar to other food festivals. Dishes cost around $5-11 each while drinks are around $9 each. Reusable plastic cups with blinking lights are available and come with a drink refill discount.
Food booths are found in the New York section of the park, Cafe La Bamba, Animal Actors, San Francisco, and the bridge between Halloween Nightmare Fuel and The Simpsons. Food booths remain open till around 1 a.m. most nights, pending weather.
Counter Service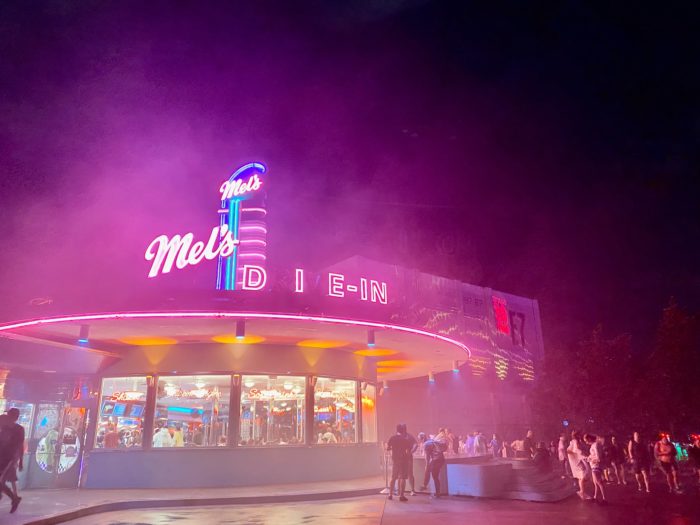 For full meals and a place to sit, Universal Studios Florida's counter service restaurants are open during HHN. These locations offer a reprieve from the sounds and lights outside. Most restaurants serve their full menu plus exclusive items. The following restaurants are open in 2023:
Today Cafe
Louie's Italian Restaurant
Leaky Cauldron
Fast Food Boulevard
Despite being open in prior years and the iconic "Die In" sign, Mel's Drive-In is under refurbishment for this year's event. Leaky Cauldron also closes early, usually around 11:00 p.m. We advise eating a meal before arriving or outside the park at CityWalk or Hard Rock Hotel.
Full-Service Dining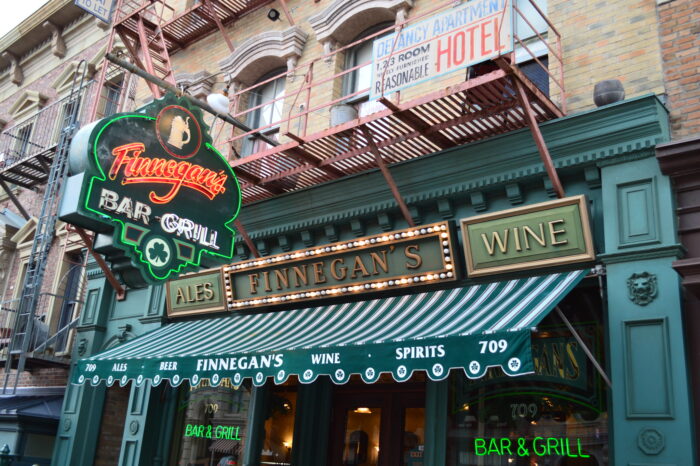 Finnegan's Bar and Grille is the only full-service dining open inside the park during Halloween Horror Nights. Located in New York and overlooking that land's scare zone, the restaurant features Irish pub food at reasonable prices. The restaurant is a fan favorite, especially during Stay & Scream, and does not accept reservations after 3:00 p.m. Book a 2:45 p.m. reservation or visit after 8:00 p.m.
We advise you to skip Finnegan's immediately before HHN and during the event due to it being a huge crowd bottleneck. Instead, visit one of the full-service restaurants on CityWalk.
Alcohol & Bars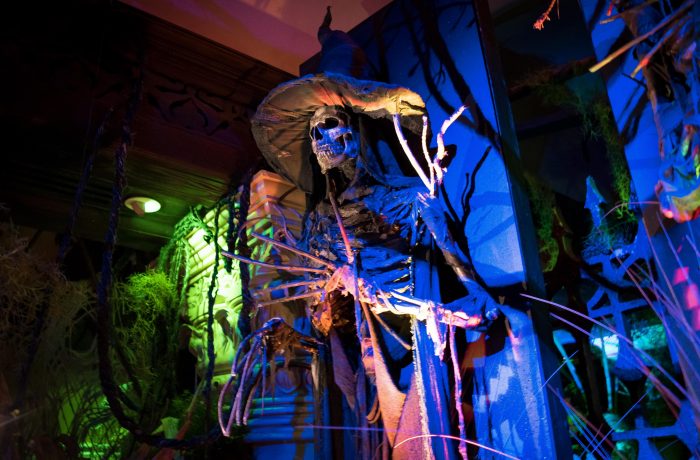 For those who need the liquid encouragement, beer, wine, seltzers, and premixed drinks are available for guests aged 21 and older at food booths, temporary bars, and drink carts. If you are looking for a mixed cocktail or shots then head over to Finnegan's Bar and Grill in New York or the Peacock Halloween Bar behind Lombards.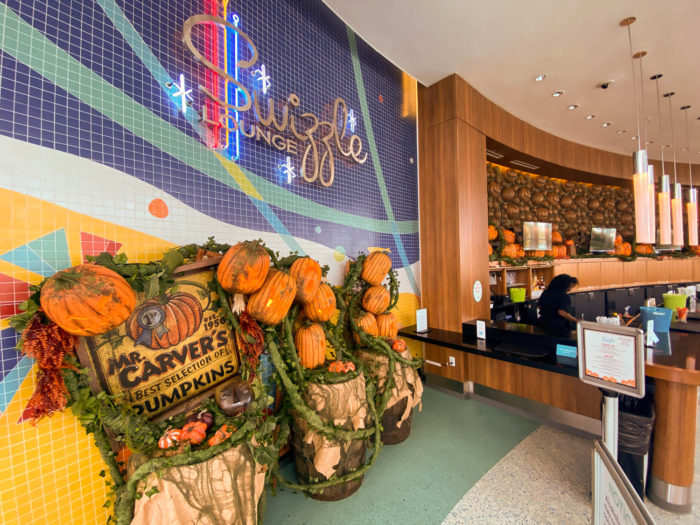 All the Universal Orlando hotels feature spooky food and drinks plus a late-nite grab-and-go menu. Cabana Bay and Endless Summer Dockside's lobby bars go one step further by transforming into Halloween destinations complete with spooky decor and new cocktails. Bars open at 4:00 p.m. and closed around midnight, grab-and-go locations remain open till 2:30 am. Check the hours of your hotel's offerings when you arrive.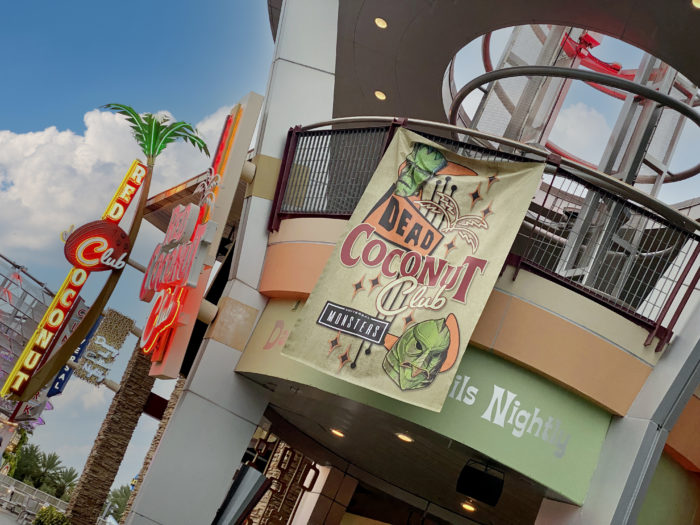 During Halloween, the Red Coconut Club, located in CityWalk next to Bob Marley's Tribute to Freedom, transforms into the kitschy Dead Coconut Club. Whereas HHN is startling and scary, the Dead Coconut Club is sultry and sophisticated with a side of camp. The Club's interior is what would happen if Frankenstein owned a Trader Vic's in the 1970s. This year's theme is a 3D movie premier where the Universal Monsters are celebrating the release of their latest B-movie, "Target Dead Coconut". I hope we get 3D glasses.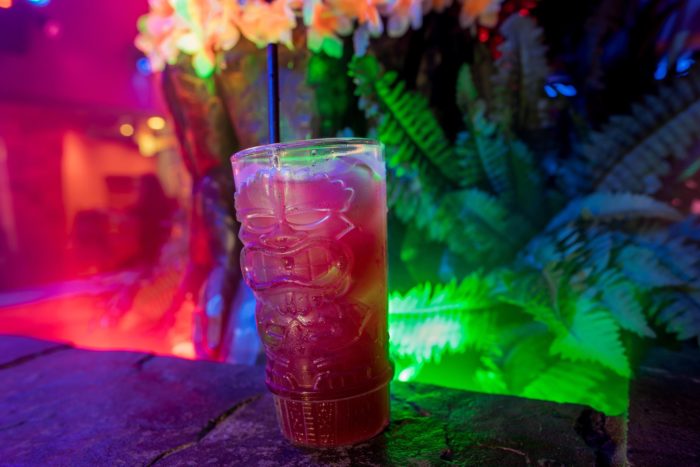 We really enjoy the Dead Coconut Club and think it's the worst visit. Drinks are freshly made, potent, and a step up from the pre-mixed drinks found inside the event. Live lounge singers perform on Friday and Saturday nights, but otherwise, there is no entertainment. Dead Coconut Club has cultivated a fan following and is a popular haunt for those escaping the event. We advise visiting before 8:00 p.m. if you want to find a table.
Merchandise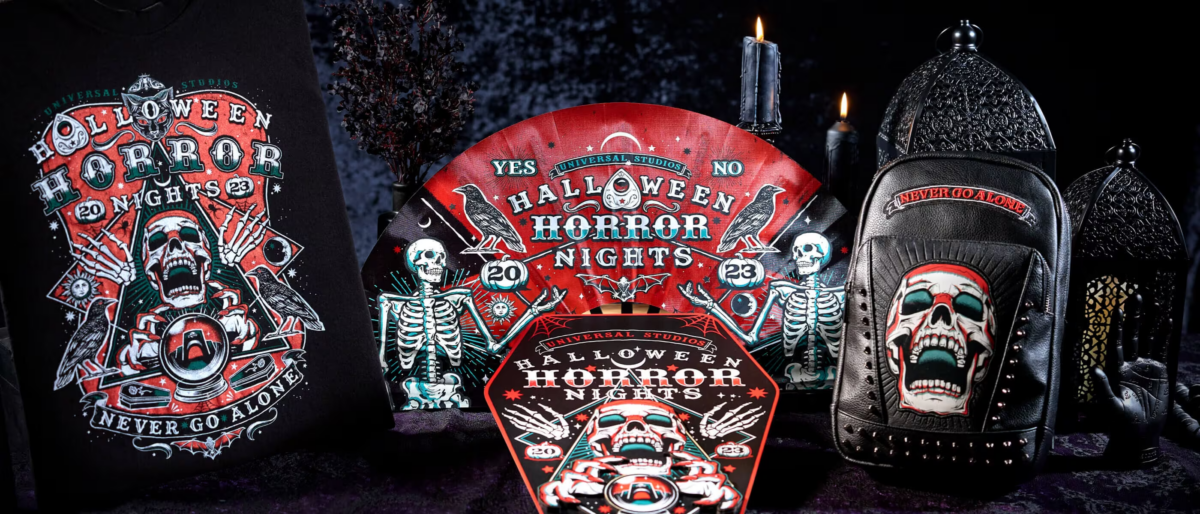 Officially branded apparel, licensed character merchandise, housewares, and even seasonal candles are available for Halloween Horror Nights. All the Universal Studios shops feature an assortment of Horror Nights shirts, mugs, and lanyards, but the best selection is found at the Universal Studios Store in Universal Studios Florida and Citywalk and the All Hallows Eve store in Islands of Adventure. The biggest and most comprehensive shop for all HHN merch is the Halloween Horror Nights Tribute Store.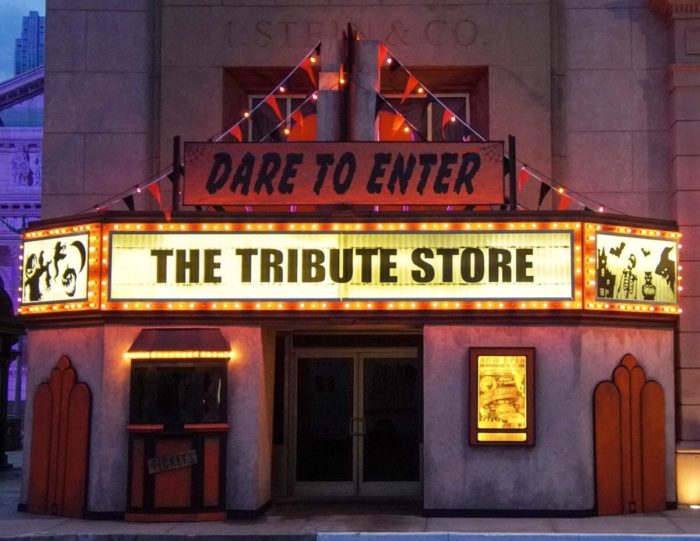 The Halloween Horror Nights Tribute Store is a themed experience in the New York area, left of the entrance to Revenge of the Mummy. Walk through spooky corridors, haunting visuals, and moody sounds as you shop official merchandise, t-shirts, signs, magnets, mugs, candles, treats, and more. This year the Tribute Store takes place in a comic book store where the horror comics and penny dreadfuls come to life. The Halloween Horror Nights Tribute Store is open daily during normal park hours and Halloween Horror Nights.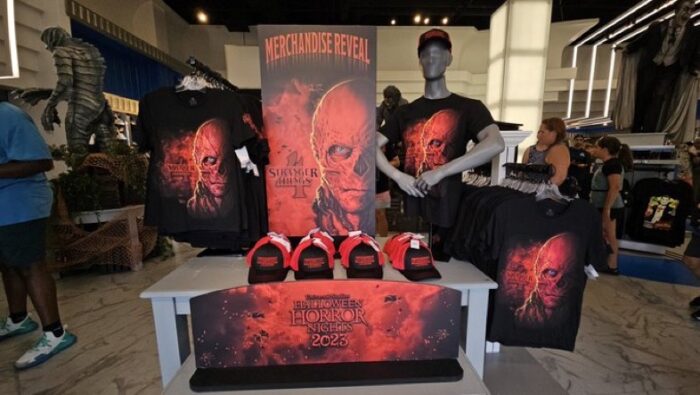 Do not worry if you forget to pick up something on your trip, the airport Universal Stores also carry HHN merch as does the online Universal Orlando Resort store.