Healthy Eating on a Budget 
Lots of people like to splurge and indulge on vacation, but for many others it is important to stick to specific spending budgets and healthy eating habits even when you're away from home. You might think you have to choose between eating healthy OR eating inexpensively, but luckily it is possible to do both at the same time at Walt Disney World. Here are some tips to help both your body and your wallet feel good while eating at Disney.
Please Note: Not all dining locations are currently operating due to COVID-19 restrictions. Prices and availability are subject to change.
Bring Your Own Food 
One of the perks of Walt Disney World is that you are allowed to bring your own food into the resorts, theme parks, and water parks (with only a few exceptions). If you are worried about breaking the bank or your diet, you can stock up at home and pack (or ship) your food, use a grocery delivery service, or find a local grocery store once you arrive.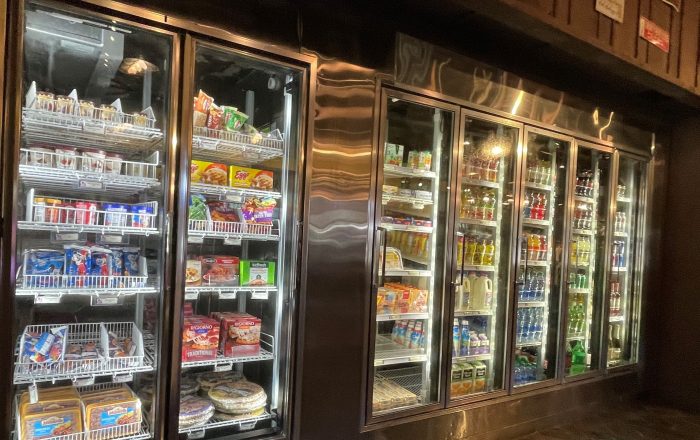 Make sure to get things to eat for breakfast at the hotel as well as things you can pack for lunch and/or dinner at the parks (you can ever use a small cooler). Bringing your own food allows you to eat and spend very similarly to your everyday life. However, if you want to experience Disney dining, there are still plenty of options available to you.
Research Menus 
Menus, including meal descriptions and prices, are available online for nearly every place you can purchase food across Disney property. You can view these both through the My Disney Experience website/app and the TouringPlans website or Lines app. You can even filter options based on price point and type of food to help narrow your search.
This is so helpful when figuring out where you want to eat because you can see exactly what food is served and how much it will cost you. You can then determine if the restaurant has options that will work for your health or dietary needs, and if it will fit within your food budget.
Snack Smart 
Each of the theme parks has some good snack options that are (at least relatively) healthy and around $5 or less. At different locations, you can find things like whole or sliced fruits, pickles, hummus & pretzels, veggies, cheese, and trail mix.  If you need a quick pick-me-up, give these a try: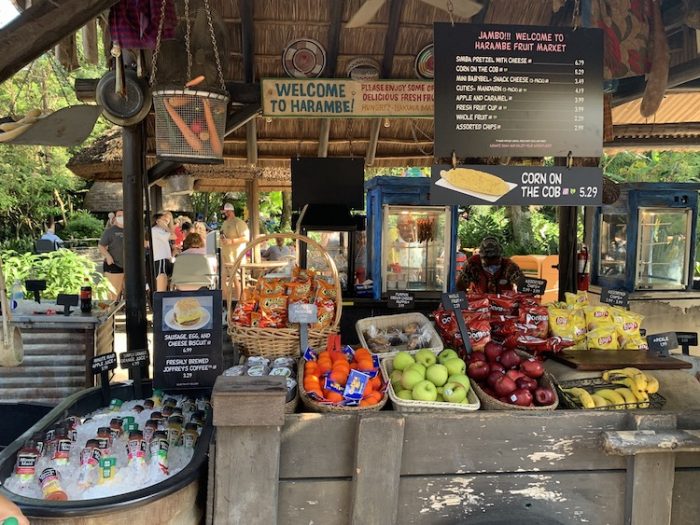 Enjoy a Guilt-Free Meal
Disney is making a concerted effort to provide more healthy food options across property, including more allergy-friendly and plant-based items, and at a variety of price points. Check out the specific menus to see what will work for your tastes, but here are a few restaurants within the theme parks to consider. These each include multiple healthier options and are in the lower price range ($14.99 and under):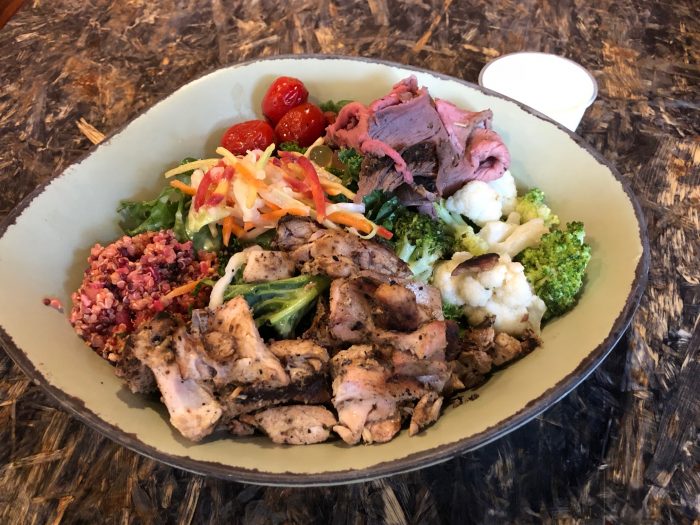 Only Order What You Want
Often, Disney only lists full meals (entrée with one or more sides) on its printed and mobile menus, but in most cases, you are actually able to just order the entrée if that is all you want. This not only saves calories, but saves you some money as well.
Depending on the restaurant, you may also be able to sub a side of fries for a fruit or veggie instead. Cast Members are generally very accommodating, so go ahead and order exactly what you want, nothing more!
Sharing is Caring
Find something you want to order that's out of your price range? The portion size at many Disney restaurants is large enough that you may be able to spilt a meal with another member of your party in order to help keep calories and costs down. The Unofficial Guide to Walt Disney World gives portion size ratings for each restaurant, which can help you determine if that eatery is a good option for sharing or not.
You may also consider ordering several appetizers for everyone to split and make that your meal. Then you get to sample many different items in a guilt-free way.
If you are committed to maintaining your diet and your budget while on vacation, first of all, I applaud your will power! Secondly, fear not, because it is entirely possible to do so at Walt Disney World and not feel like you are missing out on anything (well, maybe just a few things…) You'll feel good, and you might even be able to use the money you save on an extra souvenir!
Do you have a favorite place to eat on a budget and eat healthy? Let us know your tips in the comments.