San Angel Inn Restaurante Review – Lunch With a View
San Angel Inn Restaurante
at EPCOT is located inside of the Mexico pavilion's iconic Mayan pyramid. Here hungry World Showcase travelers can enjoy a slightly more refined menu inside the perpetual twilight of the pyramid's waterside marketplace.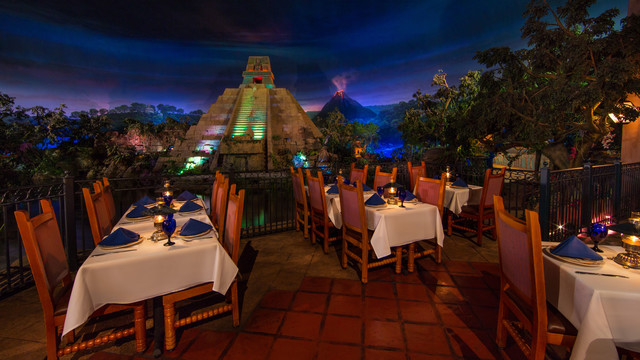 At the time of writing, San Angel Inn is open for lunch from 12:00 p.m. to 3:55 p.m. and dinner from 4:00 p.m. to 10:00 p.m. Our in-park reviewers Ivonne and Chrissy recently stopped by for lunch to see if this World Showcase restaurant is worth a visit.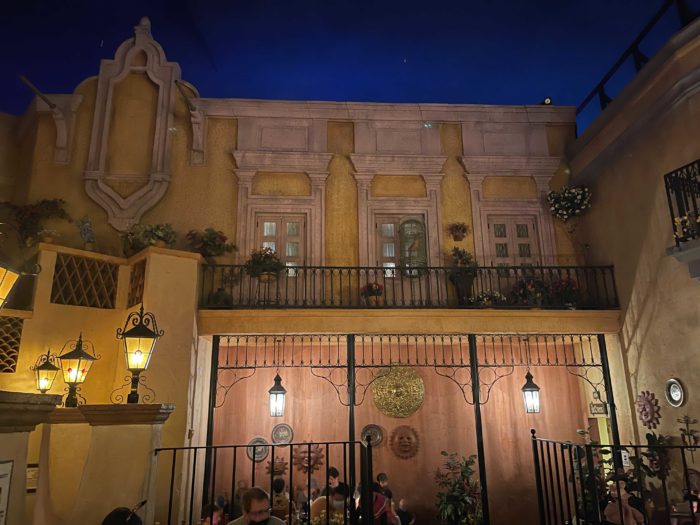 San Angel Inn Restaurante is located inside of the Mexico pavilion's massive pyramid whose interior resembles a nighttime Mexican square. This gorgeous space is home to the Gran Fiesta Tour Starring The Three Caballeros, a marketplace, and more, along with a gorgeous backdrop complete with a smoking volcano.
What You Need to Know
Due to social distancing, there's often a line to get inside of the pyramid. But thankfully, Chrissy and Ivonne noted that there's a sign for San Angel Inn mid-line. Be sure to look for it when it's time to check in, which is always 20 minutes before your reservation.
Inside, San Angel Inn happens to sit right against the waterway for The Three Caballeros attraction, very much like the Blue Bayou Restaurant at the Disneyland Park. But keep in mind, not every table sits next to the water so be prepared for that or ask a Cast Member in advance. They may be able to accommodate.
Now the waterway and backdrop are gorgeous and truly adds to the experience; however, it can be so dark that you may need the flashlight in your phone to read the menu and to tell what you're eating!
Something else to note is that it's a challenge to get dining reservations at Walt Disney World these days. Advance dining reservations are encouraged 60 days out. But if you're already inside that window of time, you may want to consider using the
TouringPlans Reservation Finder
.
Now let's get to the
menu
!
Appetizers
Upon being seated, complimentary chips and salsa were brought to the table, which is always a great start.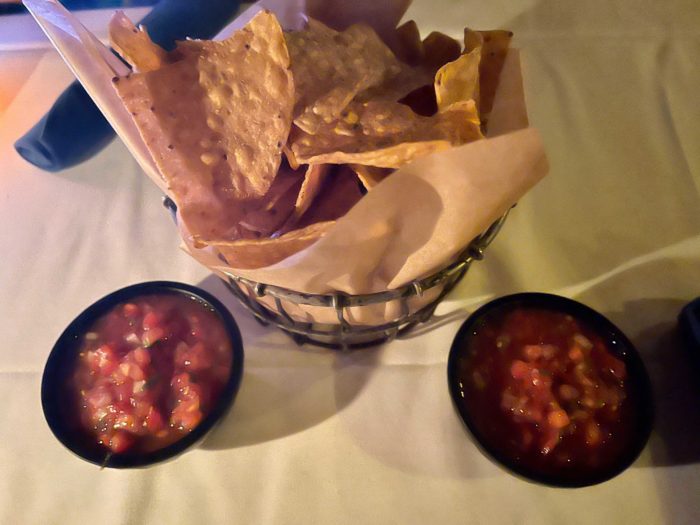 But appetizers had to be sampled —  for science, of course!
Chrissy and Ivonne began with the guacamole which came topped with mango and toasted pumpkin seeds and served with Chicharrónes and Salsa Valentina.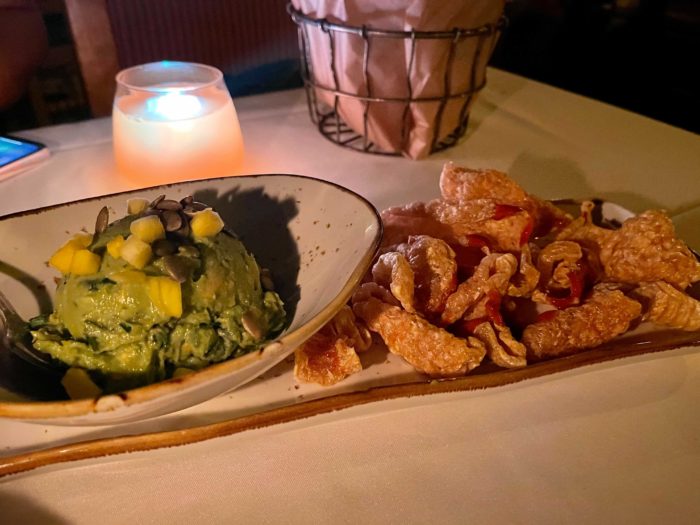 Basically, it was gauc and pork rinds which are fine, but probably the least exciting thing they had. At $13.00, skip.
They also tried the Tlayuda which is an Oaxacan-style tostada topped with beans, chipotle chicken, Crema Mexicana, salsa verde, avocado slices, onion, and queso fresco for $14.00.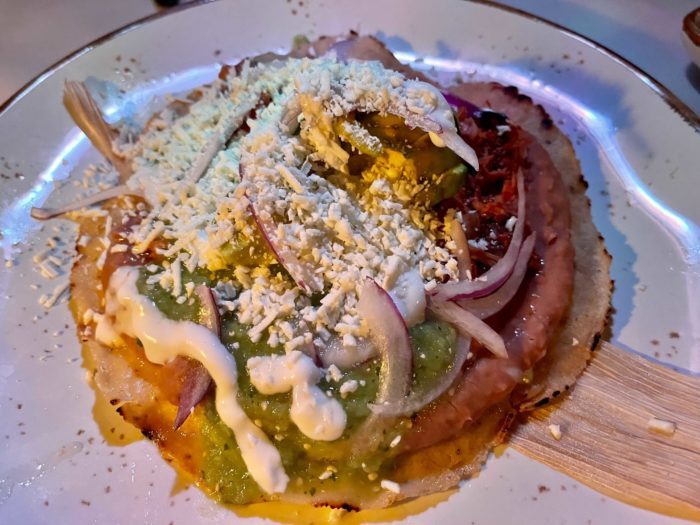 San Angel went heavy on the onion for this one, but otherwise, they found it light and definitely delicious!
Next up was the Queso Fundido for $14.00 which is melted Monterey Jack cheese topped with chorizo, peppers, and onions and served with flour tortillas.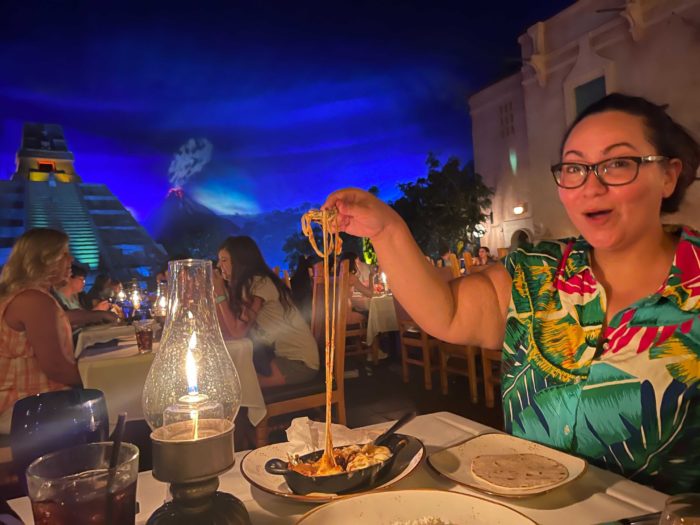 This particular appetizer was SO good and so much fun! Plus, stretchy cheese is always a good time.
The Drinks
Of course, San Angel has a wide selection of specialty drinks and margaritas like the El Diablo, the Horchata, Pina Loca, and the La Cava Avacado.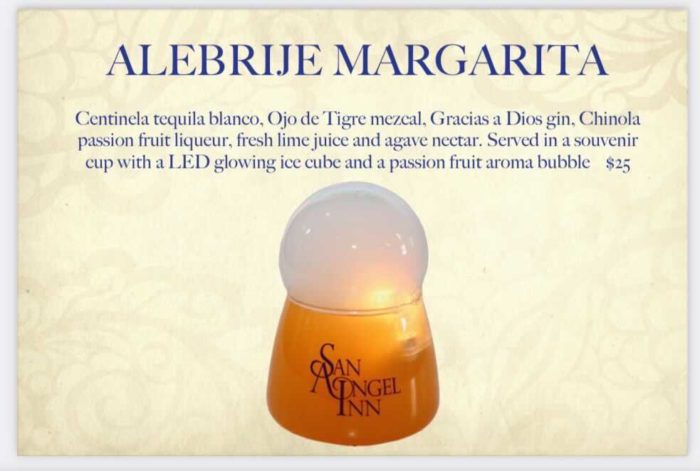 For this particular visit, Ivonne tried the Alebrije Margarita for
$25.00
that's served in a souvenir cup plus glow cube and topped with a passion fruit aroma bubble!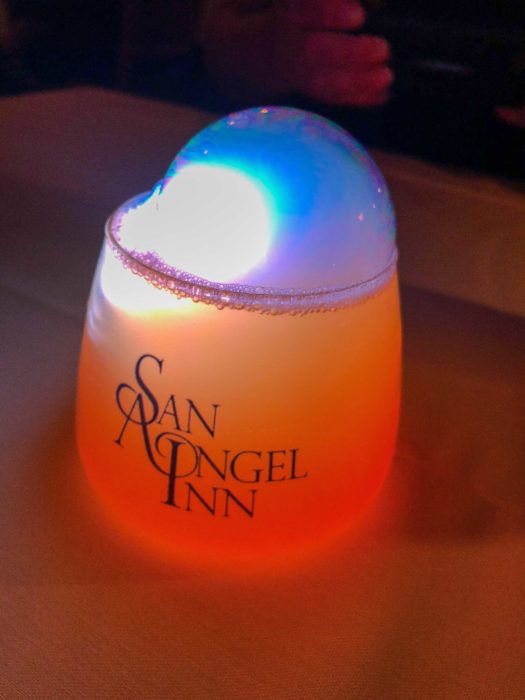 The bubble and glow were a hoot, but it's worth noting that the keepsake "glass" is, in fact, plastic.
The Entrees
San Angel Inn has a relatively extensive menu with entrees ranging from Carne Asada to a variety of tacos and even red snapper.
The San Angel menu describes the Camarones a la Diabla as Guajillo pepper and garlic-sauteed shrimp with roasted potatoes and crispy Brussels sprouts with rice for $30.00.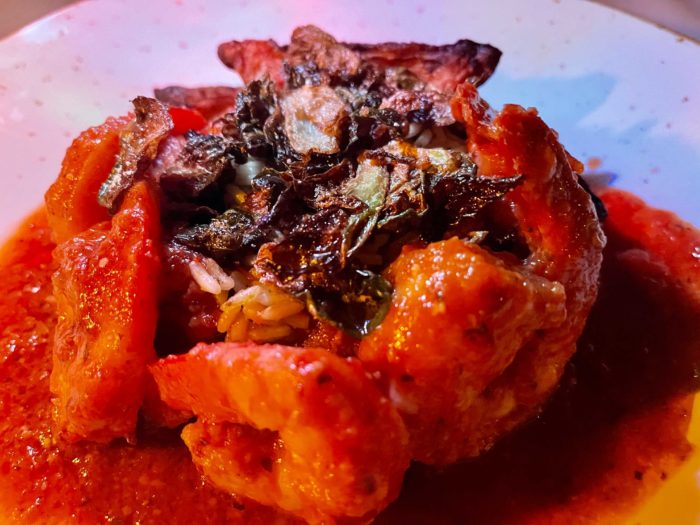 Ivonne said she high hopes for this one as she loves everything that's in it. Unfortunately, the flavors just didn't work well together. The shrimp was fine, but she would have liked it better as a taco.
The Tacos de Ribeye is thinly sliced ribeye with peppers, onions, bacon, and Monterey Jack cheese served with corn tortillas and plantains and topped with crema Mexicana and cotija cheese for $29.00.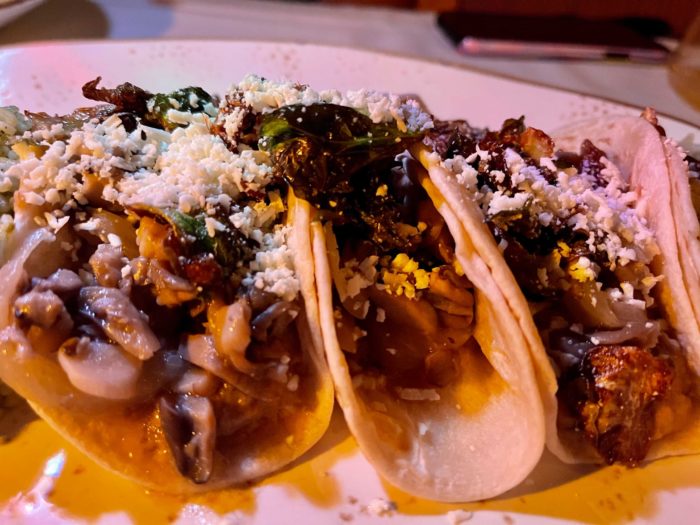 According to Chrissy, this entree was an enormous amount of food! She thinks it's probably the best thing for picky eaters who still want to enjoy a culturally inspired meal. All the flavors were familiar but with tons of spice and with zero heat. She loved it.
Next up was the Tacos de Vegetales or basically vegetarian tacos for $22.00. They're flour tortillas filled with eggplant puree, confit oyster mushrooms, and crispy Brussels sprouts, and topped with cotija cheese and a drizzle of Truffle Oil. It also comes with Poblano rice.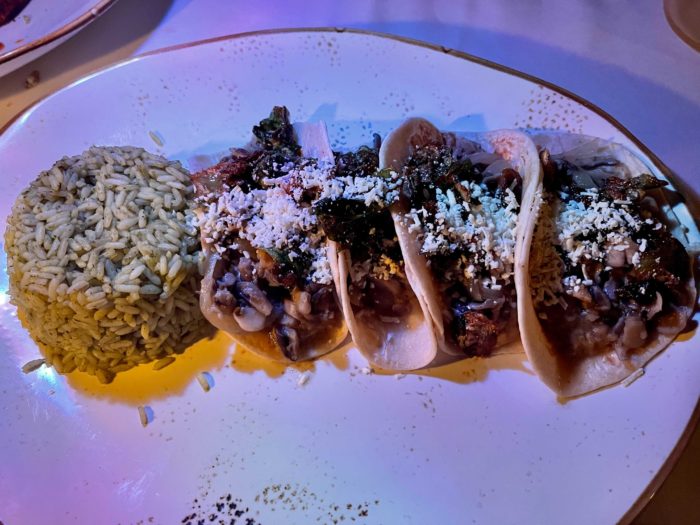 So both Chrissy and Ivonne were amazed at how good these tacos were. In their estimation, these tacos alone are reason enough to make a reservation. And for Truffle Oil fans (and who isn't?), this is how truffle oil should be used. Simply delightful.
The Desserts
No review is complete with desserts, right?
San Angel's Tres Leche de Horchata is described as rice milk soaked sponge cake topped with sweet corn ice cream and toasted almonds for $10.00.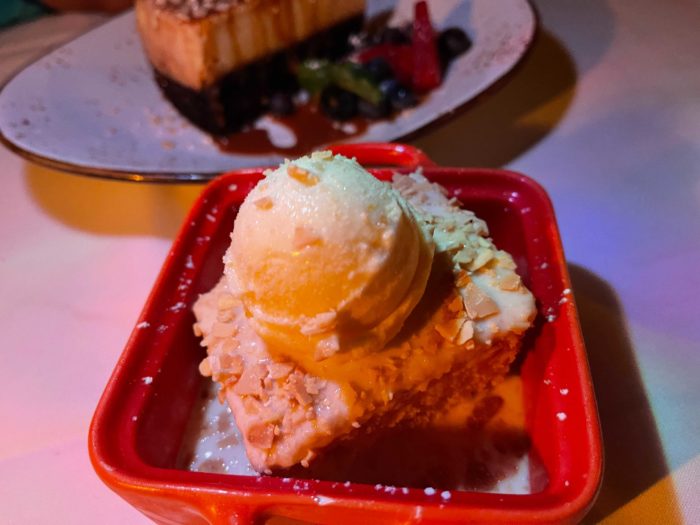 Ivonne said this item was very good considering tres leches can be too sweet. This one was just right. She also appreciated the pool of tres leches syrup in the bottom!
The Chocoflan is creamy Mexican custard and chocolate sponge cake topped with cajeta and toasted almonds and was also priced at $10.00.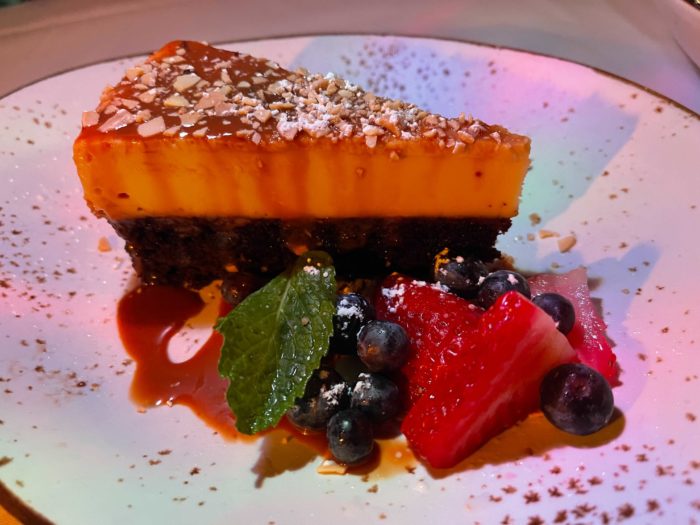 In Chrissy's words, the chocolate sponge was on the dry side and underwhelming. But the flan was good enough. Overall, skip this one for something better.
Perhaps the strangest sounding item on the menu, Sweet Corn Ice Cream. Yep. You read that right. Priced at $9.00, this may have been the biggest surprise of the day.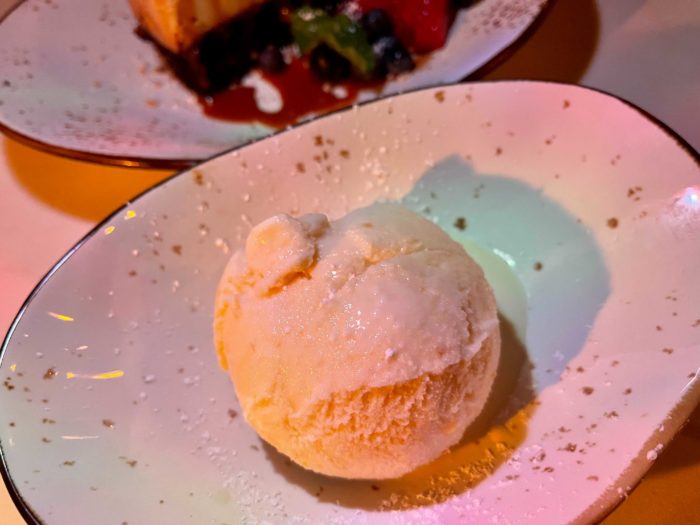 Chrissy was understandably suspicious from the start; but according to her, she was proved 100% wrong. She claims this is the only thing anyone should do with corn. It was light, sweet, and tasted like high summer corn but also great ice cream. Remarkable.
Final Thoughts
Overall, the experience at San Angel Inn Restaurante was a pleasant one. According to Ivonne and Chrissy, the servers didn't rush them and allowed them to hover over each course without making them feel as if they were taking up space.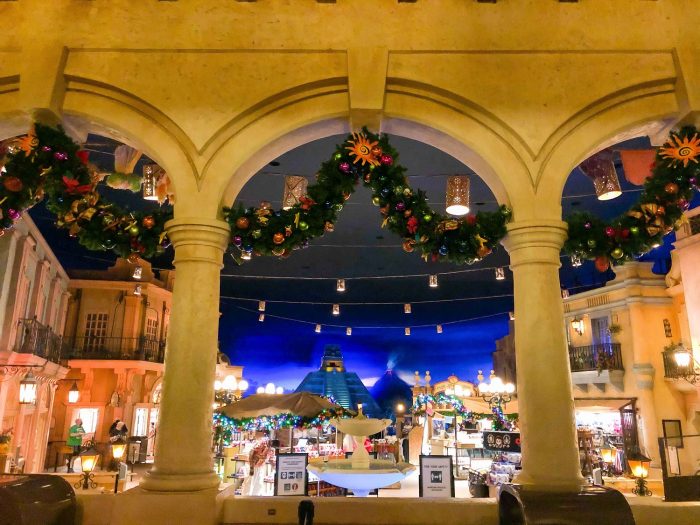 Also, San Angel's location and its atmospheric setting is truly unique and special. For first-timers, it's guaranteed to wow; and for Disney World regulars, it's sure to evoke feelings of nostalgia. All in all, it's hard not to enjoy a meal with that view.
That being said, Touring Plans readers rated San Angel Inn Restaurante 82%. So it's certainly not a bad choice, but it's not quite the best you'll find at Walt Disney World.
Are you looking to visit San Angel Inn during your visit to EPCOT? Let us know in the comments!