Hello Dali!*
I'm back with a quick post on some deals you might find a bit surreal.
Not melting clocks surreal, but still.
Thanks to a tip off from Mike S., I learned that there are some Hotwire deals showing up starting in mid-August for Gran Destino Tower rooms. And these are not just any deals.
If you recall in the previous No Deal or No Deal post, I went over the weirdness that is Hotwire right now – lack of resorts in HotRate search results, missing non-hidden deals for all resorts in Orlando, giant sloths handing out free churros. (One of these things may not be true.)
Well, if you used some of the tips in that post, (including my short video on how to use the Draw function in the app) you could find some nice Coronado deals for around $155 to $159.
Now, how would you like some Coronado deals in the $145 to $155 range – but in the Gran Destino Tower?
(I'm assuming you're all nodding your heads vigorously now.)
Let's take a look at some sample search results.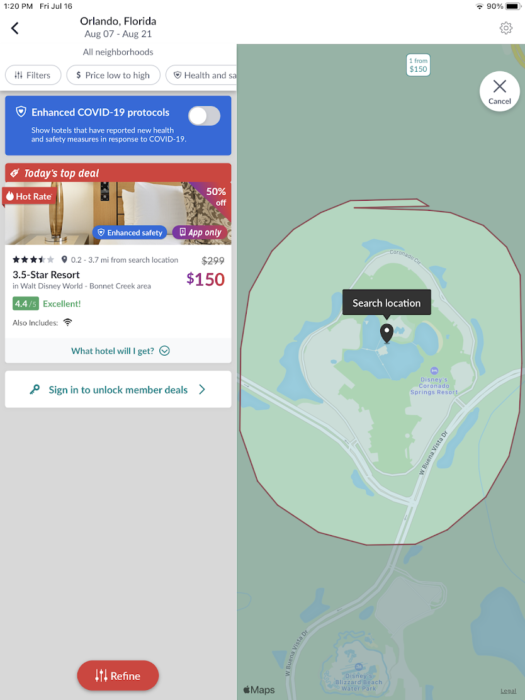 You can see here that I've got a nice large search window going – August 7th to the 21st. When the search results appeared, I selected Bonnet Creek on the map, but was only shown a single 5-star resort hidden deal. (Waldorf Astoria, with a $45 resort fee, of course.)
So, I clicked the Draw button on the top right of the map, zoomed in and circled Coronado Springs – Voila!
That seals the deal for us – unless there is some sort of Inception thing going on and there's another resort inside of that circle, this is a $150 per night Coronado deal.
Now, let's click the deal and see where it takes us.
The next page often includes a list of sub-amenity ratings, as well as a few sample review snippets. Personally I would ignore the sample snippets (that's fun to say!) – you can see here they can be red herrings. Manila Bay? Never heard of it.
But, the sub-amenities can be useful as additional factors in identifying the resort by comparing them to the ones listed on the resort's Hotwire page. (Just note that sometimes the deal listings and the resort pages can be slightly out of sync if something changed recently.)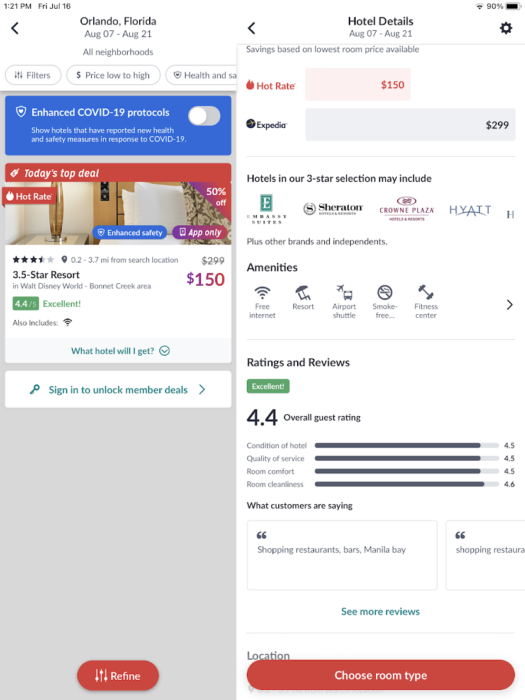 Now let's move on to Choose room type – Hmm, "Standard Room, 2 Queen Beds (Tower View)."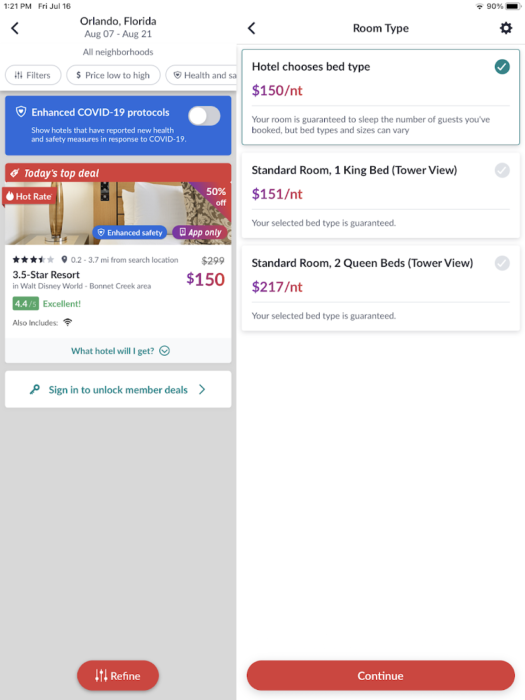 Now, when good old Mike first reached out asking what I thought about the deal, I said "You know, my initial guess would be that "Tower view" is a regular resort room that faces the Tower."
But then I started digging a little and noticed something interesting: when you run a search for non-hidden deals on the resort's Hotwire page, the deal there with the same description is decidedly a room IN the tower. Maybe that info is obvious to experienced Coronadoers, but I guess it just took me awhile to get there.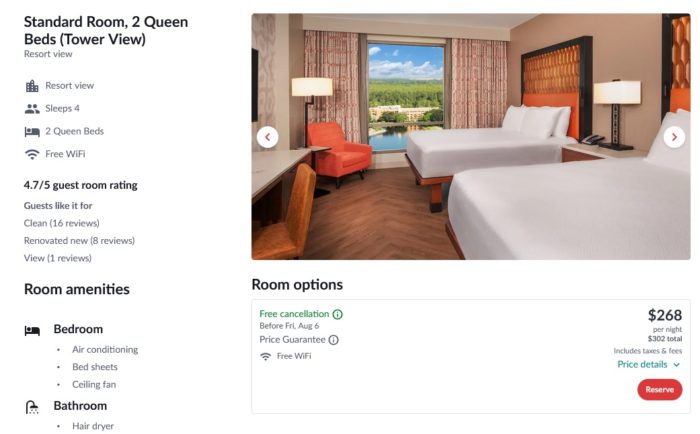 Now, let's address the elephant in the room. (By the way, do NOT Google Salvador Dali's Elephants paintings. Creepy. Just creepy.)
Did you notice the two room choices are "2 Queen" or "1 King" bed. When booking Disney resorts on Hotwire, you almost always want to book the deal searching for *just* 2 adults in the room. For whatever reason, if you add kids to the room search Hotwire will increase the price on the room even though Disney does not charge for kids.
So, the generally accepted tactic is to just book the room with two adults, then call up Disney Wholesale and ask them nicely to add the kids for you. Sometimes you'll reach a cast member who might tell you Hotwire needs to request the change – which is fine, then reach out to Hotwire (or call back again and hope for another cast member). But, when I did just that last week, kids were added with no fuss no muss.
So, back to the room types here: Unless I really wanted the King room, I would likely select "Hotel chooses bed type" and follow up with Wholesale after if I wasn't assigned a a Queen bed room.
A WELL-PLACED CAVEAT
This advice I give you is based on quite a few reports from people over the years, including a few others this week along with my own recent experience. Is there a chance you get a King room and you have to to deal with some phone calls to get it changed? Yes. But, even if the cast members balk, I have always found they do their best to be helpful and things will eventually work out.
Do you need to decide whether the savings is worth a little work?
Yes, yes you do. (I think it is.) This pricing comparison table might help you decide.

You can see, with even the 25% off Tower room rates reaching into the $300 range, these HotRate deals are more than a 50% savings, even with fees added in. (Obviously, using a promo code here as well.)
Search Tips
I've said it before and I'll say it again: Hotwire is weird right now. (That's the technical term used by us bloggy people.) The deals don't always come easy – if at all possible, you probably want to use one of the Hotwire apps instead of a desktop browser. Also, if you have access to both an iOS app and an Android app, try using both. Sometimes I get results on one and not the other for the same exact search.
With this particular drop, you'll want to think about it as sort of being two different blocks of days: If you start your search on August 7th, you might be able to get these deals to show all the way to August 20th. (Using the Draw technique, remember.) You'll probably also be able to search smaller windows in between those two dates and also find deals.
But, if you want to book something in the latter part of the month, I found that I needed my search window to start on or before August 14th to get later dates to show. When I started searching exactly on August 14th, I could find results all the way to August 28th!
It is like a giant logic puzzle, I know – but the simple rules are:
If you don't get results when you search, use the Draw function in the app
If you still don't get results, try moving your start and/or end dates around
Check The Room Descriptions, Please!
Before I post the Calendar of Deals – I just want to add one last not-so-dire warning: Not every Coronado Springs deal you see will be a Tower room. Please read the room descriptions and compare all the facts you see. Look for the "Tower View" text, and compare the full description to the ones on the resort page listings.
Also – a last minute check is showing some Coronado deals from August 1st to the 7th – BUT they appear to be regular resort rooms, not Tower rooms.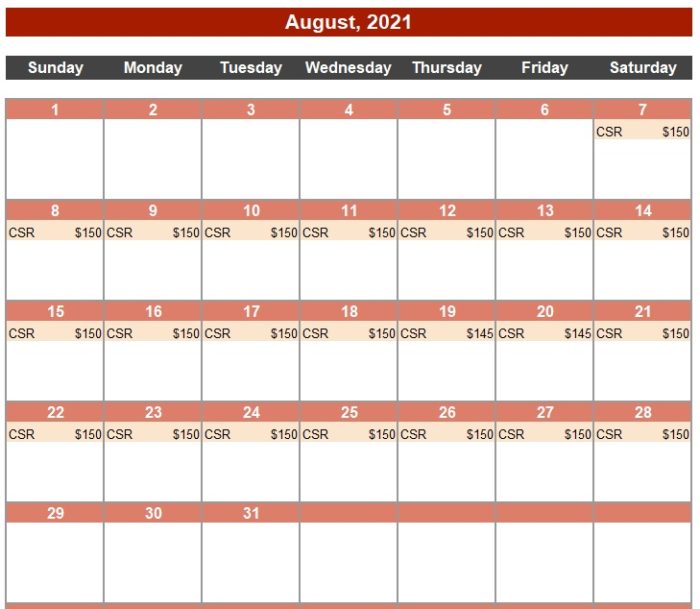 If you've booked any of these awesome Tower deals, or any others – or have any questions, please let us know in the comments!
*You all knew it was just a matter of time that "Hello Dali!" was getting dragged out onto one my posts, didn't you?