Hotwire: A Mini Summer Pop Drop
No, this isn't the start of a long post encapsulating the wonders of a long lost Annette Funicello beach bikini movie – that post is scheduled for next week.
This week we have a smallish drop of Pop Century deals at the end of August, followed by a nice set of Caribbean Beach deals running through September.
As an added bonus, there is also group of deals flowing over from July into the first week of August from the earlier 2021 Bonanza drop. These deals include more Caribbean Beach, some Coronado Springs, and higher priced Old Key West deals. (If you're new to hidden deals, I suggest you scroll through that Bonanza and the previous April Reset posts.)
Let's start with the Pop Century deals. Most of them hover in the $115 to $125 range, but sadly only appear in the last two weeks of August. While that price range for Pop sounds pretty good these days, the Disney's Summer 2021 rate closes the savings gap a little versus the HotRate after taxes and fees are included.

As you can see from the box on the right – comparing the Hotwire all-in price saves an additional 14.4% over Disney's current discount.
Comparing one of the Coronado Springs hidden deals from the start of August returns even better savings: a whopping 43.3% off the Disney's Summer rate. Sounds good to me!

Again, if you refer back to our previous Hotwire posts you can find examples of Coronado Springs, Caribbean Beach, and other resort deals to help you spot them in search results. You can spot Pop Century in hidden deals by looking for a 3-star, 4.4-guest rated resort in Bonnet Creek. Right now, it is the only one in that area with those ratings.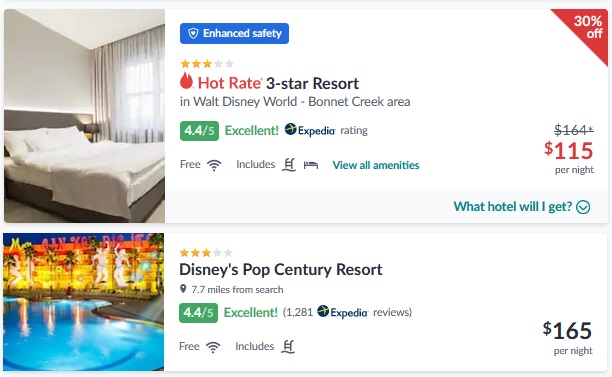 Heading down the beach a little, the September Caribbean Beach deals are mainly in the $209 range. To be honest, I usually want to see moderate resort hidden deals closer to those Coronado $155 deals. But, with the Skyliner commanding a premium, I think finding deals cheaper than a recent $188 batch may be gone for Caribbean Beach.
The good news, though is even at that price point, these hidden deals can save you over 29% over the Disney discount.

Well, that's enough surfing through the numbers – here are the August and September Calendar of Deals to help you find deals that save you some money!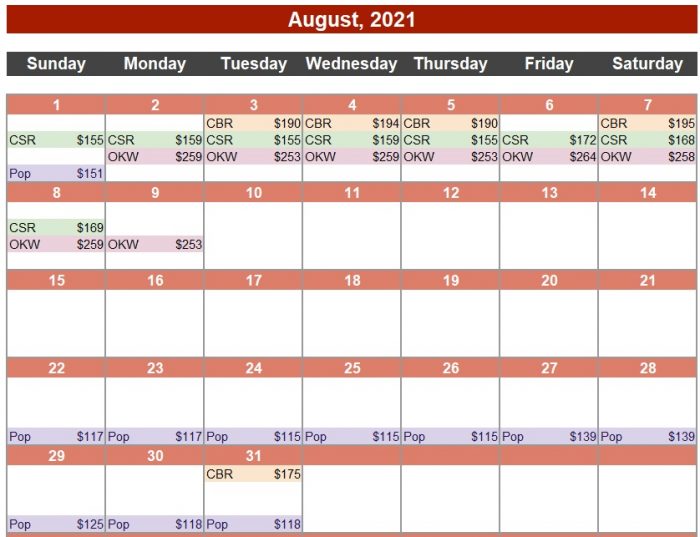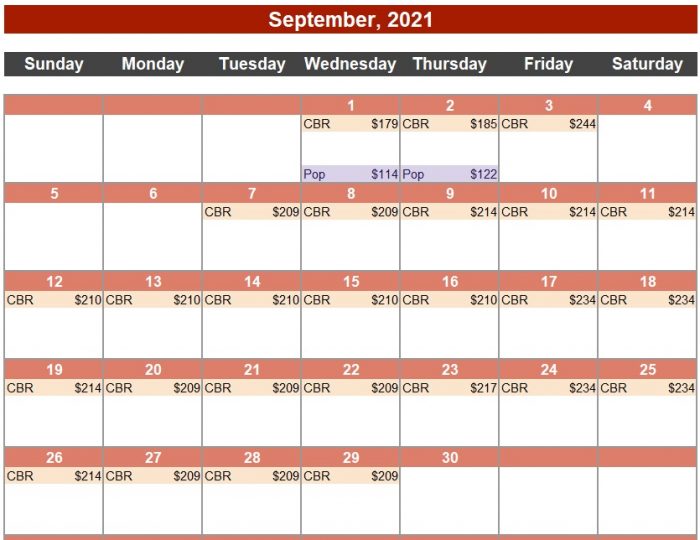 If you've booked any of these deals, or just play a mean game of beach blanket bingo – let us know in the comments!