Hotwire: Last-Minute January Deals
After a flurry of deals dropping last Fall, all has remained relatively quiet on the Hotwire and Priceline Express front when it comes to Disney resorts. Until now!
But First, A Warning
You may see some Priceline Express deals from February through April for Caribbean Beach, Bay Lake Tower, and even some All-Star Movies deals at the very end of April. Bay Lake Tower is a very rare resort for hidden deals, and you'll likely notice right off that the prices of those deals are not very good. The Caribbean Beach and Movies deals look decent at first glance – but if you compare the final Express Deal costs after fees and taxes to Disney's direct discounts right now, you'll find that Disney beats those hidden deals.
Pop, Coronado, Yacht Club, Oh My!
Back over on Hotwire, you'll find some hidden Hot Rate deals for these resorts through the end of January – and these offer significant savings. In fact, you can see in this comparison chart, these deals will save you $90 – $110 per night over Disney discounted rates. If you happen to have an active annual pass, they even save significant amounts over the deep 40% off AP rate!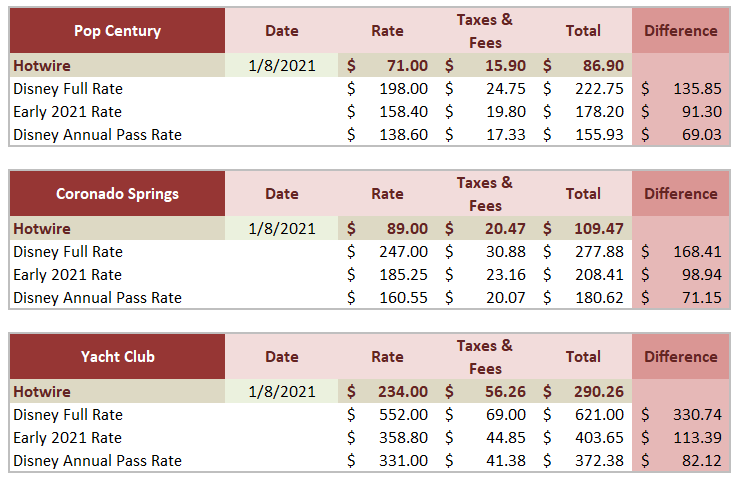 By the way, these comparisons all assume the hidden deals are for standard rooms. There were clues the last few batches of Yacht Club rooms over on Priceline Express were water view rooms. We also had a few reports from people that verified our suspicion after checking in. While I wouldn't count on that happening all the time, it would be nice to find yourself in a water view room once you check in.
THE FUTURE REMAINS BLURRY
Before I go ahead and present the current Calendar of Deals: I have heard from several people looking for deals in the upcoming months and sadly January is all we've got for now. But, in the current situation I think we might be able to count on deals rolling out over time so I suggest everyone keep watching. We'll always post good deals here as soon as we find them.
A $5 Tip, A 6% Rebate
If you search and book from the Hotwire app, you'll likely save around $5 per night compared to using a desktop browser. (The prices shown below are app prices.)
And, if you use the coupon code NEWYEAR21 on bookings greater than $100, you can shave another 6% off those low rates. (That would effectively bring those $68 Pop Century deals to less than $64 per night! Wowza.)
Spotting Resorts
For your seeking pleasure, here are some examples of the resorts to help you identify them more easily on Hotwire.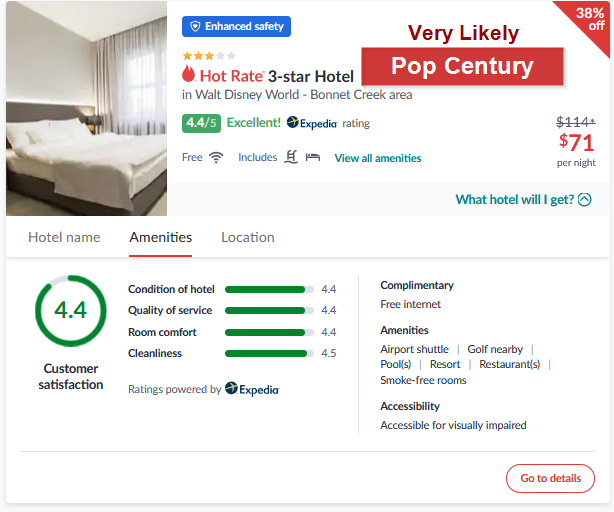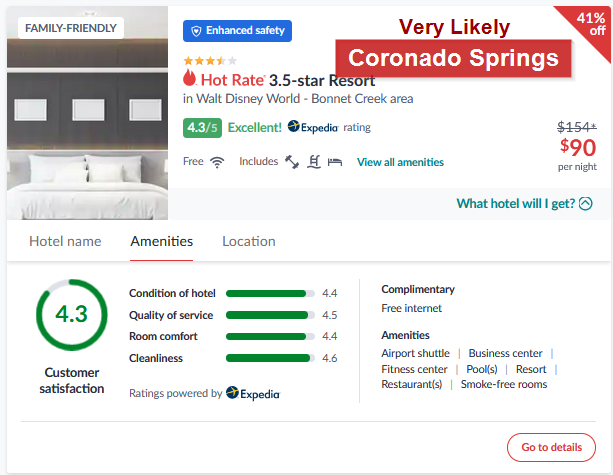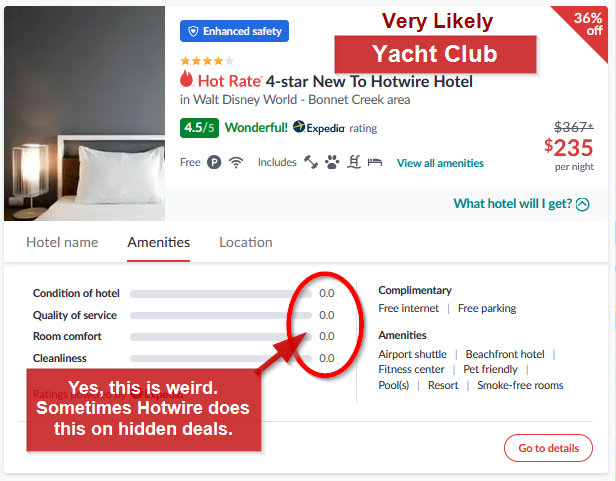 The Calendar
The calendar of deals will give you an overview of what you might find  on Hotwire in January. Take the amounts shown with a grain of salt, as they can change a bit from search to search.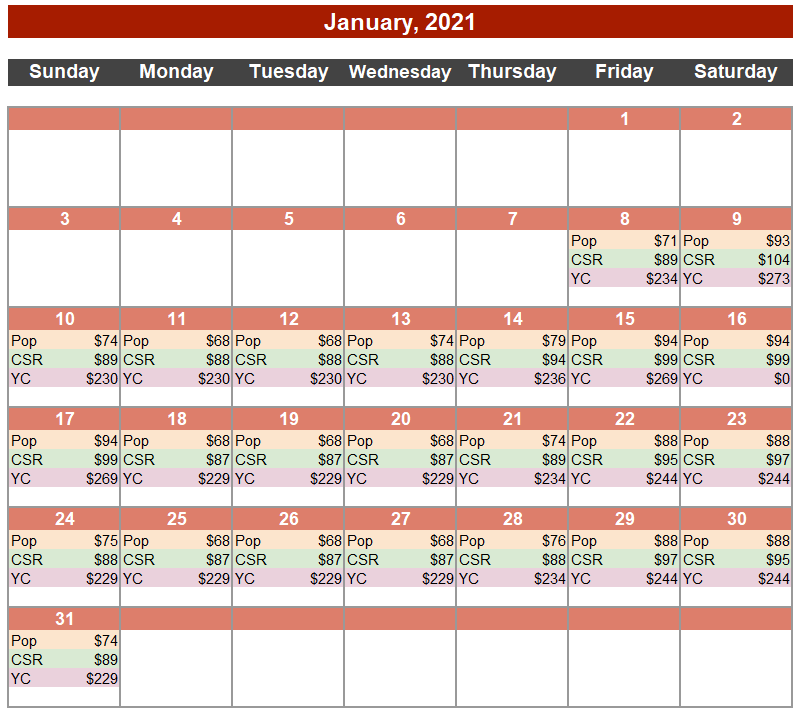 If you've booked any of these deals or have any questions, let us know in the comments!