Hotwire Deals: Pop On Over For A Visit
These days I feel a bit like a bouncing ball in a big game. If you feel the same, maybe it is time to think of taking advantage of some Hotwire hidden Hot Rate deals for Disney's Pop Century Resort!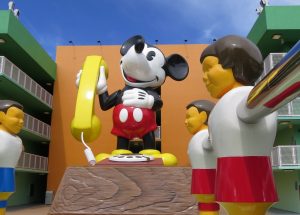 Once there, you can pretend you are in the world's largest game of foosball. (Wait, what is a "foos", anyway?)
With a little detective work over on Hotwire, you can find a nice drop of hidden Hot Rate rooms at Pop for $75 to $89 in both August and September. We haven't seen rates like that for Pop since some Priceline Express deals dropped for a few weeks in Spring, 2019.
For comparison, I checked one of the $79 deal days: the regular Hotwire and Disney direct rates were both $170, while Undercover Tourist had Pop for $160. The Disney Annual Pass rate for the day was $119, which is still pretty nice these days.
To help you find them, I'll quickly run through a few techniques to identify the resort, then I'll add some deal calendars so you can see them all at a glance.
Just like Priceline Express, I always suggest you sort search by price from low to high so you can compare similar rated resorts to each other. You'll also want to use the search filters to limit results to 3-star and 4-star resorts.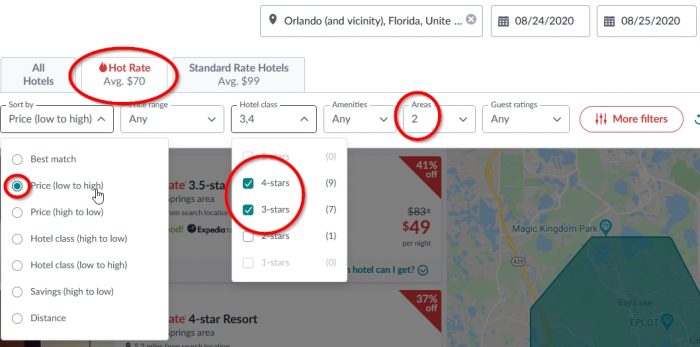 When you've gotten the feel of searching on Hotwire you might also want to select the "Hot Rate" tab to only see the hidden deals. But, some people may like to keep "All Hotels" selected so they can compare non-hidden deals right alongside the hidden ones.
Finally, you want to limit things to just the Bonnet Creek and Disney Springs areas, which is where all of the Disney resorts are located. (Remember, there are also other hotels in these spots too, so finding deals there is no guarantee it will be a Disney resort. You'll want to compare all the factors.)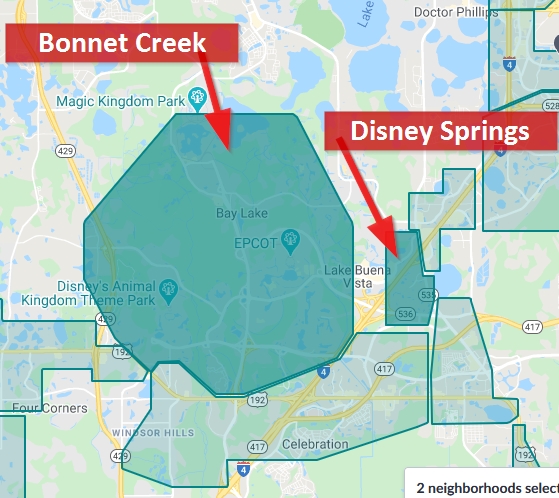 You can use the Areas drop down in the search filter bar, but I find that a little annoying to use because it is a large pop up menu.
An easier way is to simply click on Bonnet Creek and Disney Springs in the map.
In our Pop Century example, we're looking for a 3-star resort in Bonnet Creek. When searching hidden deals, some reconnaissance is a good way to help you in the process.
So, I suggest you visit Pop Century's Hotwire page, where among other things you learn that it is rated 4.3/5 by guests. (UPDATE: As of the last week of August, Pop Century's overall guest rating has increased to 4.4.)
Well, whaddya know, there's a deal right here in the search I just ran!
Now, from much clickety-clicking I have learned that right now on Hotwire there are actually three 3-star resorts in Bonnet Creek that have a 4.3 guest rating. In addition to Pop, the others are Art of Animation and All-Star Sports.
So, we need some more data to bring our possibilities down. If you click "Which hotel can I get?" on the right side of the deal, it will open a window below with additional info.
In non-Disney deals deals you'll also often see the number of reviews it has – but only rarely appears on Disney resorts. But, the Overview section here will tell you some more detailed guest ratings at the resort – usually the four items shown below.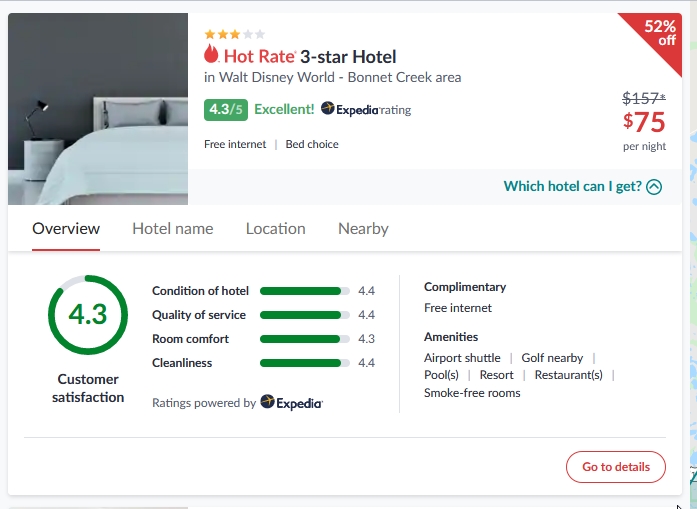 Guess what? If you listened to my suggestion to go reconnoiter (I have never typed that word before in my life) Pop's Hotwire page, you'll find that those sub-guest ratings look pretty familiar.

Now, you might notice there can be a little wiggle-room in these guest reviews – sometimes the hidden deal will have a Room cleanliness rating of 4.4 while the resort's page is 4.5, as we do above. This is likely due to new reviews that haven't synced up within the system. Still – it is usually fairly obvious which resort is which since we are comparing an overall rating and 4-sub-ratings.
To really help you feel confident in your decision that this is, indeed, a Pop Century deal I'll assign you some self-study: head over to the Art of Animation and All-Star Sports pages and compare their guest-ratings to the hidden deal as well.
The last tool in the comparison toolbox is the number of guest reviews that have been left for a resort. This one is a little more loosey-goosey (foosey loosey?) lately. Hotwire uses Expedia's review system on their resort pages and over the last few months many of the review counts have swung wildly around, like me trying to aim the Buzz Lightyear ride vehicle at Zurg while eating a churro.
So, I suggest you use reviews in a pinch to help break a tie, but be wary. Just yesterday I noticed that the Swan had almost 2,800 LESS reviews than the last time I checked! A head scratcher.
Having said that, I'll offer one last tip: even though Disney resort deals don't always have reviews listed on Hot Rate deal – when you click on it to show the full listing, it often has the reviews listed as a range. In this Pop Century deal, you can see if the Hot-Rate deal review range compares to those listed on regular deal for the resort. (Yes, 1,287 is between 1,000 and 1,500.)


Now that we've finished our quick class on Hot Rate resort identification – here are the Pop Century deals out there in August and September.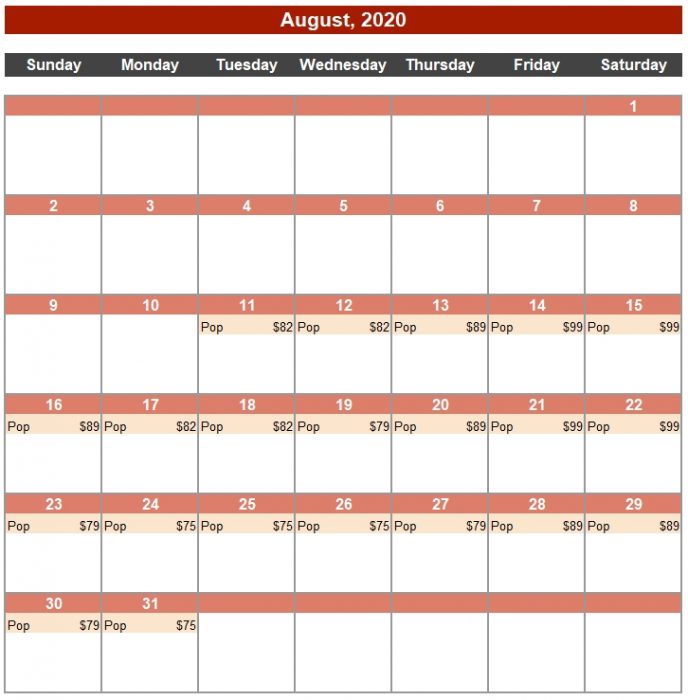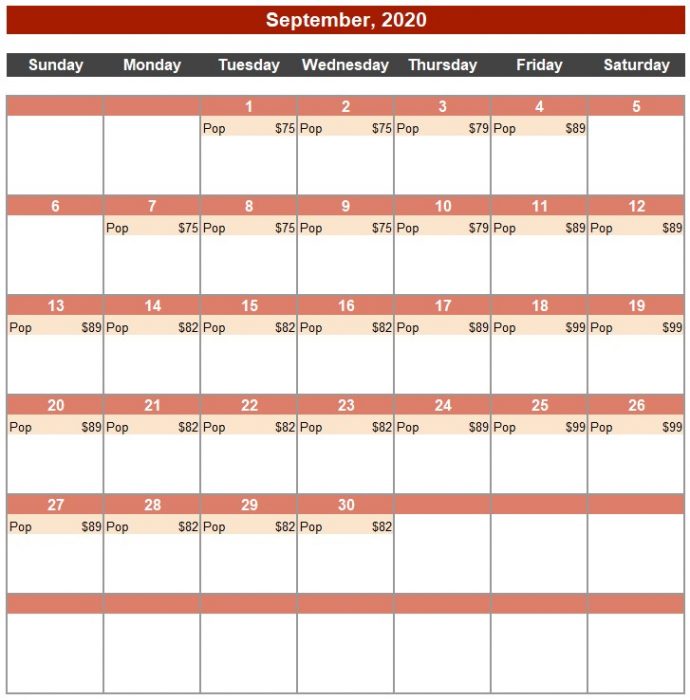 If you're looking for a good deal – these are among the best out there now. If you've booked one and/or know exactly what a foos is – let us know in the comments!