How to Make Your Own Art at EPCOT for $19
Did you know you can make your own art at the EPCOT International Festival of the Arts? You can visit the Spin Art booth, located near the Pop Eats Studio Kitchen, at the top of World Showcase. Here you can create your own painting using a bicycle! Ivonne and I went earlier this week to experience for ourselves. We think this is a great activity and a fun way to make a memory during your Walt Disney World vacation.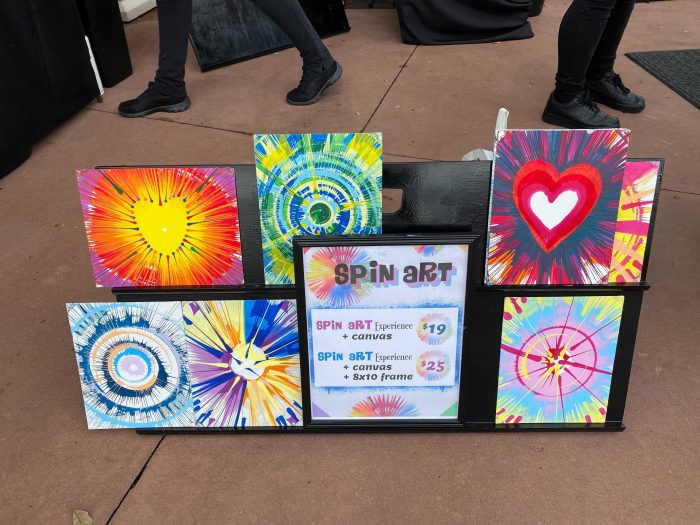 Here's a summary of the Spin Art Experience at EPCOT
The experience is $19 for a painted canvas you create.
You can have it framed for $6, making the total $25.
The bicycle is sanitized in between every use.
You can select up to four different paint colors.
Guests peddle the bike to spin the canvas slowly or fast to create different patterns.
An additional guest in the party can squirt the paint onto the canvas, or the Cast Member can help.
The entire experience takes about 15 – 30 minutes depending on how detailed you want your art to be.
It takes about 30 minutes for the paint to dry.
You can let your art dry there at the kiosk and retrieve it later in the day.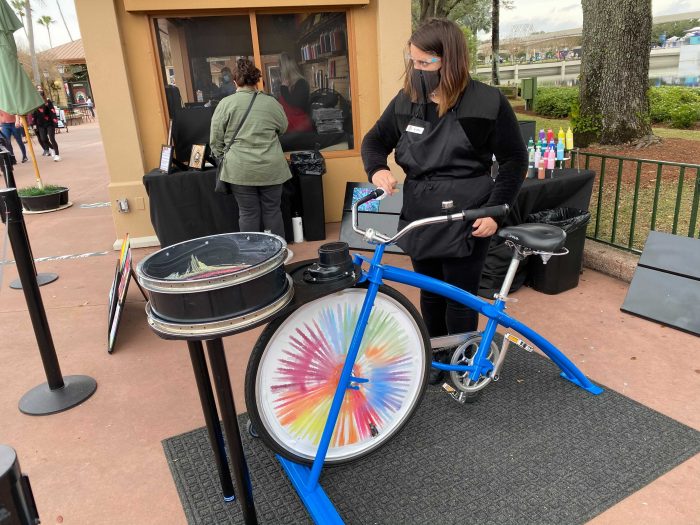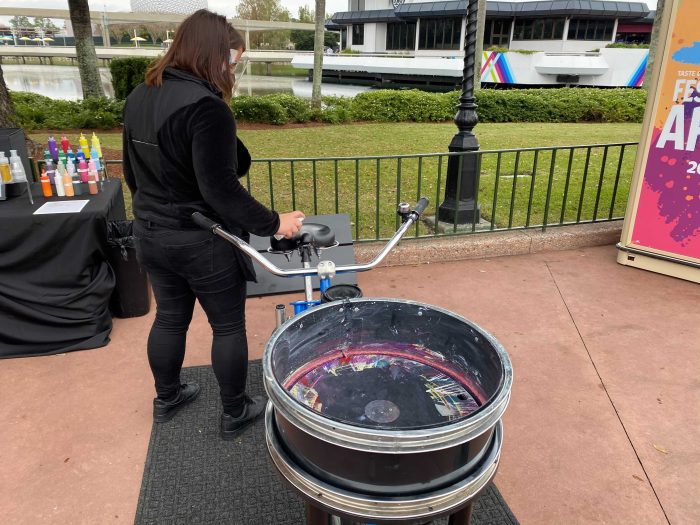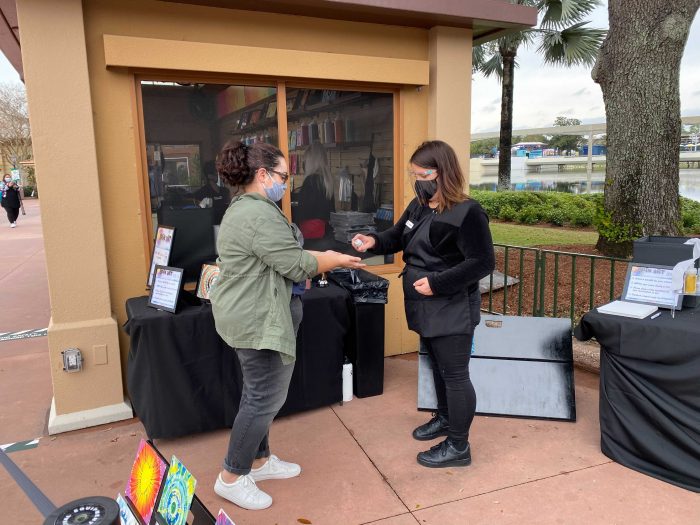 We paid upfront; there is a regular Disney register, so credit cards and MagicBands are accepted. When we visited, their register was down so they walked us to another nearby festival kiosk to ring us up there.
If you are by yourself a Cast Member can help you as it does take one person to peddle the bike and another person to squirt the paint as the canvas spins. The Cast Members we encountered were very helpful and asked lots of questions on Ivonne's preferences so they could help make the art to her liking.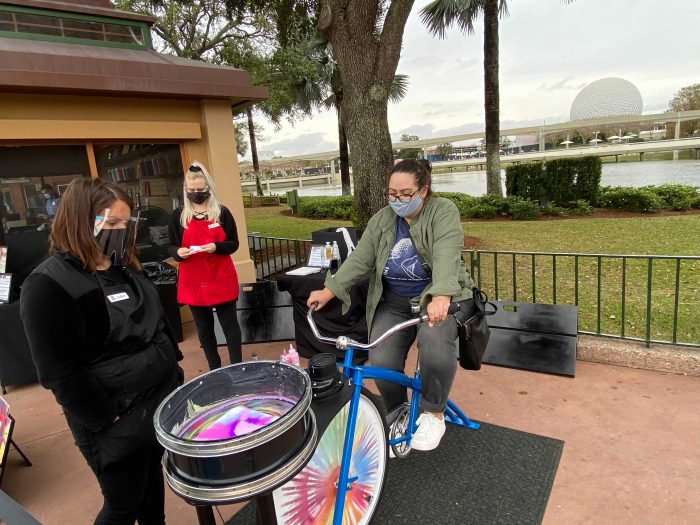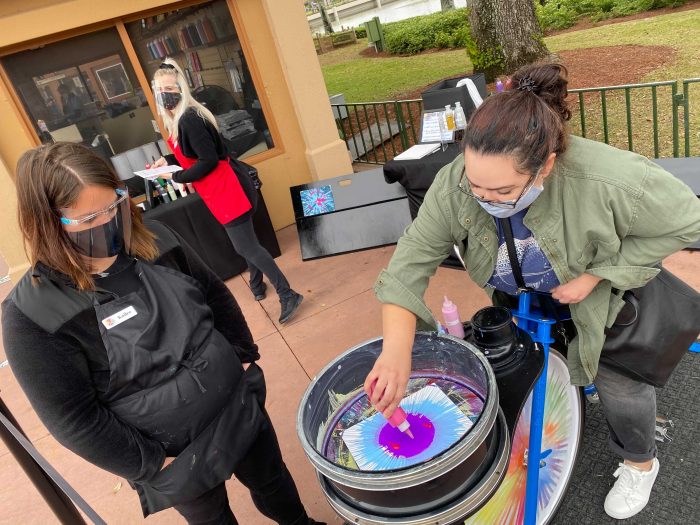 This is such a fun activity for couples and families. You can work together to create a fun piece of art. We witnessed one family before us having lots of fun together, and a young princess dressed as Elsa waited patiently to have her turn after us. After you're satisfied with your creation you can leave it at the kiosk to be displayed for a bit to let it dry.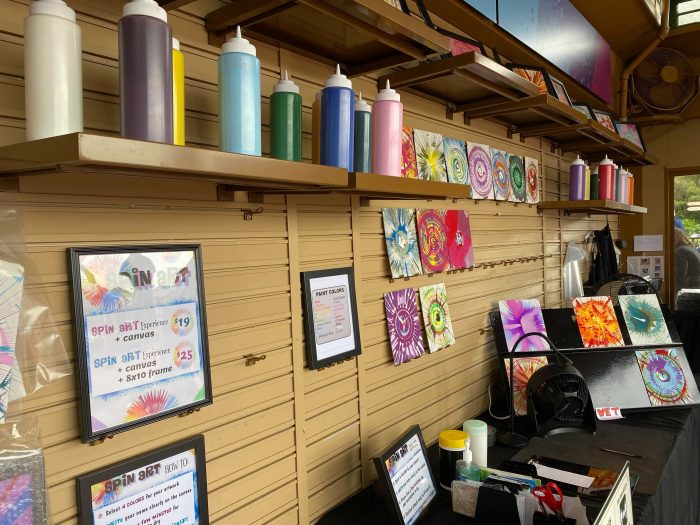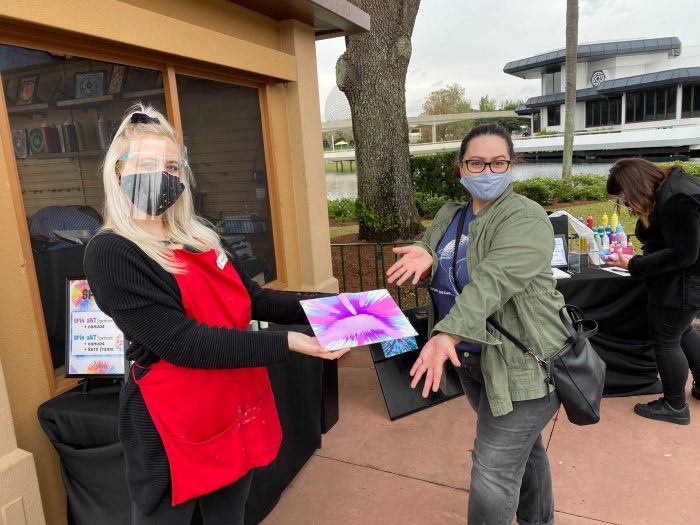 The Cast Member will ask for your name and phone number so they can contact you if you do not come back to the kiosk to pick it up. The kiosk is open during regular park hours.
What do you think of the Spin Art experience? Would you give it a try?