Don't Be Intimidated! How to Rent DVC Points
I recently hyped how Extended Evening Hours were the best way to avoid standby waits at Disney World. Hands down. Nothing else compares. And that led to a little uproar about how Disney was pricing out the general public from these great offerings. To be fair … yeah, that's basically the point. But, if you've read enough of my articles, you know I'm not just forking over the money to be able to take advantage of those late-night empty parks. Of course not! And you, lucky reader, get to be in on my tricks for how to do Extended Evening Hours on the cheap.
One potential way to do it is to book a split stay through Disney or a travel agent, and then just have your deluxe nights line up with the nights that Extended Evening hours are offered. But, to be honest, that's still expensive – and comes with the potential hassles of split stay, like packing everything up and relocating. I know that strategy has already worked for some of our readers, but I am going to be selfish and try to save EVEN MORE MONEY.
And that means booking my stay with DVC rental points. I mentioned this strategy on a recent Instagram Live with Chrissy (make sure you're following @touringplans and @raisingminniemes to get notified when we go live with these handy tips), and I got multiple messages from folks being "intimidated" by the process of renting points. Never fear! Don't let intimidation keep you down. Silencio Bruno! I'm here to remove that barrier and show you just how straight-forward point rental can be. This is how I book every single WDW stay for my family.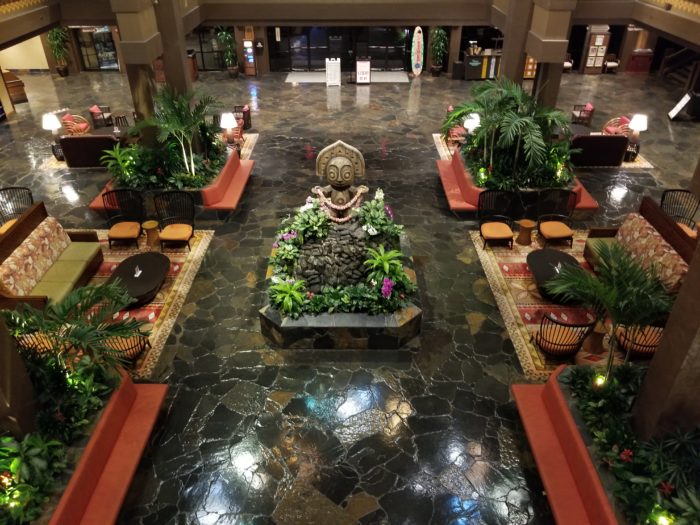 Explain the Math
I have great news if you love my articles and don't like math! (Side note: who are you?) We're saving all of the math on cost savings, etc for two other articles in the coming weeks. The wonderful Jennifer Heymont will be comparing DVC rental costs to cash payments for DVC villas and Deluxe hotel rooms on the next two Tuesdays. Which means we get to skip the heavy math here today!
Instead, we'll use some quick-hit numbers just to prove why the perceived "hassle" with renting DVC points can totally be worth it. Here are some examples of exactly what I paid for DVC villas by renting points on my last two trips:
Compare that to the rack rates for the same dates:
September 2020: $426/night for a standard-view hotel room at Animal Kingdom Lodge
January 2021: $618-$621 for standard-view hotel room at the Polynesian
And compare that again to rack rates for Caribbean Beach, which is usually the cheapest Moderate resort options for the same dates:
September 2020: $284/night for standard-view hotel room at Caribbean Beach
January 2021: $240/night for standard-view hotel room at Caribbean Beach
Sooooooo (warning: tiny bit of math here)
In September 2020, I saved 79% compared to rack rates at Animal Kingdom Lodge! And I paid 68% less than I would've paid (rack rate) at Caribbean Beach. WHAT?!
In January 2021, I saved 72% compared to rack rats at the Polynesian! And I paid 29% less than I would've paid (rack rate) at Caribbean Beach
That means: pay less than I would to stay at a Moderate resort, and get to stay at a Deluxe. If that's enough to convince you, let's walk through how to snag these awesome deals.
NOTE: Screenshots come from DVC Rental Store, but that doesn't mean we're pushing some affiliation or partnership – they're just shown for example purposes.
DVC Rental Type 1: Confirmed Reservation
The easiest way to book a DVC rental is to book a reservation that was already confirmed. Confirmed reservations are DVC stays that have already been booked by a DVC Member, and for some reason that member can't or won't use the reservation. So they need someone else to take over the reservation for them. All you have to do is find a reservation that works for you – dates and location – then click to book.
Pros and Cons of a Confirmed Reservation
Pro: No need to check availability or wait to "match" with a member with the right number of points
Pro: The reservation is already booked, so no crossing of fingers or holding of breath for a successful reservation. It's just transferred to your name.
Pro: If reservations are coming up soon, or during a period where there are lots of reservations that need people to take them over, you can get really great deals.
Con: No flexibility on dates or location. What you see is what you get. This typically works best for parties with flexible travel schedules that can see a good deal and "pounce" on it.
How to Book a Confirmed Reservation
TouringPlans subscribers can start on our DVC Rental Deals page which highlights some of the best current deals available. You can skip over most of the steps below and click the booking link to jump straight to step 4. If you don't see a great deal for you there, or you're not a subscriber, then start at step 1.
Navigate to the portion of the rental site that offers "Confirmed Reservations"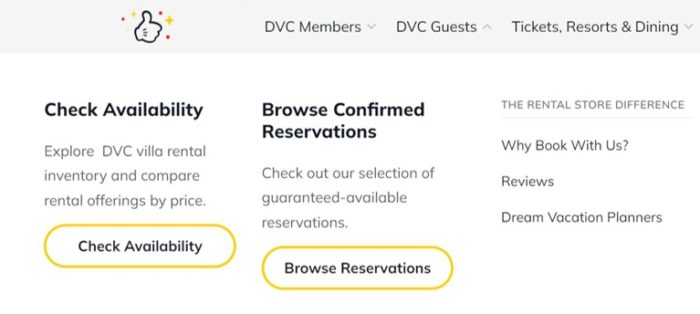 2. Find and use filters to search for a reservation that might meet your needs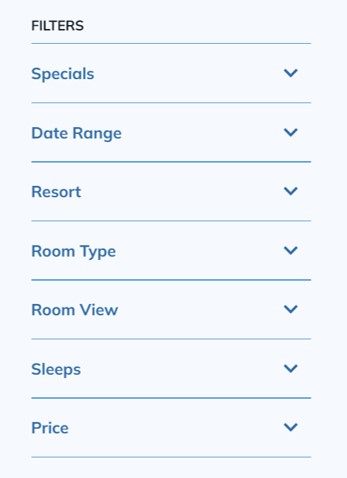 3. Look through the results to see if something is worth booking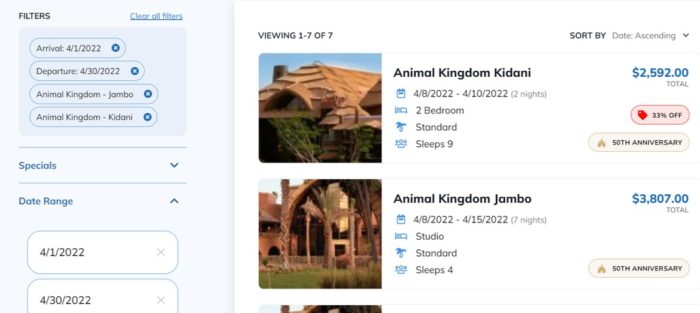 4. Click on a reservation that you'd like to book

5. Click on "Request Now" and then fill out the forms to complete the request. A travel agent will reply to confirm the reservation!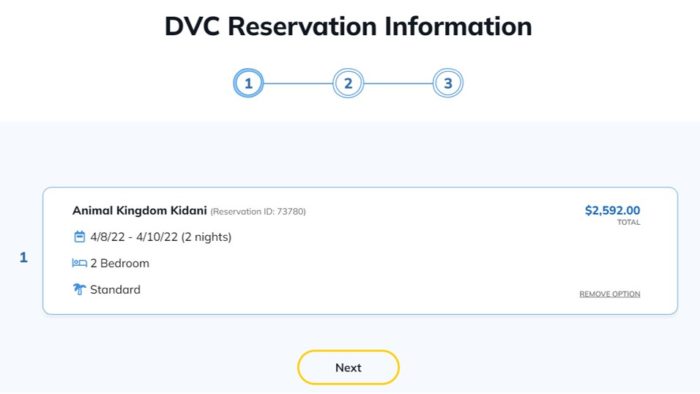 6. Once the rental is confirmed, you'll receive a confirmation number via email. You can plug that confirmation number into My Disney Experience, and … voila! Your vacation is booked.
DVC Rental Type 2: Rent Points for Stay of Your Choice
The more customizable way to book a DVC rental is by finding the room and dates that you want, and then sending a request to get matched with a DVC member with the appropriate number of points. Once identified and matched, that member will make the reservation of your dreams on your behalf. This requires a little more legwork since you have to see if your ideal room is actually available (tricky during this travel bounce-back we're having), then have to wait to see if/when someone matches with you before you can rent the points and then have them make the reservation.
Pros and Cons of a Point Rental
Pro: You pick your dates and location instead of only browsing existing reservations
Pro: You still save a ton of money compared to booking directly
Con: You have to check availability yourself to get an idea of your options
Con: You have to wait to be matched, rent, and then make the reservation – and availability could be changing during that time
Con: You typically won't get super-rock-bottom prices because there are plenty of members trying to unload points, compared to existing reservations that need to be taken.
How to Book a Point rental
Find a tool that will let you check availability – note: DVCRentalStore.com/guests/availability is great for this because you can check availability there even if you book somewhere else.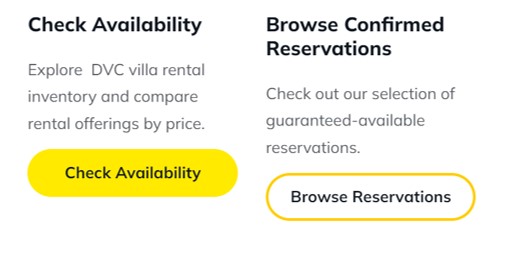 2. Enter your information into the search tool to get availability for your party during your travel dates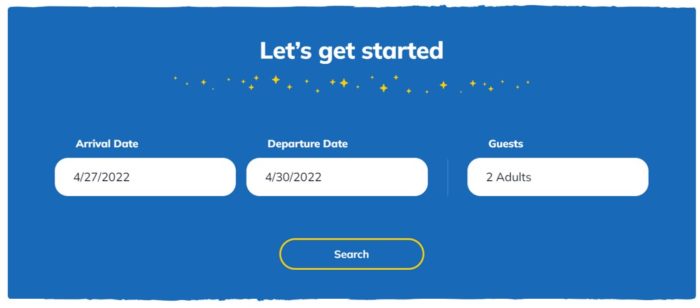 3. Check out the results!
Unavailable means that that room category at that location is totally sold out during your requested dates.
Partial means that that room category at that location is available at least one night during your requested dates, but isn't available for all of your requested dates.
Available means that there is a bookable room in that category at that location for all of your requested dates! Wahoo!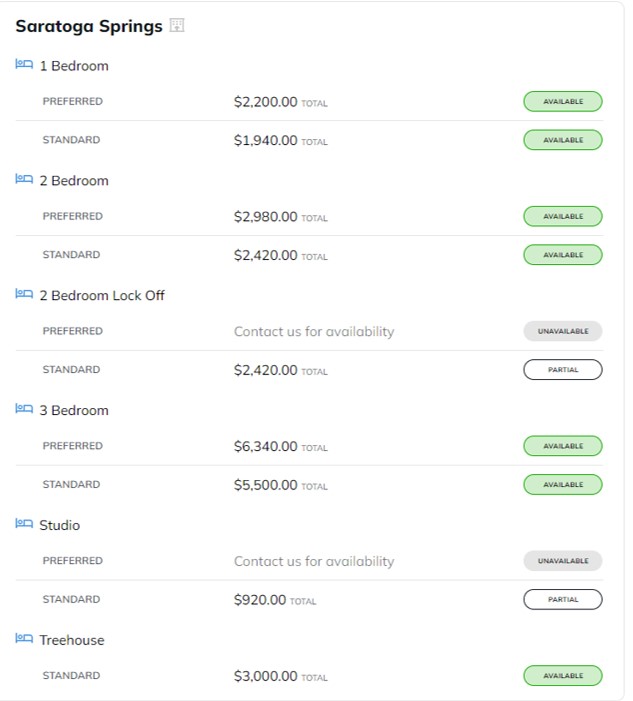 5. If a room has partial or full availability, you can immediately request a match! If it is totally unavailable, and you have your heart set on that specific room and location and dates, you have to try to contact the company directly to get put on a waitlist or something similar.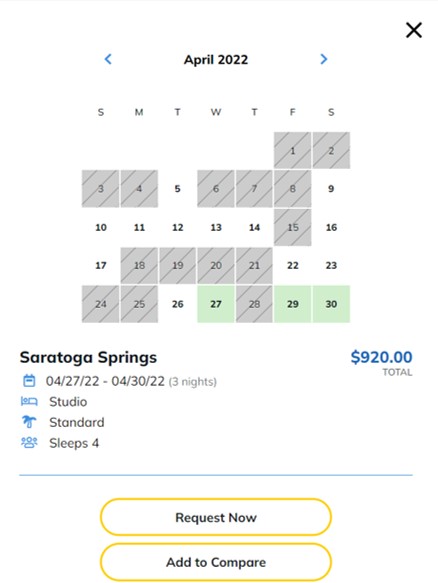 6. Click on "Request Now" and then fill out the forms to complete the request. A travel agent will reply to clarify any information or options, and work with you to find a member that will rent points that will cover the stay.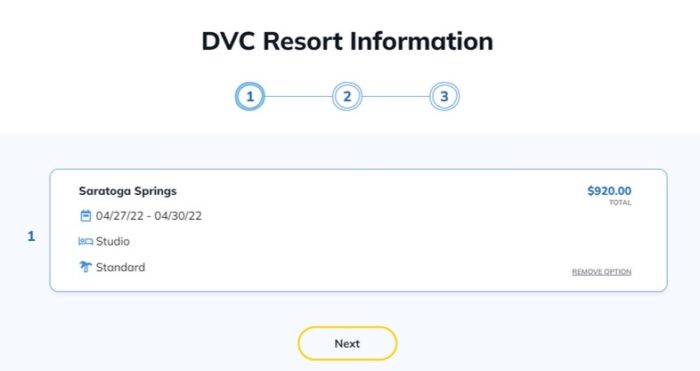 7. Once the agreement is confirmed, a DVC member will book your stay, and then you'll receive a confirmation number via email. You can plug that confirmation number into My Disney Experience, and … voila! Your vacation is booked.
What About Cancellation Policies?
Ah, here's where things get tricky. All reputable DVC rental companies used to have very strict cancellation policies – namely, no cancellation or modification allowed. Instead, you were/are pushed to get travel insurance to cover any circumstances that would result in you not being able to travel.
David's Vacation Club Rentals (policy here) still holds by this policy. DVC Rental Store (policy here), on the other hand, has loosened things up in the era of COVID. Depending on when you cancel relative to your trip, you receive back some (or all) of what you've paid, in the form of "credits". These credits can be applied to any future rentals within 2 years of the original booking. Still not a cover-all-of-everything cancellation policy, but it's nicer than it used to be. These are always subject to change though – at the height of the pandemic, DVC Rental Store's policy was even more lenient.
What I do is just factor in the cost of travel insurance into my rental. I generally still save at least 50% off of rack rates at Deluxe resorts, and pay less than I would to stay at a Moderate resort, even with the additional cost of insurance that I typically otherwise wouldn't purchase.
And why should you purchase insurance? I have a copy of an email that I sent to my mom in January 2020 regarding our DVC rental for September 2020. It reads "I don't think we need insurance – what's the worse that could happen? A hurricane. And we already had a trip with one of those [Irma – Sept 2017], and it worked out fine." Fast forward to … PANDEMIC. You got me, life, you got me.
What Does This Mean For You?
DVC rental may seem difficult or intimidating, but really it's just different. And different isn't bad. In fact, it can be quite great.
DVC rental savings vary (stay tuned for our upcoming posts), but they can be CRAZY good. Especially if you travel in off-season.
Cancellation policies for rentals are more strict than booking straight through Disney. If that scares you, or doesn't meet your needs (looking at you, international travelers, especially) – you can still book DVC or Deluxe equivalent through the lovely folks over at the TouringPlans Travel Agency. And, bonus, they'll be able to help you with availability and deciding which resort meets your needs instead of you doing that work yourself.
Do you still have concerns about renting DVC points? Or have you rented in the past and now you're telling all of your friends how to do it too? What are your price point success stories? Let us know in the comments!