Updates to Disney World 1-Day Ticket Prices and Park Reservations on December 8, 2022
Disney has announced several changes to ticket prices that will begin on December 8, along with some updates to the Park Pass Reservation system. We'll cover the updates, plus some thoughts about why Disney might be making these changes.
1-Day, 1-Park Tickets Will Have Park-Specific Pricing
Starting December 8, 1-Day, 1-Park tickets will have a different price depending on which park you are visiting. These prices will still vary with the date of your visit. The new price ranges are:
Disney's Animal Kingdom: $109-$159
Disney's Hollywood Studios: $124-$179
EPCOT: $114-$179
Magic Kingdom Park: $124-$189
Disney's announcement was careful to emphasize that the Animal Kingdom prices are the same range as today, and that the $189 price point for Magic Kingdom Park only applies to the weeks around Christmas and New Year's.
Updates to Park Passes for 1-Day, 1-Park Tickets
It's not all bad news. Disney also announced that moving forward, when you buy a 1-day, 1-park ticket your theme park reservation will be made automatically! Previously this wasn't possible, but now that you have to specify both the day and the park before they can give you a ticket price, they have all the information they need to make reservations for 1-day park tickets easier for guests.
All other tickets, including 1-day tickets with Park Hopper or Park Hopper plus add-ons, will still need a park reservation made separately after the ticket purchase.
Updates to Park Hoppers and Annual Passes
Park Hopper (and Park Hopper Plus) pricing will also be changed on December 8, but Disney hasn't said what the change will be yet. We presume it will be an increase, but we'd love to be surprised!
There's a little more information on Annual Passes.
On Dec. 8, Annual Pass pricing for the Incredi-, Sorcerer and Pirate Annual Passes will increase between $43-100. The Disney Pixie Dust Pass will remain at its current price.
Does the fact that the price is going up make you think that you can buy one of those top-level passes? Nope … they're still not on sale and we don't know when they will be. But those prices will affect passholders who are renewing, or who are adding passes for younger members of their families who previously didn't need a ticket.
What's It All About?
I would never presume to read Disney's mind, but there are a few things that are clear. Last year we did an analysis of ticket prices over the last 4 years. At the time, I predicted that within 3-4 years, Disney would be forced to take raise the price of the Holiday Tier ($159) or the everyday prices would overtake it. Looking at the distribution of prices for 2023, this was even more apparent.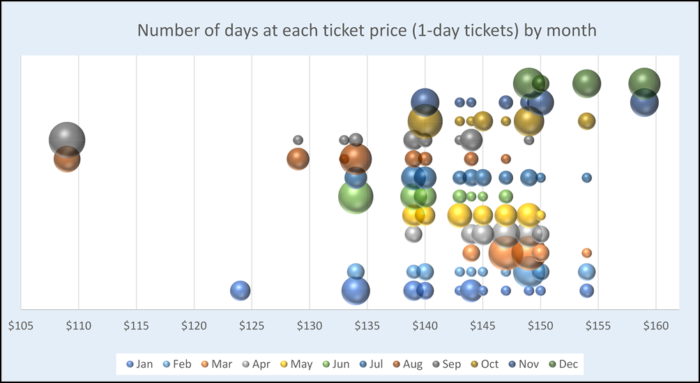 Additionally, you can argue about whether surge pricing is a good way to modify demand or if it's simply price-gouging, but there's no question that demand is relatively higher at Magic Kingdom and Hollywood Studios. Park Passes routinely sell out at those two parks before any others. (Disney World Park Passes: How Far in Advance? – May 2022).
Hollywood Studios and EPCOT both have a top price of $174, but I will be interested to see if Hollywood Studios tracks more with Magic Kingdom pricing whereas the EPCOT pricing is determined by weekends and Festivals. That's all speculation right now, but when we have the new prices we'll update our ticket price post for 2023 to help you plan your vacation. Just remember – this only affects 1-day ticket prices for now. (Every Regular Disney World Ticket Price in 2023)
Still have questions? Our friends at TouringPlans Travel will be happy to help you get a quote.