Jiko – The Cooking Place: A Reopening Review
While Animal Kingdom Lodge's Boma and Sanaa often attract the most attention in terms of food at this deluxe resort, a true hidden gem in terms of fine dining is Jiko – The Cooking Place.
In the months following Walt Disney World's 2020 reopening, Jiko has been closed. Thankfully, that has all changed as Jiko has officially reopened. And, of course, we were there to see if this dining experience is as fantastic as we remembered!
What You Need to Know
Located at Animal Kingdom Lodge's Jambo House, Jiko – The Cooking Place is a dinner destination only and serves from 5:00 p.m. to 9:30 p.m.
It's also a signature restaurant meaning the usual signature dining dress code applies, as does the price which Disney advertises as between $35 to $59.99 per adult.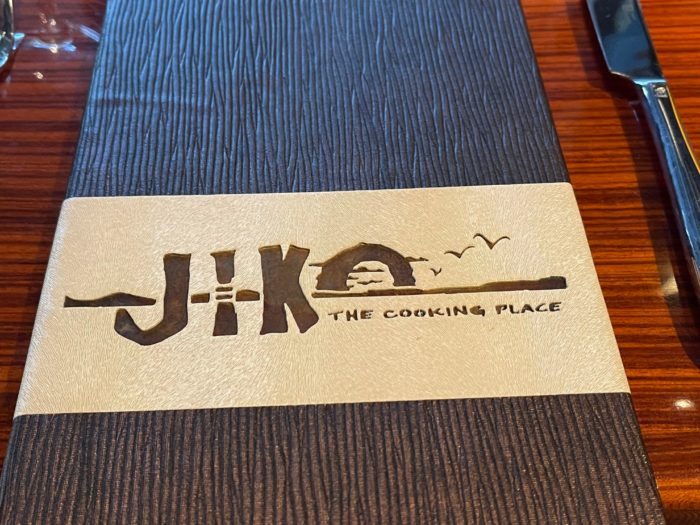 The menu here is a blend of African, Indian, and Mediterranean cuisine; but for those with little ones in tow, the kid's menu has less adventurous options.
Since the name "Jiko" actually means "cooking place" in Swahili, the dining room features two wood-burning ovens and an open show kitchen.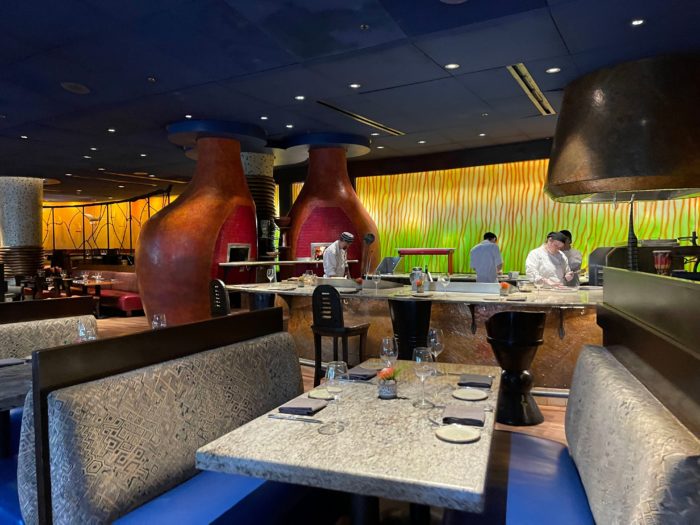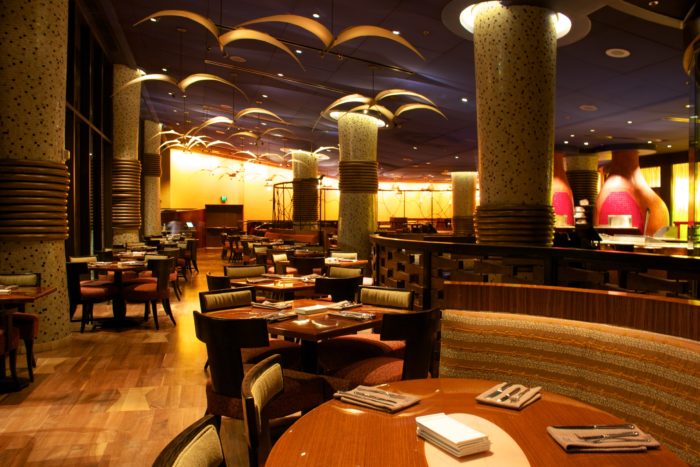 The dining room's color palette is also designed to evoke the ambiance of an African sunset while windows offer views of the resort's grounds.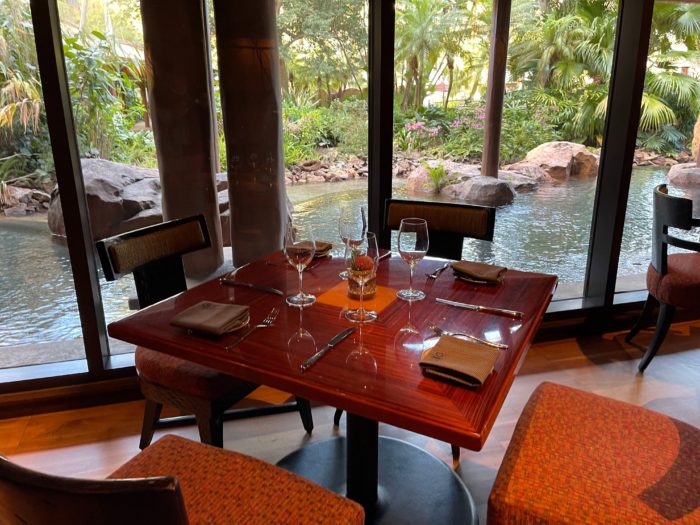 As usual, we encourage advance dining reservations which are available on both Open Table or on the My Disney Experience app. Already within that 60-day window? Be sure to check out our handy TouringPlans Reservation Finder to snag that reservation!
Bread Service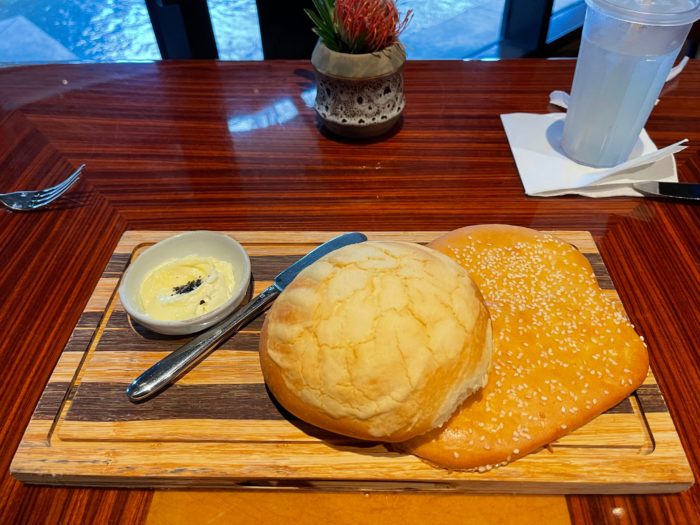 Jiko's new bread service is an Egyptian and giraffe bread served with Jiko butter and black sea salt.
Appetizers
Jiko Salad – $16.00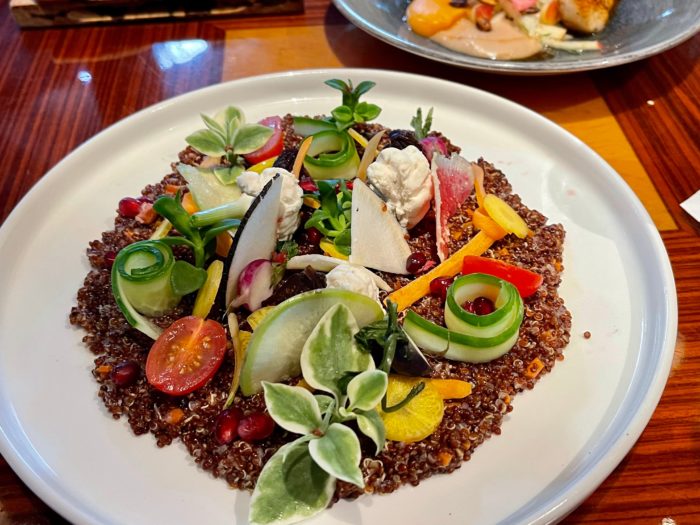 Have you ever seen a salad plated so beautifully? This feast for the eyes consists of quinoa, radish, petite veggies, figs, pomegranate, and tangy cashew cheese, along with a lemon-ginger vinaigrette.
Let's just say the figs and that cashew cheese, which has the same texture and pluck of a goat cheese, should be a dish all on its own.
Seared Scallops – $18.00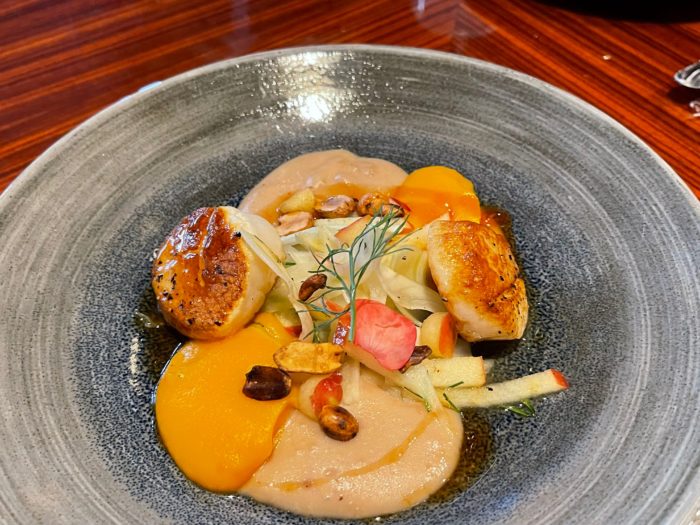 Described as diver scallops with blistered peanuts, Nhopi, chestnut cream, and fennel-apple slaw with a cider reduction, this appetizer was lovely. But if we're being honest, we'd skip it for the salad. Yes, we're shocked too.
Jiko's additional appetizers consisted of a roasted squash bisque, duck confit and honey-raisin flatbread, and wild boar tenderloin.
Entrees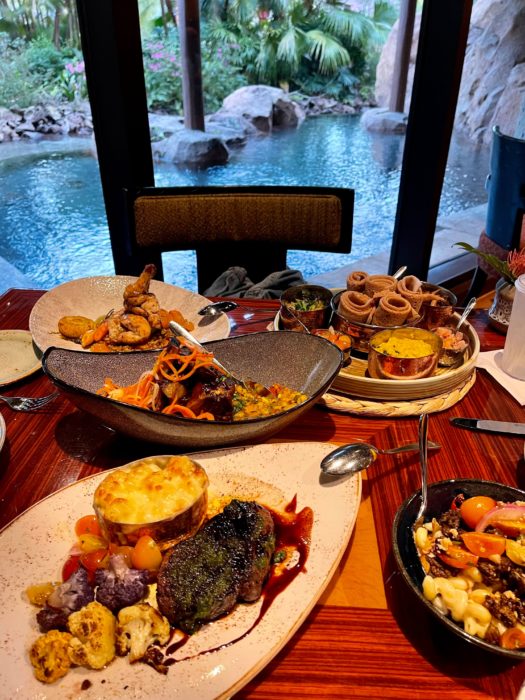 Heritage Chicken – $37.00
Served with ancient grains, Cipollini onions, fennel, and preserved lemons, this item was perfectly cooked and delicious.
Botswanan Seswaa Short Rib – $50.00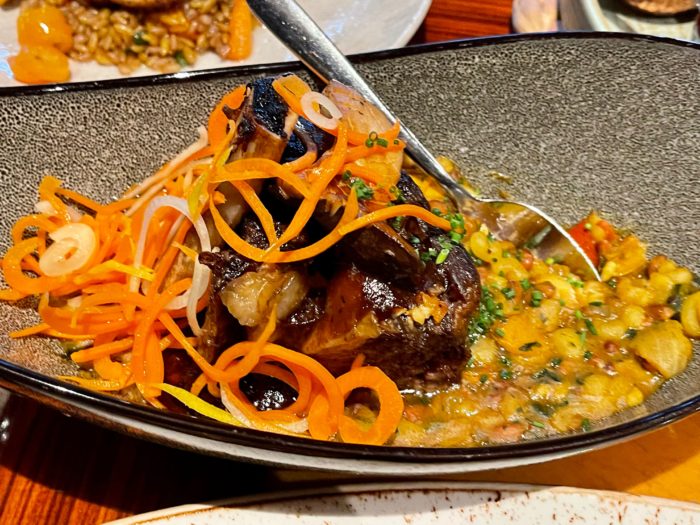 We actually cut this gorgeous piece of meat WITH A SPOON! It was outrageously tender with deep flavor, and there was more enough to share.
We recommend sharing this dish and getting the salad. You won't be disappointed.
Oak-grilled Filet Mignon – $52.00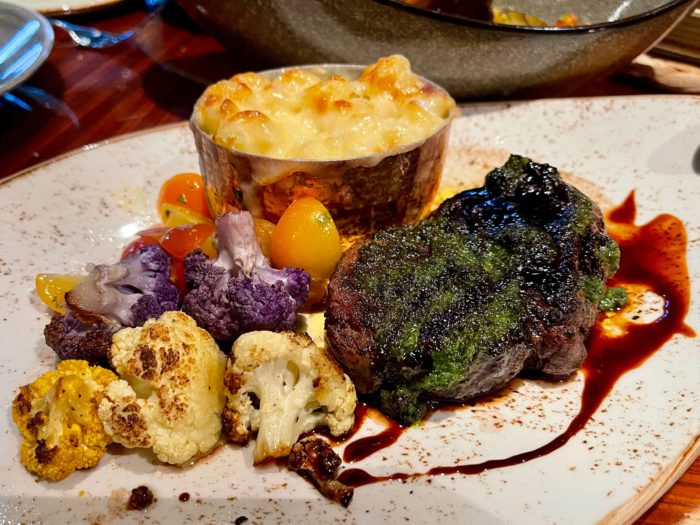 So this was beautiful. Carnivores are going to be very happy at Jiko. Served with a four-cheese macaroni, rainbow cauliflower, and chocolate-red wine demi-glace, we would definitely get this entree again.
Injera Basket – $34.00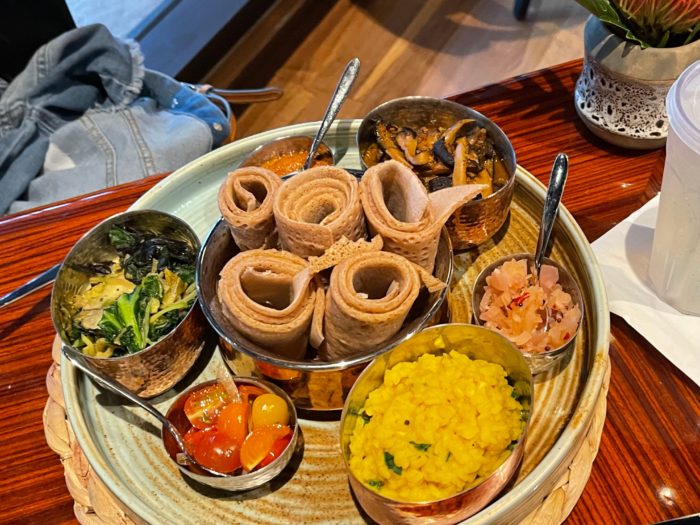 As self-proclaimed Ethiopian food snobs, we didn't love this one. The presentation was charming, but it just wasn't the stand-out.
Enhancements
Bobotie Mac and Cheese – $20.00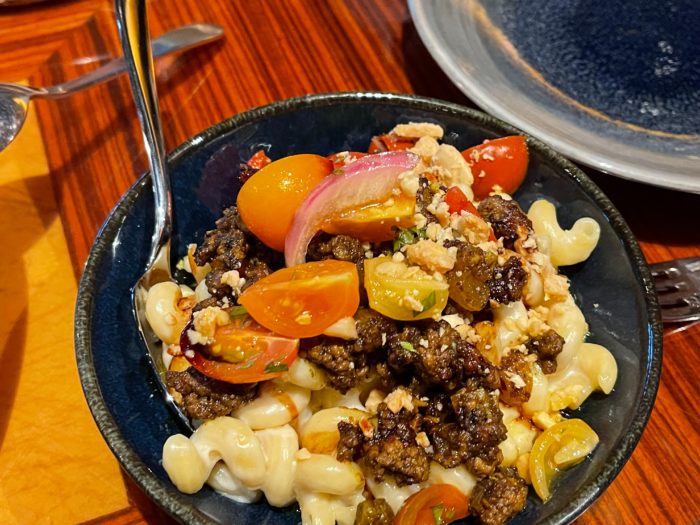 Four kinds of cheese AND Waygu?! This "enhancement" is easily a meal all on its own.
Desserts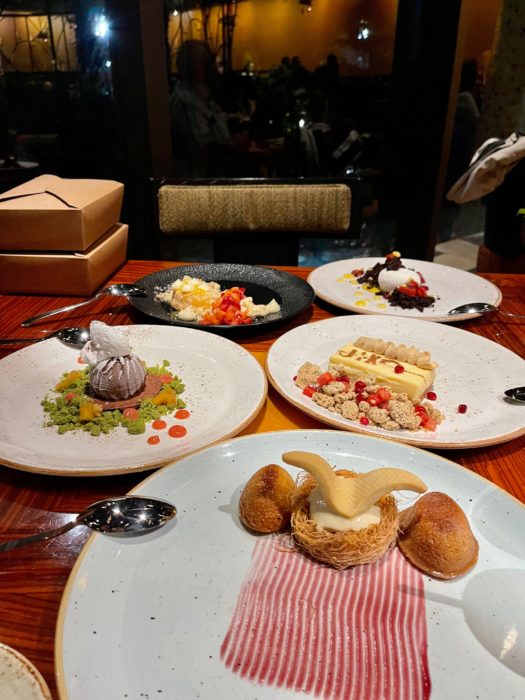 For "research" purposes, we ordered all five of Jiko's desserts; but of them all, our recommendation is the African Drum "Beets."
African Drum "Beets" – $13.00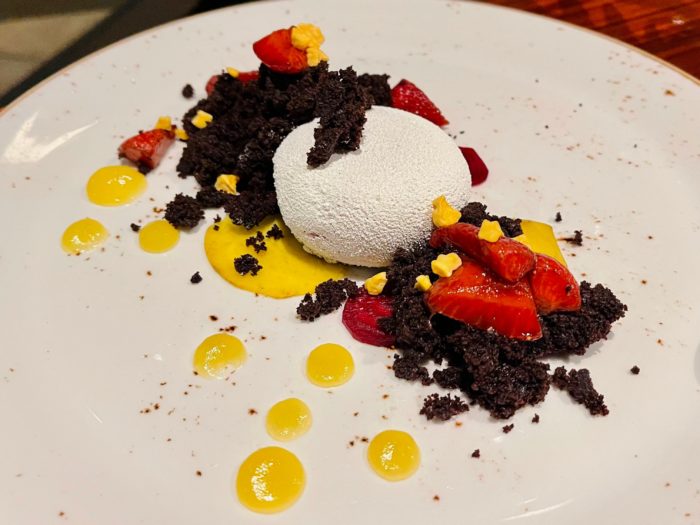 Described as coconut-strawberry-beet mousse, chocolate cake, candied beets, and balsamic strawberries, the texture and flavors were fantastic. Plus, it's plant-based!
Melktert – $12.00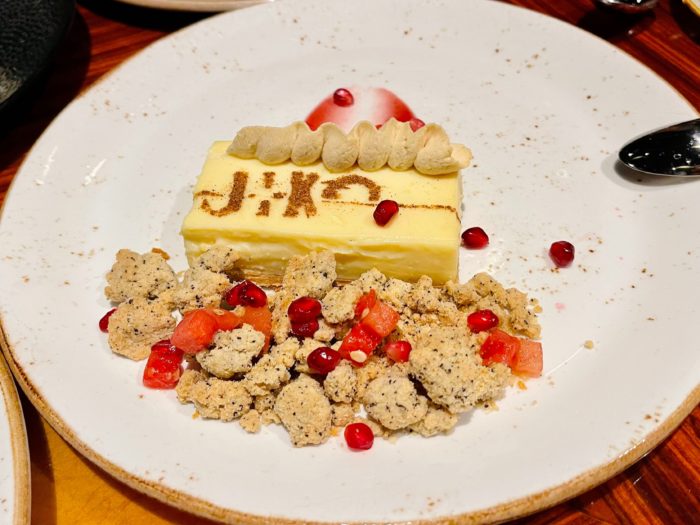 Jiko's menu describes this treat as an African Milk Custard Tart with cinnamon, cardamom, and fresh fruit.
Malva Pudding – $13.00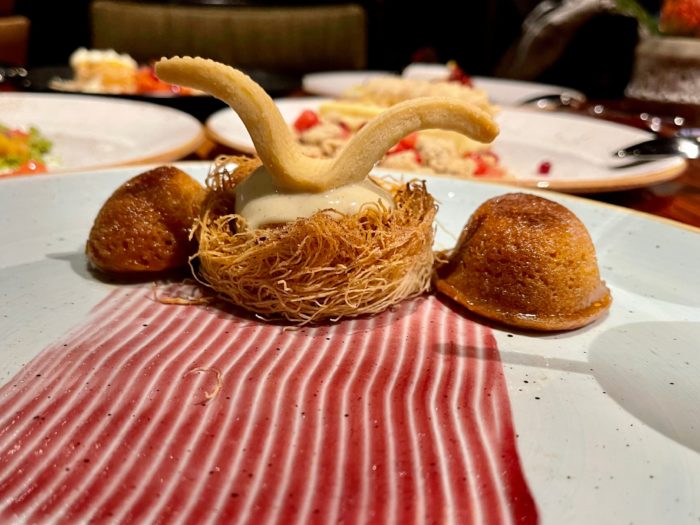 This little piece of art is Melktert ice cream, Kataifi, Kanu tuile, and a Cabarnet gelee.
Kilimanjaro – $15.00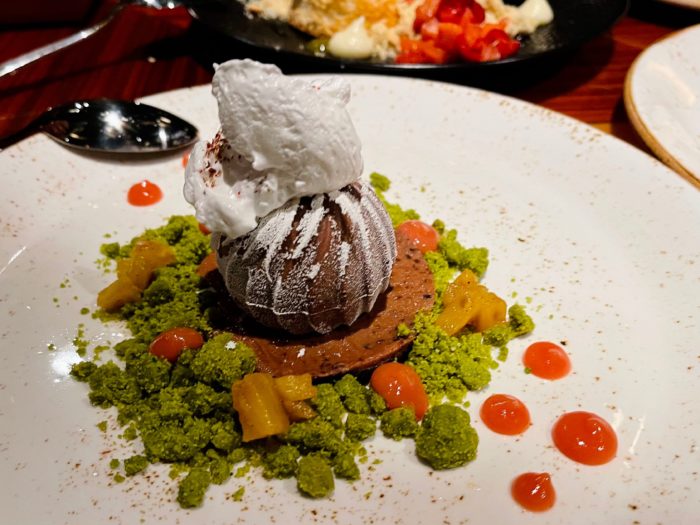 This Ghanian dark chocolate mousse is complemented by a pistachio financier, pink peppercorn meringue, cocoa nib crunch, and Ras el Hanout pineapples.
Final Thoughts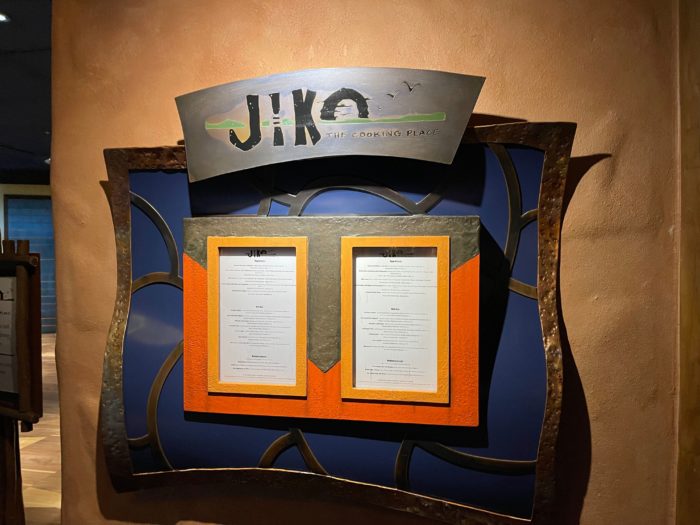 Jiko – The Cooking Place is definitely a "must-do" for us. The plant-based options are the best Disney has to offer, and we are here for it!
Are you as thrilled as we are that Jiko has returned? What's your favorite dish? Let us know in the comments!