Keeping Kids Happy at Disney Springs
Back when Disney Springs was Downtown Disney, it was relatively easy to keep a family happy – park the kids at DisneyQuest while you spend an hour speeding through a few shops and then you're good to go. However, with the major expansion of the Disney Springs nearly complete, there are now many more points of interest in the area for adults, perhaps making it more challenging to keep youngsters engaged. Here are some ideas for keeping little ones occupied at the expanded Disney Springs.
West Side
Shopping: The key draws for kids here are the Super Hero Headquarters and Star Wars Galactic Outpost shops. Bear in mind that these are both relatively small shops, with no activities available other than perusing the merchandise. (Rest in Peace D-Street and your Vinylmation coloring and trading stations.) The only other location of much interest for kids is the Candy Cauldron, a vendor of standard Disney sweets. Again, this is a small shop, mostly good for quick sugar acquisition; however, the open kitchen features a picture window from which you can view cast members decorating desserts. If you happen upon a session of fancy apple crafting, this could be interesting for five or six minutes.
Dining: West Side Dining holds little special appeal for kids. One point of interest is the interactive screen at the Starbucks location here. Kids can use their hands here to draw on what amounts to a giant MagnaDoodle.
Entertainment: Believe it or not, the West Side's DisneyQuest indoor arcade is still open. While Disney had reported its imminent closing over a year ago, the plan is now to keep DisneyQuest in operation into 2017. That being said, I can't recommend this as a diversion for the kiddos. DisneyQuest has a steep cover charge ($39 for kids ages 3-9, $48 for 10 and up). Even with one parent/child pair, you'll be dropping nearly $100 for some sadly outdated entertainment in an environment that I've found to be lacking in Disney's usual cleanliness. Other more promising options include the AMC movie theater and Splitsville Bowling Lanes. Both these options are reliable ways to beat the heat or pass the time on a rainy day. If the weather is good, you can opt for the Characters In Flight balloon experience, which offers panoramic views of all of Disney World. With Characters In Flight, bear in mind that you may have to hold a short child in order for them to have viable sight lines.
The Landing
Shopping: There's negligible child-friendly shopping in The Landing. The Ganachery offers fancy chocolates and Vivoli il Gelato offers fancy ice cream, both reliable sources of a quick sweet diversion. Erin McKenna's Bakery (previously known as Babycakes) is another small dessert purveyor here, with the unique twist that virtually all of their offerings are allergy-friendly, gluten-free, and vegan. If you have a child with dietary issues, this could be your favorite spot in all of Disney World.
Dining: Decent choices for kids include Raglan Road, which has music and Irish Dance performances in the evenings, or Morimoto Asia with its small dim sum selections that won't break the bank. Chef Art Smith's Homecoming is a good spot for kid comfort food. Blow you child's mind when you order the combo plate of fried chicken and doughnuts.
Entertainment: You'll be a hero to a transportation-loving kids if you splurge on an amphicar ride at The Boathouse restaurant. Admittedly quite pricey ($125 for a 20 minute ride for up to three people), this half car/half boat experience will be unforgettable for the right child.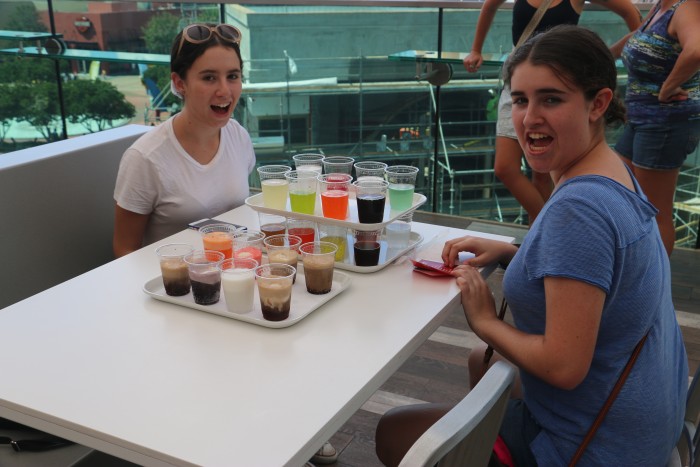 Town Center
Shopping: Japanese import Uniqlo offers Disney-branded merchandise not found in other WDW locations. Many are in child sizes and are reasonably priced. The Coca-Cola Superstore works surprisingly well as a time killer for kids. There's a meet and greet with the Coke Polar Bear. And the rooftop lounge serves inexpensive trays filled with numerous Coke branded beverages from around the world (think Epcot's Cool Station, but with more choices). You can even get them in float form, served with a scoop of ice cream. Predictably, there are also a few small sweet shops in Town Center. Amorette's Patisserie sells high-end pastries that may not appeal to younger kids. However, they do offer themed cakes that are eye-catching in the extreme. These should be good for at least a few minutes of conversation. The Sprinkles cupcake shop is more conventionally appealing to kids. For a real "wow" moment, buy your cupcake from the exterior vending machine. It's like an ATM for treats.
Dining: Blaze Fast-Fired Pizza and D-Luxe Burger are your best bets for familiar favorites.
Entertainment: Other than the Coke Bear greeting, there's not much in the way of entertainment for kids in the Town Center section of Disney Springs. The many retail shops make this area function essentially like a mall. If you're alone with kids and want to shop, this may be the place you'll end up breaking out the movies on your phone.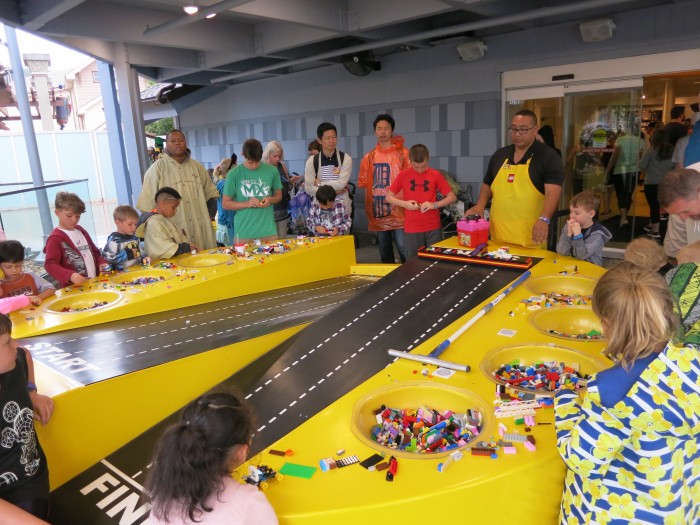 Marketplace
Shopping: The electronic design stations at Hanes Design-A-Tee are a fun way for kids to create the best Disney tee EVER. The T-Rex Cafe has a Build-A-Bear offshoot, Build-a-Dino, where you can create a stuffed prehistoric friend. Once Upon A Toy sells, you guessed it, toys. There are sometimes demo stations for interactive playthings like Mr. Potato Head or Star Wars Lightsabers. Industrious kiddos can busy themselves here for a while. The gigantic World of Disney Store sells plenty of plush. A classic photo opportunity is to take your child's picture while they're holding a Mickey Mouse bigger than they are. The biggest shopping draw in the Marketplace area is typically the Lego Store. In addition to traditional Lego selections, the store stocks bins where you can buy bricks by specific color or shape. There are also minifig stations where you can build the Lego dude or dudette that exactly suits your needs. The Lego store also has a a general construction area where kids and freely build from an array of public-use blocks.
Dining: The sweet shops here are Goofy's Candy Company, where you can design your own chocolate dipped Rice Krispie Treat, candy apple, or pretzel sticks, as well as the Ghiradelli ice cream and chocolate shop for spectacular sundaes. More substantial eats can be found at the highly themed T-Rex Cafe or Rainforest Cafe. Both feature loud noises, moving scenery, and intense visual stimulation. Many kids love these spots, but if your child is easily overwhelmed, be forewarned.
Entertainment: The Bibbidi Bobbidi Boutique princess makeover salon is available, just in case your princess-loving daughter feels the need for some fabulous. If your kids are into Disney pin trading, there's a dedicated pin shop that includes several trading stations. The waterside stage features intermittent performances from school dance and choir groups, small bands, and the like. Quality varies. The Marketplace is also home to a small carousel and mini train ride. Both are pay-as-you-go and last just a few minutes, but they may be just the thing to take the edge off for a preschooler. Also be aware that during warm weather, there are interactive run-through fountains that are a real draw for hot, cranky kids. If you think these will be unavoidable, bring a change of clothes.
Holiday Happenings
In addition to the regular shopping, dining, and entertainment, Disney Springs is busting out an array of supplementary holiday attractions. Most notable is the twice nightly Starbright Holidays show, which involves flying drones creating holiday light images in the sky, synchronized with festive music. You'll also find the Festival of Toys dance party, a Christmas Tree Walk, and a traditional Santa Claus greeting station.
How to Handle Your Visit
As you can see, the Disney Springs points of interest for kids are heavily weighted to eating and looking at appealing merchandise. If you're spending time there, you'll need to discuss expectations and set some boundaries at the outset. Here are some ideas:
Set a limit on the number or size of sweets to be consumed each day. Once you've hit your max, then avoid the other area sweet shops.
Set a budget or item limit for souvenirs. Make it fun to take photos of preferred merchandise, circling back to just buy the one or two allowed items.
Alternate Mom/Dad stops with kid stops. Perhaps spend 20 minutes in the boutiques, then 20 mins in the toy stores, and repeat as needed.
Give the kids a measure of control by setting a specific time limit for your own shopping. Set a timer so that kids can visualize when they can leave to go back to the pool or the parks.
Take advantage of the package delivery service offered by many of the shops. They'll send your purchases back to your hotel, so you don't have to carry them. This leaves you free to hold your child's hand or offer a hug unencumbered by bags.
Of course another alternative is to just have your kids skip Disney Springs altogether. If your Disney World visit is less than five days, there's no shortage of things to do in the theme parks. You're probably better off concentrating your time there.
If you have more than one adult in your party, send the one more interested in shopping to Disney Springs while the other supervises the children at the pool or during some quality nap time back at the hotel. Another alternative is to use a sitter for the kids, either one of Disney's own childcare centers, or a service like Kids' Nite Out.
What are your tips and tricks for taking your kids to Disney Springs. Do you find them more prone to boredom now that there are more shops? How do you avoid the "gimmes"? Let us know in the comments below.