Lightning Lane Recommendations Now Available in Customized Touring Plans for Disney World
It's finally here! We know you've been waiting so very patiently, and we're thrilled to announce that customized Touring Plans for Disney World will now give you recommendations for which Lightning Lanes to book.
No more wondering whether you should grab that reservation that's only a half-hour away, or the one that's 4 hours out but saves you twice as much time. You put in what you want to do, and we'll calculate which combination of LL reservations will get you finished quickest.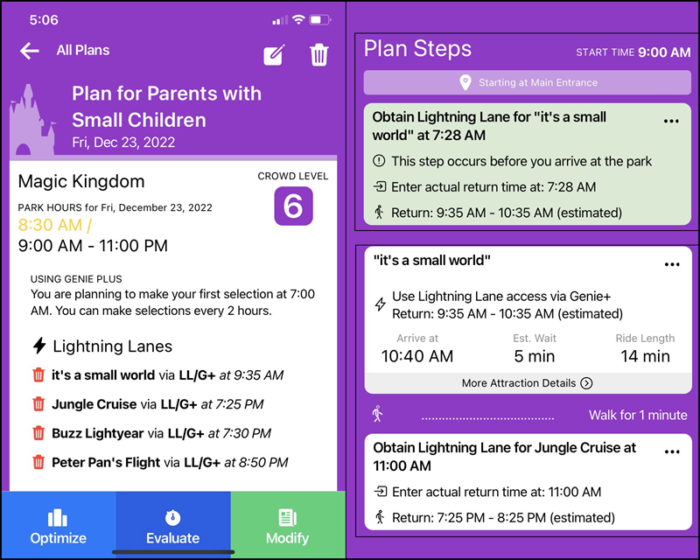 Of course, we are not in the business of pushing Disney upcharges, so let me be clear – we won't suggest purchasing an Individual Lightning Lane in your plan unless you've already told us you want to buy one. We also won't give you Lightning Lane recommendations unless you've said that you want to use Genie+ with your plan. If you don't want to buy Genie+, you will still get the same great plan optimizations that have been helping you beat the crowds without using the Lightning Lane.
Lightning Lane recommendations are available both on the web and in the Lines app, and we've updated our walkthrough guides for both.
Step-By-Step Guide: Make and Use a Touring Plan On the Web (Including Lightning Lane)
Step-By-Step Guide: Make and Use a Touring Plan in the Lines App (Including Lightning Lane)
Note: Disneyland users will be able to see these features on the web version, but won't be able to use them in the app.
What Else is In This Update?
The other changes in this update only apply to the WDW Lines app.
First up, in the past when you looked at a touring plan on the web, you could see 4 times for every step – Wait, Ride, Free, and Walk. But in Lines you could only see the Wait, Ride, and Walk times, and sometimes it could be difficult to see that you had a block of free time.
With this update, free time will show up as a step in the plan – whether it's just a minute or two to stop in the bathroom, or a 20-minute break that you can use to grab a snack, you'll have a better idea of where your plan is sending you.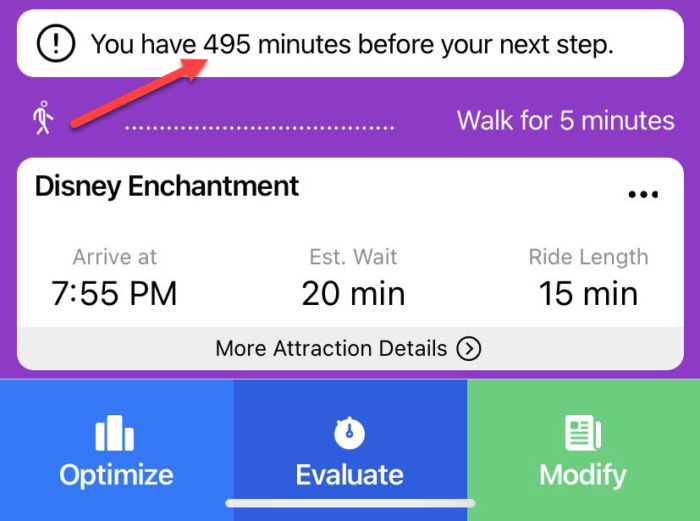 Next up, we've made the wait timer easier to access. User-submitted wait times are an essential component of our predictions, so it's important to us that gathering them is easy for you.

How to Update
You must update your Lines app whether or not you plan to take advantage of this new feature; older versions will no longer work properly.
It's possible your app will update automatically. That's the easiest way! To check use the links below to go to the Lines app in your respective app store. If it needs to be updated, there will be a button that says "Update" – tap it to update your app. If your button says "Open" instead, you're good to go. You should see that the most recent version is from December, 2022.
WDW Lines on iOS | WDW Lines on Android
An alternate method to confirm is to go to your app store and tap on your profile. On an iPhone, you'll see a list of apps that have pending updates, and ones that were recently updated. On the Play store, an additional tap on "Manage Apps & Devices" will show you the same list.
What to do if you have a problem with the Update
Of course we hope everything will go smoothly. But this update has some pretty big changes, so just in case …
If you have issues when you first launch the app, we suggest rebooting your phone. This usually fixes update-associated problems.
If you continue to have difficulty, the best thing to do is to submit a support ticket using this link. For the fastest troubleshooting, please include your phone model and OS version in the description, like this: "I have an iPhone 11, running iOS 15.6.1". If you get an error message, it will be useful to include a screenshot of the error.
Happy Touring! – The Lines Team