Lines App Supports Pre-Opening Touring Plans and Wait Times
Our Lines app (iOS / Android) now supports optimizing touring plans and timing waits in line when guests are admitted to Walt Disney World parks before official opening. So if the Magic Kingdom's official opening time is 9 a.m., and you're let into the park at 8:15 a.m., Lines will make wait-time predictions, update your touring plan, and accept your wait-in-line times before 9 a.m.  With this change, you'll be able to experience even more attractions with less time in line.
The hard part of building this new feature was to determine exactly when a park opens.  Because the actual opening time changes from day to day, and isn't guaranteed to happen before the official opening time, there's nothing on the Disney website or My Disney Experience app to indicate that a park has opened early.  In fact, the My Disney Experience app only begins to show attraction wait times once a park has opened officially.
The good news is that many hundreds of people use our Lines app in Disney World's parks every day.  Because of you, we're able to crowdsource a solution to the problem of knowing when a park has opened.  We've added a new "Is the park open early?" prompt to our touring plans and park pages.  It looks something like this on a touring plan: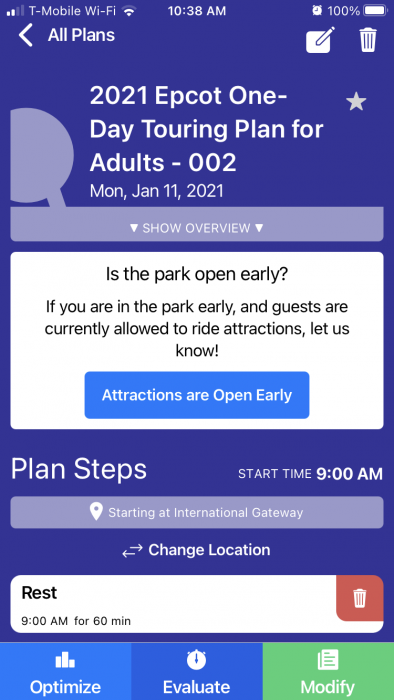 Tap the "Open Early" button to let Lines (and the Lines community) know that the park is open early.
The "Open Early" button will be displayed starting an hour before official opening.  It'll disappear automatically once we're able to confirm with enough Lines users (or our in-park staff) that the park is actually open, or at official opening time (whichever comes first).
This new Open Early feature will work with Disney's newly announced Early Theme Park Entry program when Disney rolls that out later in 2021.  And Open Early will be part of the next version of Lines for Universal Orlando and Disneyland, too, when we release updates for those apps later this year.
About Lines by TouringPlans.com
Lines is the highest-rated Disney World app in the Apple App Store and Google Play.  It's the only Disney World app to show actual wait-in-line times along with Disney's posted wait times.  With Lines' computer-optimized touring plans, it's possible to save up to four hours per day in lines at Walt Disney World.