Using the TouringPlans Lines App for Spontaneous Touring
One complaint that has arisen in recent years about a Disney vacation is that you can't be spontaneous anymore. It seems like everything has to be meticulously planned out well in advance, from hotel rooms and transportation to dining and FastPass+ reservations for attractions. And while many fans of TouringPlans love to create their own masterpieces of touring plans for their park days, and still others are happy to use either the free touring plans or the premium touring plans that come with a paid subscription, sometimes you're traveling with people who don't want to plan ahead. There's many people out there who just want to show up at a park and go where the wind takes them. Confession time: I tend to be one of those people.
One fantastic feature of the Lines app for paid subscribers to TouringPlans is the "Ride Any Time, Ride Whenever, Ride Now, or Wait" feature. With this feature, you can not only see current posted and actual wait times, but also see recommendations on whether an attraction is worth riding at that moment, or whether riding something else first and then coming back to it can result in shorter wait times.
Once you are logged in to the Lines app, simply click on the park that you are visiting at that time.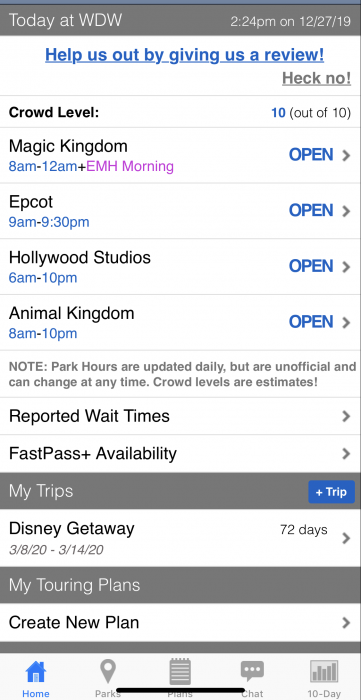 For each attraction in the park, you'll see information about expected and posted wait times, FastPass+ availability, and more. In the yellow and green text under the attraction name, you can easily see whether something will have shorter lines soon or an attraction that will continue to have wait times drop (the "Wait" category) or whether wait times are as short as they'll be for the foreseeable future or will be about the same for the rest of the day (the "Ride any time/Ride whenever" or "Ride now" options).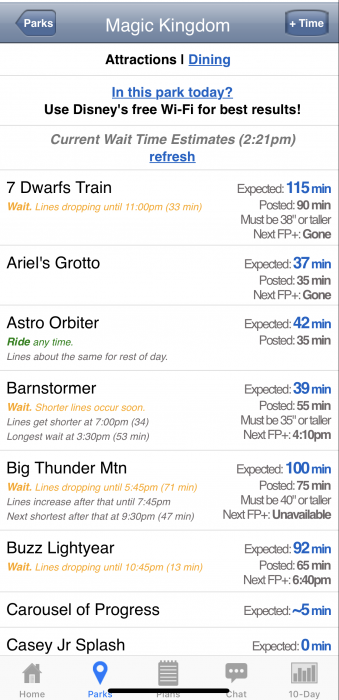 How can this help with spontaneous touring? Let's say that I wanted to ride Peter Pan and Pirates during the rest of my day at the parks. I could look at posted or expected wait times and see that Pirates is shorter than Peter Pan, and so it would be intuitive to go for the shorter line. But looking at this, the line for Pirates will start to drop, being 20 minutes shorter later on, however Peter Pan will remain constant. The better strategy is to ride Peter Pan and then check to see where Pirates is at–maybe grab a snack and then get in the shorter line. If I had other attractions I wanted to do, I could also wait until evening when both attractions would be at their shortest wait.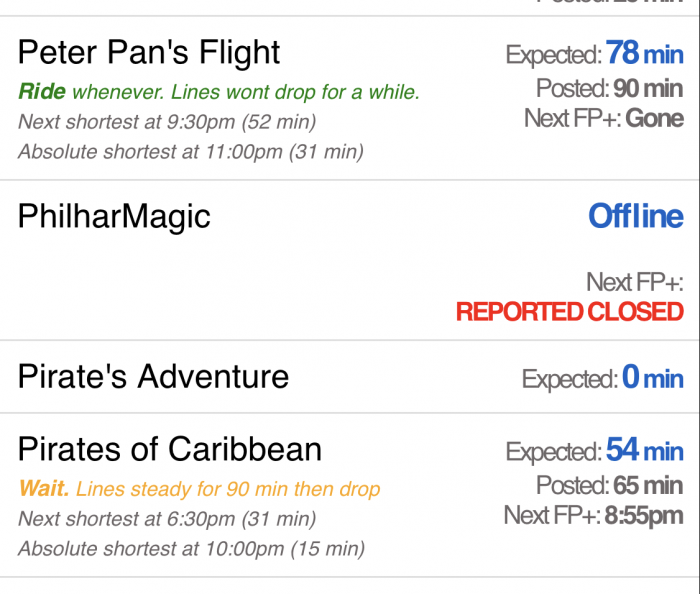 On a recent vacation, we used this strategy of checking to see what was "in the green" to ride at that time and what we should save for later. As a person who always is getting in the "shortest" check-out line at the store only to end up being in the slowest line possible, this allowed us to make good choices for minimizing wait times, but without giving up the spontaneity of going without a regimented touring plan.
For the way I tour with my family, this is a win-win: shorter lines and less stress!
What do you think? Do you love this feature? Let us know in the comments. 
Not yet a subscriber to TouringPlans? For one low annual fee, you can have access to the room finder, crowd calendars, premium touring plans to save you time in line, and more. Click here to become a subscriber.