Marvel Day at Sea on the Disney Dream
It's themed cruise season for Disney Cruise Line, and for the first time, Marvel Day at Sea is being hosted on select sailings on the Disney Dream. My family and I sailed on the second Marvel Day at Sea cruise, which sailed from Miami on January 16th. Because this offering is so new, we wanted to share all of the details with you, in case you're considering booking a Marvel Day at Sea cruise in the future, or if you've already booked and you're one of those meticulous planner types (you are welcome here) and you need to know all of the things in advance.
Because this is a post for people that want spoilers and want to plan ahead, there will be spoilers. I can't help you plan without giving you the details. Even still, I will call out "big" spoilers ahead of time. That way if you want basic who/what/when/wheres, but still want an element of surprise and delight, you can read the basics and avoid the "magic".
We also need to keep in mind that I experienced the second-ever Marvel Day At Sea on the Dream, so things could still shift and change. This includes (but is not limited to) which characters appear, how many meets you can reserve, when/where characters appear, the number of shows and other offerings, etc. etc. etc. As with all things, your experience may vary.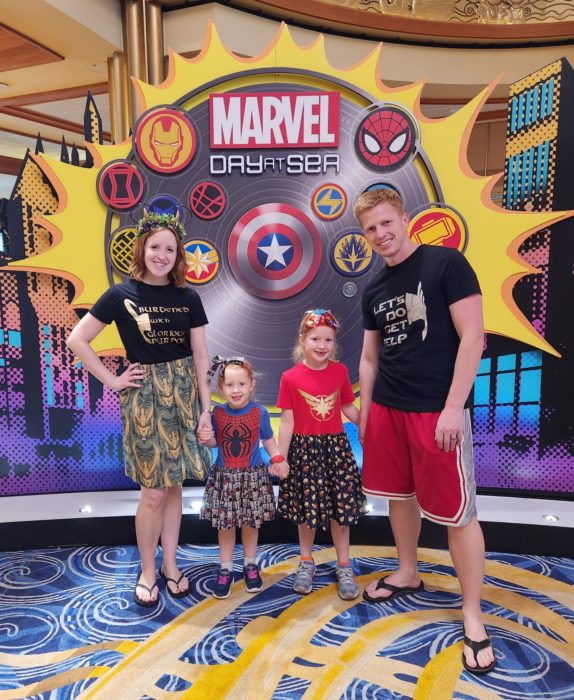 Characters
Characters are absolutely central to Marvel Day at Sea. They are the heart of the entire experience, and this is the one area where Disney Cruise Line absolutely knocked it out of the park. There was no skimping on characters here – almost everyone should be able to meet their favorite Avenger at some point during the day. And you could spend quite literally all day meeting various characters if that's how you choose to spend your time.
Heroic Encounters
Similar to the Royal Gathering available on Disney cruises (including this one), Heroic Encounters are free, scheduled character meet-and-greets that you reserve 30 days before you set sail – the same day that you can do online check-in. There are three different options to book for Marvel Day at Sea:
Heroic Encounters: HQ (Spiderman and Iron Man)
Heroic Encounters: Asgard (Thor and Mighty Thor, or Loki)
Heroic Encounters: Guardians (Groot and Star-Lord)
Before and when you book, you will learn a few things. First, you are only supposed to be able to book one of the three heroic encounters. In reality, guests on our cruise were able to book as many as we wanted. This wasn't due to low attendance – our cruise was at 98% capacity. So it's like a rule that Disney stated but didn't enforce. This "loophole" could close at any time. Second, you will only get vague descriptions of characters – mostly to safeguard in case certain characters aren't able to appear. Disney mostly only implies that you can meet Spiderman/Iron Man, Thor, and Groot. The additions of Jane Foster, sometimes-Loki, and Star-Lord were total "bonus" and not hinted at at all. Again, this means that they could change at any time.
The most popular meet by far is Heroic Encounters: HQ. Even though you have to reserve in advance, and show up at your assigned time, the line is frequently 45 minutes long. Spiderman and Iron Man meet in the D Lounge, and the line not only winds around inside that space, but also significantly down the hall on Deck 4. Prepare yourself for a long wait.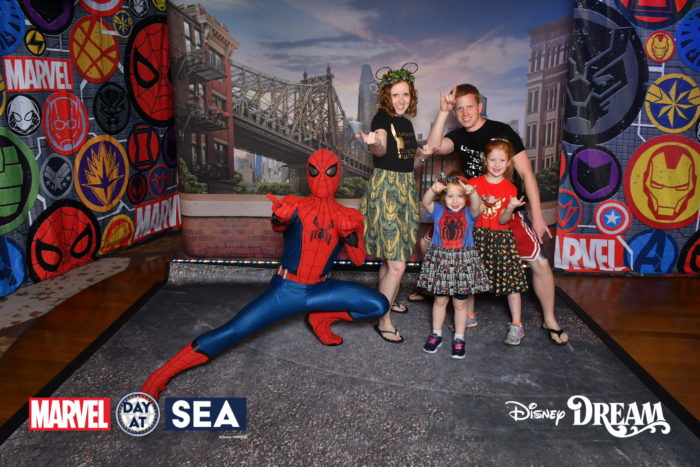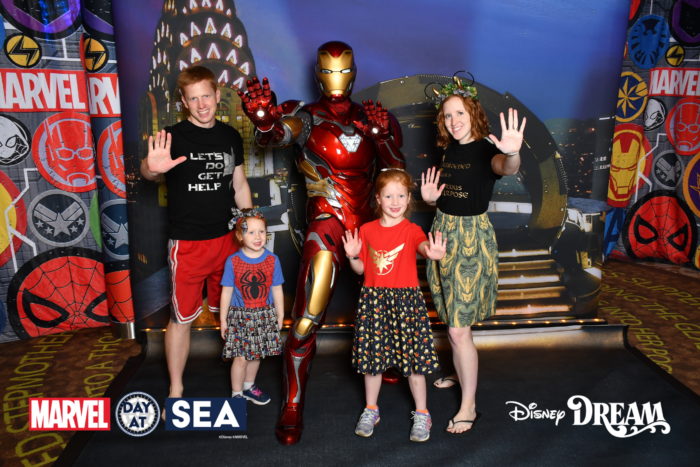 The other two Heroic Encounters are much different. Perhaps they had fewer reservations given out. Asgard and Guardians both happen inside Animator's Palate. You're only allowed to line up outside the restaurant 5-10 minutes before your assigned time. Then when the time is right, your entire group for that reserved time is moved inside the restaurant and you all meet the characters quickly.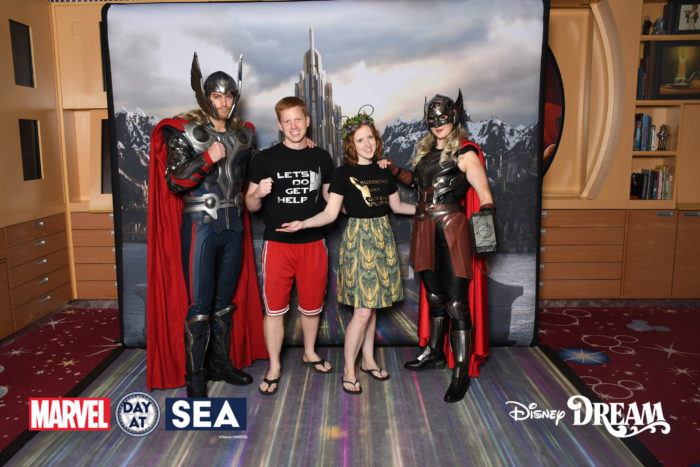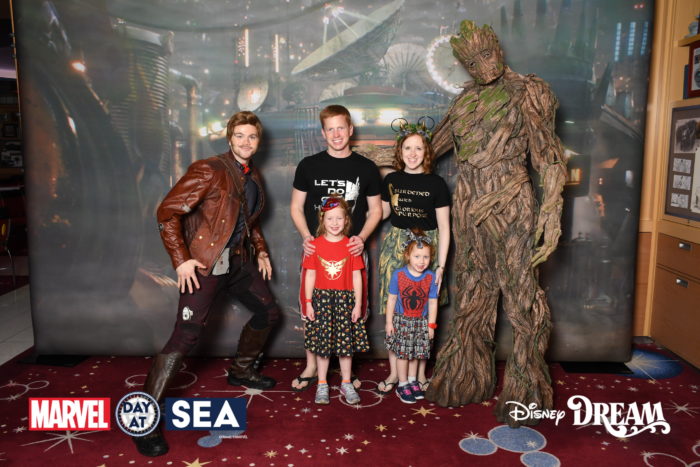 Scheduled Characters
In addition to the reserved Heroic Encounters, there are many, many scheduled character meets that you can find on the Navigator app all throughout the day. Easily every 30 minutes or more frequently. Let's review some of them by location – where they were meeting during our cruise.
Preludes: Shuri and T'Challa – the two different iterations of Black Panther rotate every 30 or 60 minutes in Preludes, outside the Walt Disney Theater. This line tended to approximately 30 minutes long, and the attendant would let people in the line know whether they would be meeting Shuri or T'Challa based on how far back they were in line. I never got to meet T'Challa, but Shuri was absolutely lovely. We bonded over being technically-inclined women, and she invited my daughters to Wakanda to help them learn more things. Keep in mind, since this location is constantly occupied by a character, attendants and photographers have to occasionally swap out, and that also pauses the line.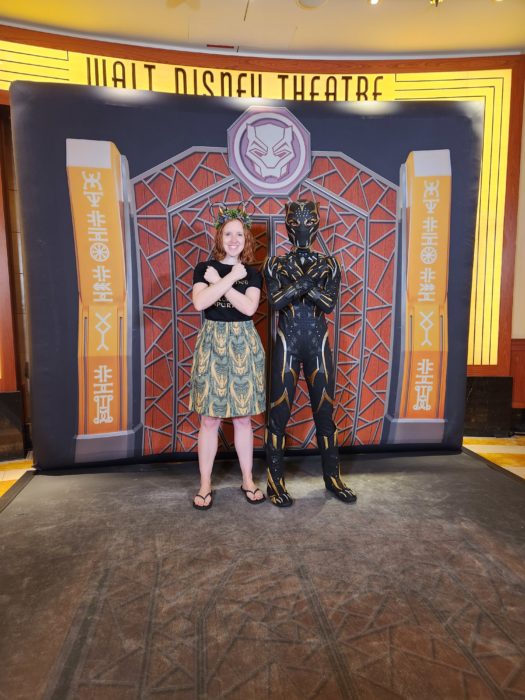 Lobby: Ms. Marvel and Shang-Chi – Ms. Marvel and Shang-Chi regularly had the shortest lines of any of the scheduled characters, which was helpful since long lines are tricky in the already-busy lobby. This location wasn't constantly occupied like Preludes, but it almost always had one of these characters. Ms. Marvel is delightful and very effusive with teenage energy. Shang-Chi is happy to talk cars or cool moves, and will gladly teach you some new photo poses.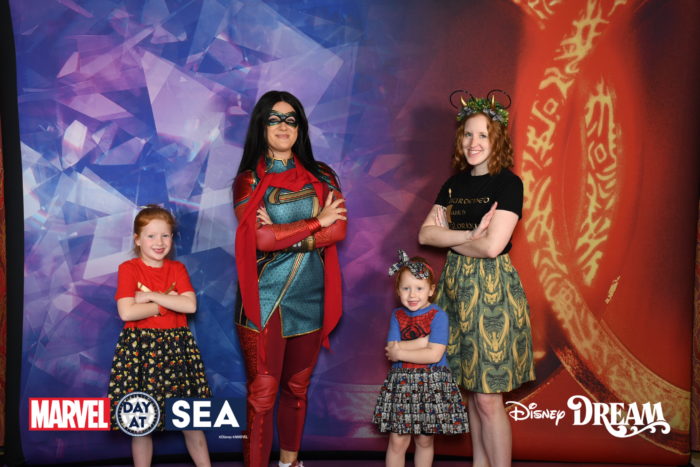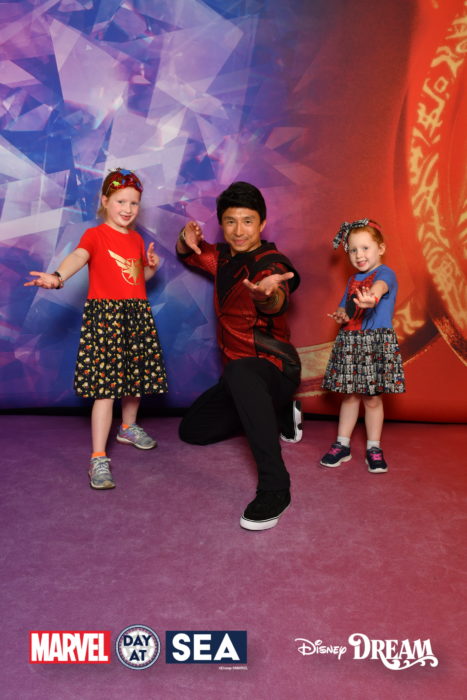 Evolution: Sam Wilson, Steve Rogers, and Captain Marvel – this trio easily had the longest lines of any of the scheduled meets. And they would rotate every 60 minutes. The line would wind all of the way around Evolution, through the rest of the District, and even out into the hallway beyond the District. It was remarkable and intimidating. The wait typically averaged an hour long, which meant that a different character would be meeting when you got to the front. As a result, my family only met one character in this space. We saw Captain Marvel very early in the morning, before the lines ballooned. One note – both Steve Rogers and Sam Wilson meet at Captain America – you won't see Falcon on this cruise.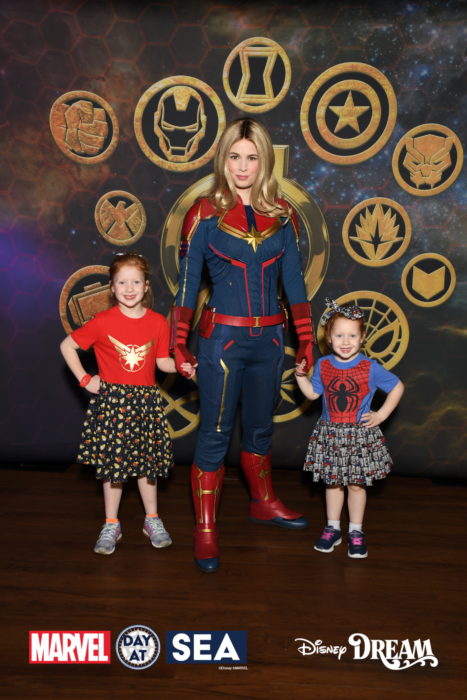 Wandering Characters
The lines were long for scheduled meets, and the characters lived up to expectations. But if you didn't want to (or couldn't) deal with the lengthy waits, you weren't out of luck. Because Disney brought the real magic in the unscheduled character appearances. These are the appearances that really made the day magical. So many characters appeared so frequently and seemingly randomly that it felt like you were on a SHIELD quinjet and just observing what a day is like amongst the Avengers.
So here's the real Marvel Day at Sea hack. You just sit in the lobby all the live-long day. You see a character, you walk up to them (or they walk up to you), you have a conversation, an interaction, and then you both move along. No lines (usually), just hanging with Avengers like it's an everyday normal thing.
We learned this hack late in the day, but but even so, we saw all of the following characters wandering without handlers or lines in the lobby on decks 3, 4, or 5:
Ant-Man
Wasp
Hawkeye
Kate Bishop
Black Widow
Doctor Strange
Captain Marvel
Steve Rogers
Tracksuit Mafia
Classic Disney Characters
You'll see a very limited selection of scheduled classic Disney character meet-and-greets late in the afternoon and early evening. These all happen after the costume celebration, and before the Mickey and Friends deck show (both described in more detail below). Mickey, Minnie, Donald, Daisy, Goofy, Pluto, Chip and Dale all do some Disney-bounding as their favorite Avengers. You can meet them after the costume celebration, or during the scheduled time.
Activities
In addition to characters, there are so many activities to choose from throughout the day. After all, there's got to be something to do for the people that get tired of all of the lines!
Kids Club
The Avengers Training Initiative will happen once on Deck 11 on Marvel Day at Sea, and then once in the kids club on the same day. It will also repeat sometime later in the cruise. We decided to let our kids attend during the kids club session because it was much less crowded. According to them, they got to meet and learn from Sam Wilson and Black Widow – and then they made their very own superhero masks (which looked suspiciously like Mardi Gras masquerade masks …).
Comic Vault
For several hours throughout the morning, and again in the afternoon, you are invited to check out a tablet that comes pre-loaded with 273 different Marvel comics. The tablets are available near Vista Cafe on Deck 4. You give the attendant your stateroom number, and then the tablet is yours to do with what you will. You can take it back to your stateroom, or wherever else you'd like. But I highly recommend remaining in the area and reading on one of the couches in Vista Cafe, because you're in a perfect location to see those wandering characters while you read your comics.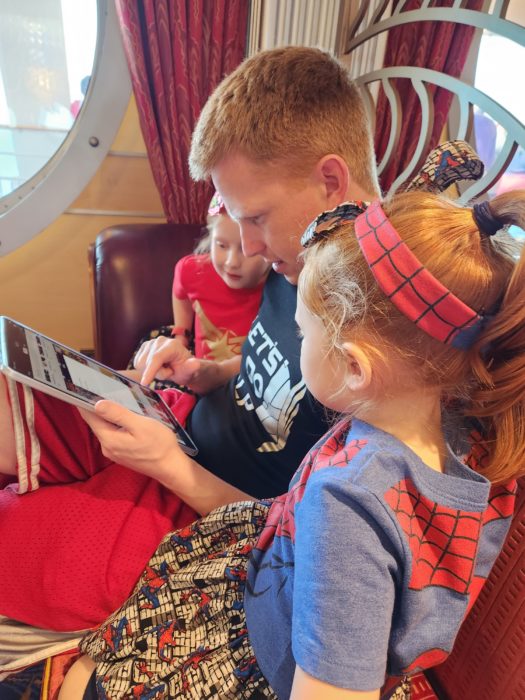 Trivia
Trivia is a staple of Disney cruising. And any trivia session is pretty difficult to win. This is especially true of Marvel trivia on Marvel Day at Sea. You've got lots of big fans that know all of the things and want to show off. You can attend any of a variety of "normal" trivia throughout the day, or you can wait for the Ultimate Showdown late at night, where you participate in trivia in a series of rounds, always paired up with another person. The winner moves on and the loser is eliminated. On our cruise, two brothers made it to the final round, and had to eventually go to a tie-breaker, which the older brother won.
Animation
Animation classes are a classic offering on any Disney Cruise Line sailing. You can usually learn to draw Mickey, Stitch, Minnie, Goofy, or other characters. On Marvel Day at Sea, these animation classes convert into "Marvel Comic Academy", and they all happen in District Lounge. During Marvel Comic Academy, you learn how to draw Spiderman or Iron Man or other Avengers.
These classes are popular, and the area is also incredibly busy (and loud) thanks to the long lines for the characters in Evolution. The folks leading the classes also have less experience drawing these characters than they do the other more "classic" Disney characters. Plus, the characters themselves are just more difficult to draw. So our family found these classes to be slightly more frustrating and hard to follow than the offerings on other days. Still fun, but something to note if you're used to following along and ending up with a perfect character to be able to show off and brag about.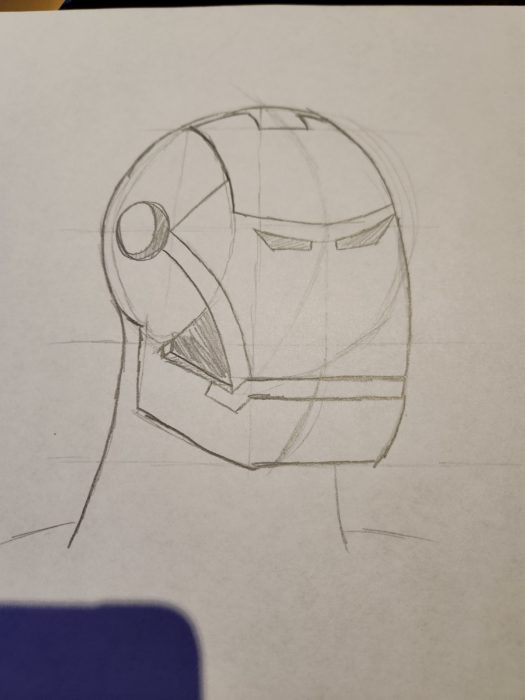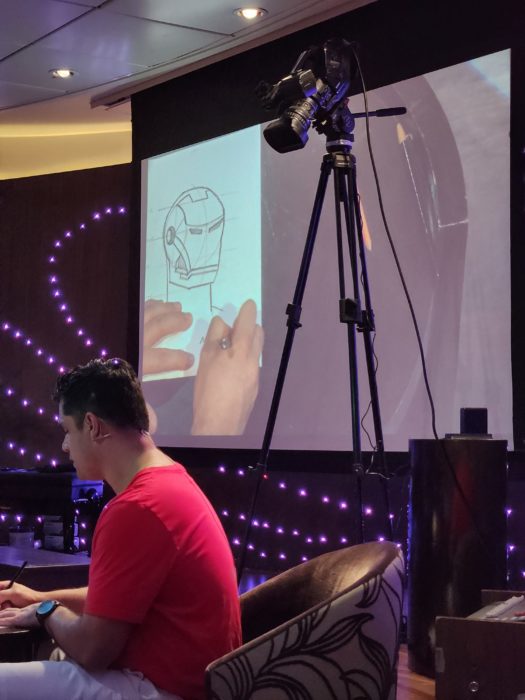 Costume Celebration
Almost everyone dresses up for Marvel Day at Sea. Similar to Pirate Night on other sailings, the spectrum of costumes is very wide. Some people don't dress up at all. Others wear themed t-shirts. And some go all-out with elaborate costumes. There were certainly many more toward the "elaborate" side of that spectrum on Marvel Day at Sea, especially kids in costumes.
So, before the main dining rotation, Disney hosts a costume celebration in the lobby. Large groups of people are ushered up to the "stage" all at once, where everyone can admire their costumes. The entertainment hosts interview a few participants, everyone claps and celebrates their fellow cruise passengers.
At the end of the celebration, Mickey and Friends crash the party in their Avengers-bounding outfits. When the celebration is over, they all spread out to different parts of the lobby. At that time, you're welcome to line up for pictures with them. Attendants will move things along quickly, only allowing one photo per party (and no official photographers).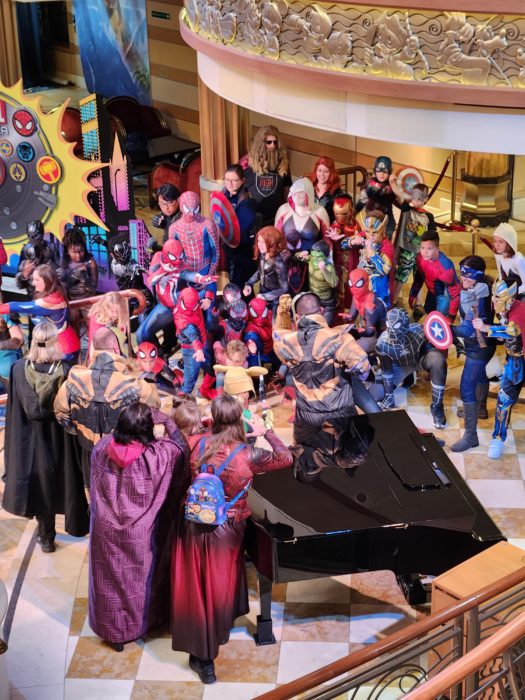 Entertainment
Disney Cruise Line entertainment is always spectacular. No other cruise line has all of the same caliber of Broadway-style entertainment, deck shows, or fireworks at sea. And the special entertainment  for Marvel Day at Sea, as a whole, doesn't disappoint.
Warriors of Wakanda
Wakanda has a great amount of representation during Marvel Day at Sea – in addition to Shuri and T'Challa constantly meeting their fans in Preludes, Okoye is onboard, and leads the cruise passengers in warrior training 2 or 3 times throughout the day. Each of these training sessions happens in the lobby, and Ms. Marvel/Shang-Chi aren't meeting during show time.
The first Warriors of Wakanda showtime is by far the most crowded – so feel free to wait for a later showing. If you've attended the equivalent entertainment offering at Avengers Campus in Disneyland … this will seem similar (read: identical). You will learn some important lessons about the true heart of a warrior, and then get to practice some moves and chants with Okoye.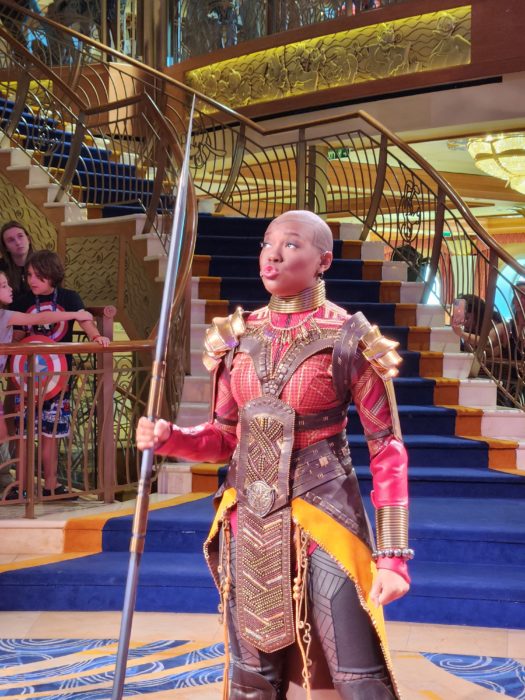 Strange Academy
Strange Academy is shown in the Walt Disney Theatre 3 times throughout the afternoon of Marvel Day at Sea. It is a 30-minute show put on by the same talented performers that star in the other Broadway-style shows throughout the cruise. Strange Academy is the only place where you'll be able to see Wong and Agatha Harkness, and it also features Doctor Strange and 4 graduating "students" with various skills.
The crew of the ship really talked this show up as a do-not-miss … so we went in with very high expectations. It was a cute show, with some funny moments. Kids will like it, but it's certainly not the most impressive entertainment of the day.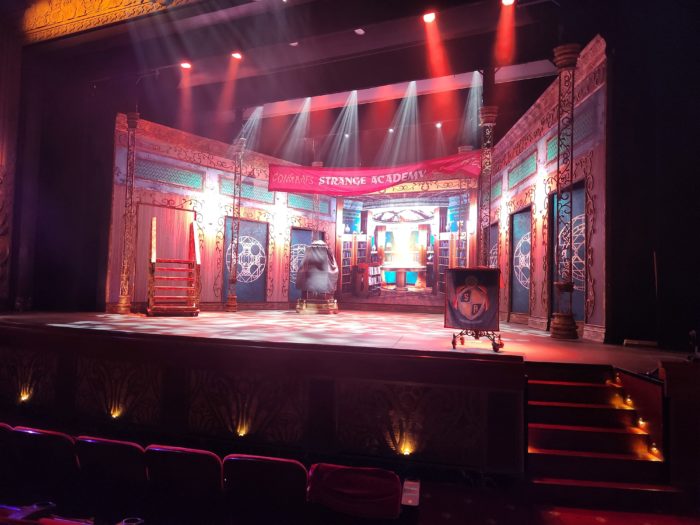 Mickey and Friends Super Hero Celebration
Between dinner services on Marvel Day at Sea, many families head up to the pool deck to watch Mickey and Friends in their deck show. During this celebration, two entertainment hosts help Mickey, Minnie, Donald, Daisy, Goofy, Chip, Dale, and Pluto teach everyone how to be a real super hero. This involved some crazy dance moves, as well as some intentional focusing on character traits befitting of any hero. This isn't the "big" deck show of the evening, but it's a lot of energetic fun during a time of day when you probably won't be doing anything else anyway.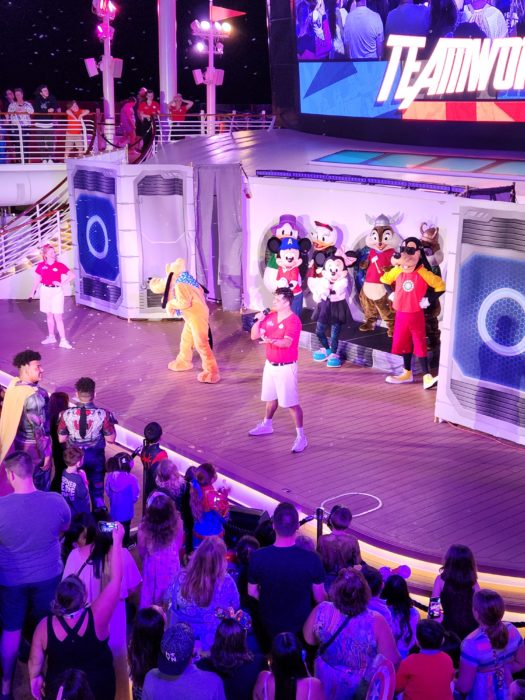 Heroes Unite
Be ye warned: spoilers ahead. Read the first section only if you want information on where and when to snag a spot, and then only read further if you want all of the details.
Marvel Day at Sea culminates in one big spectacular show at 10:15 pm on the pool deck. This is absolutely a well-designed and well-executed (at least by the second sailing – I've heard there were problems with the first) capstone to a busy and exciting day.
First things first – a reminder is pushed to all guests 45 minutes before the show starts, which means that spots start filling up very early. Even if you arrive 40 minutes before showtime, you will likely not find a spot on the railing on the upper deck, or anywhere close to the stage on the main deck. This is an event that is worth arriving early for. I recommend standing on the port side of the upper deck, midway between the stage and the Aqua Duck entrance. This will put you in the perfect spot to see many of the character entrances (and there are many of them), as well as the fireworks and the stage action.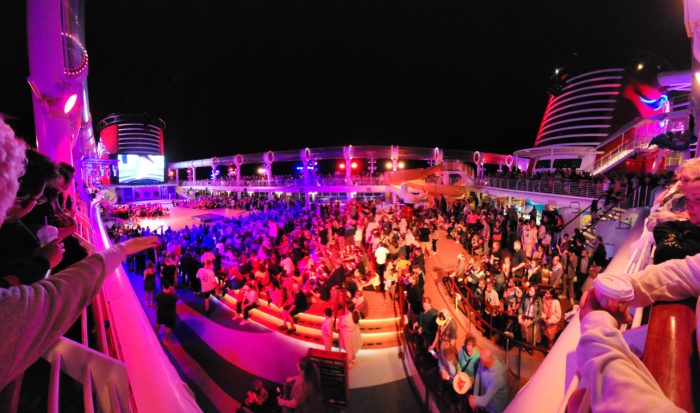 Now come the show spoilers: the show itself is a lot of fun – the basic concept is that you are attending a technology expo hosted by Tony Stark. Except the tech that he's showing off uses quantum technology to jump between multiverses. And powerful tech like that attracts powerful enemies who want to control it themselves. You'll visit three different multi-verses – each introducing you to different heroes and different villains. Eventually _all_ of the Avengers onboard will appear, as well as the Tracksuit Mafia, Taskmaster and his goons, and Loki and Scarlet Witch. When the fight reaches a breaking point, Captain Marvel flies in to turn the tide. Of course, as she arrives, so do Kree fighter ships (it's dark in the middle of the ocean, y'know, so you just can't see them up there). She fights them off with … fireworks.
The scale of this show is astounding. There are generally more characters on stage than you can count, especially in the finale. And if you've been on a Disney sailing before, you know that a spectacular moment in Pirate Night shows is when Captain Mickey ziplines in to save the day. In this show, there are 8 different zipline entrances. Eight! Spiderman, Taskmaster, and Captain Marvel all use the "traditional" zipline. Doctor Strange, Black Panther, and Spiderman (again) all rappel down in front of the Funnel-Vision screen. And Kate Bishop and Taskmaster goons use a side-to-side zip in the middle of the crowd on the main deck.
Menu
Marvel Day at Sea also comes with its own menu that is offered at each of the three rotational dining locations. Appetizers, entrees and desserts are all roughly themed to various Avengers. I'll post pictures of the menu below. Overall, we enjoyed it better than the Animator's Palate menu, and less than the Enchanted Garden and Royal Palace menus. But your experience and preferences may vary!
We ordered the Farmhouse appetizer, both Thor entrees, plus the Hawkeye pork and the Scarlet Witch Gnocchi. We also, regrettably, ordered the specialty Wakanda Forever drink after reading the description and joking about how terrible it sounded on Instagram. The menu promises a Coke Zero with Simply Strawberry and Banana, Caramel, and Himalayan Salt. Salted caramel strawberry banana coke? That's a choice. Imagine our surprise when it showed up with another unlisted ingredient with yet another flavor – blue raspberry pop rocks. It was … a lot. Our kids enjoyed it, because the overwhelming flavor is "sweet". But it's not something that I can recommend to anyone else.
Our family whole-heartedly recommends a Marvel Day at Sea cruise to any Avengers fans out there. You'll have so much fun making memories with your family and the characters you've come to know and love.