Step-by-Step: How to Make a Disney World Park Reservation
If you want to visit Disney World, you likely don't just need park tickets but also Park Pass Reservations. We'll walk you through step by step, whether you're making a reservation as a regular ticket holder or you have an Annual Pass. Click on any of the links below to go directly to that section, and you can also click any image in this article to enlarge it. Last updated/republished May 24, 2023
Who Needs a Disney World Park Reservation?
Before we get started, I want to note that I wrote above that you likely need a Park Pass Reservation. Who doesn't need one?
If you purchased a 1-day, park-specific ticket after December 8 and selected your park when purchasing, you do not need to make a reservation.
If you purchased a promotional ticket such as the 2023 Four-Park Summer Magic ticket, you do not need a reservation. If you're not sure, check the terms and conditions of your ticket.
If you are an Annual Passholder, you don't need a reservation if you'll be entering the parks after 2 p.m., unless you are visiting the Magic Kingdom on a Saturday or Sunday.
After January 9, 2024, guests using regular date-based tickets won't need to make park reservations at Disney World. For Annual Passholders, we'd love to hear that after that date they won't need reservations if they have a Disney World Resort hotel reservation, but so far Disney is saying that they still will. However, "Good-to-Go" days will be available in 2024; on these days Passholders won't need reservations to visit.
How Far In Advance Should You Make Park Passes?
Currently, some parks book up as far as a month or so out, although we didn't find any parks unavailable at 45-60 days out. Still, this dynamic changes routinely and your best bet is to keep an eye on the Disney World Theme Park Reservation Availability calendar, shown below. If you start to see some days become unavailable a week or so before your trip, start booking.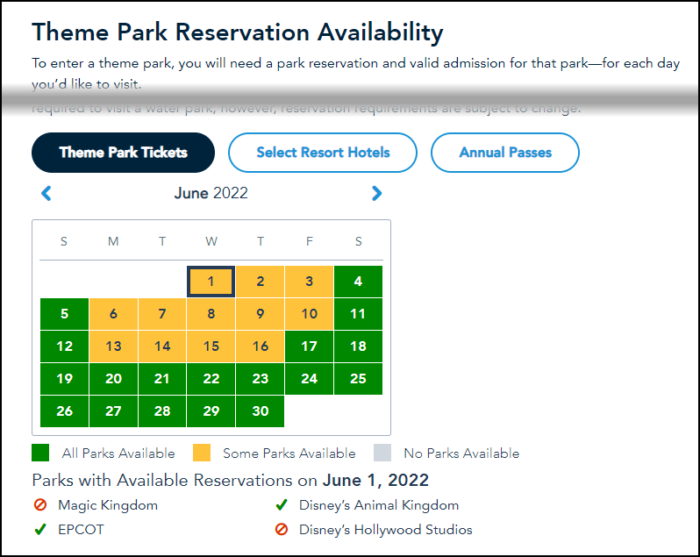 Making a Reservation
If you're in the app, you can click the plus and then select "Make a park reservation". But, there is currently no way to make a reservation in the app, so clicking this button will open up the Disney website to the beginning of the park reservation workflow.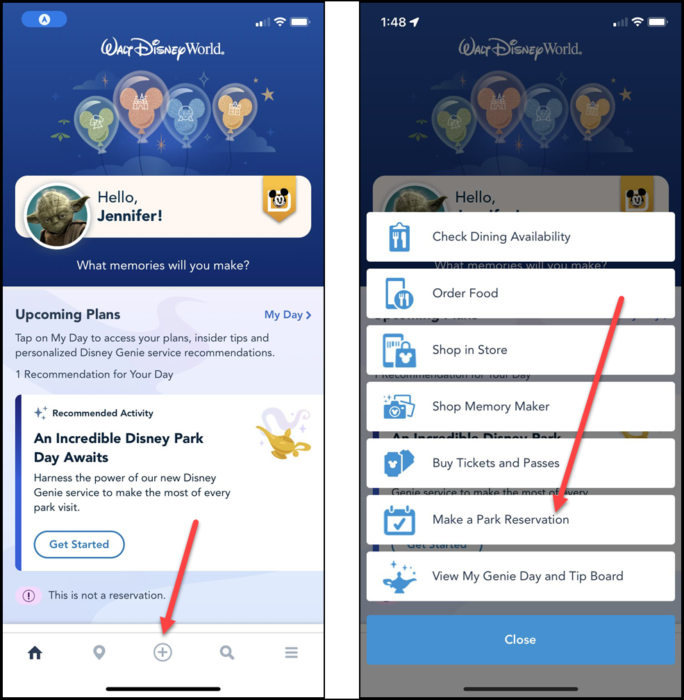 If you're already on the website, select "Disney Park Pass System" from the MDE dropdown as shown below.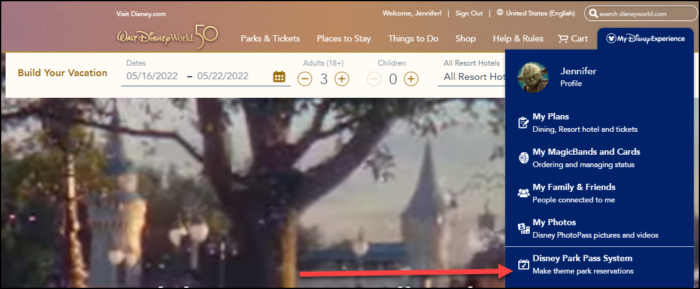 Or, you can click this link (it will open in a new window) to go directly to the page shown below, which is where either of the above paths (or any of several others) will take you.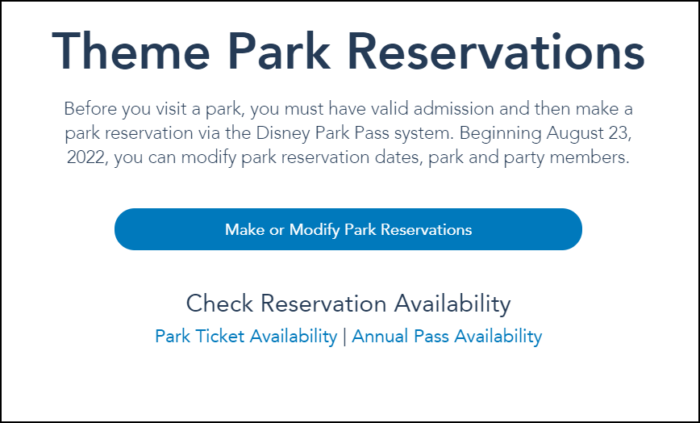 After clicking Make or Modify Park Reservations, you'll be offered a choice:

Select the appropriate button based on the type of reservation you would like to make. If you're making reservations for a group that includes some regular ticket holders and some passholders, you can do them all in one pass (hah-hah) as long as the passholders aren't making reservations associated with a resort stay.
If you're booking a reservation for an Annual Passholder with a hotel stay, you'll see the following screen to select your qualifying resort stay.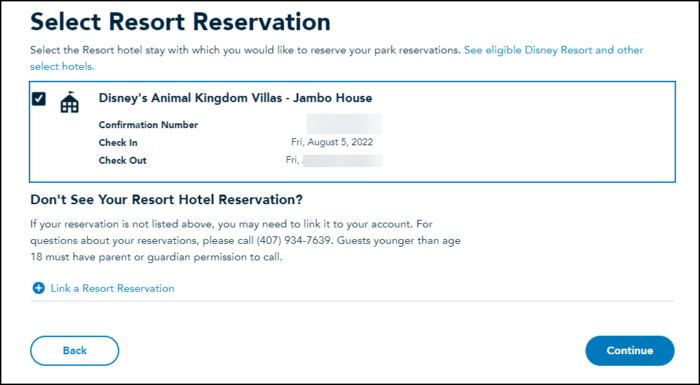 No matter which type of reservation you're making, you'll need to decide who is going. Anyone on your Friends and Family list who is eligible to make reservations should appear. If you look underneath the names, you should also see how many reservations are available for each person – this will depend on your ticket type and how many reservations you've already made.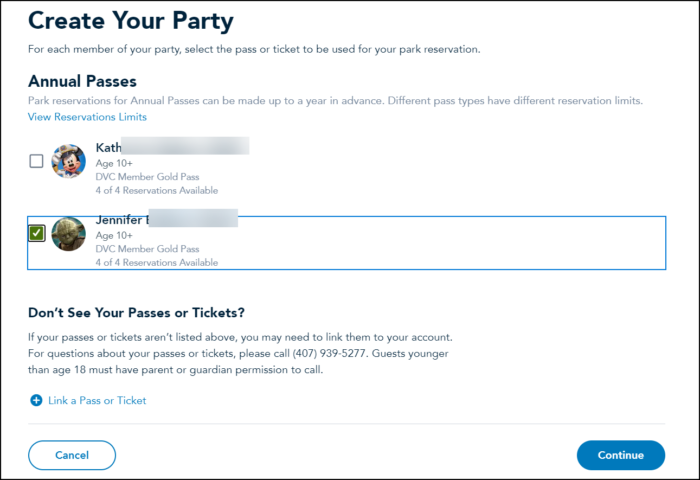 Next, choose the date you'd like to make reservations for. There are availability indicators for each day showing whether some, all, or none of the parks are available.
As soon as you select the date, the list of parks will appear below.  All parks will be shown even if some are unavailable — on the date selected below, Magic Kingdom is not available.  Select your park and then click Continue.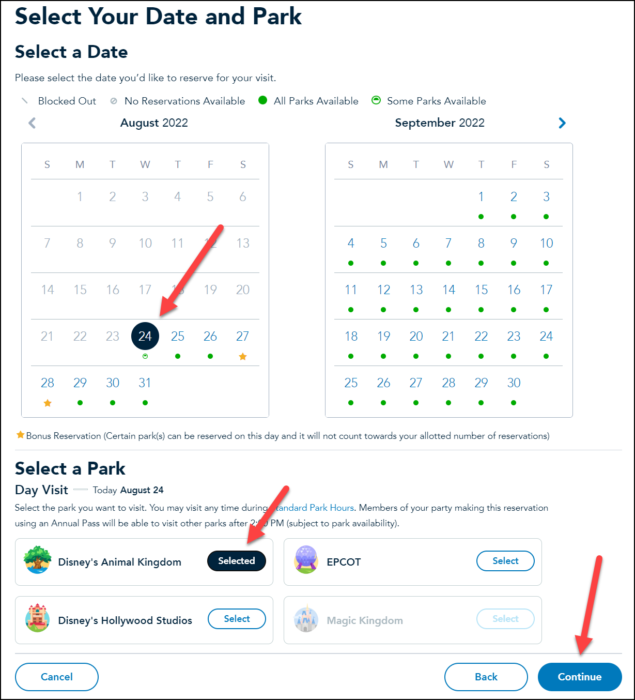 As soon as you click Continue, you'll be taken to the Review & Confirm screen. Do not be fooled by the "You're all set!" language right at the top — you're not done. If you check your Plans page at this point, you will not see your Park Passes. Make sure to scroll all the way down to the bottom of the page, shown below.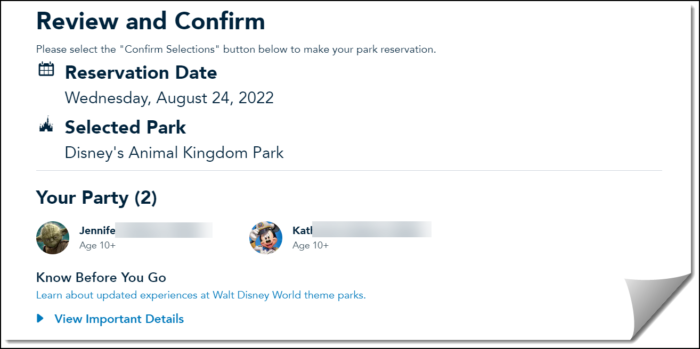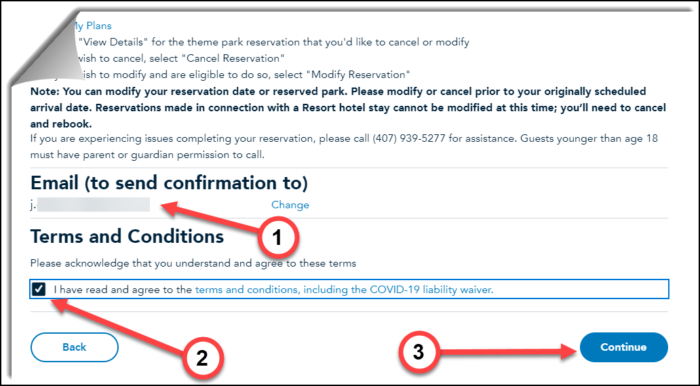 Confirm that your email is correct (it will show the email on your MDE account by default), check the box, then click continue. Now you're all set!
If you check your Plans in MDE, either on the web or in the app, you'll see your Park Passes now. You'll also receive a confirmation email. I like to keep the emails handy when I head to the park. I've never had a problem, but I've had dining reservations "disappear" in the past, and it never hurts to be prepared.
Canceling or Modifying A Reservation
There is currently no way to cancel or modify a reservation from the app. You must go to the website.
If you are on your "My Plans" page, you can click the "Manage Reservation" button directly to the right of the reservation. It will bring you back to the main booking page, which can also be reached by clicking here. After selecting "Make or Modify Reservation", you should now see your park reservation with an option to modify or cancel.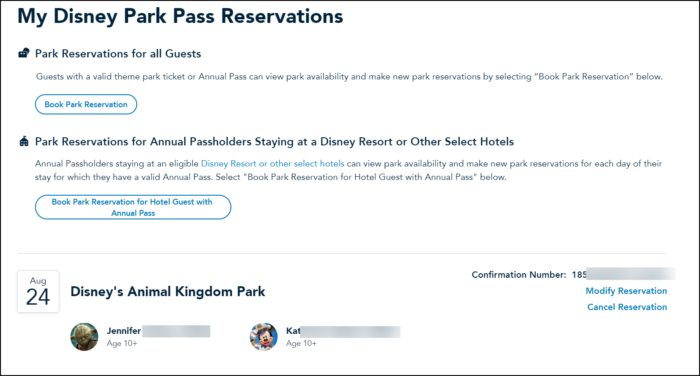 Selecting either option will allow you to choose which members of your party to change the reservation for – there are two people in my party here, but I could cancel or modify only my daughter's reservation if I chose.
Frequently Asked Questions
How far in advance should I make reservations?
We recommend checking the reservation availability calendar rather than relying on a set timeframe. When you see parks starting to become available in the weeks before your trip, you should book sooner rather than later. Historically some parks often sell out a month in advance, but it's extremely rare for any park to sell out two months in advance. Typically Magic Kingdom and Hollywood Studios are the first parks to sell out, followed by Animal Kingdom and EPCOT.
The Crowd Calendar says the crowds will only be a 5 (or 4, or 6) in the park I'm going to, but Park Passes are sold out.  What's going on?
Our Crowd Calendar measures wait times at attractions, but parades, shows, dining, and other park activities contribute to capacity.  This means that there isn't a fixed crowd level that's associated with sold-out parks. You should also not assume that a lower crowd level means that the park won't be crowded; although a crowd level of 2 indicates some of the lowest waits of the year, it's all relative and so you will still find a large number of people in the park and some lengthy waits.
How do you make a Park Pass reservation in the app?
You can't currently make a Park Pass Reservation in the app. If you click the Plus sign and select "Make Park Pass Reservations", you'll be taken to the Disney World website in your phone's browser.
How do you modify or cancel a Park Pass reservation in the app?
You can't currently modify or cancel a Park Pass Reservation in the app. You must open the website and do it from there.
Can you make a reservation for an Annual Passholder and a regular ticket holder at the same time?
Yes, as long as the Annual Passholder isn't trying to link their reservation to a resort stay. If they are, you'll need to make them as separate reservations.
I'm making a reservation for Annual Passholders, but only some of them have a resort reservation, can I make them at the same time?
You can make them one after the other, but the only way to make them in a single transaction is if you don't associate the resort stay with the reservations.
Stitch ate my page / something went wrong, how do I finish making my reservation?
Stitch eats a lot of pages. Using your browser's incognito or private browsing mode will usually allow you to bypass the little alien, but you'll need to start from the beginning of the reservation process. If incognito mode doesn't work, try using a different browser – switch from Chrome to Edge, or Edge to Firefox.
Do you have any tips or tricks for making reservations?  Did we leave anything out? Let us know in the comments!
(Originally published June 20, 2020)