Menu Monday: Best Counter Service Restaurant at Hollywood Studios
We continue this journey to find the best counter service restaurants in Hollywood Studios.  Hollywood Studios has to be one of the hardest counter service options to track because the menus and prices tend to change for each season. Add in the continuing construction, and things are bound to change. Before your next trip to the Studios, be sure to check out the latest menus for options and prices either at the Touring Plans menu page, or at the official Walt Disney World menu page. With that said, most of the menu staples will stay consistent. If a counter service location offers burgers and sandwiches, you can expect for it to be consistent, but you may find an updated price or a new "gourmet" option available. If you missed previous entries, be sure to read all about the best counter service options in Magic Kingdom, as well as in Animal Kingdom. To refresh your memory, here is the grading scale I've used to determining how each counter service location has earned it's ranking:
Value (portion/cost ratio) = 10 points
Flavor = 10 points
Originality = 5 points
Atmosphere = 5 points
Grand total = 30 possible points
Sunset Boulevard Restaurant Row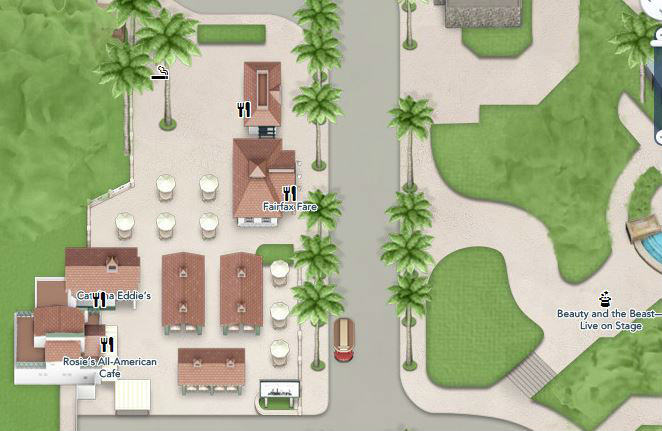 It may seem like cheating, but due to the proximity of all of these options in the same area. They can easily be viewed as one dining location with multiple options, similar to the concept of the food court at your local mall. Catalina Eddie's, Fairfax Fare, and Rosie's All-American Café are all situated at the end of Sunset Boulevard, near the Twilight Zone Tower of Terror and Rock 'N' Roller Coaster Starring Aerosmith. Because of this prime real estate by two of the park's powerhouse rides, and the fact that the three restaurants share the same seating area, this place gets packed quickly. It's often a spot for families to gather and wait while a portion of their party experiences one ride or the other (or both). Because of this, finding an open table is tricky, and it gets busy early in the day and stays that way. The best plan of attack is to find a table before ordering food, then go in shifts to the location that appeals to your taste buds while another holds the table while you order. Never leave a child alone, but if you're traveling with a several adults or teenagers, this is the best strategy.
Value: Catalina Eddie's = 7/10 Fairfax Fare = 8/10 Rosie's All-American Café = 7/10
Fairfax Fare edges out the competition in terms of value. This menu offers a wide selection and some portions, like the chicken and ribs, are large enough to share. All three locations share several a condiment bars, which is not to be confused with a "toppings" bar. Condiment bars offer individual packets of ketchup, mustard, mayonnaise, relish, barbecue sauce, and other, well, condiments.
Flavor: Catalina Eddie's = 7/10 Fairfax Fare = 8/10 Rosie's All-American Café = 7/10
Catalina Eddie's serves limited pizza options and an Italian Deli sandwich. The Caesar salad they serve is hearty portion, and though they can be a little heavy handed with the dressing, it's still not a bad option if you want something more refreshing in the warmer months. The deli sandwich is nothing to get excited over; it seems to be more bread than anything else. The pizza is the same type they serve across the park at Pizza Planet, a little greasy at times, but usually a palate pleaser among the kids.
Fairfax Fare has a barbecue themed menu with ribs, barbecue chicken, smoked turkey leg, and hot dogs. Some great options all served with their really tasty baked beans. You'll need to make sure you can snag a table for a meal from this menu as you'll need both hands and plenty of napkins. My eye is usually drawn straight to the barbecue options, but don't underestimate the tastiness of their hot dogs. They're hot, and loaded with toppings.
Rosie's All-American Café offers more of your standard fast food options, including cheeseburgers and chicken nuggets. Rosie's tries to fancy up their burger selection with "onion straws", which can be compared to onion rings. The burgers and nuggets here are nothing special, but they're consistently hot and fresh, so that's a good thing.
Originality: Catalina Eddie's = 2/5 Fairfax Fare = 3/5 Rosie's All-American Café = 2/5
Fairfax Fare gets the edge in Originality as well. It's the only of these three options to have a breakfast menu, and its lunch/dinner menu options surpass the limited selections of its neighbors.  Their menu offers ribs, chicken, hot dogs (even gourmet ones!), even a turkey leg meal!
Atmosphere: Catalina Eddie's = 2/5 Fairfax Fare = 2/5 Rosie's All-American Café = 2/5
All being located in the same little dining cul de sac, means they all get the same marks for atmosphere. If you get lucky enough to grab a table, it can be a fun place to people watch, and it's nice having so much variety so close. If you're feeling healthy, skip the "combo" option when you order so you can grab a piece of fruit or some veggies from the close by Anaheim Produce. Or save room for dessert and get a giant ice cream sandwich or sundae from Hollywood Scoops, also in the same area.
Total: Catalina Eddie's = 18/30 Fairfax Fare = 21/30 Rosie's All-American Café = 18/30
Of this dining trio showdown, Fairfax Fare pulls into the lead. But depending on your dining preferences and craving-of-the-hour, you can find a good meal at any of these spots.
ABC Commissary – Streets of America
ABC Commissary is very centrally located in Hollywood Studios, but despite this, it can be difficult to locate. It's experienced some bad reviews in the past and has never been a favorite among guests, but it does have some good qualities.
Value = 7/10
The value at ABC Commissary is pretty standard. The portions are the same size as other counter service locations. I think ABC Commissary could get a few bonus value points if they had a toppings bar (like Cosmic Ray's in Magic Kingdom) rather than just a condiment bar. Though it is nice to have a good selection of ketchup, mustard, barbecue sauce, and other condiments, I think a topping bar including warm, gooey cheese, sautéed onions/mushrooms, fresh sliced lettuce, tomatoes and pickles could really improve this location's offerings. So, if any Imagineers or Disney restaurateurs are reading this, feel free to use this suggestion!
Flavor = 6/10
Here is where ABC Commissary takes a big hit. The consistency in the quality of food served here is lacking. Some burgers seem to suffer and die under the heat lamp, only to be served to an unsuspecting guest. Other times, food is surprisingly tasty. Though I admit, it's probably "surprisingly" tasty because past experience has me expecting it to be barely edible. ABC does have a few good attributes. The salads are pretty consistently fresh, made to order, and not over- dressed. The fried seafood options have also been pretty good, not too greasy or cold, but crisp and flavorful, even if they are on the small side.
Originality = 4/5
As far as counter service option, ABC has an unexpected variety. They often offer the most vegetarian options and even some kosher meals. I don't often think of quinoa on a counter service menu, but you can find it here, and even enjoy it!
Atmosphere = 2/5
As the name implies, ABC Commissary is designed to be like a studio cafeteria. And in keeping with the bland, unimaginative theming of a cafeteria, it is indeed dull and bland. There are some props and posters of current ABC shows scattered throughout the dining area to add to the concept. I'm not sure if it's because the food doesn't get the best review, because the theming is pretty boring, or because it can be difficult to find, but ABC Commissary always has seats available. And on hot summer days, this is a good thing! With air conditioning and lots of available tables, with a few interesting pop culture artifacts to appreciate, that's about all that this has going for it in terms of ambiance.
Total = 19/30
Definitely not the paramount counter service option of Hollywood Studios, but it does have some thing for those with specific dietary needs, offers a good respite from the Florida heat, and even has a few neat Hollywood trinkets to see.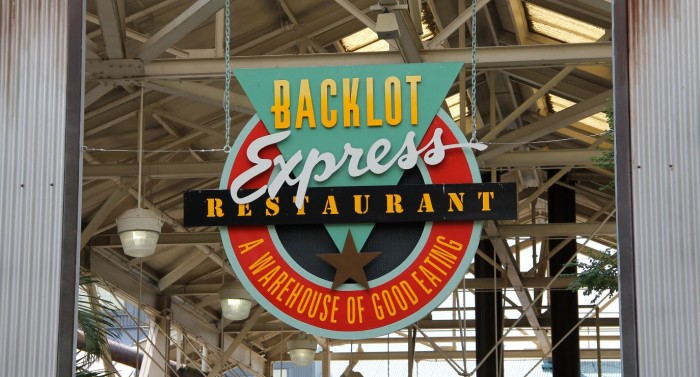 Backlot Express – Echo Lake
For how large this dining space is, it's amazing how many guests walk right past it. Backlot Express is sandwiched between Indiana Jones Stunt Spectacular and Star Tours. Given its proximity to Star Tours and the Jedi Training Academy, this place can be a popular spot for those families waiting for their little Jedi to use the Force.
Value = 7/10
Backlot is neither a great nor a poor value – it offers standard portion sizes comparable to other park counter service burger joints. I appreciate the option of carrot sticks or French fries as sides for their combos.
Flavor = 6/10
The menu won't "wow" you, but you can probably find something on here for most of your travel party.  This is a counter service that offers a slight variation of standard "fast food" fare.  You'll find burgers and sandwiches with a salad option thrown in the mix. The unsung hero of the menu is the Pressed Turkey Club which gives a nice option to, in my opinion, a somewhat mundane menu. I'm not a fan of spicy buffalo sauce in general, but commentary from friends of mine who do enjoy it have been pleased with the Buffalo Chicken nuggets.
Originality = 4/5
I give Backlot a bit of edge in originality with its panini-style Club Turkey sandwich and Vegetable sandwich. The Buffalo Chicken nuggets and Cantalope Cucumber salad also deserve a nod to uniqueness. I feel like Backlot can make you happy if you're looking for standard fast food or if you want to be a braver in your selections.
Atmosphere = 3/5
The Backlot tries to capture the experience that you've wandered into the backlot of The Studios. As you take in your surroundings, you see props, machinery, stunt gear, paint and fixtures, lighting and other props stacked and stored around the seating area.  It does offer little gems for you to examine as you enjoy your meal, but its sense of atmosphere is only slightly elevated above the ABC Commissary.
Total = 20/30
I think some of the unique options on the menu and its proximity to some popular attractions make Backlot Express a decent choice. As far as counter service in Hollywood Studios goes, it's not the best nor the worst choice. Depending on your food selection, you may be disappoint with the quality or freshness, but that factor has been steadily improving over the last 18 months.
Min & Bill's Dockside Diner – Echo Lake
Min & Bill's Dockside Diner is a cute counter service window housed in a tugboat façade on Echo Lake. It's seasonally open, so you may get lucky enough on your next visit to try some of the fare offered at this quaint spot.
Value = 7/10
Whether you stop here for a snack or a full meal, your tummy will definitely be full. Maybe it's just the size of the giant turkey legs or maybe it's because the macaroni and cheese tends to expand in your stomach, but you won't walk away hungry.
Flavor = 7/10
The menu is brief but flavor-packed. You can get a choice of combos with the Turkey Leg, Italian Sausage in French bread with onions and peppers, or the classic Frankfurter in a pretzel roll. For a la carte options, they currently serving Buffalo Chicken Macaroni and Cheese, and Barbeque Pulled Pork Macaroni and Cheese. But beware, as it is open seasonally, the menu has been to known to change.
Originality = 4/5
Min & Bill's stops the originality chart. Maybe it's because the coupling of a frankfurter in a pretzel roll and a beer go so well together, maybe it's because of the fairly recent addition of the gourmet mac and cheese options, or perhaps it's even because you have to see what new flavor of shakes they have in stock this season, but Min & Bill fans keep coming back, and there's a reason for it – even if I can't quite nail down which exact reason it is!
Atmosphere = 3/5
Given that it's merely a food window, three out of five points, is actually high praise. The tugboat façade really adds to this venue's charm. There are also some great umbrella-covered picnic tables nearby around Echo Lake that contribute to the vibe of dining alfresco on a Californian bay. And the proximity to the Sorcerer's Hat Grumman's Theatre make it a prime spot for catching some of the dance and music performances given throughout the day.
Total = 21/30
Min & Bill's offers a fun and unique selection of food with the bonus of also serving a small selection of alcoholic beverages and their seasonally changing milkshakes. It's a great place to grab a snack or a full meal while you watch some of the Streetmosphere performers or a fun musical concert. As they continue to take down the Sorcerer's Hat, you'll get a front seat view of the dynamic changes in store for Hollywood Studios, as you nosh on some mac and cheese or a turkey leg.
Pizza Planet – Streets of America
If you're traveling with Toy Story fans, you may have to make a stop at the Pizza Planet Arcade back by Muppet Vision 3D off of Streets of America. It offers some fun theming with larger than life Toy Story characters and some kid-friendly nosh.
Value = 7/10
Pizza and sub combos come with a Caesar salad which is essentially served in a cup. I give Disney props for efficiency, the cup offers a standard portion size and helps contain any mess from dressing spillage or contaminating your pizza crust with soggy salad dressing, however the presentation is lacking. The pizzas themselves are the individually sized pizzas often with more crust than anything else. The meatball sub is a hearty offering for the bolder appetite, the flavors are good but the execution is messy – be sure to grab plenty of napkins!
Flavor = 6/10
The pizzas are crusty, the salads are predictable, and the sub is flavorful but messy. If you're lucky enough to get a pizza with properly proportioned sauce, cheese and toppings, to its fluffy crust, it is surprisingly tasty. The cup-o-salad lacks in originality, it is simply romaine lettuce, some croutons and Caesar dressing. Not unappetizing, but nothing to get excited over, and definitely doesn't qualify as a "healthy" food. The meatball sub offers the most flavor and the proportional distribution of meatballs, sauce, cheese, and bread makes it a good value. But the lack of popularity of meatball subs, in general, wouldn't make Pizza Planet a must-do meal.
Originality = 3/5
It's a pizza place, and as such, it serves pizza. It's not the best pizza in the world, but it is palatable, and the simplicity of it really appeals to kids. There's usually one salad that's available as an entrée but that tends to change from time to time, previously offered was a Grilled Chicken Breast salad, and the current menu offers an Antipasto Salad with a variety of cured Italian meats on some greens.
Atmosphere = 5/5
The atmosphere is really well executed. It has a fun vibe of an arcade, bright colors, and Toy Story characters decorating the walls. There is patio seating outside, for those who may want to escape the cavernous volume of indoor dining area and enjoy people watching the guest leaving Muppet Vision 3D. The prime spot is the second floor seating. The second floors offers tons of seating, great views of the kids playing below (without risk of being trampled or bumped by excited youngsters) and ample air conditioning!
Total = 21/30
The kids are hot, cranky, and hungry, then this is the spot to revive them. They'll chow down on some grub that's familiar, simple, and not the same ol' PB&J Smucker's pocket. They'll cool down in the air conditioned dining room and burn off some of that pent up energy running around the arcade. You will enjoy the break from the heat and the ability to watch your kids from the chair, so the quality of the food probably plays second-fiddle to your ability to chill for a few minutes.
Starring Rolls – Hollywood Boulevard
This "hidden gem" of Hollywood Studios always tends to get a lot of press, so it's not so hidden any more. If you can find the Brown Derby, you can find Starring Rolls, just walk around the corner (if you hit Animation Court, you went the wrong way). This place packs more than just a walloping dessert punch, be sure to check out their lunch offerings!
Value = 8/10
The sandwiches are huge, the sushi is great quality and the pastry cases lure you into a sugar coma just by walking by them. Sandwich portions may not be exactly large enough to share, but the cupcakes are. Considering the quality, quantity, and price, this place ranks high on the value meter.
Flavor = 8/10
This is not a predictable burger joint, nor a greasy pizza spot. No, this is Starring Rolls. For carnivores that still like to enjoy some healthy options, or just not feel weighed down by grease and salt, Starring Rolls delivers. The sandwiches offer thinly sliced turkey or ham layered on a spongey, herbed focaccia with a choice of fruit or chips. For a more exotic palate, try their sushi rolls. And you can't leave without grabbing one of their amazing pastries.
Originality = 5/5
The mere presence of sushi on the menu makes this counter service one-of-a-kind. You may balk at the decision of sushi from a counter service, but believe me, the quality here is beyond question. You won't find a ton of specialty rolls, but if Spicy Tuna is your thing, look no further. Finish your meal off with a giant, unique cupcake (you know I'm talking the notorious Butterfinger cupcake), and you've had one of the most exclusive and decadent meals offered at a counter service, anywhere.
Atmosphere = 3/5
There is no indoor seating and the outdoor seating is limited to a few picnic tables which fill up quickly, especially around the lunch hour. If you're lucky enough to grab a table, it's a great place to enjoy your meal and watch other guests rush by or the Streetmosphere performers parade by. The lack of indoor seating and air conditioning is a drawback in the busy and hot summer months, but if you visit during a non-peak season when the weather cooperates, it's pretty much heaven.
Total = 24/30
Spicy tuna rolls. Butterfinger cupcake. Corner lot with a view. This place may be the counter service jackpot.
Studios Catering Co. – Streets of America
Hidden in place sight, Studio Catering Co is on the border of Mickey Avenue and Streets of America. Many people may know it's location since it's right next to the Honey I Shrunk the Kid play area. It's a sandwich-inspired counter service with an interesting selection ranging from comfort food to counter service gourmet.
Value = 7/10
The sandwiches here are served on a long hoagie-style roll, which can make splitting a sandwich between smaller appetites possible. The sides available are the standard options of cole slaw, apple slices, or French fries. With the presence of High Octane Fueling Station nearby, you can easily complement your sandwich with a margarita or other flavorful adult beverage.
Flavor = 6/10
The Pressed Turkey Club and Grilled Vegetable Sandwich are the same ones you'll find across the park at the Backlot Express, but Studios Catering does have a few other options including a sweet and smokey Sloppy Joe and unique Buffalo Chicken Sandwich (be sure to ask for extra buffalo sauce on the side, if you really want some spice). The sandwiches are fresh, but sometimes lack that balance of dry or being over-dressed. So just beware, and if you want to make sure your sandwich isn't too soggy, ask for the dressing on the side.
Originality = 3/5
The Studios Catering Co gives some great options to the world of sandwiches, but the selections definitely cater to adults. If you have teens in your group, they may not find a choice that meets their culinary preferences.
Atmosphere = 3/5
It has only outdoor seating, but all of it is covered with plenty of fans to help stave off the summer heat. Its proximity to the Honey I Shrunk the Kids play area, is a nice perk, with tables even next to the play area so parents can watch their kids play while also enjoying a seat and meal.
Total = 19/30
The sandwiches are hearty and pretty tasty, the location is convenient, the only thing missing is a bit more menu variety and some air conditioning. All in all, a decent dining choice when you're hungry, and if you have some kids that want to run around the Honey I Shrunk the Kids play area.
Summary:
Hollywood Studios has really made some strong strides in the quality of counter service offerings, though there is definitely room for improvement. Here is how the line-up measures up:
Starring Rolls – 24/30
Min & Bills – 21/30
Pizza Planet – 21/30
Fairfax Fare – 21/30
Backlot Express – 20/30
Studios Catering Co – 19/30
ABC Commissary – 19/30
Catalina Eddie's – 18/30
Rosie's All-American Café – 18/30
What do you think? Would you re-arrange this ranking? Would you just skip these and head to the Trolley Car for some Starbucks? Which Hollywood Studios counter service is your favorite? Be sure to let us know in the comments below!