The Magic, The Memories, and Merch! MARCH 2020 Disney Outlet Store Photo Report
Welcome to the latest edition of The Magic, The Memories, and Merch!, the longest running monthly look at the Disney Outlet Stores in Orlando. So, anything new going on in the world?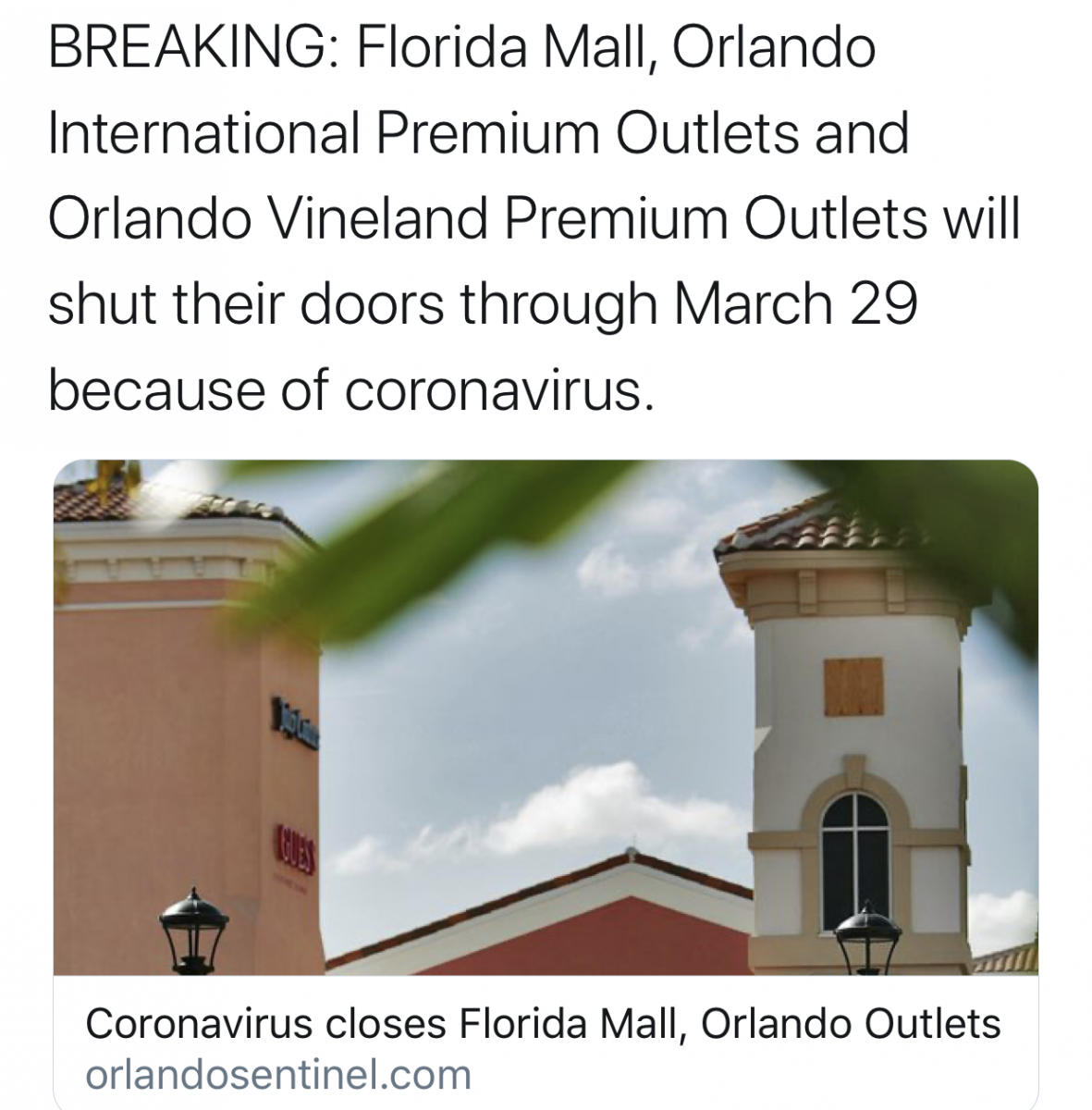 Here's the GOOD NEWS. I was able to visit the Disney Character Warehouse right before they chained the doors shut. Thankfully, due to years of visiting the Orlando Premium Outlets, my body is filled with a unique combination of second hand vape, perfume samples, and S'barro pizza, that I am impervious to any known disease. More GOOD NEWS? Check out the very end of this report for the awesome way that Joe Matt – TouringPlans' resident Millenial – organized the "back issues" of the Outlet Report, including a ::chef's kiss:: graphic. The BAD NEWS is that it's not looking like the outlets are going to be opening up any time soon, and next month may be the first time in almost seven years that we won't have a traditional Disney Outlet Store Photo Report. We'll cross that bridge when we get there though, and until then let's see what we found this month before they kicked us out of the store.
Now, we all love the new and improved Disney Springs. With the great E-Ticket parking garages, incredible new restaurants, and The VOID – which just may be pound for pound one of the best things to do in all of WDW – the shopping district now "slaps" like never before. (Sorry folks, we're making a concerted effort to get more younger readers. Please bear with us when you see words that make no sense, references to Animal Crossing, or notice that we link exclusively to Tik Tok videos).
One of the great things that Disney Springs does during the holiday season is a Christmas Tree Trail. This trail includes various Christmas trees elaborately decorated to Disney themes. As you walk through the trail, the walls have some wonderful posters that reference Disney moments. Here's some examples.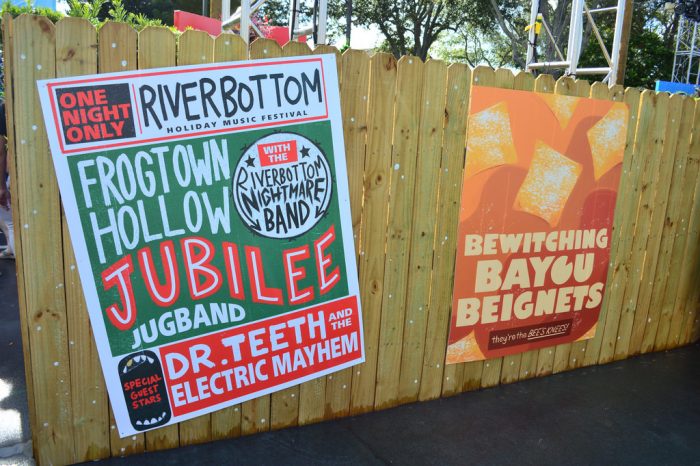 This past year Disney put out a whole bunch of merchandise for the Christmas Tree Trail, and many of the items (like this luggage tag) used these posters. (You can even see the beignets poster above and on the luggage tag below.) Originally $12.99, now $3.99.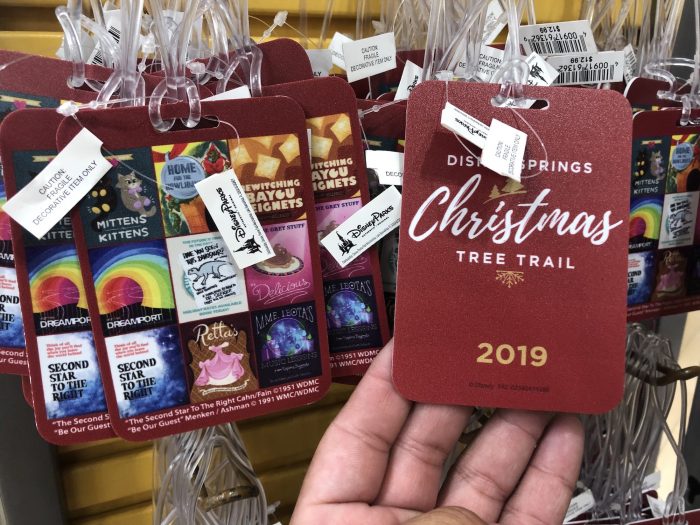 Each month at the outlets there are various lanyards and pouches, and I always wonder why anyone would buy them at Disney. Over at Universal, a lanyard and pouch is still helpful because the hotel rooms still use credit-card like room keys, which for some resorts also double as your Express Pass in the parks. You can also hold your park-to-park ticket, making it easier to access when boarding the Hogwarts Express. Many guests even put their credit cards and/or license in the lanyard to make it easier when buying food and drinks in the park. For the most part, at Disney you can just use your MagicBand for all these things. So if you are one of these weirdoes perfectly sane people who wear lanyards with a pouch at Walt Disney World, let me know in the comments what you put in it. The Christmas Tree Trail lanyard pouch was originally $8.99, now $3.99.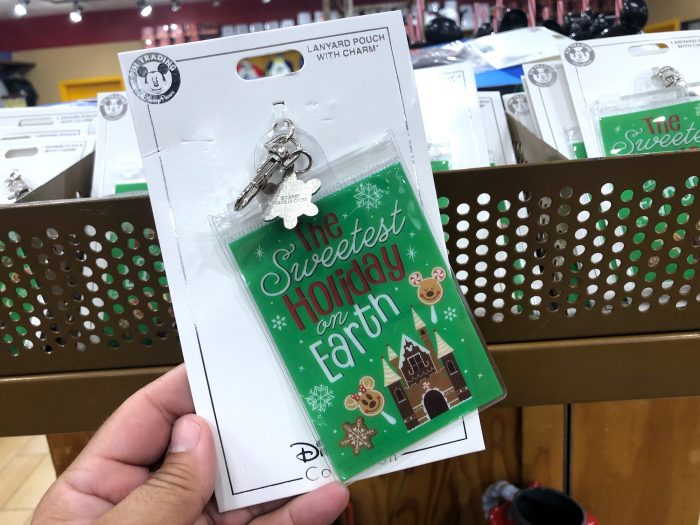 Sharp looking Very MerryTime Christmas-themed pin set from the Disney Cruise Line. Originally $29.99, now $10.99.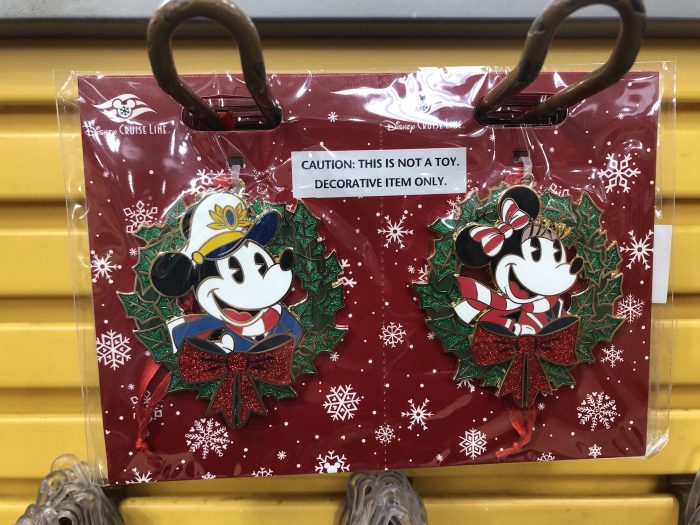 This is actually a snowman hat in which the snowman is also wearing a hat. Originally $34.99, now $12.99. Hard pass.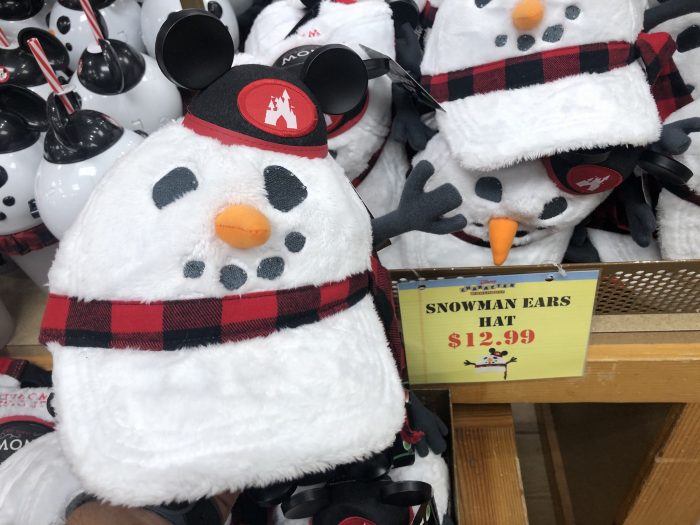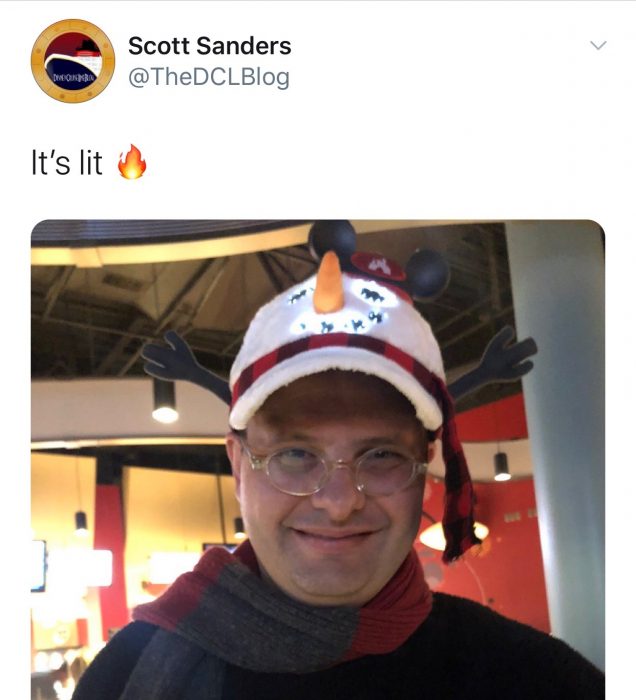 There were a lot of these snowman cups available. I like that they are "wearing" an actual scarf and its not just painted on. Good touch. Originally $24.99, now $7.99.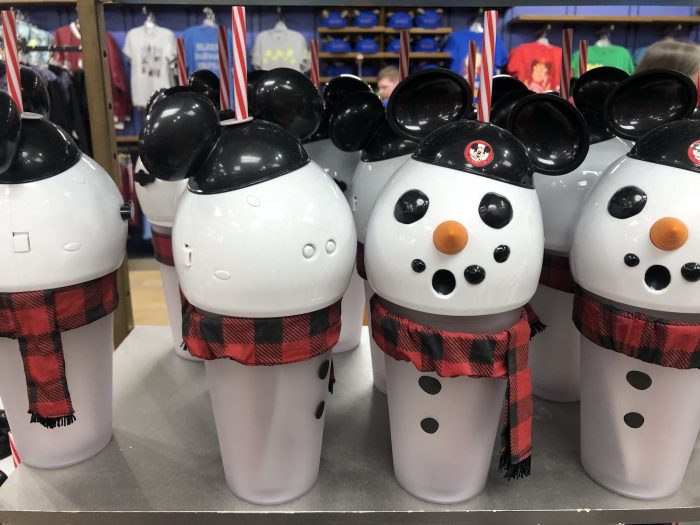 This sign said that there were Chinese New Year Mickey and Minnie plush figures available, but despite all the plush throughout the store, all of it was Mickey. Originally $29.99, now $14.99.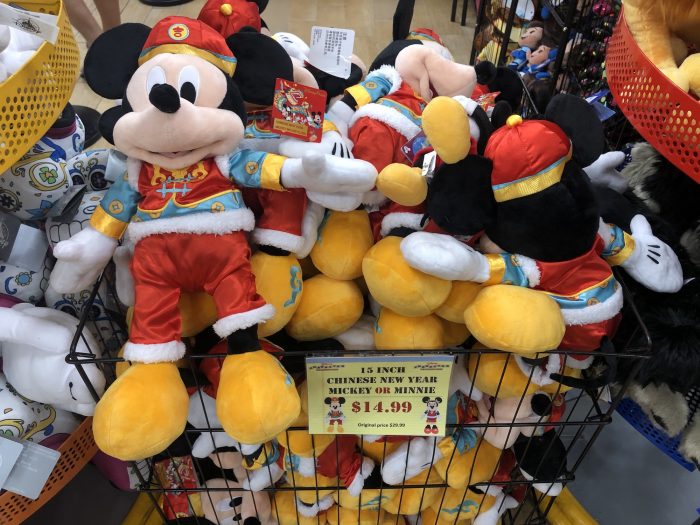 These Halloween-themed slap bracelets were reduced to $1.99. I can't fathom paying the original $10 price for a SLAP BRACELET. Bought a couple of these for the kiddos.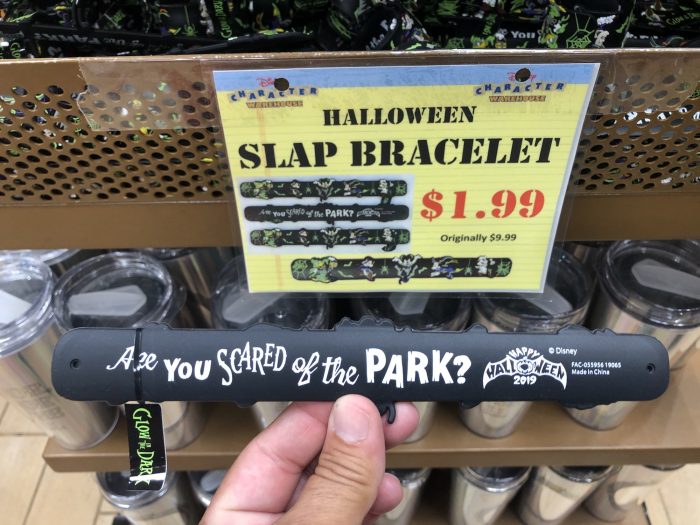 Oogie Boogie Wishable. Originally $9.99, now $5.99. They should rebrand this line into the "Skippables" seeing how many come to the Outlets. BRING BACK MY PRECIOUS TSUM TSUMS YOU COWARDS!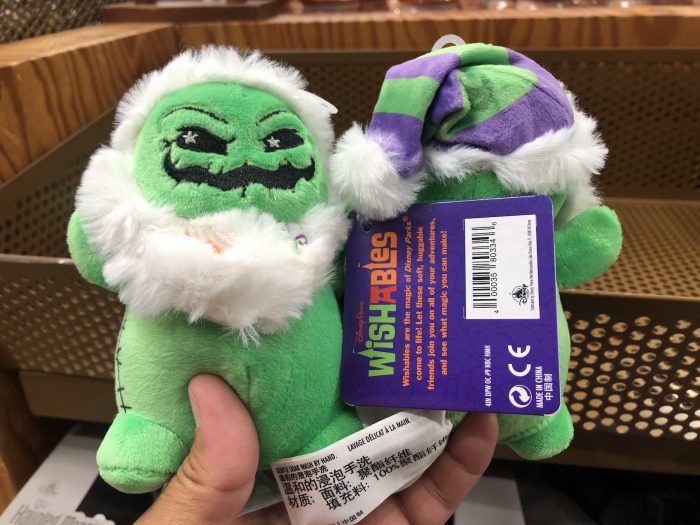 I thought this was a "Vampire Mickey" to tie into Halloween, but apparently it was made for Rock 'N' Roller Coaster. Originally $21.99, $9.99. (Now that I'm looking back at the doll and how the microphone is positioned I think I may have to label this photo NSFW.)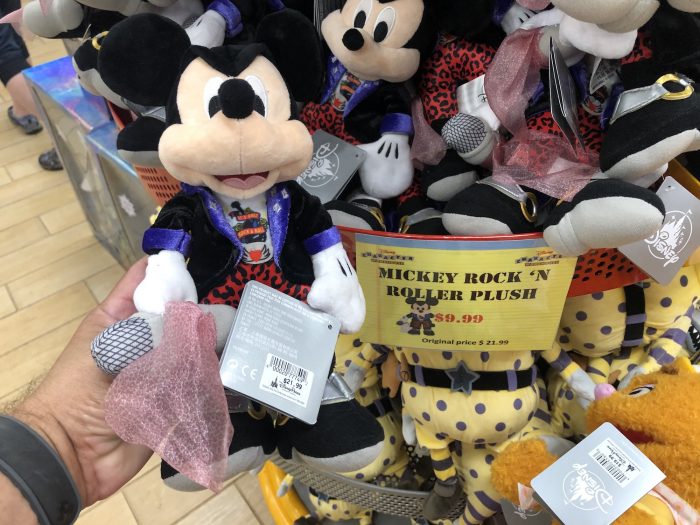 I love these Haunted Mansion plush sets, and this would definitely be the one I would buy with the Caretaker and dog, but even at the reduced price of $30.99 it was too hard to justify. Original price was $59.99.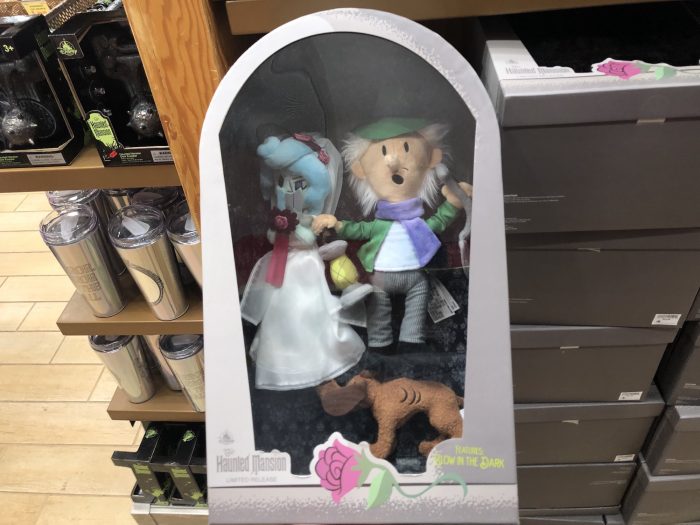 My phone was having "issues" throughout the photo shoot, having a slight delay when taking several of the photos. That's why the top of Winnie the Pooh here is cut off. Every time you see a picture in this Fine Blog Series where something is cut off in the photo, rest assured I am pulling my hair out at home because at the store it was painstakingly cropped. Pooh came with a tiny Piglet attached. Originally $26.99, now $12.99.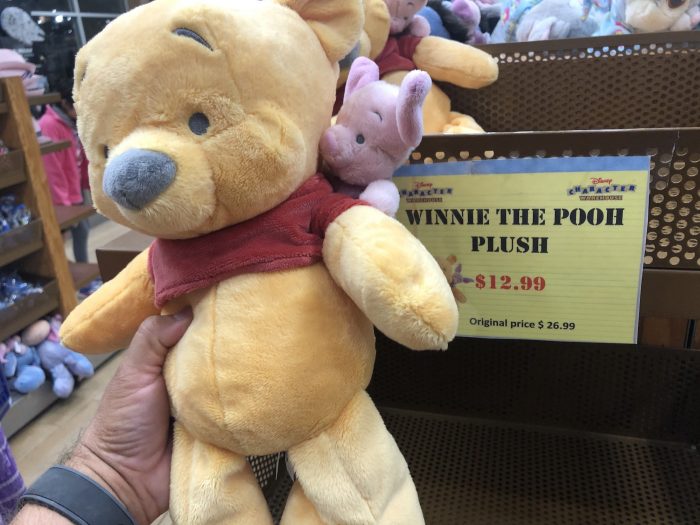 Tigger and Eeyore were also reduced to $12.99. Tigger came with a small Roo, and Eeyore came with Piglet.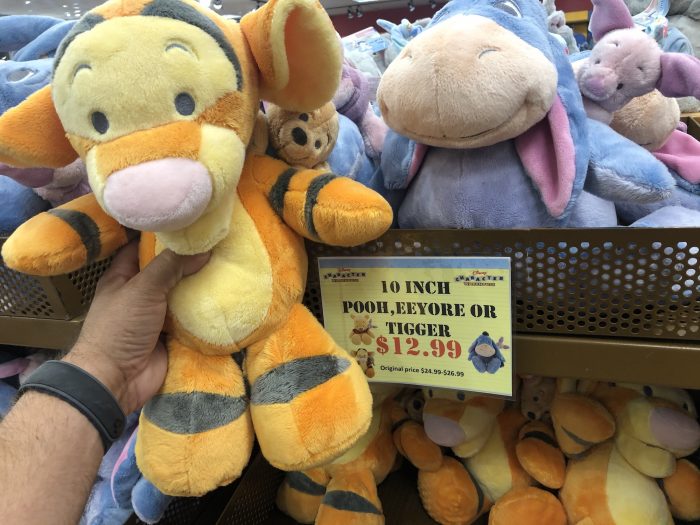 A couple months ago we saw some of these "Snuggle Snappers." Basically small plush with slap bracelets as the arms. Stitch here was originally $19.99, now $7.99. I think at $4.99 I would have bought one.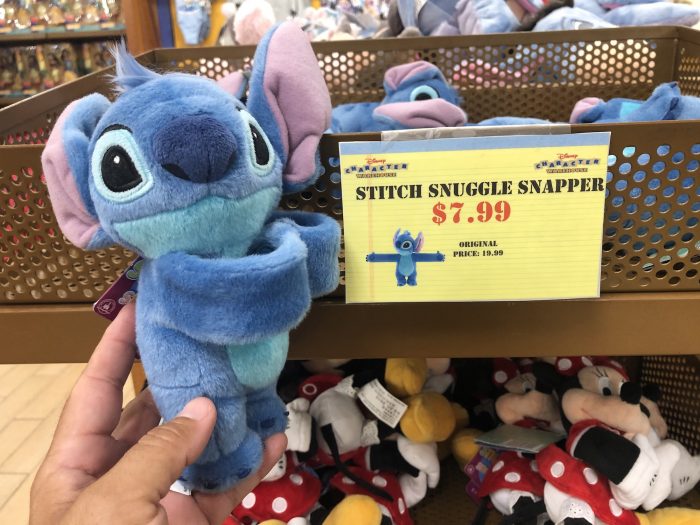 Minnie Snuggle Snapper was $9.99.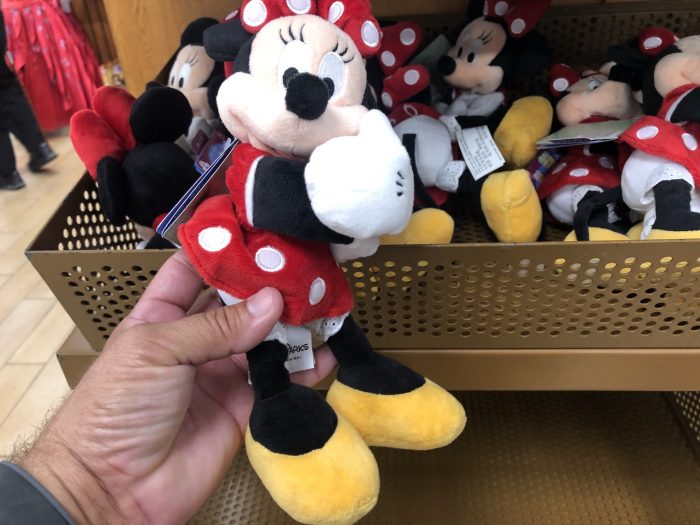 Mickey was also reduced to $9.99.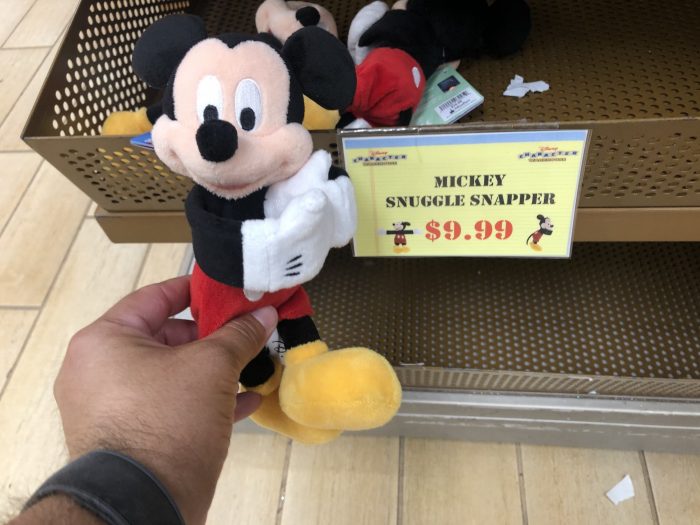 These diorama things are so good that I bought one of these Splash Mountain ones back when they first came out at full retail. So of course I bought another one at the Outlets for no good reason. Originally $16.99, now $5.99.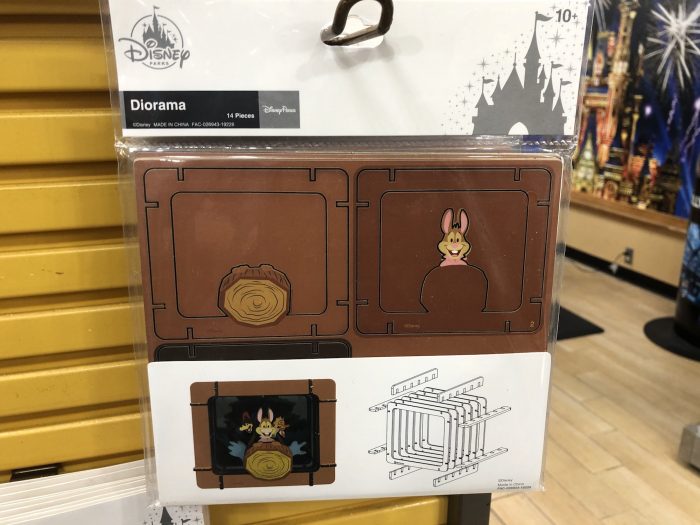 Also bought one of these Mad Tea Party dioramas. Originally $16.99, now $5.99.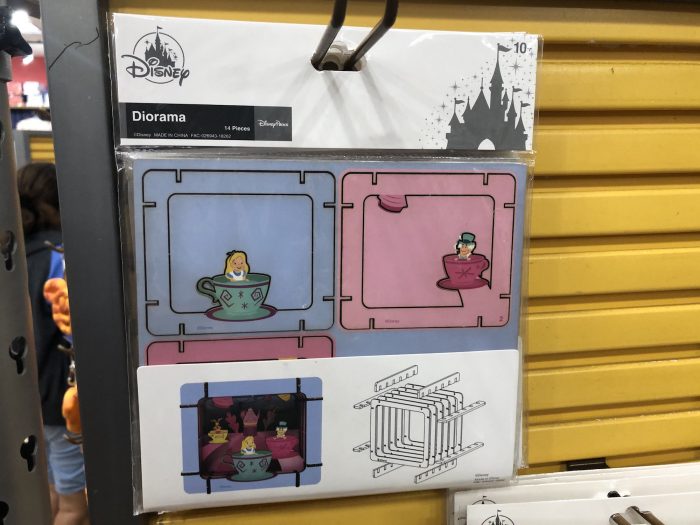 Resusable bag using the four WDW parks. Originally $5.99, now $1.99.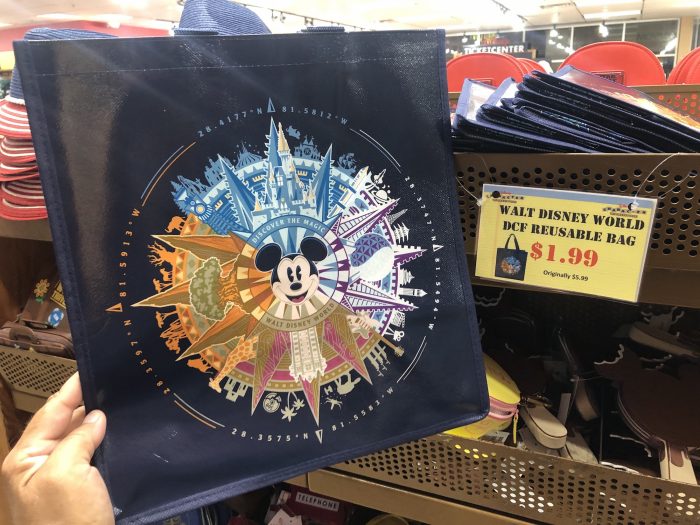 Loungefly bag featuring the Evil Queen. Originally $80, now $40.99.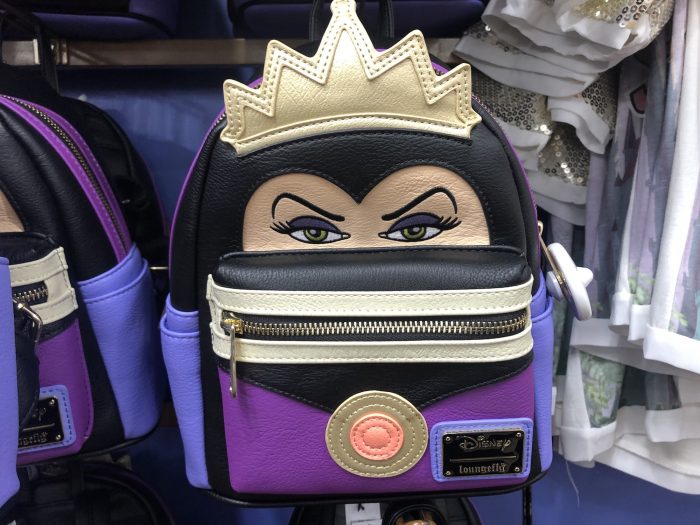 There are some people who hate Star Wars: The Last Jedi and some people who think it's the best Star Wars movie to date. One thing both of those groups of people can agree on is that this bag is one of the dumbest pieces of merchandise ever made. Originally $60, now $29.99.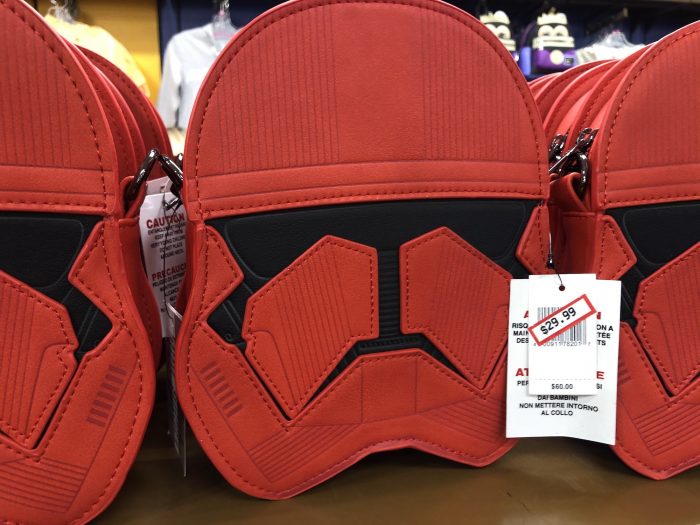 Porg plush. Originally $16.99, now $10.99.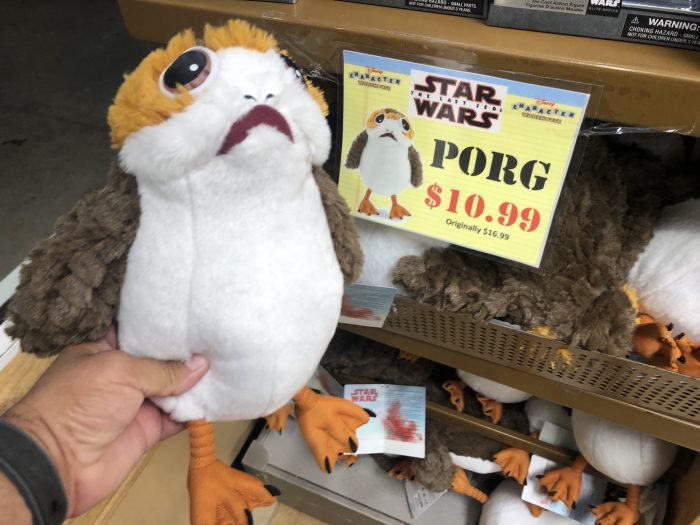 If you guessed this droid figurine thing featuring R2-D2, BB-8, and who knows what originally cost $160, you win. Reduced to "only" $80.99. HOW IS THAT NOT C-3PO on the left?!!!!
Bought one of these Toy Story 4 figurine sets for the kiddos. Love the Duke Kaboom figure and they adore Forky. I will go on the record saying that Toy Story 4 never should have been made… but I did enjoy it. Originally $24.99, now $12.99.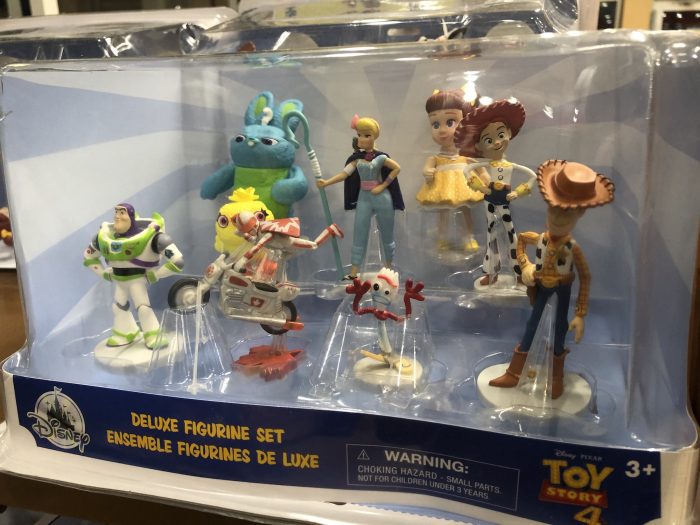 This sign advertised that there was a similar set featuring characters from Incredibles 2, but there was no place for them even on the shelves as all the space was taken up by Toy Story 4 figure sets. I definitely would have bought this one as well.
I didn't realize until I got home that I should have turned one of these pairs of socks around, because the side you're seeing is Karl Malone and the other sock included in each pair is John Stockton. You can see a little of "John" peeking out on the far right hand side of each pair. The original price for this pair of socks was $29.99, so I guess it was only made for Karl Malone and John Stockton to buy because THAT IS ABSOLUTELY INSANE. I wonder if they were selling these in that shoe store at Disney Springs that was ran by Michael Jordan's kid that already went out of business. Anyway, the socks were reduced to $5.99. The "stance" tag in the middle of the sock helps hide that these look absolutely awful.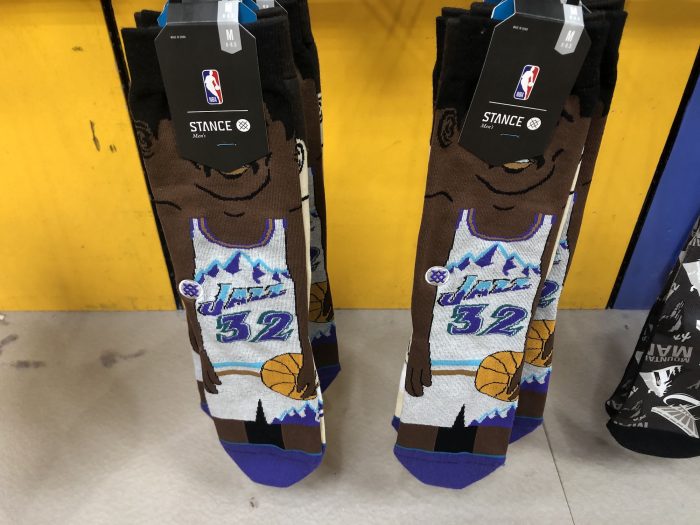 Ooh, found a picture of what these socks look like out of the package. CAN YOU IMAGINE?!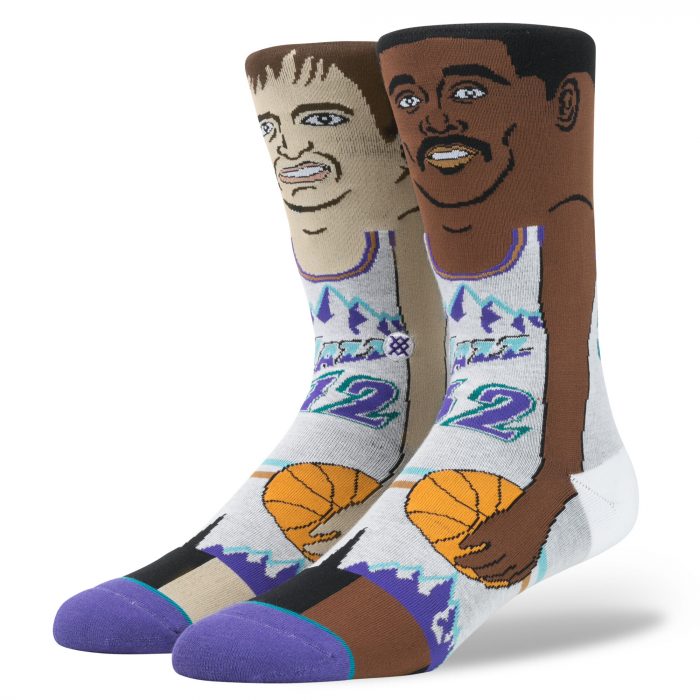 Minnie Mouse flip flops. Originally $18.99, now $3.99.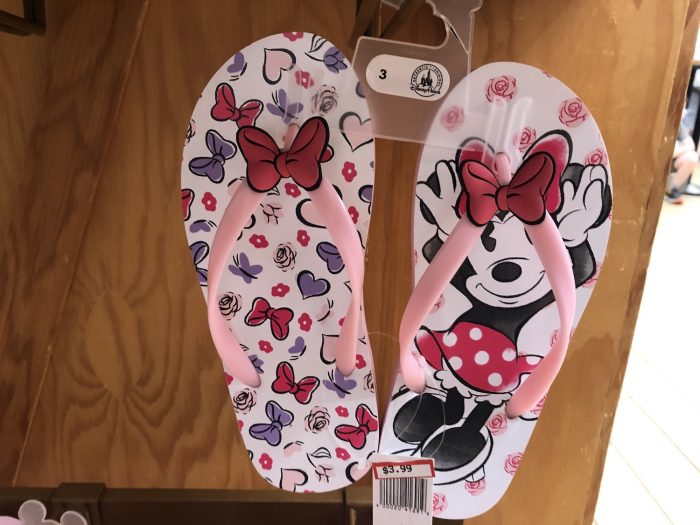 At $1.99, you basically have to buy one of these Bibbidi Bobbidi Boutique things right?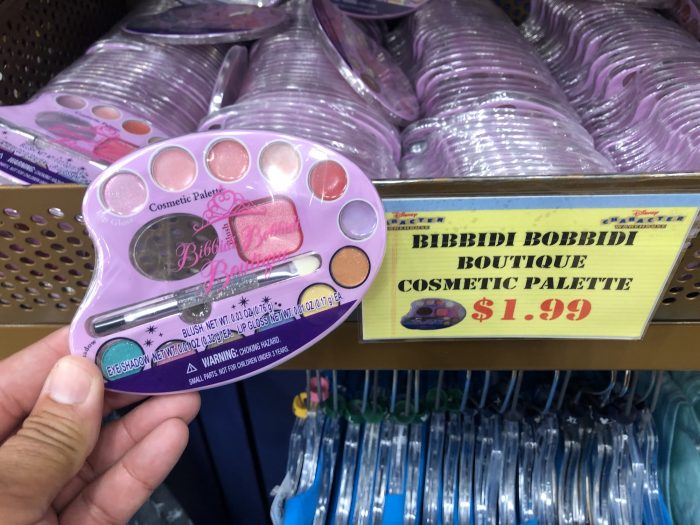 This sign was at the top of a huge rack of earrings, but every single one of the earring sets – and there was probably hundreds – was the Little Mermaid. The sign shows several other princesses in the set though.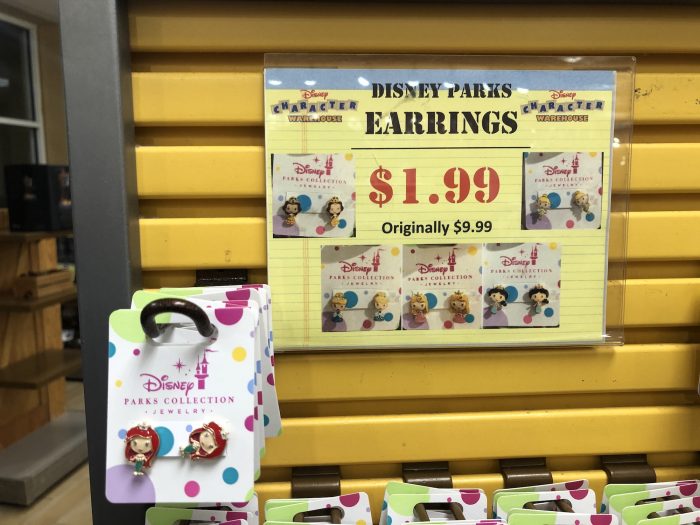 There were also these princess earring/necklace sets. Originally $19.99, now $5.99. Here are the earrings for Tiana and Ariel.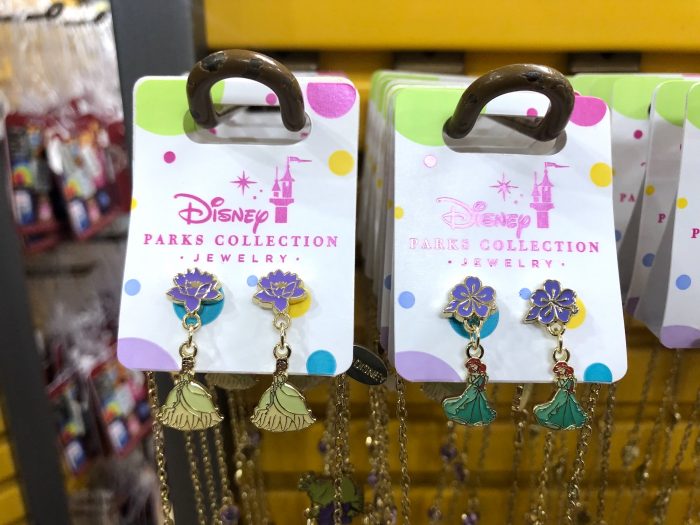 And here are the charms at the bottom of the necklace.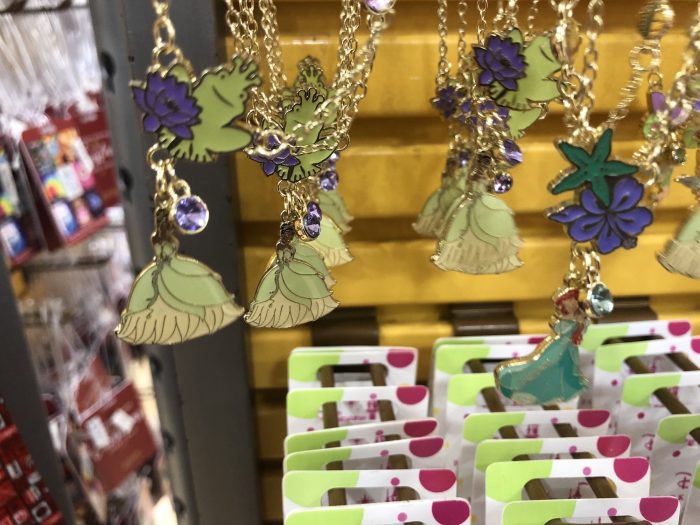 Here we have Tink.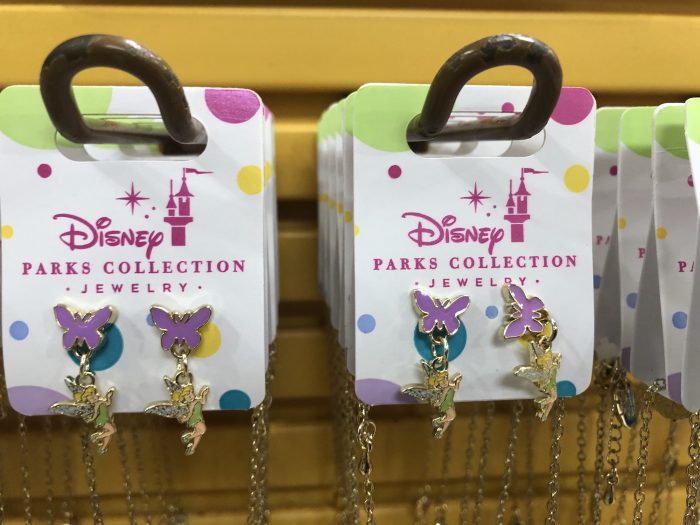 And the necklace charms for Tink and Belle.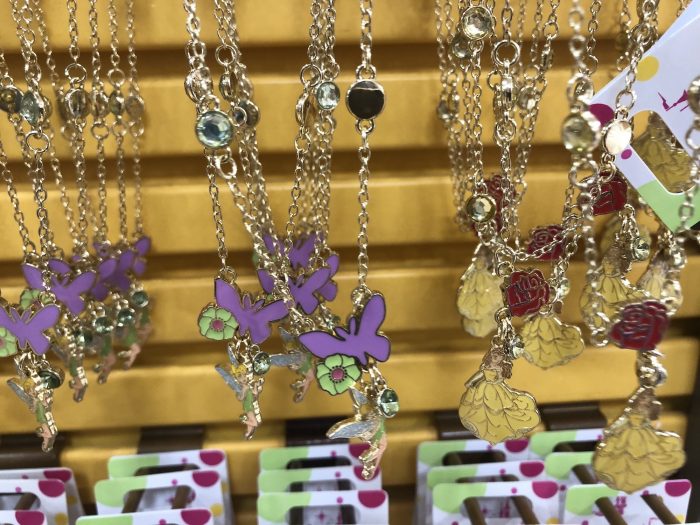 Signage at the outlets was on fire this month. This crate of Mickey Waffle keychains was labeled pretzel keychains.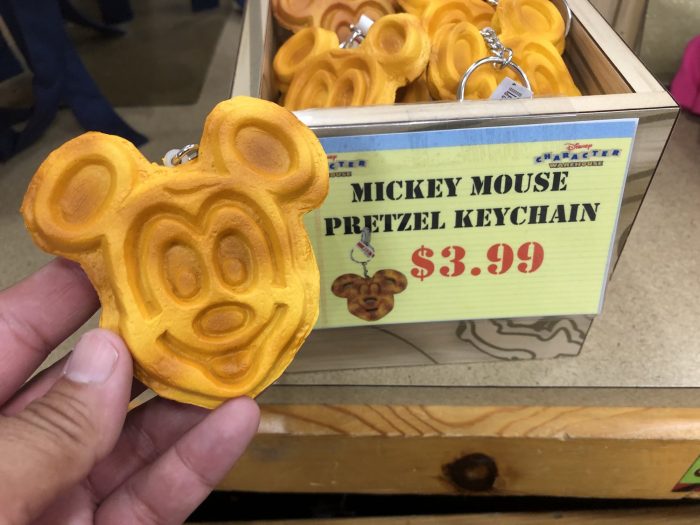 The pretzel keychains were in a basket down below, along with more waffle keychains.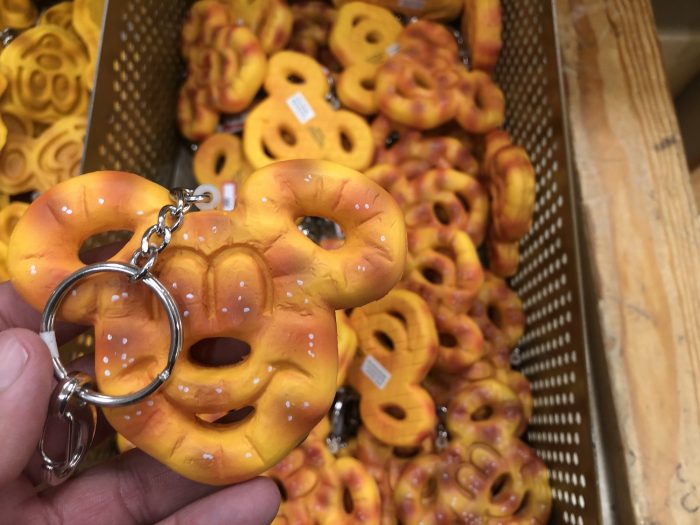 Normally here is where we would take a break and visit the outlets out in California, but they closed before we could get to them. So, instead we'll take a moment and talk about one of the most shocking developments in Orlando this month and IMAGINE WHAT THAT IS SAYING.
Okay, so for years the gas station outside the Disney Outlets off of Vineland Ave. was selling gas for $5.99 a gallon. No one could believe it and there are several different "rumors and innuendo" explaining how this station can be selling gas for over double what anyone else in the area is selling it for. Some suggest that the owners wanted the convenience store that is attached to the gas station, but were contractually obligated to sell gas, so they just set a high price. Others say that it's in a tourist and hotel-heavy area, so the owners are counting on many people just "expensing" the gas to their companies or have travelers who realize the price too late. Who knows what the real answer is.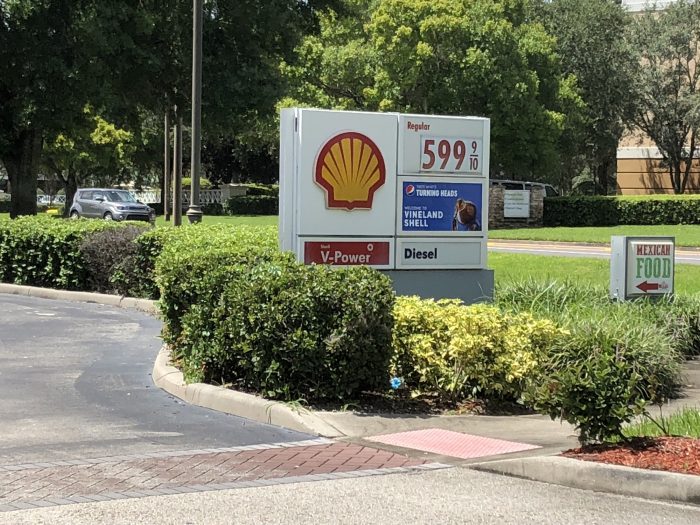 Anyway, we had a shocking development several months ago when the price WENT UP to $6.99 after being $5.99 for years. But this month we got thrown a curveball…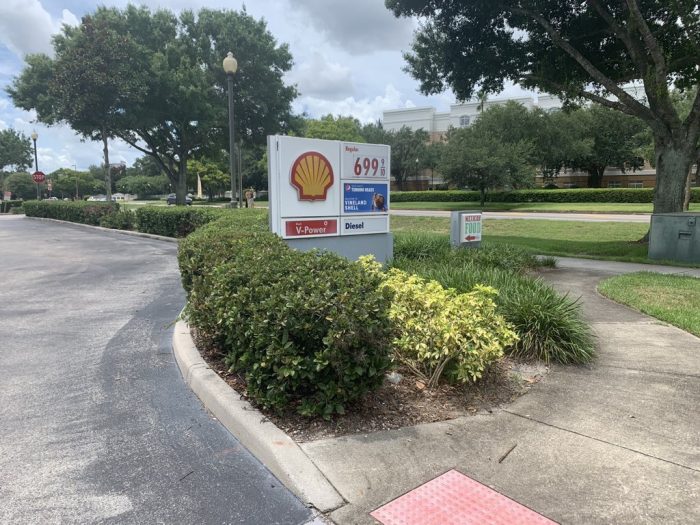 THE PRICE WENT DOWN $3 A GALLON!!!
To say my jaw dropped when seeing this price is an understatement. In a month of shocking developments, this is the one I never would have guessed could happen.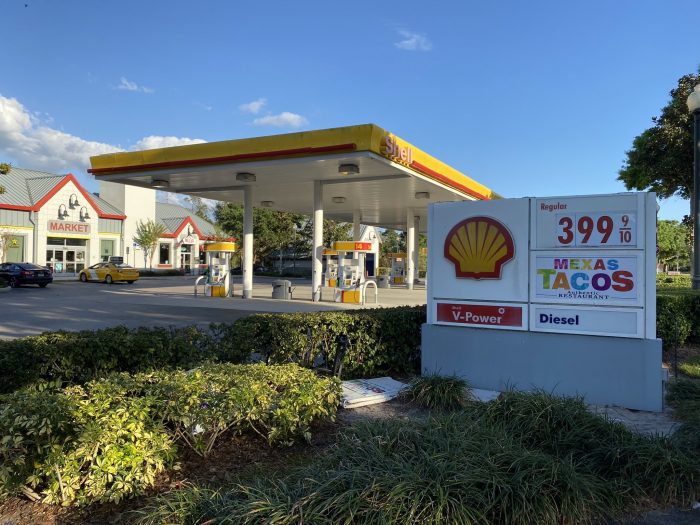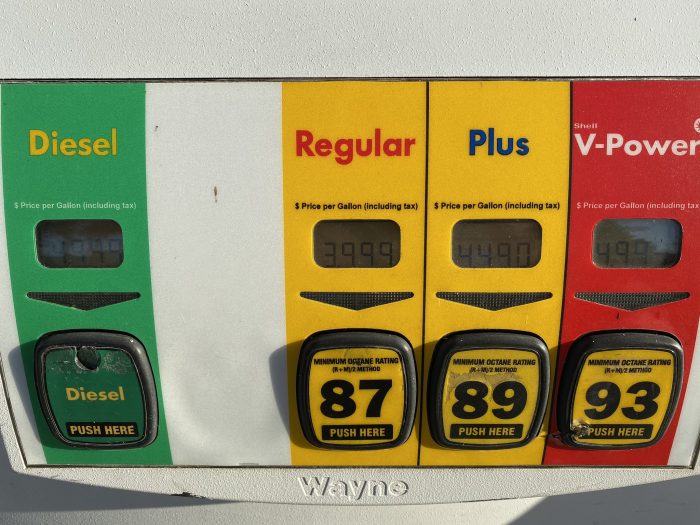 Okay, let's get back to the outlets! This sign once again showed three different style of hats, but the only one there was this sequined (?) LOVE hat with a Mickey silhouette as the "O." I get that things sell out, but there was no place for the other two hats to even sit on the rack as it was full of these Love hats. It's also interesting to note that the Vineland Ave outlet has a lot of these signs which show the picture of the actual item on the sign itself. The Disney outlet store off of I-Drive almost never has signs like this. I like 'em.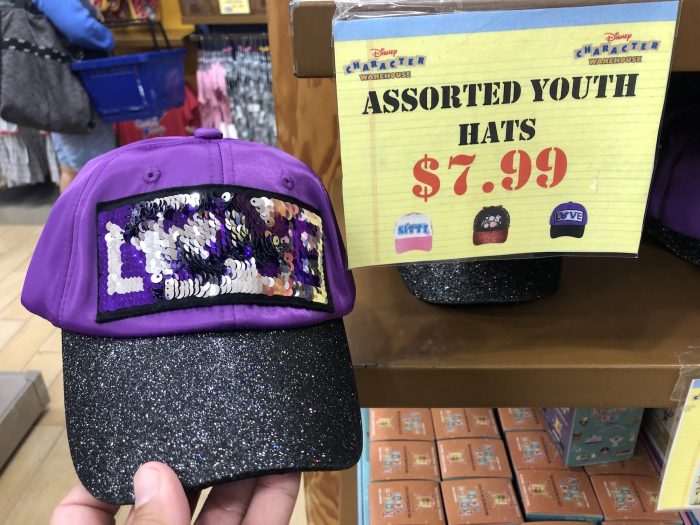 Meet Me on Main Street USA shirt. Originally $36.99, now $14.99.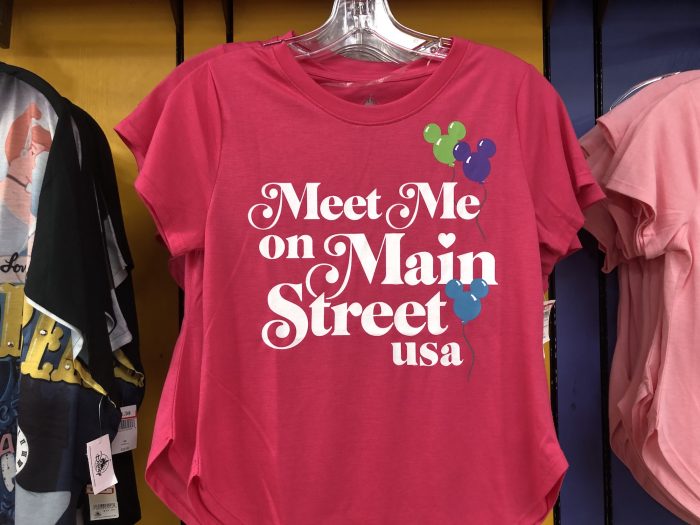 I Live in Fantasyland shirts. Both were originally $39.99, now $14.99.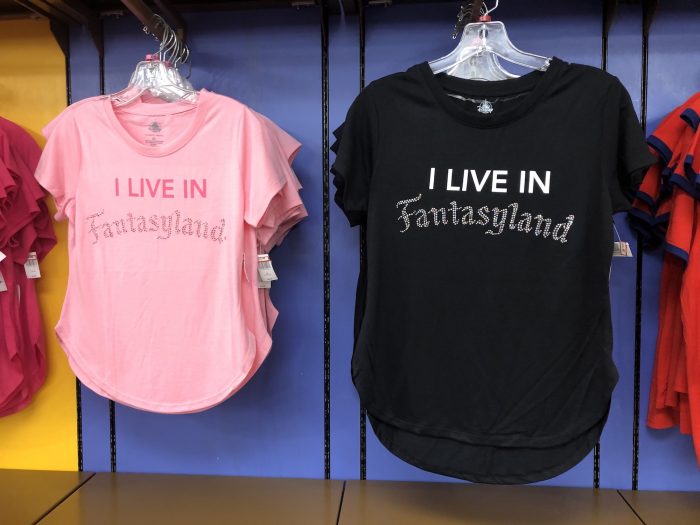 The following shirts are what we call a "hot mess." Both the Alice in Wonderland and Cinderella shirts were originally $39.99, now $14.99.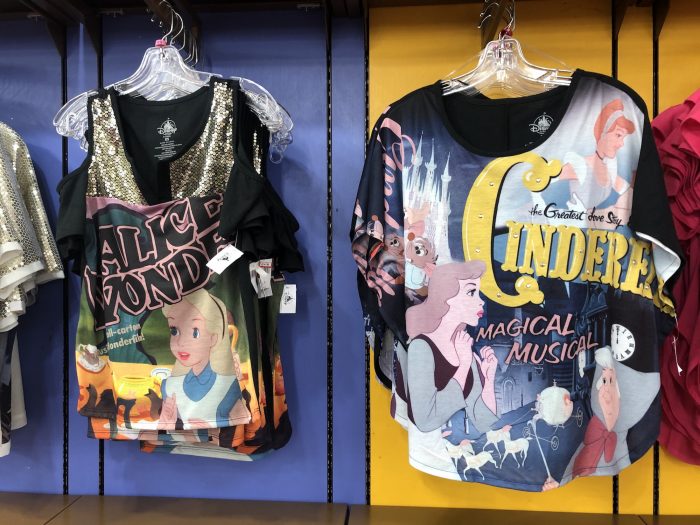 I would love someone to explain to me the draw of a shirt that is half Sleeping Beauty and half Bambi. Originally $39.99, now $14.99.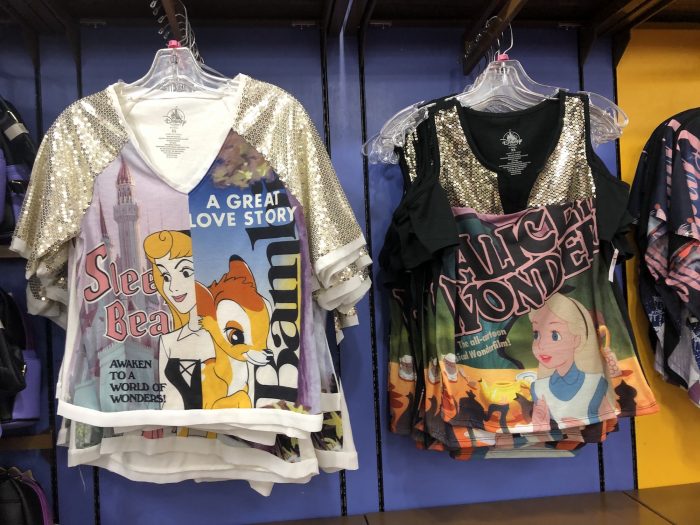 This Wilderness Lodge shirt is one I can get behind. Now that is SHARP. Originally $34.99, now $10.99.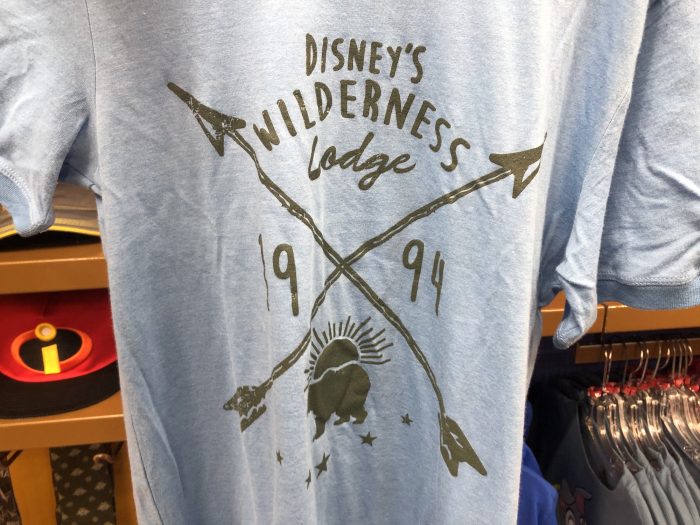 Look at this little "Est. '94" tag on the side!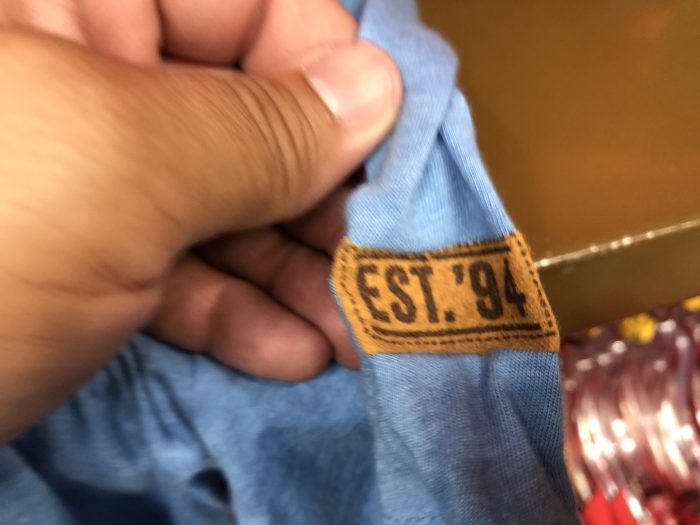 Animal Kingdom Lodge collared shirt. Originally $39.99, now $12.99.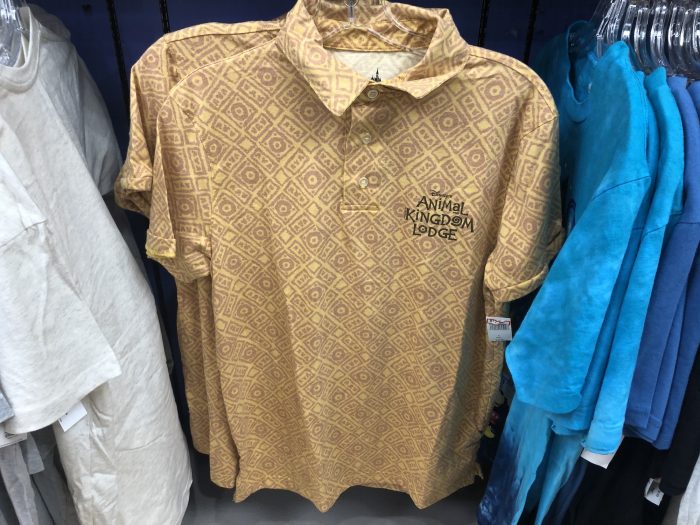 Okay, remember I mentioned my phone was acting up earlier? Here's a good example of what I have to deal with. Normally I take a picture of the item for you, Dear Reader, and then take a picture of the price tag for me….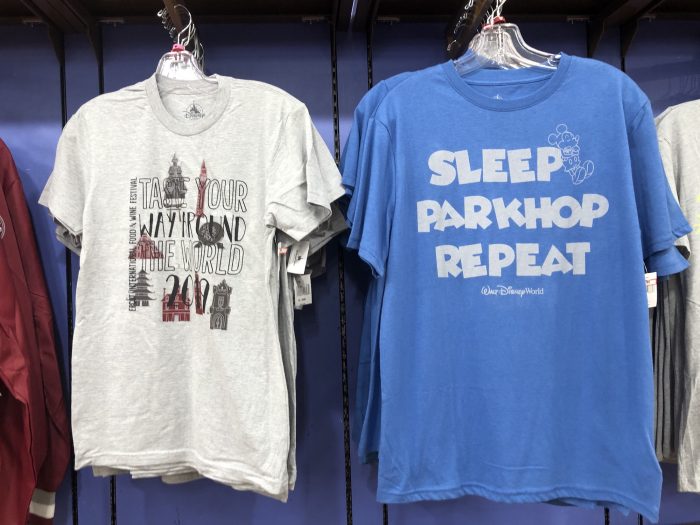 Here's the picture of the price tag for the Sleep Parkhop Repeat shirt.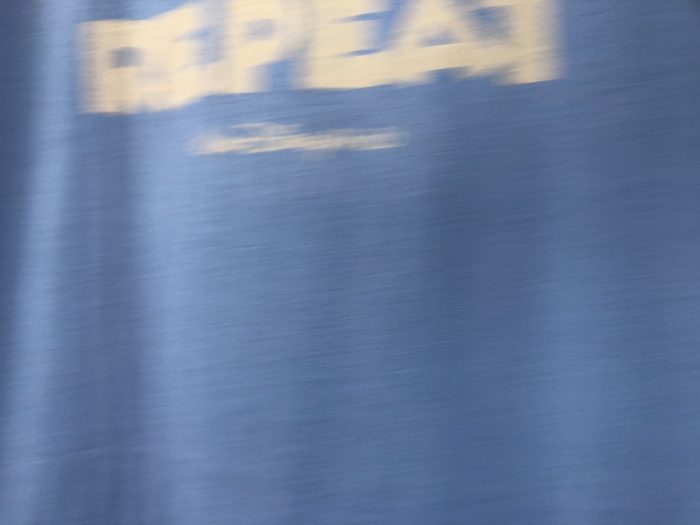 And the photo for the price tag of the Taste Your Way Around The World shirt.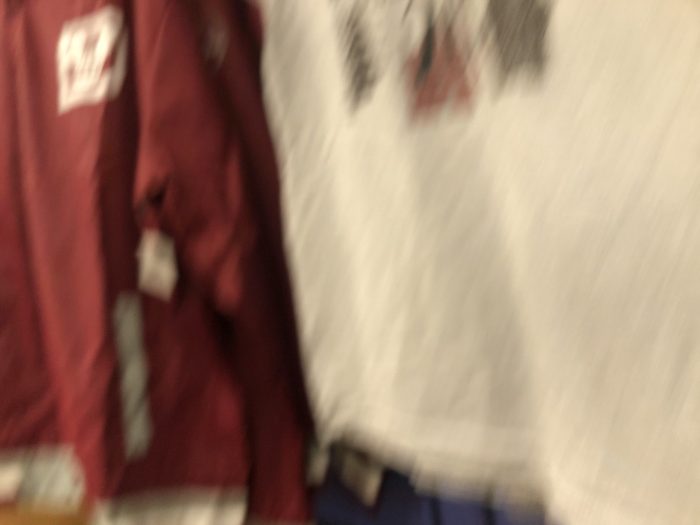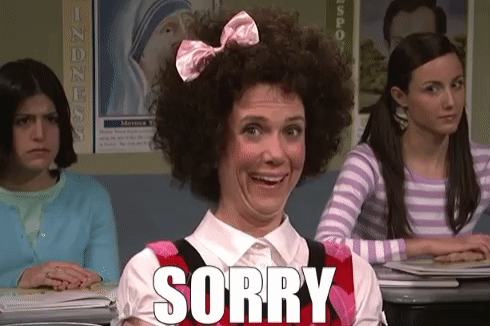 Toy Story Land shirt. Originally $24.99, now $12.99.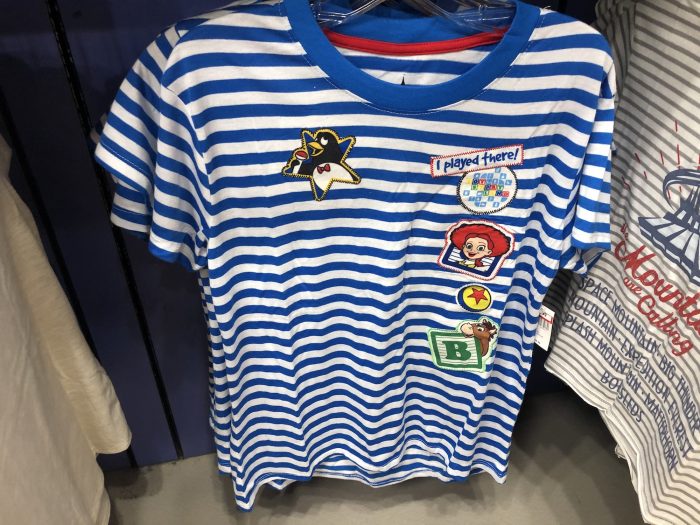 I'm embarrassed to tell you how long I thought the Jafar shirt was something for the Chinese New Year. After a while I realized the logo was mocking how crappy the Disney Wifi is. That's actually pretty amazing. Jack Jack Cookie Num Num shirt was originally $24.99, now $9.99 and Jafar was originally $24.99, reduced all the way to $4.99, so we can assume I wasn't the only one not getting the joke.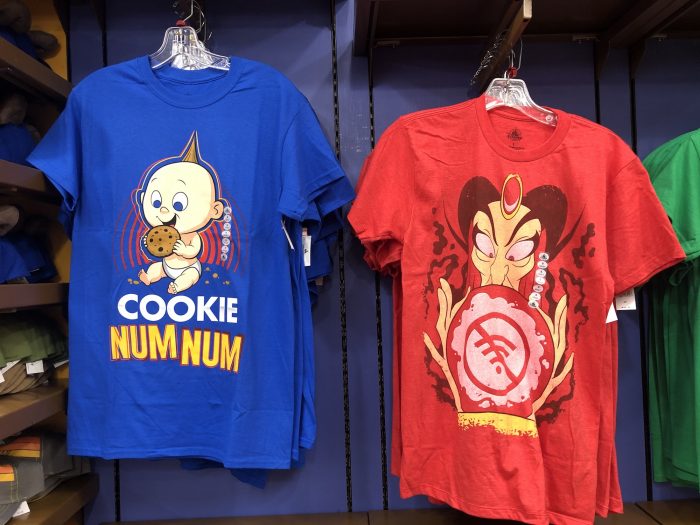 I liked this Mickey Mouse palm tree shirt, but the originally price of $34.99 seems bonkers. Reduced to $9.99.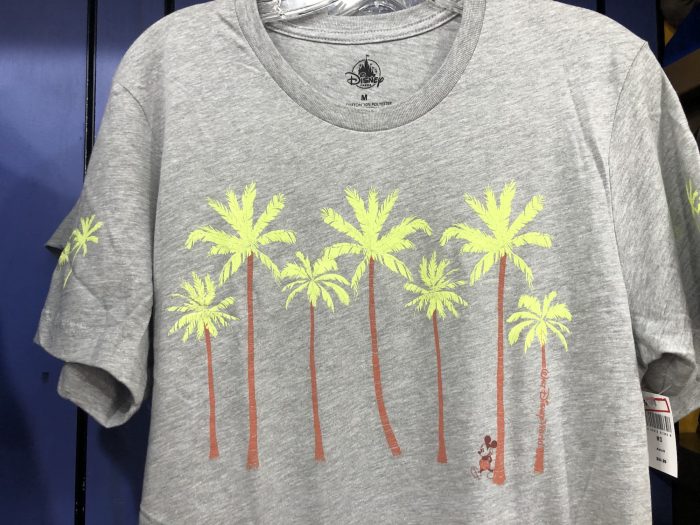 Well you know I had to get this. No original price, but it was reduced to $24.99. It instantly became one of the best pieces in my wardrobe.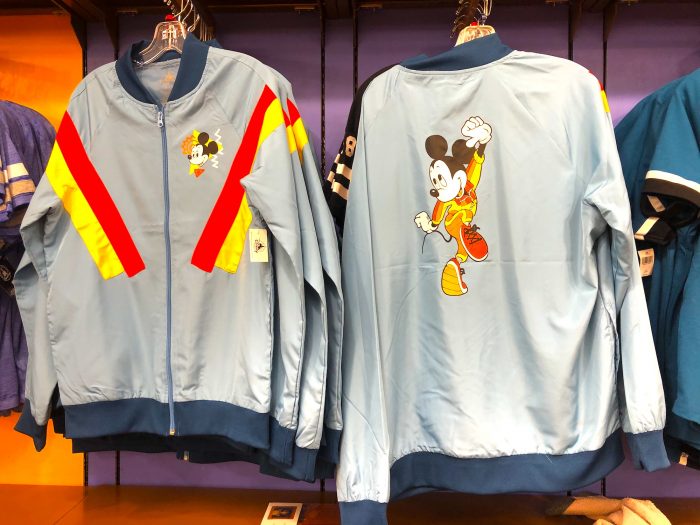 Mickey Premium Ice Cream Bar baseball jersey (whaaaaaaat?!!) was originally $39.99, while the "sun's out, guns out" tank top was originally $19.99, now $9.99.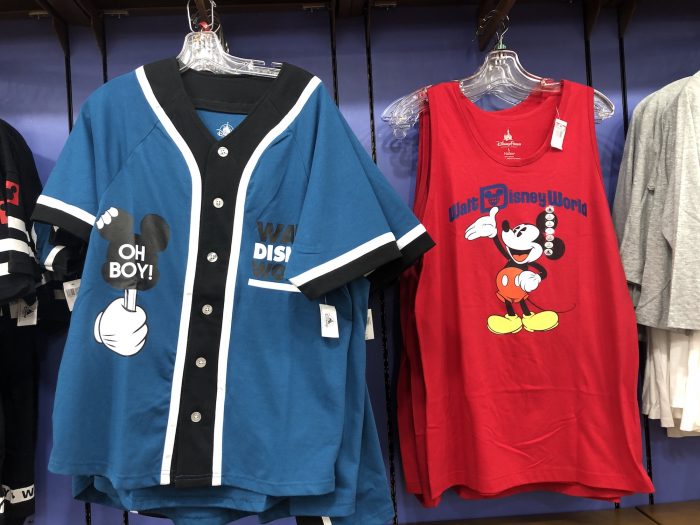 Here is a Mickey Mouse ceramic tumbler with a huge mistake. Clearly Mickey would only be that happy ON A SATURDAY. Originally $19.99, now $7.99.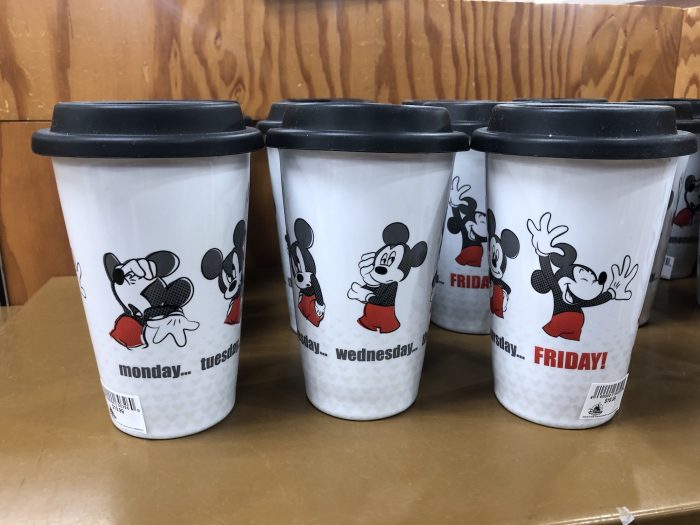 I know that people collect Starbucks stuff, but why would people want a ceramic cup that replicates the boxes that baristas check off for your drink order? It would be one thing if this was just a high end recreation of a standard cardboard Starbucks cup, so you're targeting that elusive crazy person demo, but the regular Starbucks cups don't have the Disney stuff on them. SO WHO IS THIS FOR? Reduced to $12.99.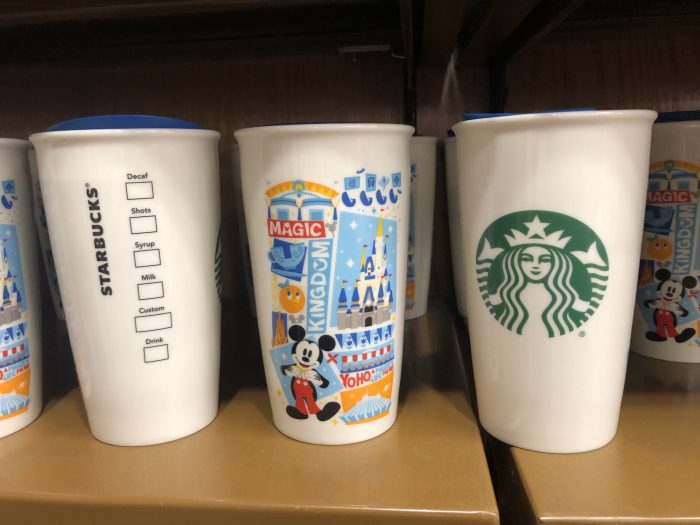 I fell like I'm writing in ALL CAPS a lot this month, which gives you a good idea of my current mental state trying to deal with the stress of everything going on right now. So, knowing I'm already on Threat Level: Midnight, how do you think I reacted when I saw that my phone did this to my picture of a ceramic Minnie Mouse cup? "Not great, Bob!"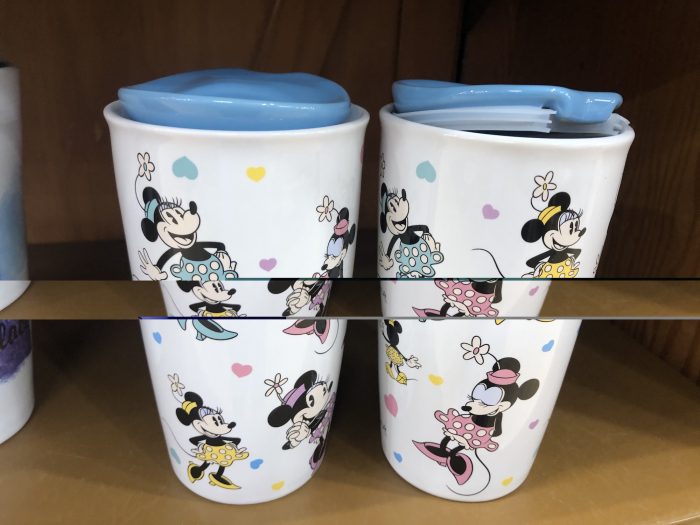 This Minnie Mouse tumbler was charming. Originally $17.99, now $7.99.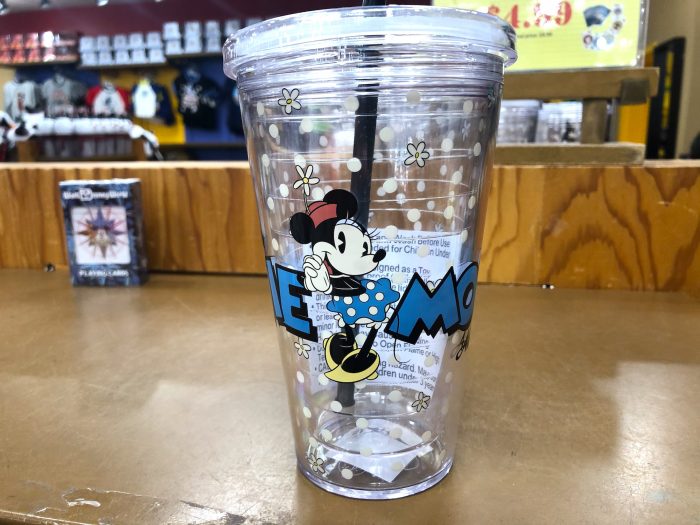 Have a Flounder super fan in your life? Have I got the perfect gift for them. All the coffee cups this month were reduced to $5.99.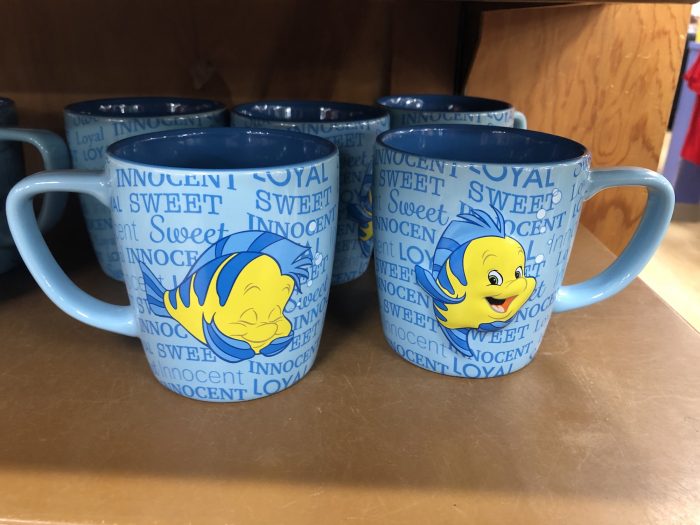 Princess Aurora coffee cup.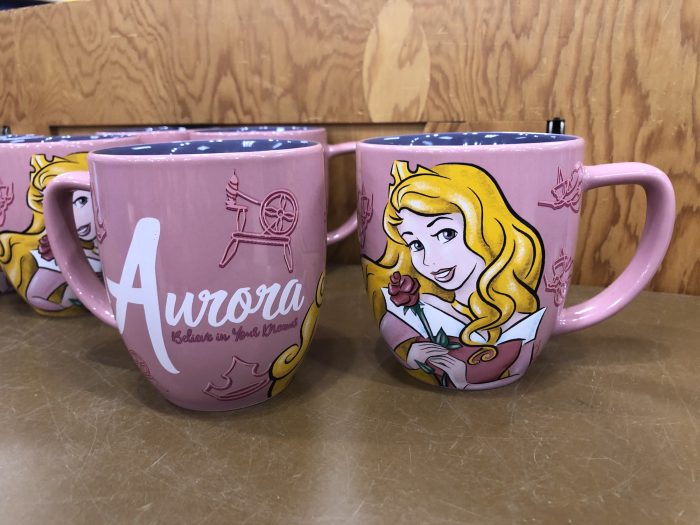 Wreck-It-Ralph coffee cup.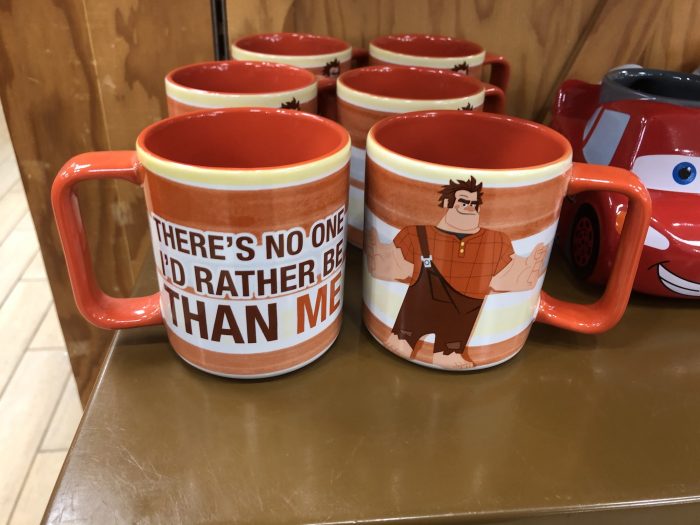 I can't even with this Lightning McQeen coffee cup. I feel like I've written this a dozen times this month BUT WHO IS THIS FOR?!!!!!
Okay, before we go into the unknown, let's take a look at one of the pieces of merch at the cash registers. These "Bride and Groom" keychain things were 99 cents. Is the pink one supposed to be for a "mother in law" or a bride who has had a previous marraige? Or maybe Disney was just way ahead of the curve on social distancing and wearing PPE.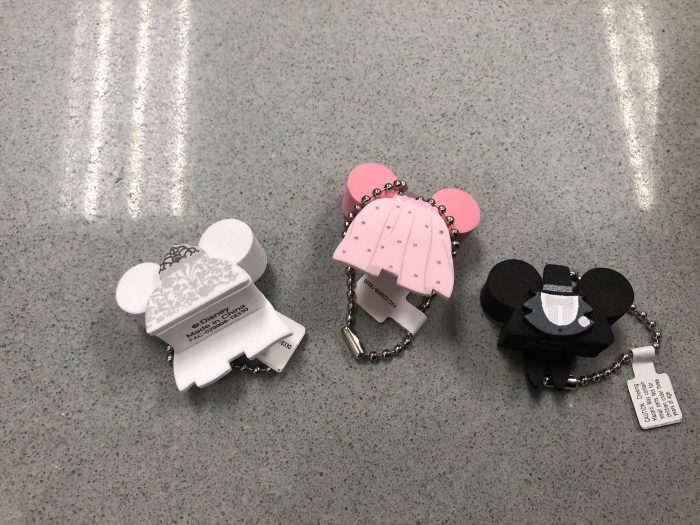 SEE YOU NEXT MONTH(?)
There are actually two Disney outlet stores in Orlando. Both are in Orlando Premium Outlet shopping complexes, and they are called Disney's Character Warehouse, presumably because The Land Of Misfit Toys was already trademarked. There is one Character Warehouse located on International Drive close to Universal Studios (4951 International Dr, Orlando, FL 32819), and the other is on Vineland Avenue, right across I-4 near the exits to Disney World (8200 Vineland Ave, Orlando, FL 32821). They do not ship. There are items at the Outlets that you can buy both in Disney stores along with the Shop Disney Parks app, but you will be paying full retail for the items. For our CALIFORNIA OUTLET trips, @ChristelaMcC goes to the Las Americas outlet in San Diego. It is located right off the last U.S. exit.
I often get asked "which store is better?" That depends. Vineland is close to Walt Disney World, while the I-Drive location is a hop, skip, and jump away from the Universal Orlando Resort. The Vineland Disney Outlet Store is much, MUCH bigger than the I-Drive location. However, the Vineland outlets in general are much, MUCH busier than I-Drive. Each have their pros and cons, and ultimately they carry much of the same items. For a Disney Outlet Store FAQ, check out this SATURDAY SIX Presents: Everything You Wanted To Know About The Disney Outlet Stores (But Were Afraid To Ask)

2013: July | Aug | Sept | Oct | Nov | Dec
2014: Jan | Feb | March | April | May | June | July | Aug | Sept | Oct | Nov | Dec
2015: Jan | Feb | March | April | May | June | July | Aug | Sept | Oct | Nov | Dec
2016: Jan | Feb | March | April | May | June | July | Aug | Sept | Oct | Nov | Dec
2017: Jan | Feb | March | April | May | June | July | Aug | Sept | Oct | Nov | Dec
2018: Jan | Feb | March | April | May | June | July | Aug | Sept | Oct | Nov | Dec
2019: Jan | Feb | March | April | May | June | July | Aug | Sept | Oct | Nov | Dec
2020: Jan | Feb | 
Very Special Editions & Milestones: Tribute to O.O.G.; Four Year Anniversary Special; First Pandora Items; Five Year Anniversary Special & Outlet Hall of Fame; Major Changes Come to the Outlets; Camera Hat
We also did an edition of Magic, Memories, and Junk for a non-Disney owned Outlet Store, and for you merch addicts like myself, you may also enjoy a look at the official Disney merchandise available on the Disney Cruise Line, Castaway Cay, and at the Orlando International Airport. Want to see our favorite WDW resort-specific merchandise? Well, CLICK HERE!
If you liked what you read here, you may enjoy THE SATURDAY SIX articles every week on the TouringPlans.com blog and you can follow your humble author on Twitter (@derekbugan).