The Magic, The Memories, and Merch! May 2016 Photo Report of the Disney Outlet Store
Welcome to the latest edition of The Magic, The Memories, and Merch! the longest running monthly look at the Disney Outlet Stores in Orlando. It was a pretty big month for the theme park world, especially for one of our favorite parks: Animal Kingdom. For AK it was the best of times and the worst of times as the new restaurant Tiffins opened, and has drawn rave reviews across the board. Meanwhile, Jungle Book: Alive with Magic – the quickly produced show which is replacing the delayed Rivers of Light nighttime spectacular – is getting reviews so bad that even the theme park media who won't say anything negative are having a hard time coming up with qualifiers to avoid saying this show has major issues. Meanwhile over in Disney Springs; the Town Center opened with Sprinkles Bakery and the Disney run D-Luxe Burgers is getting a big thumbs up from us. Also open? The Lime parking garage, making the area –  which was once the absolute worst place on property to park at  – now the best. Let's not forget the next time you are in the BoardWalk area to check out the incredible new ice cream shop Ample Hills Creamery. Not only is there an ice cream flavor exclusive to WDW with Sally Sells Sea Shells (orange marshmallow ice cream with chocolate sea shells mixed in) , but we can highly recommend the Ooey Gooey Butter Cake and Peppermint Pattie as well. 
Now while all of you were out at Disney World with Chewbacca Mom, Outlet Intern Julia Mascardo and I were hard at work to bring you the quality Outlet coverage you expect deserve!
Enough jibber jabber! Who is ready to hit the Outlets? Remember that clicking on any picture will open a full size version of it (don't say we didn't warn you).
I've been searching a long time for the very worst example of Disney Vinlmation and this month I think I finally think I found my holy grail with this one featuring Mike Wazowski. Originally $12.95, now $3.99
Speaking of Vinylmations, here is a a two pack featuring Marvel characters. Each comes with Loki along with another character. There is no one in the theme park community who loves Marvel more than I (I've been a comic book collector for much longer than I have been going to theme parks) but because of the standard Mickey Mouse mold these look a little too goofy for me. Originally $24.95 EACH, these were marked down to $6.99. I just realized that if you were going to collect these, the best case scenario is that you'll end up with 16 Lokis and that's the one character you can't trade because everyone else will have him too.
Here are two of the characters from the Attractionistas line, which pretty much crosses Barbie with Monster High dolls. Each of the characters is based around an attraction and these two are for Space Mountain and Jungle Cruise. I think it's a neat idea. I'd love to see GI Joe style action figures created for attractions. I'd be all over that. Originally $24.95, now $9.99.
I'm an unabashed mark for anything Orange Bird, so I bought one of these pillows. They are pretty stiff and not that comfortable, Originally $27.95, now $9.99.
Last month we had a five star salt and pepper shaker set and now we are back to a Why Would ANYONE Buy This set featuring a Mickey bar and a Mickey shaped "crisped rice treat." I don't even know how you are supposed to store the ice cream one. Stand it upside down?  Originally $16.95, now $7.99
Here's another Mickey bar in the form of a dog toy. Originally $10.95, now $4.99. Unlike the salt and papper set, I can get behind this one and think a full assortment of Disney food types would be good for dog toys including – yes – the ubiquitous turkey leg.
This was a really neat lanyard medal featuring a picture of Walt Disney surrounded by many versions of Mickey Mouse over the years. The problem is this was pretty heavy and not sure how long someone would actually want to walk around with this hanging from their neck. Soon you'll probably feel like Frodo did  after having The One Ring To Rule Them All cutting into his neck. Not sure of original price, but it was reduced to $5.99.
Several pins showed up this month including these two featuring Mickey, Donald and Goofy as firemen. No idea what the Mickey one on the right is supposed to be. Both were reduced to $5.99.
I really like the Mickey and Pluto pin, the Merida one? Yikes. These pins were $6.99. You probably need a masters degree in financing to understand how Disney prices their pins.
Star Wars pin featuring Finn reduced to $4.99. The annual Gay Days festival takes places this upcoming week in Orlando, and judging by everything I see online, if Disney produce a Finn and Poe pin they could probably use the resulting money to build a fifth gate.
Here's a Minnie Mouse pin that looks like the Jack Daniels logo to me. This was reduced to $3.99.
I don't have the strength.  ($4.99)
Here's a Monster's University pin set featuring a seemingly random set of characters. Surprised it's not mandatory for sets like this to come with either Sully or Mike. Originally $24.95, now $9.99.
Here's a Monsters Inc set. I like that Monsters Inc (the company) logo pin in the middle. Why would that bottom right pin ever even be created with all the great pins you could make from characters in that film? Originally $24.95, now $9.99.
DHS magnet, reduced to $3.99.
Way back in January I wrote about a Kylo Ren coffee cup: "it is the first of what will surely be a ton of items by this summer." Well, summer is here as the store was filled with a ton of star wars stuff including this bonkers USB drive done in the design of Rey's speeder. This flash drive was 4GB, which may not be enough space to hold all the pictures just in this article. Originally $24.95, now $9.99.
Star Wars bracelet with "interchangeable charms." If you know who the target demo was for this, please let me know. Kids? 40 year old weirdos? It's the original trilogy characters so I'm going with the latter. Reduced to $6.99.
Stormtrooper bracelet that was originally $39.95, now $24.99. Every kiss begins with Kay, but many dumps begin with Star Wars jewelry.
Looking for a $50 Captain Phasma necklace? Boy are you in the right place. Now only $24.95.
Here is a ring made up of the logos of the Rebel Alliance and the Empire. Reduced to $8.99.
A hideous Star Wars Rebel Blaster that was part of the great Walt Disney World gun purge. Originally $19.95, now $7.99. Parents and toy companies need to understand kids want what are in the movies. These aren't in the movies.
I didn't even know they still made Micro Machines, but here's one. Originally $24.95, reduced to $19.95. Am I the only one who misses the Micro Machines Guy? Boy, he'd make a fortune now with all those drug companies advertising on TV and having to slip in all the possible side effects as fast as possible.
Captain Phasma change purse? Clutch? This would fit perfectly in that decapitated Ewok purse from last month. Originally $25, reduced to $14.99.
R2-D2 version. Same price as Phasma thing.
Here's a "limited edition" pin that was available last year during Star Wars Weekends. It was limited to about 1,000,000 judging by how many are still available. Is there a high demand for Jabba's skiff pins? Originally $24.95, now $9.99, but this one can go write into the Sarlacc pit.
No idea what a "laser cell" is, but this is an "official" one (don't waste your money on those bootleg laster cells) featuring Minnie Mouse as Princess Leia.
So many Star Wars shirts this month that you could fill one of Imelda Marcos' closets (have to appeal to my non #Millenial readers too you know.) I really liked this one which was made for runDisney featuring Yoda. Originally $26.95, now $14.99.
Shocked to see this "rebel spy" shirt from Star Tours: The Adventure Continues. Originally $24.95, now $9.99.
Chewbacca shirt. This one has been around in the parks for years.  Originally $24.95, $9.99.
Here's a Darth Vader On A Postcard shirt. Originally $24.95, now $12.99. What is the backstory of this shirt? Who is Vader sending this postcard to? Emperor Palpatine?
This has to be referencing a famous photo or the people approving Star Wars shirts need to be rigorously drug tested. Originally $36, $17.99. ORIGINALLY THIRTY SIX DOLLARS!!!!
The evolution of Anakin Skywalker into Dark Vader. Also originally $26, now $17.99. Maybe these shirts were designed by Kanye West.
Star Wars shirt featuring the Imperial March written out in sheet music. I want to hate this but I actually kinda like it because it's so next level bananas. Originally $21.95, now $9.99.
Here is a shirt from Ashley Eckstein's "Her Universe" line of clothing. Originally $27.95, now $12.99. Very good quality.
I don't even know what to say. Originally $19.95, now $9.99.
More shirts from the 28 And Main line have been showing up including this Sun's Out, Gun's Out version for the Penny Arcade at the Magic Kingdom. Originally $29.95, now $12.99.
I am almost 100% positive this Bambi shirt is referencing a famous rock n roll shirt. Getting so old I can't remember which one though. Originally $44.95, now $24.95. The pricing of many women's shirts at WDW is really crazy.
Is this a Hipsters shirt or am I offending hipsters by calling his a hipsters shirt? This one was orginally $46.95, now $24.99.
Start your kid off on the trail to Dapper Day early with this cute t-shirt. Originally $19.95, now $7.99.
This Mickey one also perfectly good for kids. Originally $14.95, now $7.99.
Elsa hat for those chilly nights in Florida when it gets to 62 degrees. Originally $21.95, now $6.99. I moved from New Hampshire to Florida almost a decade ago and have not worn a jacket once in that time. Meanwhile when it dips below 70 degrees my neighbors get out their ski parkas.
A bonkers Rock N Roller Coaster clip frame. Originally $14.95, now $5.99. This is a guitar, sitting above a bunch of piano keys (WHAAAAAAAAAT?!) and I guess you attach pictures to it.
Wow, we never see Miles From Tomorrowland stuff. This cool toy set was originally $24.95, now $16.99.
Frozen toy set featuring just about everyone, even Hans. Originally $24.95, now $14.99.
Izzy toy from Captain Jake and the Neverland Pirates. Originally $12.95, now $8.99.
Artsy square purses were available. This one featured stylized versions of the princesses. Originally $39.95, now $14.95.
Another purse. This one is a stylized version of someone dropping acid on Main Street USA. Also originally $39.95, now $14.99.
Pink over sized Mickey hands. Originally $22.95, now $8.99.
SHOCKING news this month came when Disney announced it would no longer be supporting the Disney Infinity line. This came out of absolutely nowhere. Good news for people like me who love the design of the figures but have no interest in ever playing the actual video game. This Wreck It Ralph set was originally $32.99, now $14.99. Let's hope those Tron figures come soon!
I don't know if Disney ever admitted this, but the Playaotion series of toys must have been a massive failure. It had to be, right? The original trailer for these things didn't even make them look fun. These figures were $14.95, now $4.99 each.
I like the designs for both this Hulk and MODOK but this is crazy, this game would appeal to like 7 year olds and they have no idea who MODOK is. Same price as the figures above.
Holy cow, this  Playmotion "repulsor gear" was originally $69.95. It's been cut to  $24.95. $70 for that thing? I'm more convinced then ever Disney took a bath on this series.
Nothing to see here, just a guy taking pictures of boy's underwear. Nothing weird about that at all. $14.95, now $9.99.
You can now re-enact the climatic battle of Captain America: Civil War over breakfast with these coffee mugs. Originally $19.95 each, now $5.99. That's right. $20 for an Iron Man coffee cup.
Here's an Avengers print that I think was the cover to the Marvel Avengers: Age of Ultron book used for Free Comic Book Day several years ago. The art is by Bryan Hitch, but I don't think it is signed even though the original price is $495.00. It's been reduced to "just" $254.99. Bryan Hitch is one of my favorite artists and recommend The Authority or The Ultimates for people who want to read some great books.
Madame Leota antenna topper. Reduced to $1.99.
How great are these things? Disneyland 60th Anniversary flags FILLED WITH CANDY. Originally $9.99, now $2.95. Bought several of these.
Minnie Mouse ears for the Disneyland 60th. Originally $24.95, but you can dazzle at home with these for just $8.99 now.
A "harlequin" pair of Mickey Ears that seems half Haunted Mansion and half Seven Dwarfs Mine Train. Originally $24.95, now $6.99.
I don't even get this hat. I guess that's supposed to be a Mickey head made out of three roses? Was this in the gift shop next to Gaston's Tavern in the Magic Kingdom? What an insane looking hat. Originally $24.95, now $9.99. Gotta say, I didn't hate that Beauty and the Beast live action trailer like I thought I would. I think I'm all in on this one.
Cool looking Pirates of the Caribbean iPhone 6 case. Originally $24.95, now $4.99.
Frozen iPhone 6 case. Also originally $24.95, now $4.99.
Here's an interesting one. This rubber case resembles Minnie Mouse's purse. Complete with handle. How impractical is that?! Originally $39.95, now $4.99.
A Dooney  & Bourke iPhone 4 case that was originally $50, now $24.99.
I bought this bonkers iPhone tripod just because I couldn't believe my eyes after seeing it. Originally $19.95, now $9.99. Top ten bananas item of all time.
Who doesn't go to the Disney Outlet store for a pair of high end headphones?
Love this Beauty and the Beast print. Originally $39.95, now $19.99.
This Alice in Wonderland print is also five stars. Same price as one above.
Look at that price. That's the "AFTER" price.
Why is Ursula so much cheaper?!
Pretty solid looking Dumbo plush that was originally $19.95, now $9.99. Got one of these.
Did not get this St. Patrick's Day Mickey Mouse plush. Originally $16.95, now $9.99.
This America themed Mickey plush was also originally $16.95, now $9.99.
Sofia the First and one of her friends. Both were originally $19.95, now $9.99.
A Duffy the Disney Bear HAND PUPPET!!!!! Originally $19.95, now $9.99.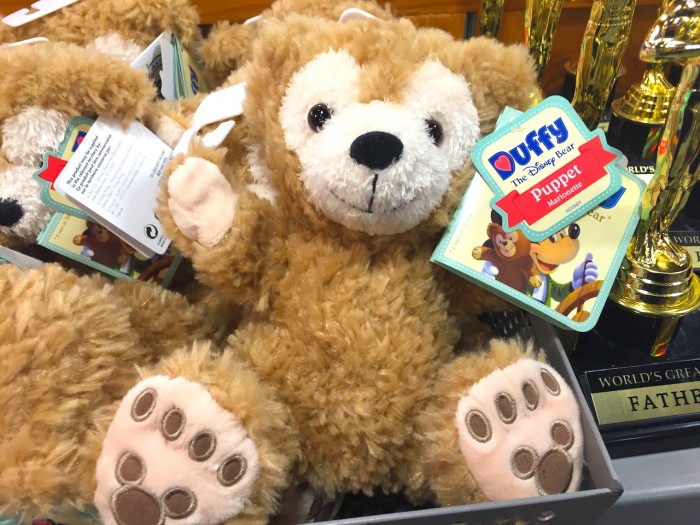 Share this post on Facebook and Twitter OR THE BEAR GETS IT.
About time to close up shop for this month. Let's take a look at this one. Now, Universal sells this fake awards all over their parks, but a whole bunch just showed up at the Disney Outlets. Originally $17.95, these were marked to to $5.39 and that's not a typo.
Here's a current shot of my trophy case.
AS SEEN ON WDWMagic!
There are actually two Disney outlet stores in Orlando. Both are in Orlando Premium Outlet shopping complexes, and they are called Disney's Character Warehouse, presumably because The Land Of Misfit Toys was already trademarked. There is one Character Warehouse located on International Drive close to Universal Studios (4951 International Dr, Orlando, FL 32819), and the other is on Vineland Avenue, right across I-4 near the exits to Disney World (8200 Vineland Ave, Orlando, FL 32821). 
Previous editions of Magic, Memories, and Merch: July 2013, August 2013, September 2013, October 2013, November 2013, December 2013, January 2014, February 2014, March 2014, April 2014, May 2014, June 2014, July 2014, August 2014, September 2014, October 2014, November 2014, December 2015, January 2015, February 2015, March 2015, April 2015, May 2015. June 2015, July 2015, August 2015, September 2015, October 2015, November 2015. December 2015, January 2016, February 2016, March 2016 and April 2016.
We also did an edition of Magic, Memories, and Junk for a non-Disney owned Outlet Store, and for you merch addicts like myself, you may also enjoy a look at the official Disney merchandise available on the Disney Cruise Line, Castaway Cay, and at the Orlando International Airport.
If you liked what you read here, you may enjoy THE SATURDAY SIX articles every week on the TouringPlans.com blog and you can follow your humble author on Twitter (@derekbugan).