The Magic, The Memories, and Merch! July 2016 Photo Report of the Disney Outlet Store
Welcome to the latest edition of The Magic, The Memories, and Merch! the longest running monthly look at the Disney Outlet Stores in Orlando. How long? Today marks the THREE YEAR ANNIVERSARY! What started out as a simple $1 bet between Len Testa and Laurel Stewart to see if they could take a simple Florida blogger and turn him into a two time runDisney medal winner/PizzaMania champion, has transformed into what many would consider the 9th Wonder of the Modern World (in terms of "people wonder why we keep writing it.") The best rags-to-riches story this side of Cinderella, our monthly treks into Orlando's Disney Outlet Stores have provided highs and lows (and then even more lows) in order to deliver you, Dear Reader, a glimpse into a world which very few have lived long enough to tell about. A sincere thank you to each and every one of you for taking the time to read this little article. Except Tom Bricker, of course.
Also, in an unbelievable gesture, we have been swamped with "congratulations" messages and telegrams from people around the globe and we're going to print some of them here, so keep your eye out!
Now while all of you were saying goodbye to Dateline Disneyland (we'll miss you Andy!) Outlet Intern Julia Mascardo and I were hard at work to bring you the quality Outlet coverage you expect deserve!
Enough jibber jabber! Who is ready to hit the Outlets? Remember that clicking on any picture will open a full size version of it (don't say we didn't warn you.)
As always we start off with any new Tsum Tsums and this month we only had one. I spent a couple seconds trying to figure out which Star Wars character it might be until realizing it was Black Widow from The Avengers. All Tsums have been reduced to $2.99.
–
This is interesting. Last month I made a slight "faux pas" and identified the Mother Gothel Tsum Tsum as MULAN. All of a sudden, for the first time ever, a TSUM TSUM GUIDE FOR DUMMIES appeared showing people who each Tsum Tsum was and what movie they were from. I'm not 100% sure you can all blame my accidental racism for this chart, but I'm also too old to believe in coincidences.
Speaking of things I don't understand…
POKEMON AT THE DISNEY OUTLET STORE!
We wrote about Pokemon Go this week in the SATURDAY SIX (go ahead and read that masterpiece, don't worry, we'll be here when you get back) and honestly, the game makes absolutely no sense to me. Then again neither did "on fleek,"  gluten free desserts, or Universal's Straight Outta Food Truck. For those of you who do play Pokemon Go, you'll be glad to know you can catch various Pokemon at the Disney Outlets!
Was a little surprised to see these Magic Kingdom salt and pepper trashcans make their way to the Outlets. Originally $9.99, now $3.99 and I picked up the Frontierland and Fantasyland ones. This is one of those 50% bonkers/50% absolutely awesome items. Going to try to slip these into the rotation for our next dinner party and wait for one of my non-Disney neighbors to ask which garbage can has the salt.
Pretty sure this is the first appearance of a SHELLIE MAY item at the Outlets. This pillow pet was originally $29.95, now $9.99 and yes, I bought one. My secret shame.
A whole bunch of pillows actually arrived including these ones featuring Olaf and Lightning McQueen. All of these pillow pet style ones were the same price as Shellie May.
Here's Bambi and Winnie the Pooh.
These princess ones were completely bananas. It's hard to get across in picture form just how weird they are to hold. They have like a normal plush doll head and torso, but then have a pillow for a body.
Rather large Stitch plush that was originally $26.95, now reduced to $9.99.
Here's a "2016 Minnie" plush that has her holding a wand or something. Originally $29.95,  now $9.99. Usually you don't see same year branded items in the Outlets so early.
–
Top Ten Things That Did Not Last As Long As Our Disney Outlet Store Photo Report:
10 – The New Muppets TV Show (too soon?)
9 – Animal Kingdom Poop Snacks
8 – The Entire OJ Simpson Trial
7 – Iran Hostage Crisis
6 – Johnny Manziel's NFL Career
5 – New Coke
4 – The XFL
3 – That $150 After Hours Event at the Magic Kingdom
2 –  Meth Labs Built at Pop Century
1 – Deflategate
–
We are about to begin the onslaught of Disneyland 60th Anniversary items. I honestly thought we had seen every single piece of merchandise made for the 60th, but I was was wrong. Very wrong. We'll start off with these Minnie Mouse plush. On the right is the regular version and on the left is nightmare fuel version. Both originally $24.95, now $9.99.
Here's Mickey.
Two different Mickey and Minnie Disneyland 60th plush. HOW MANY DIFFERENT VERSIONS OF THESE TWO DOLLS DID THEY MAKE?!!!!!!!!!!!!!! At 15 inches these two were actually pretty big. Originally $34.95, now $12.99.
This is exactly what I need right now, a Disneyland 60th shot glass. Originally $9.95, now $3.99.
Okay this one's crazy. Here's a giant Disneyland 60th Tiara that has been REDUCED to $49.99. No idea what the original price was.
I like this Disneyland 60th Magnet Set. Originally $12.95, now $7.99.
Disneyland 60th pin. Not sure of original price but it's been reduced to $4.99.
A Disneyland 60th Lanyard Medal. Originally $14.95, now $6.99.
I actually love the Park Starz series of Vinylmations, because the artists are not forced to use the Mickey Mouse mold. Here are three Disneyland 60th variants of the latest Park Starz series featuring the Haunted Mansion bride, a Tiki bird, and Matthew McConaughey in Interstellar (or something.) What I don't understand is the bottom of this picture is crisp and clear but the top half is all blurry. How did I do that? Originally $24.95 each, now $6.99. I bought the Tiki bird and the bride.
Here are the regular Disneyland 60th Vinylmation, each comes with two figures. One of the figure is blind boxed, the other is a blue or red "monorail." The monorail ones are everything I hate about regular Vinylmation. These sets were originally $24.95 each, now $5.99.
Disneyland 60th Christmas ornaments including another high heeled shoe like the ones we wrote about last month. This one  must be for Sleeping Beauty. The other ornament is Minnie Mouse holding a giant diamond. Originally $22.95, these were reduced to $7.99.
Disneyland 60th ball ornament. Not sure of original price, reduced to $6.99
Disneyland 60th photo frame. Originally $36.95, now $14.99.
A giant Disneyland 60th pin (I think.) Originally $49.95, now 24.99.
Disneyland 60th Minnie Mouse nutcrackers. This answers the question, "was there any Disneyland 60th merhandise Disney Consumer Products said 'no' to?" Originally $74.95, now $24.99.
How about this, two different OFF KILTER CDs. This blew my mind. Each one was originally $20, reduced to $13.99. Each featured about 10 songs including Miracle Fingers, Mary Mac, Steam Train, and Smuggling Grapes Medley. Perfect stocking stuffer gifts for the WDW Today podcast host in your shopping list.
–
SPECIAL 3 YEAR ANNIVERSARY MESSAGE FROM…
DONALD TRUMP: Like, I don't even know what it is with this guy. This guy's like small potatoes. I wasn't even going to bother with an opinion, but my beautiful daughter Ivanka said we might be able to write this off on our taxes. So, I figured, in an effort to help make this country great again, I could be charitable to those of you who are so much less fortunate. You're welcome. And, let me tell you something, you have no idea just how welcome you are. Just wait until you see how NOT welcome I'm going to be after January 20, 2017, when I'm sworn in as the President of the United States. Believe it. And Burgan – is that his name? Boring Burgan? This guy wouldn't get away with this babbling nonsense talking about one of my properties, let me tell you. He wouldn't even get on the property. Wouldn't get within 100 yards in any direction with my security and, let me tell you, I have a lot of security. The best security. Think he comes to Mar-A-Lago and spouts this crap? Not a chance. He can't even spell Mar-A-Lago. He's not smart. Burgan's not smart. He's an Chargers fan, OKAY? Who does that? I mean, it's like Boring Burgan and the San Diego Chicken. It's ridiculous. And, let me tell you something, when I say ridiculous, I mean something droll or farcical. See, I told you people I had all the words. The best words – unlike what this geek writes every month. Sad!
–
I'm actually surprised I didn't buy this Scented Tinker Bell pen set. Just think of how extra special pieces of Burgan Fine Art™ would be if they also contained the element of "smell." Originally 14.95, now $4.99.
Here is a small purse featuring the Jungle Book. Originally $24.95, now $12.99.
Let's take a look at some pins! Here's several from the Marvel brand featuring the Red Skull, the Green Goblin, and Doctor Octopus. All have been reduced to $3.99.
Loved these two featuring Disney's Vero Beach Resort and The Poly. Both reduced to $5.99 and I bought one of each.
LOVED seeing this pin as it represents the average theme park food blogger. Of course I bought one of these. Reduced to $5.99.
I don't know what's going on with this thing. A Guinness "Christmas decoration?" WHAAAAAAAT?! Originally $14.95, now $4.99
A "limited release" pin from last year's STAR WARS WEEKENDS (<— psst! Another article you should read.) This one was originally $14.95, now $5.99.
Cute Jedi Training Academy pin featuring Yoda and Mickey Mouse. Reduced to $5.99.
I'm a big fan of Mickey's Very Merry Christmas Party and here is a pin from last year's party featuring Tangled's Rapunzel and Flynn Rider. I like this one. Originally $15.95, now $6.99.
Last November I stayed at Caribbean Beach and one of the few pieces of unique items featuring the resort was a weird pin set featuring a pair of mittens. Well, looks like every hotel had one of those strange pin sets and here is the one for Grand Floridian featuring Peter Pan. What does Peter Pan have to do with the Grand Flo? Your guess is as good as mine. Originally $14.95, now $6.99.
A 2015 Disney Cruise Line Christmas Ornament. Trying to figure out the "story" of this picture and it looks like Mickey and Minnie are setting up a Christmas tree in their ship's stateroom as another Disney ship is about to ram them and sink both ships. At least that's what I see. Originally $14.95, now $5.99.
–
SPECIAL 3 YEAR ANNIVERSARY MESSAGE FROM…
Jim Hill: Derek, congratulations on the three year anniversary of your "Magic, Memories, and Merch" Disney Outlet Store coverage. Why for did these stores open you might ask. Not to Frank Hill a story, but these stores are clearance halls for Disney Parks merch that did not sell in the parks. That Lone Ranger plush? Well… it ends up here. You see Derek, Disney takes risks when it comes to what it sells in the parks. Not everything can be an Elsa doll or Winnie the Pooh plush. More to the point, Disney has a lot of brands and intellectual properties it needs to put a spotlight on. Now I'm not saying those behind the Lucky Dinosaur Vinylmations created bad products, but when when a property does't land with guests, the Vinylmations land up in an outlet store. Anyway, continue the good work Derek, and while I'd love to tell you the story on how Imagineer Tony Baxter came up with the original idea for the Disney Character Warehouse in his original pitch for the Thunder Mesa project in Walt Disney World, I need to finish writing my book on Disneyland, okay?
–
 Some 2016 EPCOT Flower & Garden merch showed up this month including this poster. Originally $24.95, now $5.99.
Next level bananas Flower & Garden pots themed after Alice in Wonderland. Look at that one in the far right! Not sure of original price, but all reduced to $9.99.
Some things you can't make up, including this large Yoda "Welcome" stone. Originally $24.95, now $12.99.
Yes, they had TWO DIFFERENT LARGE YODA STONES. What is going on here?!!!!!!
Maybe some of you with a green thumb can explain what you would do with one of those Yoda lawn stakes. If I brought one of these home for our garden, my girlfriend would stab me with it, so I guess that's one use. The one on the left also has a broken ear. Originally $19.95, now $6.99.
Love this Flower & Garden t-shirt featuring Figment. Originally $24.95, now $5.99.
Very rare to see Zootoopia merchandise, but here is a t-shirt featuring Nick Wilde. Originally $21.95, this was reduced to the ultra weird price of $6.58. Sometimes I think the store is just testing me.
I'm thinking of just shooting the designs on t-shirts instead of the whole shirt. What say you audience? Respond in the comments below if you have thoughts one way or the other.
Here is an awesome Country Bears Jamboree t-shirt. Originally $24.95, now $12.99.
How about a Soarin' t-shirt? Originally $24.95, now $12.99.
Rock 'n' Roller Coaster is making a major play to reestablish itself as the ride with the most ridiculous merchandise. The newest entry is this skeleton playing guitar. For all I know that is what Joe Perry currently looks like though. I'll do some research and get back to you. Originally $39.95, now $19.99.
Castaway Cay is one of my favorite places on Earth. This shirt was originally $29.95, now $10.99.
Here is a child's Castaway Cay t-shirt. Originally $24.95, now $9.99.
WDW shirts for women. Originally $32.945, now $14.99.
This is one for the books. When I went to see the Osborne Lights last year, they had some RIDICULOUS Star Wars shirts in the gift shop at the front of DHS. Those ABSURD shirts have made it to the Outlets including this one which was ORIGINALLY $249!! It has been reduced to "only" $149.99. Had to buy two at that price, what a steal (literally.)
This one, seemingly targeting Star Wars fans prone to epileptic seizures, was originally $299. Now it is a much more reasonable $199.99. I was so in shock by this that I forgot to get the price of that awesome lightsaber/death star baseball bat set right next to it. I would have bought that.
Star Wars pens, although I would imagine it would be near impossible to write with that huge Yoda or Darth Vader thing at the end. Both reduced to $1.99.
–
SPECIAL 3 YEAR ANNIVERSARY MESSAGE FROM…
Bob Chapek: First off, I reject the premise that we ever have any failed merchandise. The collection of intellectual properties owned by the Walt Disney Corporation is second to none, and I can sell all of it. We only produce excellent merchandise for our amazing brands. You want Tinker Bell, I've got Tinker Bell on pens, sweatshirts, and shot glasses – all things that Tinker Bell uses in her Disney Fairies movie collection. If you give me the product, I'll tell you five of our properties that can help sell it. Who doesn't want a Hulk Hand beer koozie or a Finding Dory fishing pole? I guarantee Derek Burgan would pay full price for any of those things and put an end to this nonsense about Disney Outlets. The sheer irony of me writing a congratulations note to him, when it clearly should be the other way around. My ideas will continue to transform the Disney Company for years to come. Today it's Guardians of the Galaxy replacing Tower of Terror, maybe tomorrow I'll squeeze in the characters from our hit show The Descendants into the Haunted Mansion. You're gonna love it because IPs are better than original ideas, period.
–
Not sure what prince or king this hat and scarf are for. Originally $29.95, now $7.99. fa
Walt Disney World puzzle. Fantastic artwork. Originally $14.95, now $9.99.
Anyone need a giant lollipop. This was originally $12.99. That would have been the day when I asked my parents for a $13 lollipop. It is now reduced to $5.99.
Look a this. These are Football and Basketball covers for your iPad or tablet. They even had texture on them. Originally $29.95, now $14.99.
Stitch photo frame. Originally $14.95, now $6.99. Not a bad one.
Minnie Mouse bank. Although you're gonna need one at least three times as big if you're gonna start saving for one of those $300 Star Wars shirts. Originally $24.95, now $9.99.
Minnie Mouse themed cup. Originally $9.95, now $3.99.
Coming up are some coffee cups themed to Tsum Tsums. Talk about a mash up we probably didn't need All  were originally $14.95, reduced to $5.99. We'll start off with Eeyore.
The Cheshire Cat.
Stitch and Mickey Mouse. Although that Stitch kinda looks like Ed the Hyena from Lion King to me.
–
Special 3 Year Anniversary Message From…
Len Testa: Derek, we need another menu update for Universal Classic Monster's Cafe. And don't forget that Outlet blog thing.
–
Next setup coffee cups are an interesting one featuring early concept sketches of various characters. Each were originally $12.95, reduced to $5.99. We'll start off with Wall-E.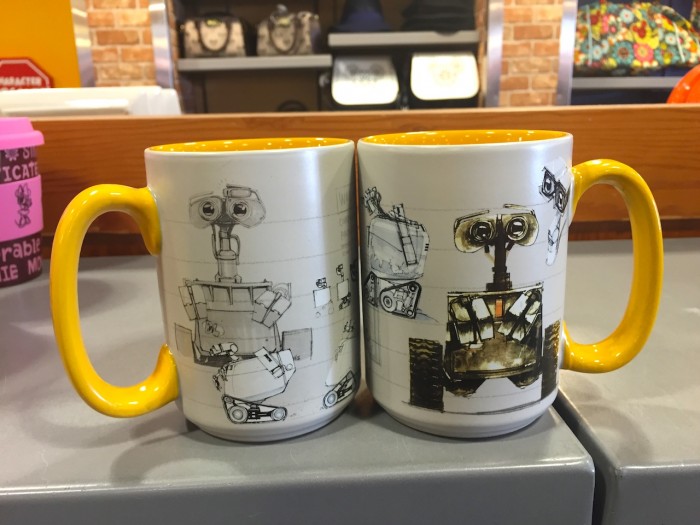 Eve from Wall-E.
Mike and Sully from Monsters Inc.
And the strangest one of all, Woody from Toy Story.
Interesting, if unwieldy, coffee mug featuring the Queen of Hearts from Alice in Wonderland. Originally $19.95, now $9.99.
Here is a porcelain cup featuring Minnie Mouse. Originally $16.95, now $9.99.
Princess cups. Originally $9.95, now $3.99.
Frozen cups. Originally $8.95, now $3.99.
These princess tiaras were much more reasonable than the Disneyland 60th above. Wasn't the whole point of Brave that Merida didn't want to wear stuff like tiaras though? Originally $17.95, now $9.99.
Disney Monopoly game featuring the villains. Originally $29.95, now $14.99. What I want is the DVC Monopoly set.
Good Dinosaur toys. Originally $9.95, now $5.99.
This was a pretty large bird toy. Originally $24.95, now $12.99.
"Baby" Sully from Monsters Inc. Originally $24.95, now $12.99.
An insane Miles From Tomorrowland head piece. Originally $6.95, now $2.99.
–
 SPECIAL 3 YEAR ANNIVERSARY MESSAGE FROM…
#Broken Matt Hardy Orlando, I am the new Orwellian spirit that hovers near your Universal sound stages. I cleansed the world of Brother Nero as if he was a tourist bathing his feet in the Moroccan fountain, and now roam the park, freely, to embiggen the smallest man with the most noble spirit. And today, I must say huzzah to a very small man, with a very large spirit. Brother Derek! The travel. The sacrifice! The eating of high fan and even higher sugar laden foods. The riding of rides. For three years Brother Derek has exposed himself to all, with a special lack of shame only reserved for those Na'vis that would tear up their land for more shopping options, and he shall be celebrated! Sure, some observers of park pursuits – like Seth Kubersky – have evolved into multimedia masterpieces. But credit those like Brother Derek for keeping the status quo, respecting tradition, and never looking forward – like a human Mission: SPACE exhibit. Extraordinary. So come with me, sisters and brothers, and celebrate thrice years of bloggery with the finest meat and cheese, stacked triplicate onto a Tart of Pop TV delight, and washed down with four ounces of the finest spirits from across the land. Because nothing is too good for you, and as they say at Zamunda's World Showcase, Looptid!
–
Can you imagine these glasses were originally $29.95?! Now they are $4.99. Maybe Disney is right, and when people are paying with their MagicBands they literally don't care what price they are paying no matter how crazy.
More Playmation stuff arrived. These Hulk Hands originally cost $89.95, reduced to $31.99. At $90 a pop I'm beginning to see why this game system tanked.
Here was a bunch of character Mickey head small pillows. I think that's the best way to describe the. Each had a silhouette of a character on the front and a platitude on the back. All reduced to $2.99 each.
Mickey and Minnie Snowman Vinylmation. Reduced to $5.99.
Duffy the Disney Bear as a Gingerbread Man Vinylmation. This stuff will haunt my dreams so I hope you appreciate the work. Originally $16.95, now $3.99.
What? Orlando Magic Vinylmation?! Originally $12.95, now $3.99.
This was AMAZING. Here was what looked a miniature suitcase, one featuring Mickey and one featuring Minnie, that you open up and put your Disney pin. Had to buy this. Originally $4.95, now $1.99.
–
Haven't mentioned this before, but when you get a small bag at the Outlets, it is one from the Disneyland Resort. Seems weird that WDW would need to import bags from Disneyland, but there you go.
THANKS FOR 3 GREAT YEARS EVERYBODY!
There are actually two Disney outlet stores in Orlando. Both are in Orlando Premium Outlet shopping complexes, and they are called Disney's Character Warehouse, presumably because The Land Of Misfit Toys was already trademarked. There is one Character Warehouse located on International Drive close to Universal Studios (4951 International Dr, Orlando, FL 32819), and the other is on Vineland Avenue, right across I-4 near the exits to Disney World (8200 Vineland Ave, Orlando, FL 32821). 
Previous editions of Magic, Memories, and Merch: July 2013, August 2013, September 2013, October 2013, November 2013, December 2013, January 2014, February 2014, March 2014, April 2014, May 2014, June 2014, July 2014, August 2014, September 2014, October 2014, November 2014, December 2015, January 2015, February 2015, March 2015, April 2015, May 2015. June 2015, July 2015, August 2015, September 2015, October 2015, November 2015. December 2015, January 2016, February 2016, March 2016, April 2016, May 2016, and June 2016.
We also did an edition of Magic, Memories, and Junk for a non-Disney owned Outlet Store, and for you merch addicts like myself, you may also enjoy a look at the official Disney merchandise available on the Disney Cruise Line, Castaway Cay, and at the Orlando International Airport.
If you liked what you read here, you may enjoy THE SATURDAY SIX articles every week on the TouringPlans.com blog and you can follow your humble author on Twitter (@derekbugan).