Oga's Cantina – A Taste of the Galaxy
Oga's Cantina is an immersive, Star Wars-themed lounge in Star Wars: Galaxy's Edge at Disney's Hollywood Studios.
While this galactic watering hole claims to serve bounty hunters and smugglers, families and travelers are also welcome to drop in, refuel, and bop along to the tunes of DJ Rex!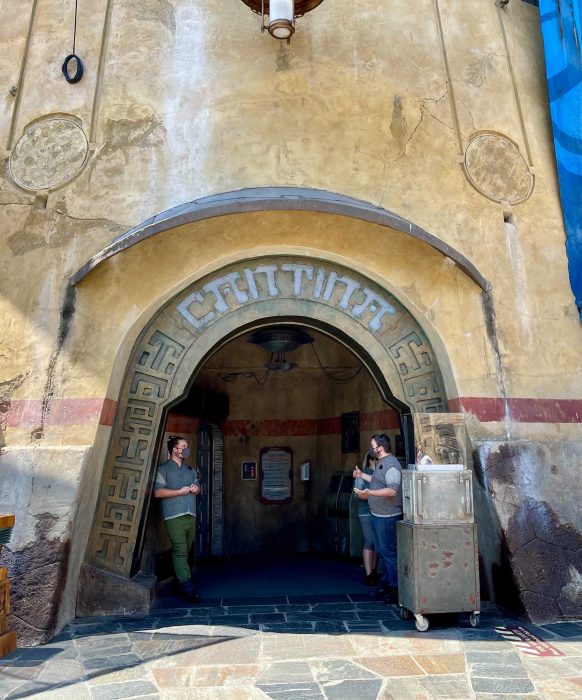 Oga's menu consists of small plates and both themed alcoholic and non-alcoholic drinks, all of which is served from park open to close.
Oga's Cantina is small and a little dark but incredibly immersive with blaster holes in the walls, creatures in tanks, and IG-88 droid taps. There's a few tables, but it's mostly standing room only.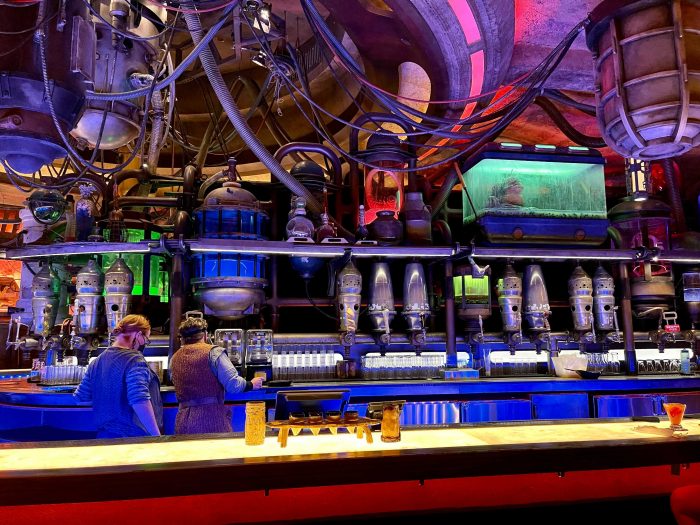 Guests who remember the original version of Star Tours may also recognize the inexperienced droid pilot Captain Rex who's working as the cantina's DJ.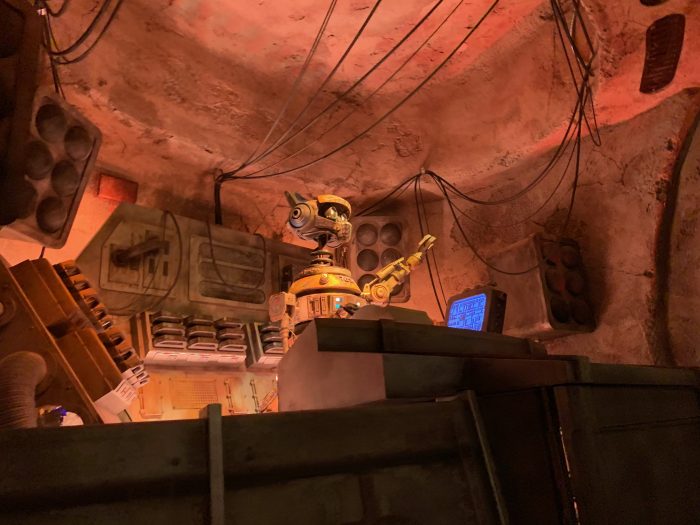 Since Oga's Cantina is as close as  Star Wars fans will ever get to living out their Mos Eisley dreams, coupled with the establishment's Instagrammable qualities, the cantina can be a tough reservation to get right now at Walt Disney World. Those looking to visit should make reservations 60 days in advance. But if you're already inside that reservation window, consider using the TouringPlans Reservation Finder! It may be your only hope.
Alcoholic Drinks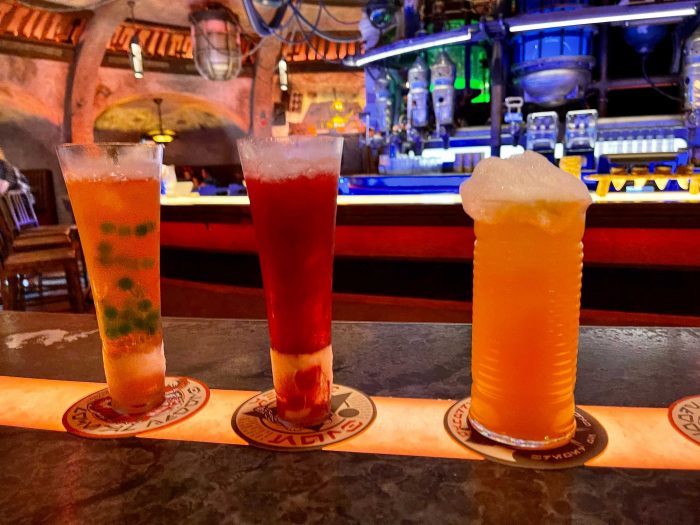 Fuzzy Tauntaun – $16.00
One of the cantina's most famous libations, the Fuzzy Tauntaun is the yellow drink topped with foam that's famous for numbing your lips!
In our reviewer's words, it makes your lips feel like the cinnamon lip plumping gloss that was popular years ago. (If you know, you know.)
Bespin Fizz – $18.00
Front and center is the appropriately pink Bespin Fizz because, after all, Bespin is Cloud City for you uncultured Star Wars novices. It's very sweet, very delicious, and, of course, fizzy!
Other alcoholic drinks offered at Oga's range from the tropical Yub Nub to the refined Outer Rim served with black salt and exotic fruit puree to the Dagobah Slug Slinger that includes herbs and bitters.
Non-Alcoholic Drinks
Despite the space pirate clientele, this family-friendly establishment also has an impressive selection of non-alcholic drinks too, including the Blue Bantha that comes topped with a Bantha-inspired cookie, the cold brew coffee-inspired Black Spire Brew, and the Carbon Freeze.
Carbon Freeze – $7.50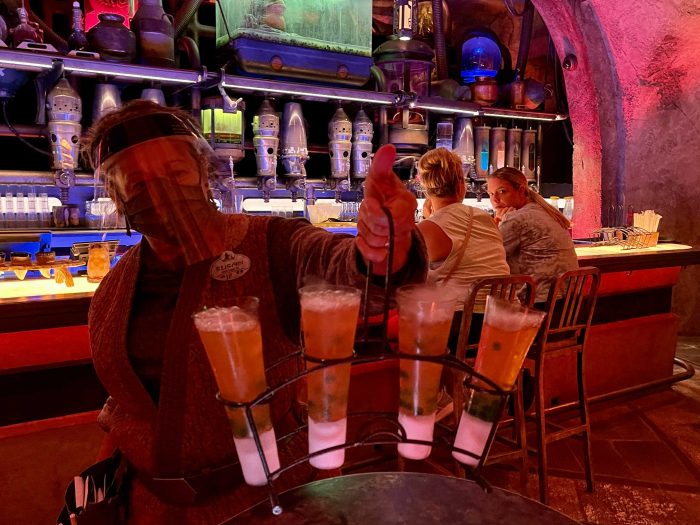 This yellow drink literally bubbles and "smokes!" It and was a lot of fun and also comes with flavored popping pearls!
Small Bites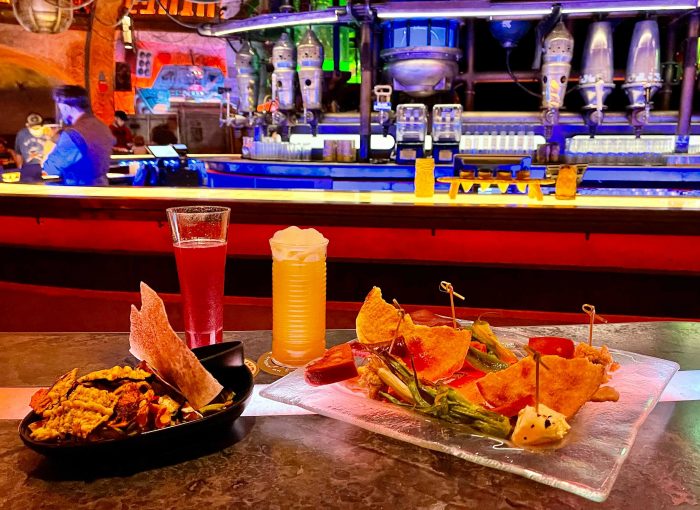 Batuu Bits – $11.00
When off planet, why not eat like a local with this savory sampler?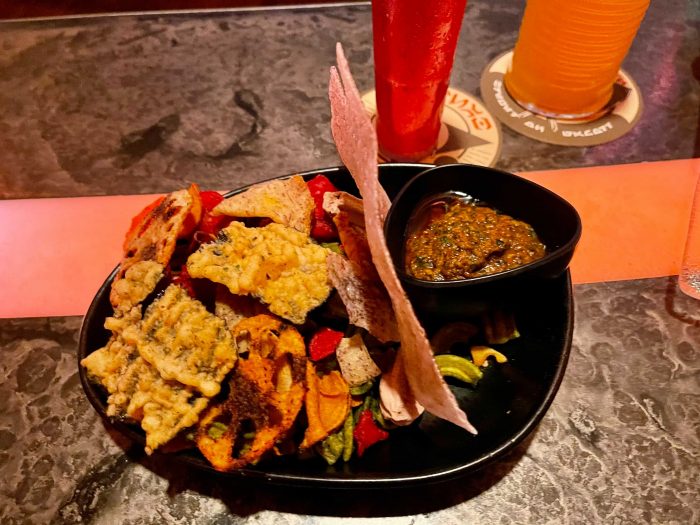 Our reviewer LOVED the chermoula dip. And the bits were spicy, salty, sweet, and fantastic with drinks.
Happabore Sampler – $21.00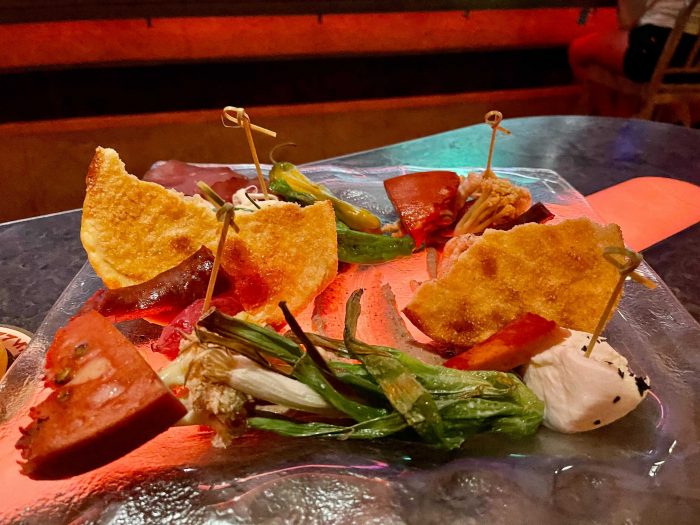 We had a bad feeling about this.
Is it the worst charcuterie on property? Or anywhere? In our reviewer's words "even my child who eats everything wouldn't have found anything more than a pork rind to enjoy."
There was quite a bit of meat product, but none of it was that great. The pickled radish was probably the most interesting; but overall, we're 100% skipping this forever.
A Bounty of Souvenirs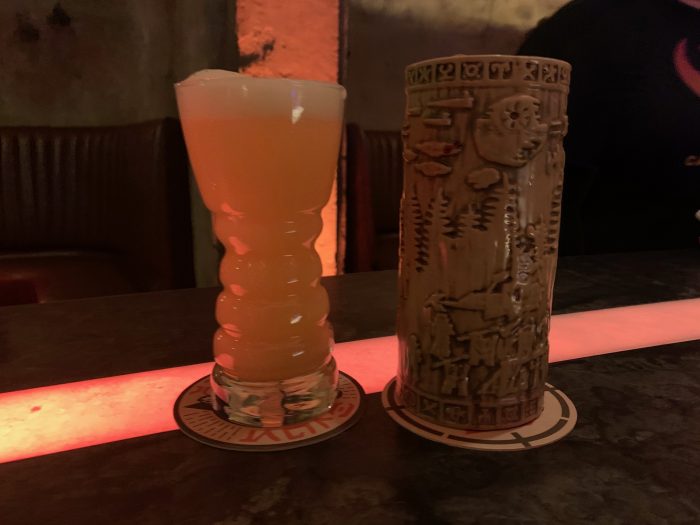 Many of the drinks are served in specialty mugs which you can purchase. But the best thing is, you don't have to buy the mug to drink out them while at Oga's!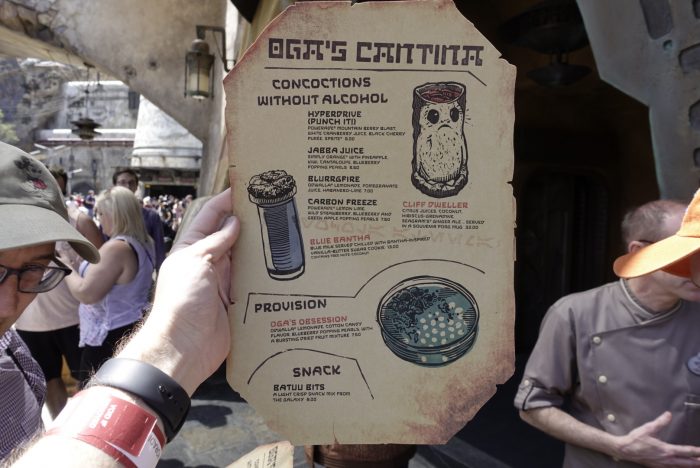 What you can smuggle out of the cantina without forking over any credits are the cool, themed coasters!
Note: There's a 45 minute time limit from when your server CM greets you. It isn't strictly enforced, but they won't allow you to go too much beyond due to social distancing and limited capacity.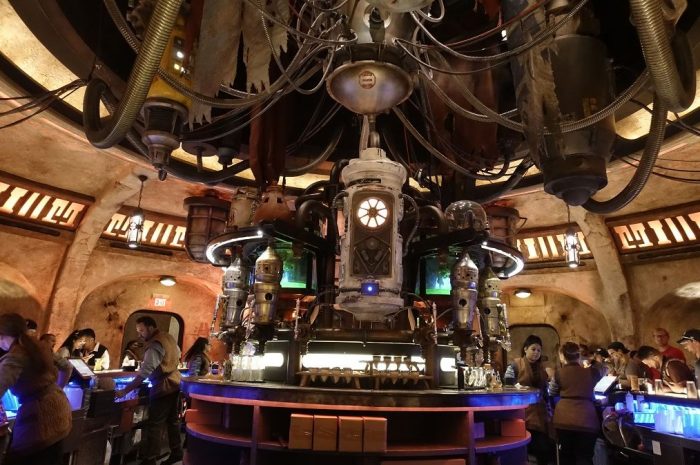 Oga's Cantina is an absolute must-see for Star Wars fans, but even those who aren't as familiar with that galaxy far, far away will appreciate this truly unique establishment.
Most of our TouringPlans readers agree Oga's Cantina has an 84% thumbs up rating!
But what are your thoughts of Oga's Cantina? Is it on your Disney's Hollywood Studios to-do list? Let us know in the comments!