Pressed Pennies: A Beginner's Guide
When my husband, daughter, and I moved near Walt Disney World, we made a promise to ourselves that we wouldn't go crazy buying souvenirs and merchandise so that our house didn't become its own off-site Disney outlet. At the same time, we do enjoy the idea of collecting items. For us, pressed pennies (and dimes and quarters) were a great option.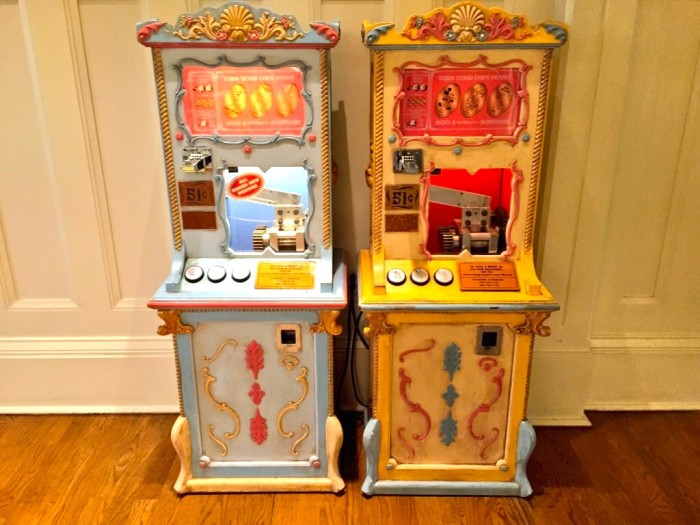 Here are some of the reasons we love collecting pressed pennies:
They are inexpensive. Where else can you get a souvenir that can be as cheap as 51 cents or as "expensive" as a dollar or two?
They are easy to store. Whether you buy specially designed booklets to store them in, use them for arts and crafts, or just keep them in a small container, they don't take up a lot of space.
They are fun to make. Who doesn't like watching things go smash and crunch? Many times when we put the coins in to make a pressed penny, people around stop to watch. There's just something very cool about watching the process.
They are available other places, too. From tourist attractions to rest areas along the interstate, you never know where you will find one.
They all tell a story. Whether it is an extinct attraction or a Haunted Mansion pressed penny given to a four-year-old girl for her bravery going on the attraction for the first time, every one can have its own unique story that adds to your travel memories.
They are good souvenir options when some merchandise is hard to get. During the time when it was nearly impossible to find Frozen merchandise at Walt Disney World, there were three Frozen pressed pennies available. So for less than $3, you could get a unique piece of Frozen merchandise even if everything else was sold out.
They are collectible. Every year, new designs come out, including some designs specific for that year only. In addition, there are coins that are part of sets (for example, the Seven Dwarves or a set of Mickeys).
They are slower to release than other collectibles. Unlike pins or nuiMOs, where you could easily go broke just trying to buy every new release, you won't be scrambling to get every new release. Although new designs do appear throughout the year, it is usually one here or one there every few months instead of dozens in a series appearing in a single day.
Finding Pressed Coins at Walt Disney World
Pressed pennies can be found all throughout Walt Disney World, at the theme parks, resorts, water parks, and Disney Springs. In addition, there are pressed penny machines in the Port Canaveral terminal before you board a Disney cruise. Pressed quarters are found alongside some of the pressed penny machines. At one time pressed dimes were available in one place only at Walt Disney World—in the arcade in Tomorrowland just outside the exit from Space Mountain.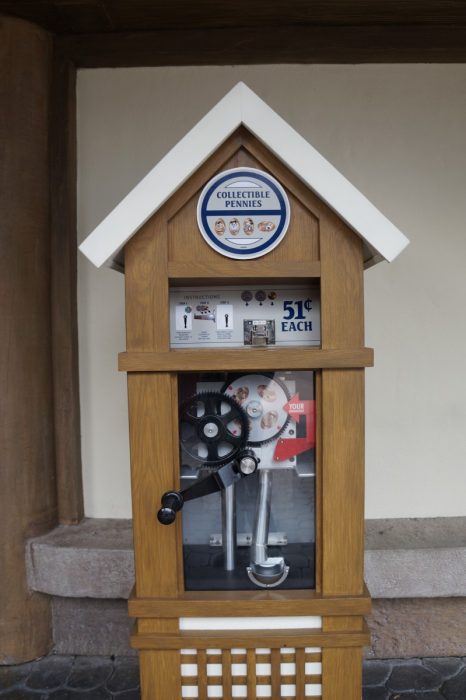 There used to be three basic types of machines at Walt Disney World: ones that use a hand crank to select the design you want and then crank some more to press the coin, ones where you press the button of the design you want and the machine does the hard work (but you still supply your own coin), and ones where you don't supply your own penny but the machine comes pre-loaded with coins to press. A major shift to the pre-supplied coin versions has been ramping up in earnest, and PressCoins.com reports that a majority of the machines at Walt Disney World have been converted at this point. These new machines take dollar bills and accept credit cards and sometimes ApplePay.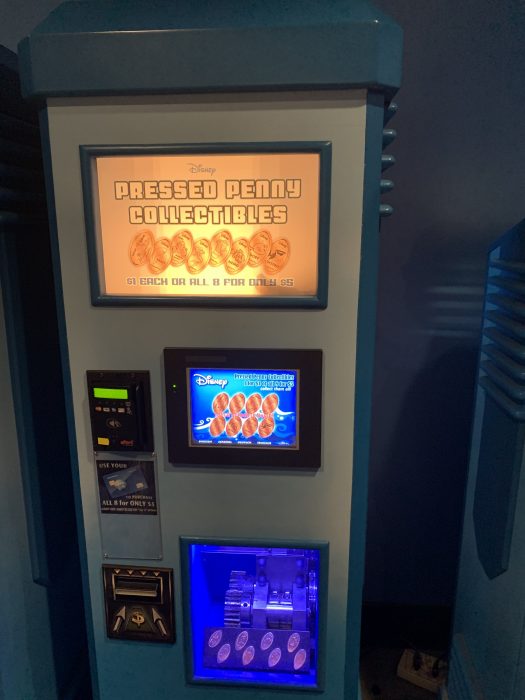 Web Sites for Checklists
My personal favorite site for keeping track of Walt Disney World pressed pennies is PressCoins.com.
This site contains checklists to help you locate and keep track of the coins currently available, as well as those that have been retired. Many of the pages show not only the coins themselves, but what the machines look like (as the machines can seemingly play hide and seek in the back of stores around property).
To locate other pressed coins around the world, check out the "official web site for elongated pennies" at PennyCollector.com.
There you can find everything you want to know about pressed penny machines throughout the world, plus resources to help you buy, sell, and trade.
What To Do with a Collection
Books to store your pressed pennies can be purchased at many gift shops around property. If you are interested in getting more creative, a few minutes on Pinterest can provide a variety of ideas. From jewelry (such as earrings and charm bracelets) to framed artwork to keychains and more, there are many different DIY projects that you can do with pressed coins.
How do you decide what to collect? That's really up to you. Some people may try and collect them all. Others may go for a specific character, or only coins of rides they have been on.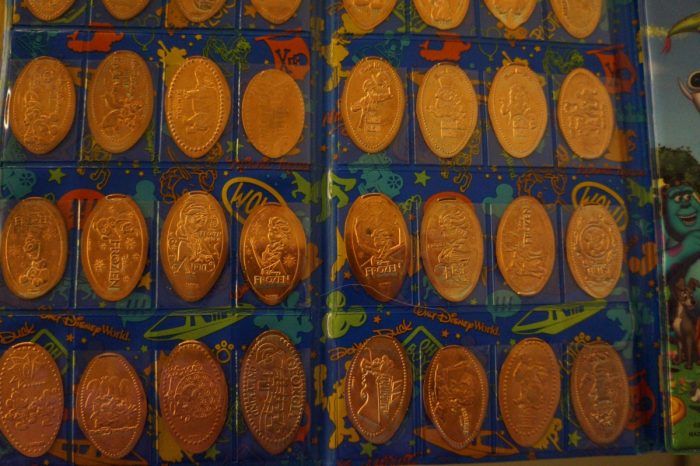 But is it….you know….legal?
When we first started collecting coins, some of our relatives expressed concern for our daughter's eventual chances at a presidential run for her willful destruction of U.S. currency and asked "Isn't it….well, you know….illegal to do this?" In short, the regulations about mutilating money comes more from the standpoint that I can't take two ten dollar bills, cut out a zero from one of them, glue it to the other, and try to say it is a hundred dollar bill. As long as you are not trying to pull a fraud, you are allowed to safely "mutilate" the coins in pressed penny machines, as signs on the machines clearly state.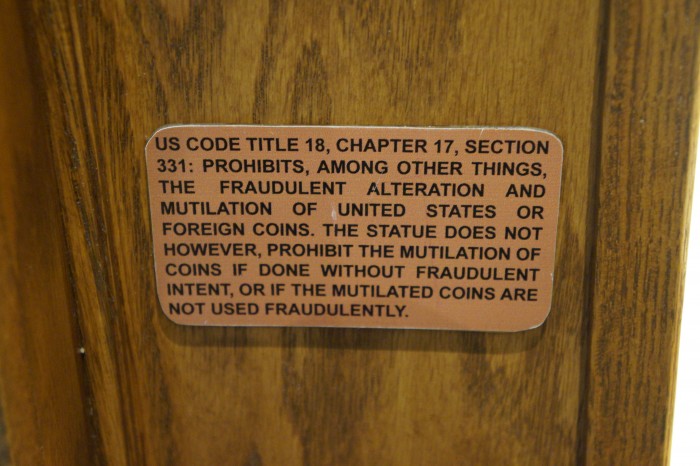 Want more information? Here's some additional links about pressed pennies at Walt Disney World.
A Saturday Six Look at Pressed Pennies
Pressed Pennies at Magic Kingdom
Pressed Pennies at Hollywood Studios
Pressed Pennies at Animal Kingdom
So are there any other pressed penny collectors out there? Got a favorite? Got a design you wish Disney would make? Leave a comment and share your love for the smashed cents out there!
First published January 28, 2015. Revised May 10, 2021.