Oga's Cantina Provision Without Alcohol: What is It?
I recently took my daughter Josie to Oga's Cantina at Walt Disney World for the first time. She's not quite of legal drinking age, so we focused on finding her some fun non-alcoholic items to try.
She ordered the Carbon Freeze as her drink (yummy!) and the Oga's Obession Provision without Alcohol, mostly because we just wanted to see what it was.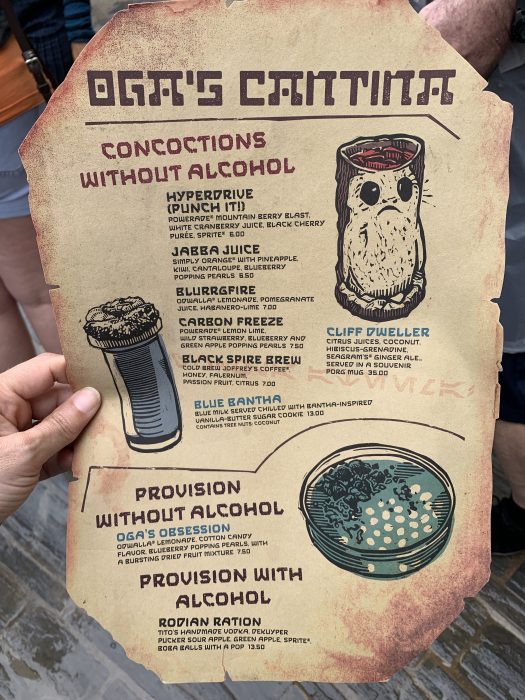 The menu says the Oga's Obsession is "Odwalla Lemonade, Cotton Candy Flavor, Blueberry Popping Pearls, with a bursting dried fruit mixture."
What's not readily apparent from the menu is that this is a food, rather than a drink (I suppose the word "provision" implies this, but still). When we asked our server for more information, she said, "Have you heard of a thing called jello?" Ahhhhh. Now we got it. Oga's Obsession is jello.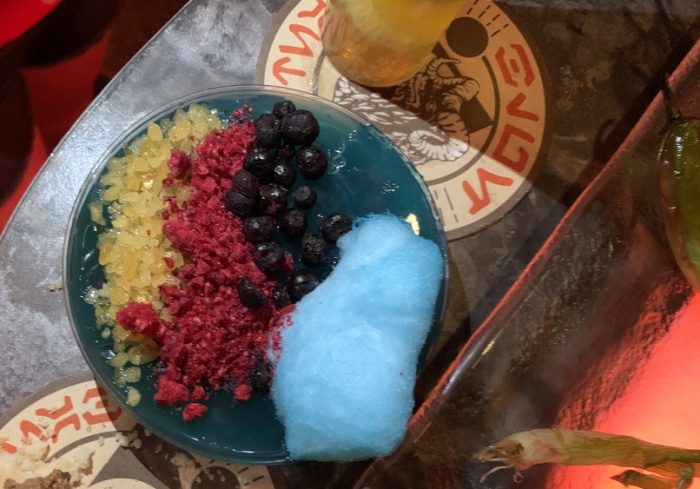 Specifically this dish is a lemon-ish blue jello served in a shallow, flat bowl akin to a Petri dish. The jello is topped with Pop Rocks (the yellow), crushed dried strawberries (the red), blue popping pearls, and blue cotton candy.
This all tastes OK, but it's obviously more of an Instagram novelty than something actually satiating. The textural contrast and Pop Rocks, make your tongue happy, but the flavors are surprisingly mild. There's not enough to fill you up, even for a snack, but it makes an entertaining light dessert.
In my opinion, the main use for this is as a child's distraction for when Mom or Dad wants a moment to slug down a drink at the bar. Is that worth the $7.50 price tag. Maybe?
Also note that this item is on the lunch/dinner menu at Oga's but not the breakfast menu. There are items labeled as "food" rather than "provision" on the breakfast menu. We're not exactly sure what the distinction is.