Our Best Guess For When TRON Lightcycle / Run Will Open at Magic Kingdom
TRON Lightcycle/Run is the only completely new ride under construction in Walt Disney World.  Lots of people, including us, want to know when it'll open.  Our friends over at Blog Mickey have published photos of Disney staff riding TRON – these are almost certainly Disney's ride installation and ride maintenance teams.  Those photos have led to talk that Tron's opening date is imminent.  Adding to that, Tomorrowland's TTA Peoplemover now includes a reference to TRON Lightcycle / Run:
But there's a lot of work to be done – and a lot of business decisions to be made – between TRON's first test rides and its opening to the general public.  Here's a look at what still needs to happen, how long those things typically take, and other decisions that must be made for Disney World to open TRON Lightcycle Run at the Magic Kingdom.
There are two big things to consider for TRON's opening date:
What construction steps are left and how long do they take?

What opening date is best for Disney's marketing?
TRON Lightcycle/Run's Remaining Construction Steps
Let's start with the remaining construction steps and how long they take.  And for these estimates, I enlisted the help of a former Walt Disney Imagineer who opened many, many rides around the world, including several at Walt Disney World.  
Here are some of the remaining to-do steps in TRON's construction, testing, and training. Some of these steps can be done in parallel. Others can't – the guest walkways and queue almost certainly have to be done before Cast Member testing, for example.
Finish the ride interior and exterior

Finish ride safety testing

Finish ride reliability testing

Build and complete guest walkways and queues

Hire and train the ride operations team

Give preview rides for Disney World managers, executives, VIPs, and Cast Members
I'll go over each of these steps below, and give some idea of how long these phases should take.  
The good news is that the Magic Kingdom's TRON Lightcycle/Run is very similar to Shanghai Disney's TRON.  I think vertical construction in Shanghai Disneyland began in 2013, and TRON opened there (with the rest of the park) on June 16, 2016, so a ballpark estimate is that it took around 3 ½ years to build TRON in Shanghai Disneyland.  My friend @TommyHawkins posted this pretty timeline that projected the Magic Kingdom's dates for TRON to their counterparts in Shanghai: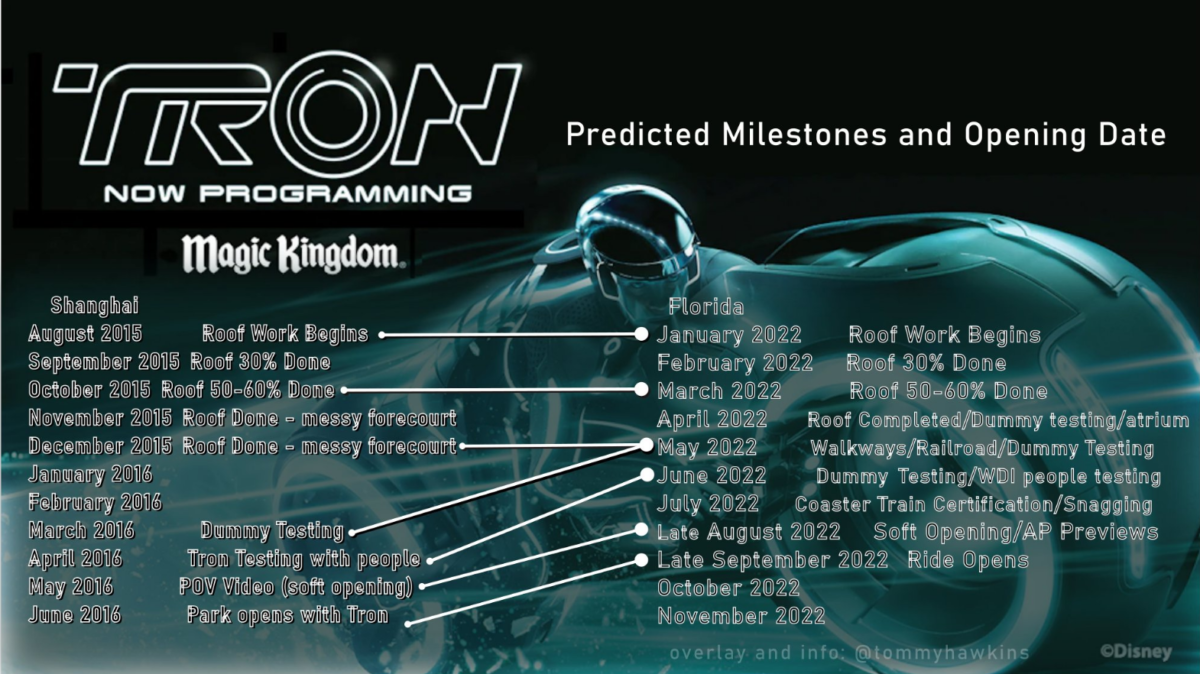 The bad news is that construction projects at Disney's domestic parks often take a lot longer to complete.  TRON was first announced at Disney's D23 conference on July 15, 2017, or five years and a month and a half ago.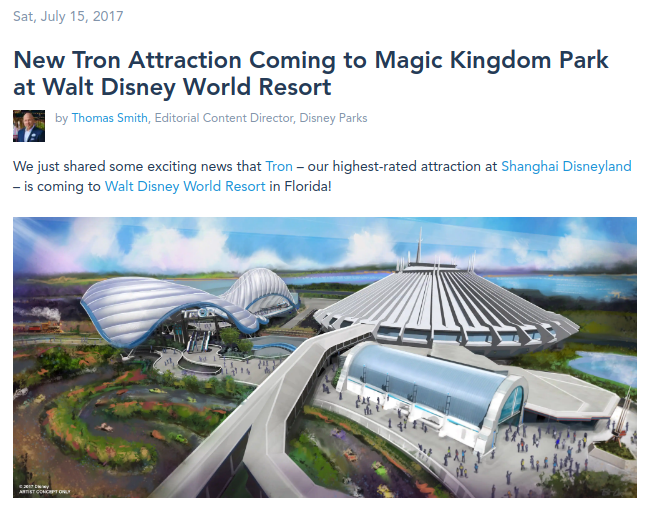 To put that timeline in perspective, construction of the entire Magic Kingdom, the Transportation and Ticket Center, plus Walt Disney World's Contemporary and Polynesian Resorts, took four years and four months from groundbreaking to opening, according to Disney.
To estimate TRON's opening date, where possible, I'll use data from Disney World's two most recent rides (Remy's Ratatouille Adventure and Guardians of the Galaxy: Cosmic Rewind) for clues as to how long Disney's US-based Imagineering teams take to do things..
To-Do: Finish TRON's Ride Interior and Exterior
There isn't much to TRON's interior theming – it's minimal – because most of the ride is outdoors. But there are portions of the ride, such as the load station, entrance, and exit, that are under the TRON canopy and need to look good.  
That work is still happening.  And as this August 20 photo from Twitter theme park legend @Bioreconstruct shows, there's still a long way to go before these are done.  
In Shanghai Disneyland, I think it took between four and five months from the time TRON's interior and exterior were finished to ride opening. So even if the Magic Kingdom TRON's work was done today, the earliest the ride could open is mid-January, 2023.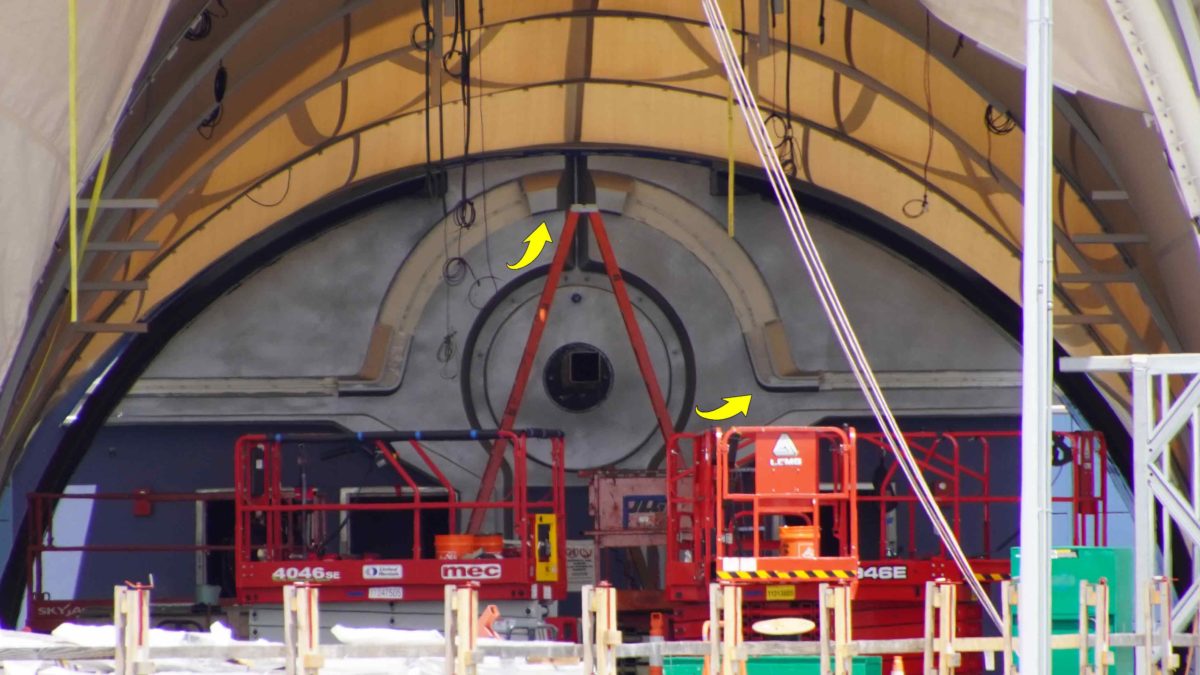 To-Do: Finish Ride Safety Testing 
We think preliminary ride safety testing, using bags of sand to simulate people, began in July 2022.  One purpose of this phase of testing is to ensure that the ride's construction has been completed according to specifications – there are no loose bolts, the ride's structural supports are handling their loads properly, and that the ride's safety measures and emergency mechanisms are all working properly.
Another aspect of ride testing is to ensure that TRON's safety margins were implemented correctly.  For example, Disney has to check that the distance between any ride support beam has to be well beyond the reach of any guest's outstretched hands, at every point along the ride.  That's probably already happened, because we've seen human riders on TRON, and human riders probably wouldn't be allowed unless those checks were already done.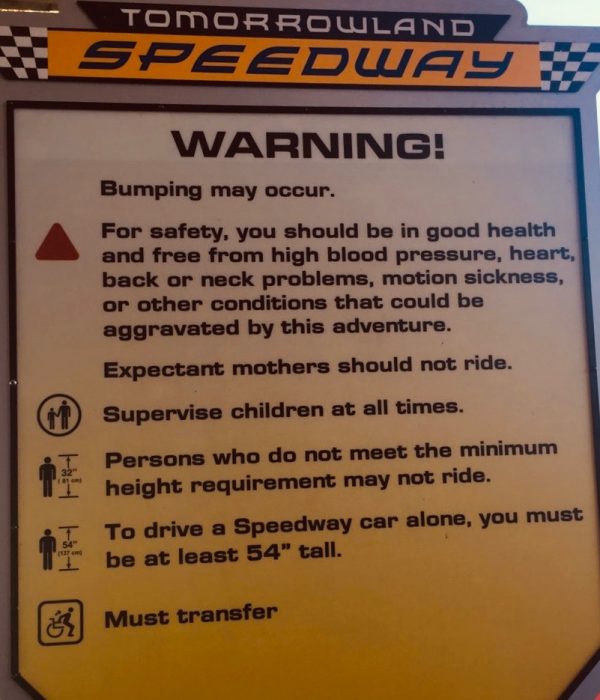 In Shanghai Disneyland, sandbag testing of TRON started about three months before the ride opened. Assuming the same schedule in Walt Disney World, that'd mean TRON's earliest opening date would be mid-October, 2022.  
But I don't think TRON is going to open in mid-October, because it hasn't even started ride reliability testing, let alone finished it.
To-Do: Finish Ride Reliability Testing
Reliability testing, also known as "duty cycle testing" or "burn-in" testing, involves running a ride continuously through many typical operating days.  And this is important because once TRON opens, it's supposed to run reliably, day-in, day-out, for weeks on end.
Ride reliability testing for EPCOT's Remy's Ratatouille Adventure began around the third week of May, 2022, and Remy opened on October 1, 2022 for Disney World's 50th Anniversary – a little over four months after duty testing began.  To be clear, the Remy ride was ready for guests way, way before October 1 – Disney purposely didn't open the ride earlier because it wanted to use Remy as part of the 50th Anniversary marketing campaign.  And that shows that Disney's willing to delay open a ride up to four months, just for marketing purposes.  That's important for TRON.
Ride reliability testing began at EPCOT's Guardians of the Galaxy: Cosmic Rewind in mid-March, 2022, as far as I can tell, and Guardians opened about 10 ½ weeks later, on May 27, 2022. Ride reliability testing has not started for TRON.  So even if TRON started reliability testing today, the earliest it could open is November 10, 2022.  And Disney's still a long ways away from even beginning this testing.  The good news here is that because TRON Lightcycle / Run is visible all around Tomorrowland, it'll be obvious when this phase of ride construction has started.
To-Do: Finish Guest Walkways and Queues
Another obvious thing that isn't complete is TRON's walkways and queues.  The walkways are how guests will get to TRON in Tomorrowland, and the queues are where guests will stand in line.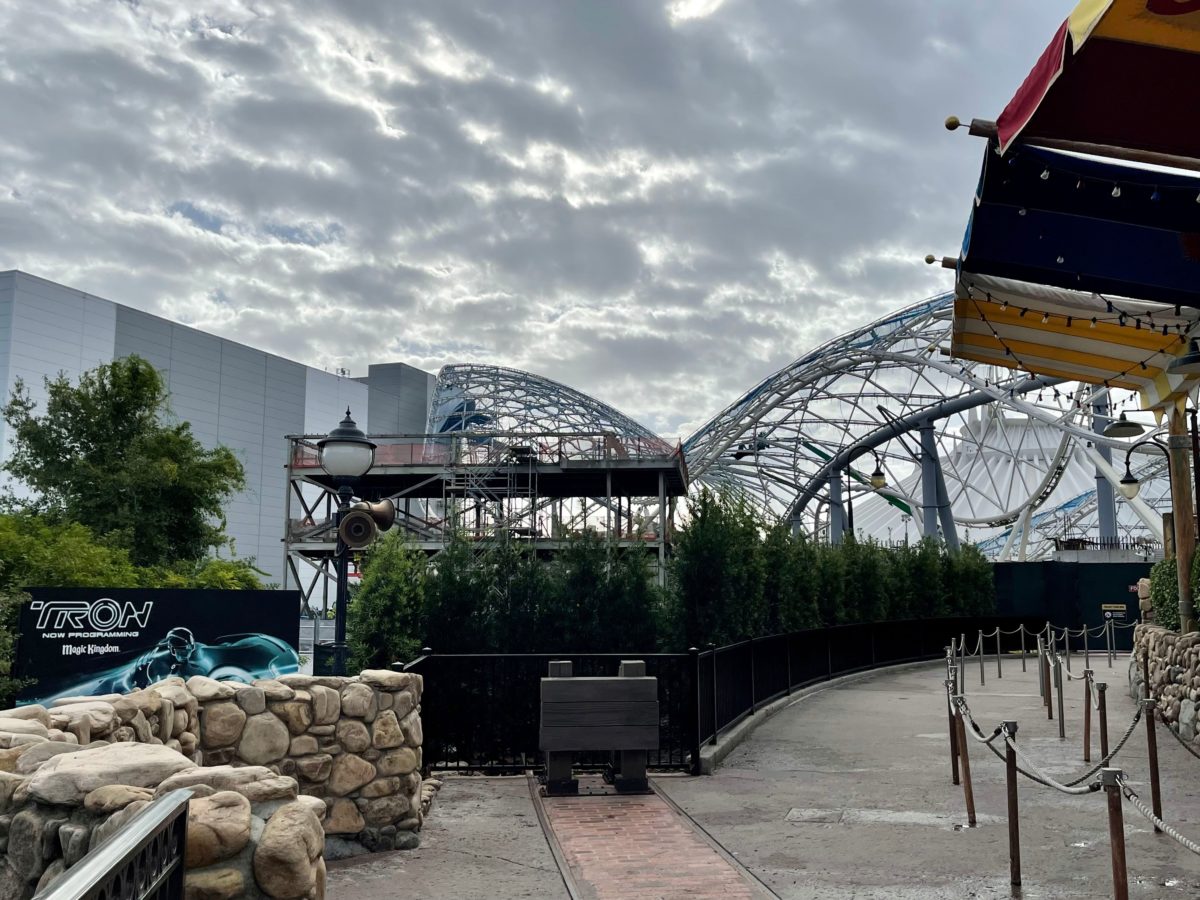 My source in Imagineering says that the shortest amount of time from completing guest walkways and queues to getting a ride open (assuming nothing else goes wrong) is about 5 weeks.  Even if those walkways got completed today, the earliest we'd see TRON open is early October, 2022.
To-Do: Hire and Train TRON's Cast Members
Our friends over at WDWMagic reported on June 4, 2021, that Disney was hiring Cast Members for Remy's Ratatouille Adventure, a little less than five months before the ride opened.
Disney seems to have posted Cast Member jobs for Guardians of the Galaxy: Cosmic Rewind in mid-January, 2022, about 4 ½ months before the ride opened.  
Once Disney hires those Cast Members, they've got to train and schedule them.  That hasn't happened yet for TRON Lightcycle/Run. So based off the schedules for Remy and Guardians, even if Disney posted those Cast Member positions today for TRON, the earliest the ride could open is mid-January, 2023.
To-Do: Give Ride Previews to Executives, VIPs, and Cast Members
Disney executives, movie and TV VIPs, and others often get to ride certain attractions way, way before any working-class stiffs.  The closest any of us can get to pre-opening peeks is usually through Cast Member previews, or Annual Passholder previews.  
Both Cast Member and Annual Passholder previews require registering online well in advance.  For Remy's Ratatouille Adventure, the earliest guest preview sign-ups started in early August, 2022, for rides in early September, and an official ride opening of October 1.  
Likewise, Cast Members signed up in early August for previews of Remy's Ratatouille Adventure,and got their first chance to ride in mid-August.  
Even if TRON opened sign-ups for Cast Members and select guests on September 1 (and they're not), the earliest we'd expect TRON to open, based on what happened with Remy, would be November 1, 2022.
What Opening Date is Best for Disney? Hint: It's Not 2022.
Everyone in the theme park industry knows that new rides means higher attendance levels.  The problem is that even with Remy and Guardians opening in the past year, Walt Disney World has underinvested in new theme park rides for the better part of 20 years.  (The last major, all-new ride in EPCOT before Remy was Soarin' in 2005.  The last all-new ride in the Magic Kingdom was Seven Dwarfs Mine Train, over eight years ago, in May, 2014.) 
In fact, TRON Lightcycle/Run is the only all-new ride under development right now in Walt Disney World.  And given how long it takes Disney to open rides, we're unlikely to see an all-new, headliner ride in Walt Disney World before 2025, maybe 2026.  So Disney's got nothing in the pipeline for the foreseeable future.
Sure, EPCOT will open Journey of Water: Inspired by Moana at some point in the next year, and it looks fun. But that's a walkthrough attraction, and nobody outside of Orlando is going to make a special trip to see it. 
Likewise, Disney's already said that Fantasmic! is coming back to Hollywood Studios in 2022 (I'm guessing October 1, because nothing else is ready for that anniversary).  And the Magic Kingdom's Splash Mountain will eventually be re-themed into Tiana's Bayou Adventure – an update I welcome to my all-time favorite ride.  But Tiana's Bayou Adventure will probably take 18 months to two years to complete, and work hasn't started. So Tiana's isn't opening in 2023, and at this point we have to assume it'll be the centerpiece of Disney's marketing in 2024 – there's nothing else in the works.
Earlier this year, when it was clear that the marketing campaign for Walt Disney World's 50th Anniversary was not going well, I thought there was a chance that Disney would open TRON in 2022 in order to salvage the anniversary.  And earlier this year, the Galactic Starcruiser's only sell-out date in the last few months of the year was the Monday/Tuesday after Thanksgiving: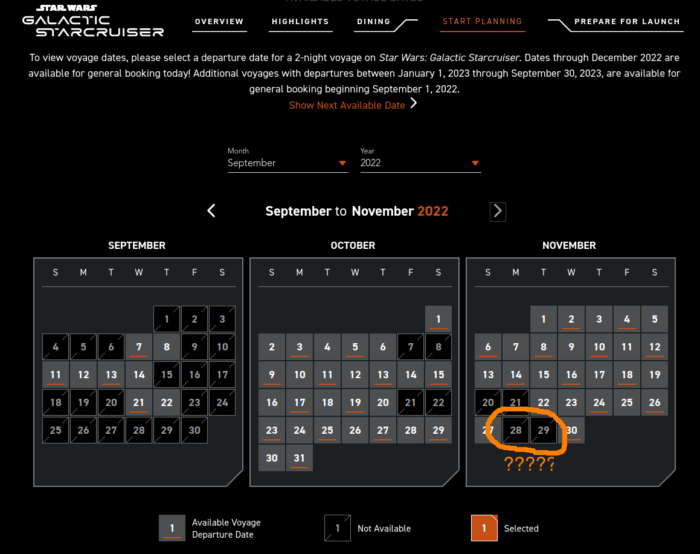 To me, that looked like Disney setting up a multi-day media event, where they'd bring in media for TRON, while also showing off other recent, high-revenue attractions like the Starcruiser.  And opening TRON might've helped if, when gas prices and inflation were high earlier this year, people were holding off in booking holiday travel to Walt Disney World.  I don't think that's the case now.
The big issue with opening TRON in 2022 is that it leaves Disney's Marketing team with absolutely nothing other than Journey of Water to market in 2023 (and maybe nothing in 2024, but that's Future Marketing's problem.)  To convince guests to visit Walt Disney World in 2023, they've got to hold off opening TRON until 2023.  
The other thing that seems to favor a 2023 date is that Disney doesn't need to open TRON this year.  On Disney's last earnings call, Bob Chapek said that Disney's domestic park attendance was already at 2019 levels.  And Disney has no trouble selling hotel rooms over Thanksgiving, Christmas, and New Years, so there's no extra revenue to be gained by opening TRON in 2022.  And the park reservation system would probably be a disaster if combined with Christmas-level crowds and an all-new Magic Kingdom ride.
Another reason against opening TRON in 2022 is that most families have already planned out the remainder of their 2022 vacation days and destinations.  That makes it harder for Disney to convince them to cancel their existing plans (possibly forfeiting deposits and having to make expensive last-minute airline reservations, too).  
Also, and this is probably a minor point, but outside temperatures will (eventually) get colder in Florida in December and January.  Disney probably doesn't want the first publicity photos of TRON to include bundled-up guests grimacing because they're freezing.  That doesn't sell Florida.
The good news is that Disney's D23 Expo starts on September 9, 2022 – just a few days from now.  That means we'll likely know soon enough what Disney has planned for TRON Lightcycle / Run's opening date.
My guess is that Disney will use D23 to tease an opening date of Spring 2023 for Tron Lightcycle / Run, and then announce the actual opening date before the end of 2022. I wouldn't be surprised to see previews in early 2023.  
That's great for Disney's marketing team, because as families begin to gather this year for Thanksgiving and Christmas, which is when the next year's vacation planning really starts, visiting Walt Disney World will be fresh in their minds.
As always, I could be completely wrong about all of this.  We'll know soon enough.