Park Hour Changes: How Do They Impact Your Trip?
Have you ever had the perfect day planned out, and then park hours changed on you?
This happens to most planners at some point. Theme parks release park hours on their websites (Walt Disney World publishes park hours 6 months in advance, Disneyland Resort 5-6 weeks in advance, and Universal Orlando Resort 2-5 months in advance), but these "official" park hours often change after their initial release. Typically when a theme park hours change, the park hours are extended. But how common and significant are these changes?
What is a Park Hour Change?
When we are talking about Park Hour Changes we are referring to any change in a park's operating hours. The change can small or big; positive or negative. At the end of this blog post there are tables showing the distributions of Park Hour Changes.
Magic Kingdom
Let's take a closer look at the park hours for the Magic Kingdom for the past 12 months. The calendar below shows the number of days prior to that date that the final park hours were set. For these 365 days, on only 127 (35%) of the days were the initial park hours the same as the final park hours. 25% of the days had park hour changes within 30 days. Park hour changes within 7 days happened 25 times.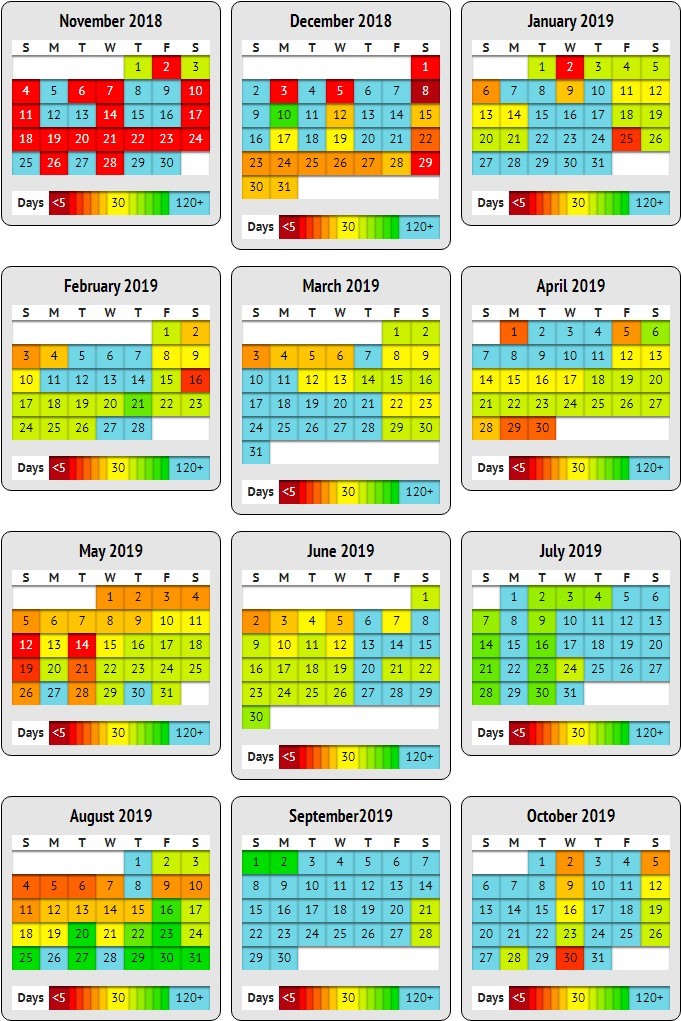 The fall 2019 park hours were a bit unusual at Walt Disney World. In May, Disney announced Extra, Extra Magic Hours, meaning that Magic Kingdom, Disney's Hollywood Studios, and Animal Kingdom had Extra Magic Hours every day between August 19 and November 2. This locked in the parks' opening times, so only the closing time could be adjusted.
Walt Disney World
Magic Kingdom has the most frequent changes in park hours. Epcot park hours rarely change. Epcot typically opens at 9 a.m. and closes at 9 p.m. The charts below show how many weeks in advance the final park hours were set. For example, on 8% of the days at the Magic Kingdom the park hours changed within 14 days.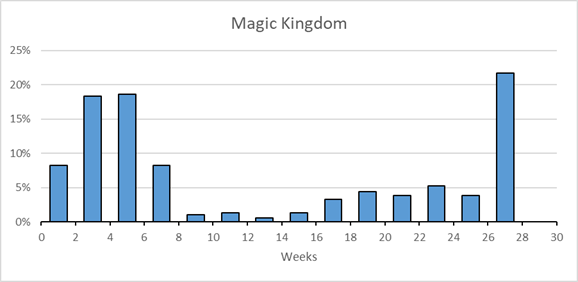 91% of Epcot days had no change in park hours.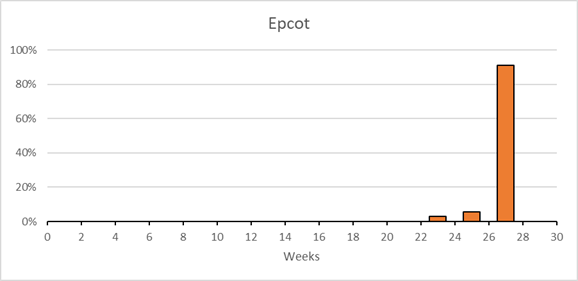 38% of Disney's Hollywood Studios days had no change in park hours.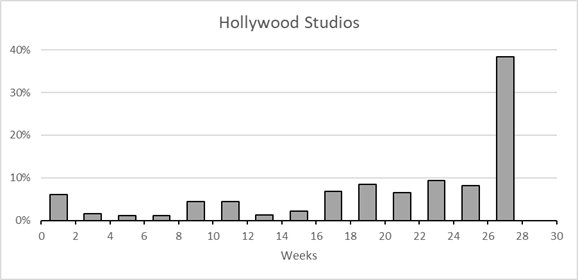 26% of Disney's Animal Kingdom days had no change in park hours.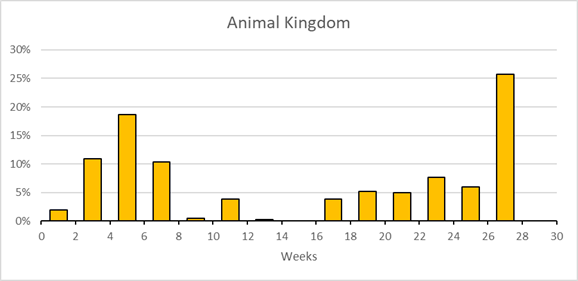 Universal Orlando Resort
Universal's park hours change frequently.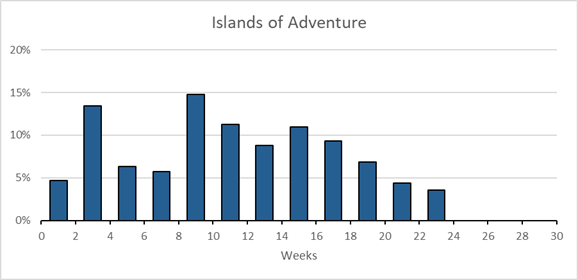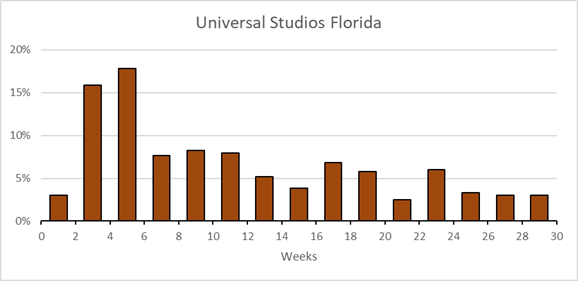 Disneyland Resort
Disneyland does not publish its park hours too far in advance, and its park hours seldom change from what is initially released: 99% of days, the park hours in California did not change.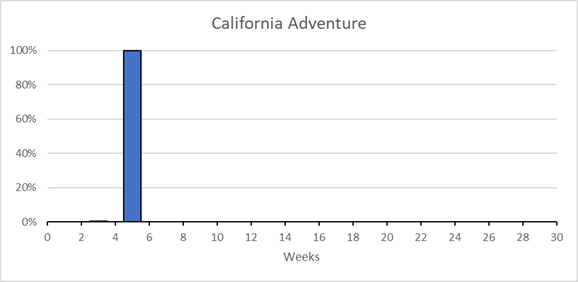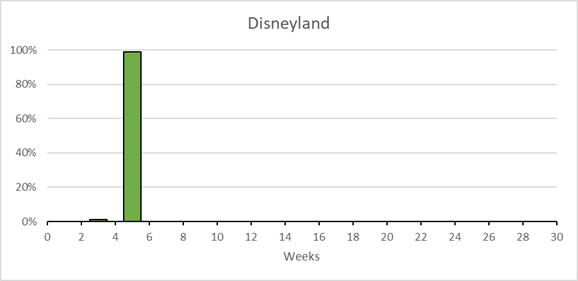 What to do?
Knowledge is power. First, do not be surprised if park hours change from their initial values. As shown above, that's pretty common. If you'd like, you can look at our historical data to get sense of park hours on similar dates in previous years.
If you'd like to be notified of changes, use our Crowd & Hours Tracker to generate an email alert if park hours or crowd levels change for your travel dates.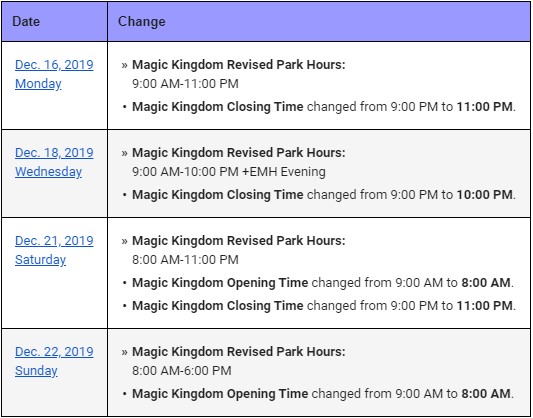 When park hours change, personalized touring plans need to be updated, so make sure to re-optimize your plans. In addition, at Walt Disney World extended park hours can mean that new FastPass+ reservation slots will open up during the newly added hours. If you act fast, you can secure a hard-to-get FastPass+ reservation!
What TouringPlans.com is Doing
We have been tracking park hours and park hour changes for several years. This gives us a high level of precision in estimating "final" park hours. The statistical models used for wait time and crowd level predictions are dependent on estimated park hours and not the published park hours. For example, currently, Magic Kingdom is scheduled to close at 8:00 p.m. most nights in January 2020 and February 2020. We have a high level of confidence that most Saturdays the park will close at 10 p.m. or 11 p.m., and longer park hours tend to be associated with increased crowd levels.
Distribution of Park Hour Change
Parks' opening and closing times define a park day. It is possible that the net change of opening and closing times keeps the length of the park day the same. As the earlier analysis noted, Disneyland Resort had minimal park hour changes over the past year: All the changes in opening and closing times at Walt Disney World had the effect of extending the park day. Universal Orlando is the opposite: Most opening and closing times changes have decreased the length of the park day.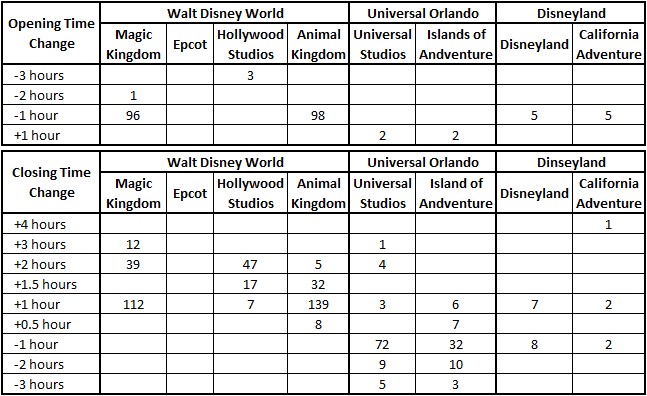 Universal and Disneyland are pretty solid with their early entry for on-site guests. At Walt Disney World it is very unlikely for Disney to remove Extra Magic Hours.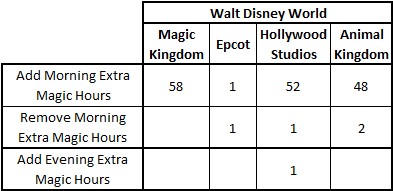 Changing opening or closing times or adding or removing Extra Magic Hours (or Early Park Admission) may affect the length of park days. Disney rarely reduces the length of park days. This is not true for Universal Orlando.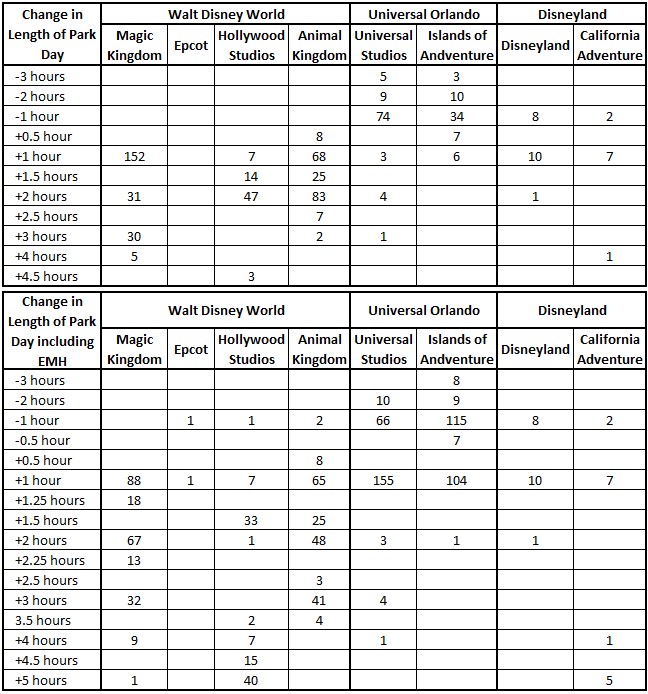 By keeping an eye on park hours, you can best optimize your touring experience as well as be able to avoid surprises for your day.
Do you have questions about park hours? Let us know in the comments.