Planning Basics: Lockers at Walt Disney World
While it's certainly possible to visit the Walt Disney World theme parks carrying little more than your wallet and your cell phone, there are many situations in which a visitor might want or need to tote heavy or bulky items with them into the parks. If you're in camp two, the Disney parks lockers can be a lifesaver. Here's what you need to know about the locker situation at WDW.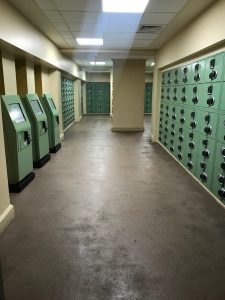 Where are there lockers at Walt Disney World?
Lockers for guest use can be found at Disney's Animal Kingdom, Disney's Hollywood Studios, Epcot, Magic Kingdom, Typhoon Lagoon, Blizzard Beach, Disney's golf courses, and at some Disney resorts, typically those with marinas and/or health clubs.
Will I need to use a locker at the theme parks?
This depends on your touring style. Personally, I rent a locker during maybe one out of five times that I visit the parks. Here are some reasons why you might want a theme park locker:
You are planning to bring in a substantial amount of food into the park. In addition to being a storage area, the lockers may be a bit cooler than the temperature out in the parks.
You are going to/from the theme park to another venue which requires different clothing. For example, if you're going straight from a theme park to a signature restaurant and want to bring a nicer outfit for your meal. Similarly, if you're arriving at the Magic Kingdom early in the day and will be attending Mickey's Not So Scary Halloween Party in the evening, you want want to store your costume in a locker rather than cart it around all day.
You've made a large purchase at one of the theme park gift shops and don't want to carry it around all day.
You have items with you that you don't feel comfortable bringing with you on attractions and you don't feel comfortable leaving those items unattended on a stroller/wheelchair/etc. (Some camera equipment might fall into this category.)
You have a medical situation which prevents you from carrying things. (However, bear in mind that getting to a locker from a remote part of a park may require a substantial walk.)
You're visiting at a time of year when there are vast temperature changes. You need a bulky jacket first thing in the morning, but don't want to wear/carry it when it warms up later in the day.
You're visiting on a stormy day and have items with you that you must not get wet.
You're riding Kilimanjaro Safari or Tron Lightcycle (see more on this below).
You simply prefer not to carry your gear with you.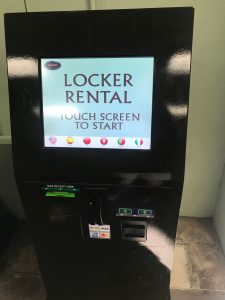 What size are the lockers at the theme parks?
The four theme parks (Epcot, Magic Kingdom, Animal Kingdom, Disney's Hollywood Studios) all have two sizes of lockers available inside the park. Large lockers are 15.5″ x 13″ x 17″. Small lockers are 12″ X 10″ x 17″. At Magic Kingdom and Epcot ONLY, there are also Jumbo size lockers which are 17″ x 22″ x 26″.
How much do these lockers cost?
The prices are the same at all the theme parks. Prices can change, but currently the large lockers rent for $12.00 per day and the small lockers rent for $10.00 per day. Jumbo lockers (only at Epcot and Magic Kingdom) are $15.00 per day.
That seems a little steep. Is there any way to save money on a locker rental?
There used to be only moderately inconvenient workarounds that involved using lockers located just outside the park gates. That option is now gone (more on that in a sec). There are less expensive small-size lockers near the pool at the Contemporary, but getting to/from the Magic Kingdom and that location takes at least 10 minutes each way, plus time in security line. It's not really a practical option.
If the reason you're renting a locker is to store purchases made in the parks, you can instead use the package pick-up service that will hold items for you at the front of the park until you're ready to leave. Be sure to ask about this at the point of purchase. (Note: This option was available pre-COVID and has not yet returned.)
If you have need for a locker during several days of your trip, and the items you're carrying are not precious (packed lunches, for example), an out-of-the-box workaround would be to buy a stroller. A quick search on Amazon, Target, and Walmart brings up dozens of umbrella-style strollers priced under $30, and even a few priced under $20. There's no requirement that you must have children with you to bring a stroller into the Walt Disney World parks. Carrying a heavy bag of food on a $20 stroller reaps savings after just two days of not spending money renting a locker.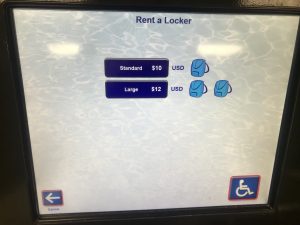 What are the specific locker locations at each park?
The locker locations are noted on the park maps, but here's where you should be looking:
Magic Kingdom – Lockers are under the train station, just past the park entrance, on the right.
Epcot – Two locations: Near the main entrance, bear right at Spaceship Earth; lockers are near the restrooms to the right of the Spaceship Earth attraction. Additional lockers are to the left of the International Gateway park entrance between the England and France pavilions.
Disney's Hollywood Studios – Next to Oscar's Super Service, just past the entrance, to the right.
Animal Kingdom – Next to the Guest Services window, just past the entrance, to the left.
What are the locker hours?
They're the same as the theme park hours, plus any Extra Magic or party hours.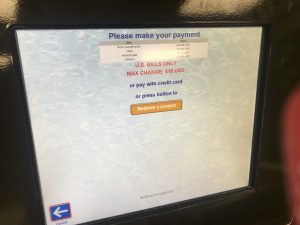 How do the lockers work?
In 2017, Disney World replaced all of the key-operated lockers in the theme parks. The lockers are now entirely electronic.
Each locker location has one or more rental kiosks that look similar to an ATM. The rental transaction may be completed in English, Spanish, Portuguese, Italian, Japanese, and Mandarin.
Press a touch-screen to begin your transaction. First, select your preferred size locker. You will then be prompted to pay, with either U.S. cash (bills only) or with a credit/debit card.
After you've paid, you're prompted to create a 4-digit access code that will be the combination for your locker. The kiosk screen will then tell you which locker is yours. Pro tip 1: Make sure you choose a locker combination you'll remember. Pro tip 2: Be ready to write down your assigned locker number, or take a photo with your cell camera. At the end of long day, it's extremely easy to forget which locker is yours.
Then walk over to the locker you've been assigned, use the keypad to input the code you selected, and the locker will open.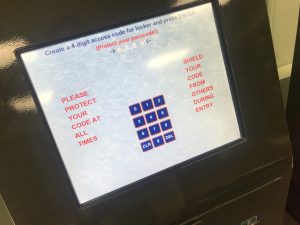 I only have my MagicBand with me as a payment method, no cash and no credit or debit card. Can I still pay for a locker?
If you're in this situation, or if you want to pay for a locker with a Disney gift card, go to the merchandise sales location nearest the locker room. They can create a transaction with your MagicBand or gift card and give you a code to use on the locker room kiosk.
(Time again for my plea to all Disney visitors to bring alternate methods of payment into the parks, not just your MagicBand. You never want to be without a means to pay for items out in the real world. I've been in several situations where guests needed to go directly from a theme park to a medical facility. Bring the cash, credit/debit card, ID, and insurance card you'd need in an emergency.)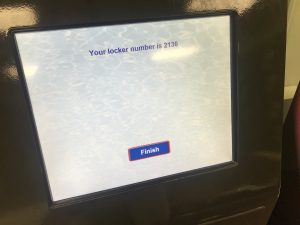 Can I go in and out of my locker several times a day?
Yes, the electronic in-park lockers can be accessed as often as you like/need during the day. Just input your code to open the locker and then close it, come back later and do the same thing again. When you're done with the locker for the day, press the "end rental" button to release your code and allow the locker to be reassigned to another guest. (There are instructions on how to do this printed on the lockers.)
There are some coin-operated lockers located at the resorts. These require a payment every time the locker is opened/closed.
What happens if I'm visiting more than one park per day? Do I have pay the locker fee twice?
Yes. While you can go into and out of your locker many times per day, if you switch theme parks (Park Hop) and want to get a new locker at the new park, you'll have to pay again.
Prior to the 2017 locker replacement, guests paid for their lockers at a manned register and were given a printed receipt. This receipt allowed guests to get a new locker at another park at no additional charge. This procedure is no longer in place.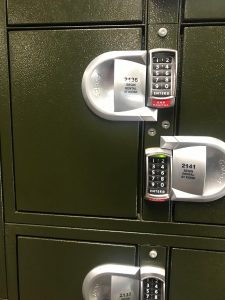 If I'm going to the same park two days in a row, can I leave something in the locker overnight?
Unfortunately not. The lockers are cleaned out every night. Depending on the locker contents, items left at the end of the day will either be trashed or sent to lost and found.
I thought there were lockers just outside some of the park entrances? What happened to those?
In the past, there had been lockers located at the Transportation and Ticket Center and near the bus loading areas at Epcot and Hollywood Studios. Those have been removed. The only lockers at the parks are within the park gates. From a security perspective, this makes complete sense.
Can I leave a rolling suitcase in a locker at Epcot or Magic Kingdom?
Probably, but you may run into some headaches.
The dimensions of the jumbo lockers is 17″ x 22″ x 26″. Airline rules vary, but a typical maximum carry-on suitcase size is 22″ x 9″ X 14″. If you're following the letter of the law, then your carry-on will likely fit in jumbo locker, but if you're fudging, then you may be in trouble. (Note that Disney has a separately stated rule that says, "Suitcases, bags, coolers or backpacks, with or without wheels, larger than 24″ long x 15″ wide x 18" high are not allowed in any Theme Park or Water Park.)
Remember that when you bring your suitcase into the park, you'll have to go through the regular security screening. Nothing in your bag can violate the rules stated on Disney's rather extensive list of prohibited items. Personal items that could trigger scrutiny are razors, anything in a glass container, medical marijuana, selfie sticks, and a host of other items. Disney also has a prohibition on items that you pull behind you. However, if you explain that you're taking your wheeled suitcase directly to a locker, they may waive this rule. All of this is up to the discretion on the security staff on duty.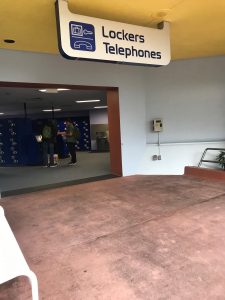 That all seems like a pain. What reason would I have to store luggage at a theme park?
First, let me tell you why you wouldn't need to store luggage at a theme park.
If you're staying at a Disney resort and taking a service like Mears Connect or Sunshine Flyer to the airport, you have to go back to your resort before you leave. In this case, you should leave your large bags with the Bell Services at the hotel. If you're leaving Walt Disney World directly from a theme park by car (personal car or rental), you should leave your luggage in the car.
Possible reasons why you might have your luggage at the theme park are:
It's your last day. You only have carry-on luggage. You've taken a cab/Uber/Lyft to a theme park for a last bit of fun and don't want to go back to your hotel before taking a cab/Uber/Lyft directly from the park to the airport.
You're traveling home using a bus service that collects guests from a theme park.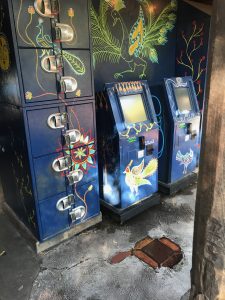 Are lockers readily available at the theme parks?
Generally, yes; however, at the busiest times of the year, it is possible that they may run out of lockers or run out of the particular size locker that you need. If you absolutely need a locker, rent it early in the day.
Are there lockers at Disney Springs?
Back in the days of Downtown Disney, there had been coin-operated lockers at that location. They have since been removed and there are currently no lockers at Disney Springs.
What's up with lockers at the water parks?
The Blizzard Beach and Typhoon Lagoon lockers now use the same electronic system as at the theme parks. Small lockers are 12″ X 10″ x 17″, priced at the same $10 per day as at the theme parks. Large lockers are 15.5″ x 13″ x 17″. While the large water park lockers are the same size as the large theme park lockers, they are priced at $15 per day. That's $3 more per day than at the theme parks.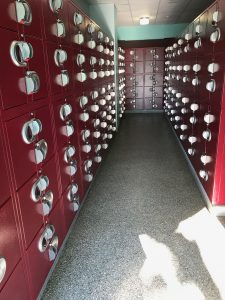 While guest use of the theme park lockers is quite variable (many guests will not need to use a locker), given the nature of a water park, many more guests will be in the market for a locker rental. You may feel safe leaving your towel and John Grisham novel on a your poolside chair, but you'd be foolish to leave your wallet and cell phone there while you're swimming in the wave pool. Build a locker rental into your budget to keep your valuables safe.
I'm renting a boat at the Contemporary. What do I do with my belongings that I don't want to get wet?
The hotels that have marinas also have free or coin operated lockers near by. Some of the resort pools also have this feature.
I'm going on the Wild Africa Trek at the Animal Kingdom. I don't want to bring all my belongings on the Trek, should I rent a locker near the park entrance?
No need to do this. There are special lockers just for Wild Africa Trekkers. There is no additional charge for these. Your Trek guides will show you where they are when you check in for your adventure.
I'm going on Kali River Rapids at the Animal Kingdom. I don't want my belongings to get wet. What should I do?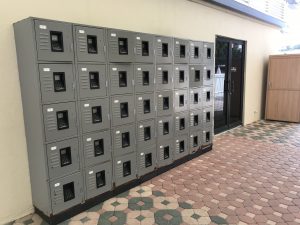 You're allowed to bring belongings on Kali River Rapids, so you don't absolutely have to get a locker. However, the warning signs at the attraction are accurate: you will get wet and you may get soaked. That means that your stuff with get soaked too. Seriously, I've had showers where I got less wet than I did on Kali River. To prevent your belongings from getting drenched, there are lockers next to the Kali River Rapids ride. (There had previously been plastic-covered bins on the rafts that were supposed to keep your belongings dry, but they never worked properly. Now guests have to use the lockers if they want to make sure their belongings don't get soaked.)
The lockers are the same small/large sizes as at the front of the parks. The small lockers are free for up to two hours of use. The large lockers are $4 for up to two hours of use.
I'm going on the Tron Lightcycle coaster. What can I do with my bag?
Guests are required to store all loose items such as backpacks, purses, and hats in a locker prior to boarding Tron. Lockers are available at the attraction – at no fee.
The lockers have doors on two sides. You'll open one side as you board the ride and then the opposite side of the same locker as you exit. Access to the lockers is made through your RFID park admission card or MagicBand. MagicMobile access is not currently supported.
If you happen to forget which locker you've used, there is panel available to scan your band or card that will remind you of your locker number.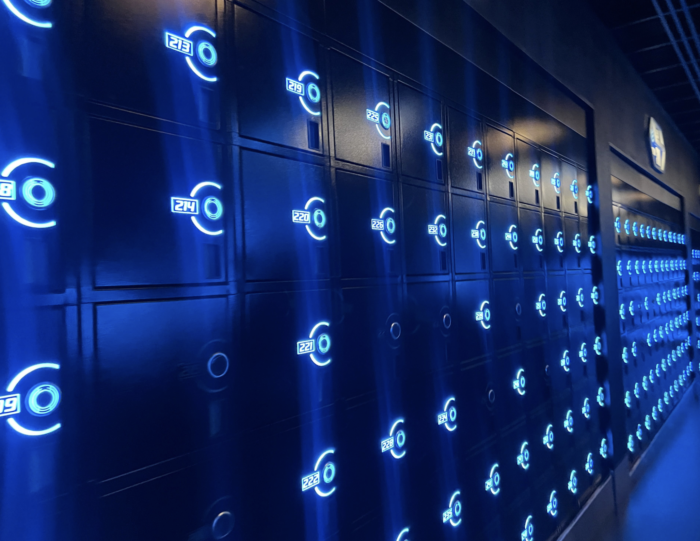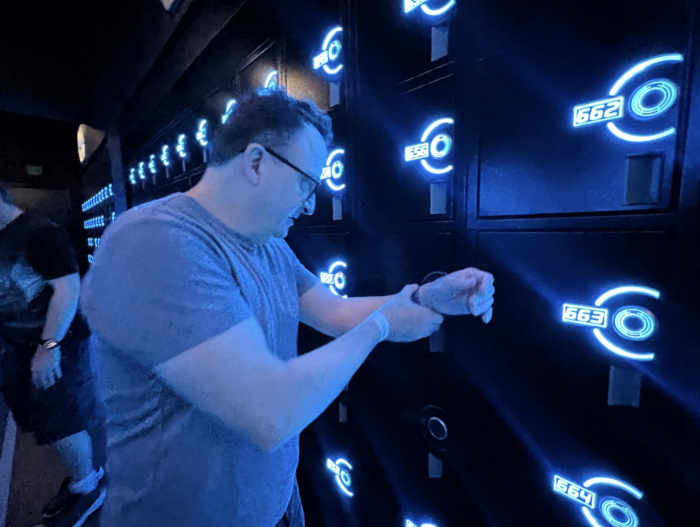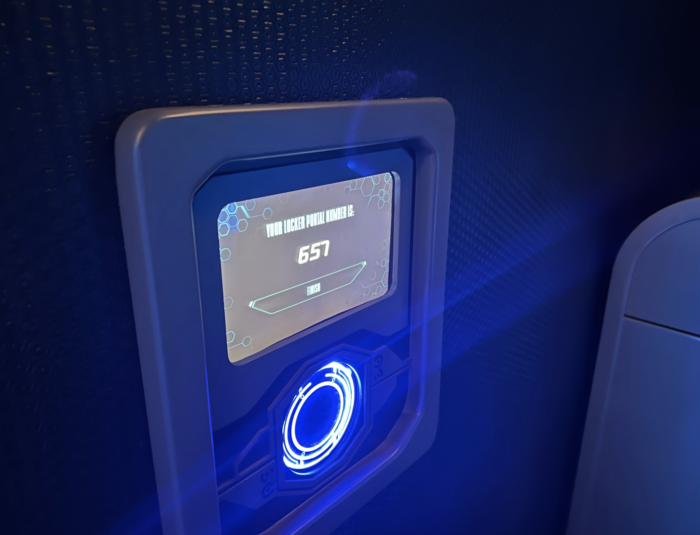 Are my belongings safe in the Disney lockers?
I've never personally heard of anything being stolen from a Disney parks locker. However, they are lockers, not Fort Knox. You should plan to keep irreplaceable or valuable items on your person. Better yet, bring the bare minimum of valuables with you to the parks and leave the rest in the safe back at the hotel.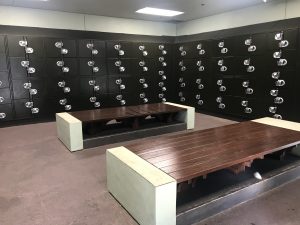 I have a medical issue and can't reach the top lockers, what can I do to make sure I'm not assigned one of those?
On the kiosk screen where you're asked to choose what size locker you want, there's also a wheelchair icon. If you need a lower locker, touch the wheelchair and you'll only be assigned a locker in the handicapped-accessible zone.
I'm also visiting Universal Studios, is the locker situation the same there?
No. Guests are allowed to bring personal belongings with them on all rides at Walt Disney World except Tron. However, there are many rides at Universal where you are not allowed to bring anything, even small purses, on the ride with you. You are required to use a free locker at several locations. There are also larger paid lockers at the park entrances. See our deep dive into the Universal locker situation.
So fellow sherpas, do you carry all your gear with you in the parks? Do you rent lockers on a regular basis? Why or why not? Let us know in the comments below.