FAQ Walt Disney World Rides for Very Young Children
You're taking your family to Walt Disney World. Yay! But if your family includes babies and toddlers, you may be wondering if that "yay" comes with any caveats. What can you actually do with a baby at Disney World? Are the rides accessible to the very young? Will your family be bored with nothing to do? Here's what you need to know about taking littles on rides at Disney World.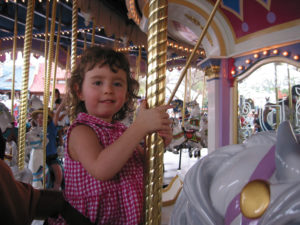 But before I dig into that, you should know that rides are probably less than half of what's happening at Disney World. In addition to rides, very young children (and their parents) might enjoy:
Interacting with characters at Meet & Greets
Character meals and other dining experiences
Watching stage shows
Watching parades
Interacting with live animals
Playing in the pool or splash pad at your hotel pool
Playing at your hotel playground
Listening to live music
Play in a park sandbox or splash in a park water play area
Splash at the water parks
… and more.
Are there kiddie rides at Walt Disney World?
Sort of. There are some rides that may be more appealing to younger children, but no rides at Walt Disney World are designed that only children can ride them. Unlike your local fair or some regional amusement parks where there are rides that only fit small children, adults can, and do, go on all the rides at WDW.
So can kids go on all the rides?
No. There are some rides at each Disney World theme park that have height requirements; guests may only experience those rides if they're tall enough. But the vast majority of attractions at WDW do NOT have a height requirement. Babies and toddlers are welcome to experience those.
Again, if a Disney World attraction has no height requirement, then you can bring your small child onto that attraction.
Do you have a list of these rides?
Here you go:
(Note – I'm only listing ride-style attractions here: There are also many non-moving attractions such as stage shows that welcome all ages, including babies and toddlers.)
MAGIC KINGDOM rides open to very small children
Astro Orbiter – Tomorrowland
Buzz Lightyear's Space Ranger Spin – Tomorrowland
Dumbo the Flying Elephant – Fantasyland
Haunted Mansion – Liberty Square
Jungle Cruise – Adventureland
Magic Carpets of Aladdin – Adventureland
Pirates of the Caribbean – Adventureland
Liberty Square Riverboat – Liberty Square
Prince Charming Regal Carrousel – Fantasyland
Peter Pan's Flight – Fantasyland
It's a Small World – Fantasyland
Mad Tea Party – Fantasyland
Many Adventures of Winnie the Pooh – Fantasyland
Under the Sea Journey of the Little Mermaid – Fantasyland
Tomorrowland Transit Authority Peoplemover – Tomorrowland
WDW Railroad (not currently operating)
EPCOT rides open to very small children
Spaceship Earth
The Seas with Nemo and Friends
Living with the Land
Journey into Imagination with Figment
Remy's Ratatouille Adventure – France Pavilion, World Showcase
Frozen Ever After – Norway Pavilion, World Showcase
Gran Fiesta Tour – Mexica Pavilion, World Showcase
ANIMAL KINGDOM rides open to very small children
Kilimanjaro Safari – Africa
Na'vi River Journey – Pandora
TriceratopSpin
DISNEY'S HOLLYWOOD STUDIOS rides open to very small children
Alien Swirling Saucers – Toy Story Land
Toy Story Mania – Toy Story Mania
Mickey and Minnie's Runaway Railway – Hollywood Boulevard
How do I take my baby on these rides? Is there anything I physically need to do?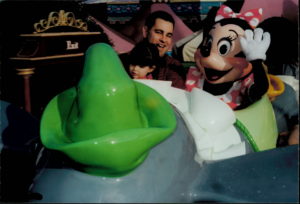 On all these attractions, you'll either hold your child on your lap or have them sit on the seat next to you. If you have a front carrier, like a Baby Bijorn or similar, you could wear your child during these rides.
So my baby can go on these rides. But should they?
That's up to you. Babies under the age of about 18 months will be fine on any of them. But once kiddos start to express opinions, there may be a few of the above attractions that cause issues for some children. For example, Haunted Mansion and Pirates of the Caribbean take place largely in the dark, which could frighten some little ones.
Are other rides we can go on together?
Many folks consider the transportation system around Walt Disney World to be as entertaining as many of the in-park rides. This includes the monorail, boats, and Skyliner system. Your baby or small child is welcome on all of these.
What happens if I want to experience an attraction that my child is too short to ride?
If you're traveling with more than one adult, then you can use Disney's Rider Swap program which allows adults to take turns on thrill rides without having to wait in lines more than once.
If you're a solo parent who wants to experience thrill rides, you can hire a sitter to accompany you in the parks. Kids Nite Out may be able to provide you with a companion to help you watch your kids in the parks.
Can I bring my child's stroller into the lines for the rides?
No, strollers are not allowed into attraction queues. There is stroller parking located throughout the WDW theme parks. Whenever you get into a ride line with your child, you should be prepared for whatever you might need during the next 45 minutes or so, including things like bottles, snacks, pacifiers, wipes, and so on.
Anything else I should know?
You can feel free to breastfeed your baby in any WDW queue or on any appropriate attraction.