Port Orleans Riverside Royal Room Review
Of all the Walt Disney World resorts, Port Orleans Riverside is the resort that I have stayed at the most. I first fell in love with the place back when it was originally called Dixie Landings; and while I'm still a little bitter over the name change, this particular resort has continued to charm me year after year. But just when I though I couldn't love this resort anymore, I had the opportunity to stay in one of its Royal Rooms, special resort rooms themed after popular Disney Royals! So check out my Port Orleans Riverside Royal Room Review to see if this room option might be something you would consider for your next vacation to Disney World!
About Port Orleans Riverside
Port Orleans Riverside is the sister resort to Port Orleans French Quarter. The French Quarter is themed around New Orleans, but Riverside features the elegance of the Old South with white-columned mansions, a bustling river port, and backwoods, bayou charm.
Port Orleans Riverside belongs to the moderate category of Disney World Resorts. Basically, that means it's not the most expensive and luxurious, but it's not the cheapest either. However, unlike other Moderate Resorts, Riverside offers two themed sections and three different room styles.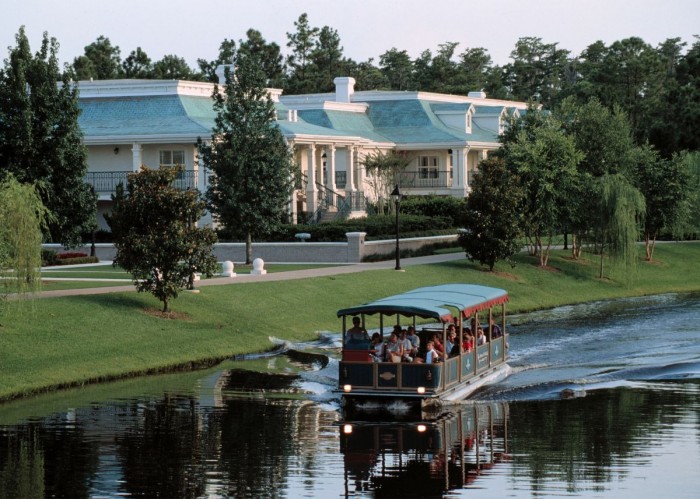 The first section is called Alligator Bayou. The rooms here are a little sampling of the Louisiana bayou with log furniture and charming, rustic touches, and are tucked into the more wooded areas of the resort grounds. The other section of Riverside is known as Magnolia Bend, where rooms are housed in plantation-style mansions and have a more refined feel. These mansions are lined along the trimmed banks of the Sassagoula River.
Port Orleans Riverside is home to two different restaurants, Boatwrights Dining Hall and the Riverside Mill Food Court. The Riverside Mill is my favorite food court at Disney World. It's huge! There's a giant water wheel just outside the windows and the different food stations offer some delicious fare, including a create-your-own pasta bar. Riverside and the French Quarter are both very close to Downtown Disney, and taking a boat from the resort to this popular shopping area is relaxing and a great reprieve from the crowded, chaotic Disney buses!
About Royal Rooms
The story behind these rooms is that Princess Tiana had invited the Disney Princes and Princesses to Riverside. Of course, they had a wonderful time together; and so, the princesses gave Tiana some special gifts. Royal Rooms are special themed rooms where you too can stay in luxury, just like a Disney Princess, and see these gifts for yourself.
Royal Rooms have the same standard amenities of all Disney moderate resorts including a hair dryer, free WiFi service, an in-room safe, iron and ironing board, coffee maker, and telephone with voice mail. Also, Royal Rooms offer two queen beds and a variety of views and locations to choose from.
I have wanted to stay in a Royal Room ever since Disney first announced their construction; and when I was was planning another trip to Disney World awhile back, I learned that Riverside had several Royal Rooms open during my vacation dates. Now Royal Rooms tend to be more expensive, but Disney was offering a room discount and the Royal Rooms were included. I quickly did a little number crunching; and when I discovered that I could stay in one of these rooms and still be within budget, I could have screamed for joy! So I booked my room for my family and tried to contain myself until it was time for my vacation.
Location
My Royal Room was located in Oak Manor of Magnolia Bend, the more refined section of Port Orleans Riverside. Magnolia Bend has names for the different mansions which contain guest rooms. When you book your own Royal Room, you will often have the option of which view you would prefer, such as a Pool View or Standard View, etc. Your choice will effect the location of your room and the selections often vary in cost. Check our hotel room view finder to see where the different Royal Rooms are at Riverside and see how to request the one that works best for you.
I chose a Standard View for my budget's sake, and because I was more interested of what I was going to see inside my room instead of out this time around; but a concern that many guests have has to do with distance. A long trek from your room to the resort's main buildings and transportation can really put a damper on some guests' vacations. My family and I found that Oak Manor was relatively close to the main resort buildings. It was a few minutes walk and a bridge crossing away; and while it may not have been as close as some other rooms at Riverside, it wasn't as far as others and the river and grounds were so pretty!
The actual location of Oak Manor was rather picturesque too. The building sits at the far end of a trimmed shaded courtyard with a fountain just a few feet from the stairs. Beyond the courtyard was a glittering blue view of the Sassagoula River and the passing boats!
During our stay, this courtyard was where Riverside hosted its Movies Under the Stars, where the resort played Disney Movies on a large screen for the guests to come and watch in the evening hours. Also, the light posts lining the courtyard paths featured banners with swords from the Disney Princes or crowns from the Disney Princesses!
Inside Royal Rooms
So when I first walked into my Royal Room, I was immediately blown away. The space was so well done and truly looked fit for a royal. Right away I started picking out little details and references to the Disney Princesses, and I noticed that pretty much everything in the room had been designed to go with the theme. Even the television was set into a gold swirl frame that matched the room's design. Now I've stayed in one of the Pirate Rooms at Disney's Caribbean Beach Resort, and have seen some the themed decor of the rooms at the Art of Animation Resort; but for me, Port Orleans Riverside's Royal Rooms are the most impressive.
Now it's important to note that Royal Rooms are the same size and layout as other Riverside and Moderate Resort rooms. What you're really paying for with a Royal Room is the theme and design. But hey, the theme and design are pretty amazing, don't you think?
Let's start with the beds, shall we? The top of the headboard has a T for Tiana, and the gold flower accent right above the pillows looks like a Magnolia, the perfect Southern touch for this particular resort. Oh! Did I mention that the headboard is also magical? If you push a button on the side, lightning bugs flicker and glow over the bayou and fireworks shoot up into the sky! By the way, could that one star on the headboard be Evangeline from Disney's Princess and the Frog?
The bedspread pattern was covered with little crowns for each Disney Princess. Disney is no longer using full bedspreads, but rather long patterned strips laying across the foot of the bed. Still, the crown pattern is still on these strips and it's fun to match each crown to the corresponding princess.
So about about the gifts that the other princesses left Princess Tiana?
The first gift was right under my feet. It's the magic carpet from Disney's Aladdin. It's actually part of the room's carpet, so you don't have to worry about tripping over it.
This little bench is supposed to be the footstool from Disney's Beauty and the Beast!
These curtains look like they belong in Cinderella's Castle, don't they? So elegant! Also, I can personally testify that when they are drawn closed, they block out all sunlight for those of us who want to sleep in while on vacation. So rest assured that the Florida sunshine won't interrupt your beauty sleep.
Even these usually ugly units have had a royal makeover!
As in every Moderate Resort room, there is a a nightstand, a dresser, and a small table and two chairs for quick snacks, writing postcards, or serving as a work space. The letter from Tiana is actually part of the surface of the table here. Up above the table are banners showcasing silhouettes of the Disney Princes. They even included Eugene Fitzherbert (a.k.a Flynn Ryder) from Disney's Tangled.
In case you're wondering, Prince Adam in the above banner is the real name of the Beast from Disney's Beauty and the Beast. It's not a well-known fact, especially since the Beast is what you see around the parks, but I'm glad Disney is being accurate in the Royal Rooms for other Disney Nerds like myself.
I have to show a close-up of the light fixture hanging over the table. It's gold and has the prettiest pattern. It even includes a few Hidden Mickeys!
This gift appears to be from Cinderella. I personally wish that Cinderella would have had a better representation in the Royal Rooms than this. I would have liked to see her glass slipper or something like that.
This picture is most certainly a gift from Snow White. The carved, dark wood frame contains little woodland creatures and even Snow White's initials. Also, look at the background of this picture. Do you see where the princesses are? It's Riverside!
There are several other framed pictures of the princesses and Tiana enjoying Riverside on the walls of the Royal Room. As an adult, I thought it was interesting that Disney took the princesses out of their respective worlds and put them into a physical Disney World Resort for the story line of these rooms. It's something you don't see often; but I liked it, and I believe kids will be extra excited believing that this resort is a place that their favorite princesses stayed and played too.
When exploring your Royal Room room, be sure to look up. Around the top of the room, you will find this border which features an array of Disney Princess sidekicks.
Inside the Royal Room Bathroom
So the bathroom area was perfectly lovely and there was no shortage of details in this space either. However, as I said about the room itself, the layout and size of the bathroom is the same as what you will find in other Riverside rooms and Moderate Resorts. It can be cramped, but the curtains can be pulled for privacy and I always appreciate a double sink. It helps when you're trying to get more than one person ready for the day at the same time.
There isn't much counter space, but there is a small shelf running under the double mirrors for your things and a shelf underneath the sink too.
Also, be sure to look carefully at the light fixture above the mirrors. There are large sparking gems in between the lights!
My favorite thing in the whole bathroom are the faucets. They look like Aladdin's Magic Lamp! It's a big hit with young and old.
The closed-off section of the bathroom includes both the toilet and a shower and bath combo, with a little bit of space to spare. I do wish Moderate Resorts offered larger bathroom space. I've stayed at Disney's All-Star Sports and Pop Century Resort several times; and while Moderate Resorts bathrooms are known to be a little bigger, I really don't see much difference. But still, the Royal Room details are alive and well here too, particularly in the shower curtain which is covered with a pattern of gems and little items from Disney's The Little Mermaid. And yes, that is a Dinglehopper!
So that is a Port Orleans Riverside Royal Room. What do you think? Personally, I loved my Royal Room. I love little details and references to Disney movies, so this was perfect for me. Although, if I had booked the room looking for a more spacious, luxurious experience at Riverside, I would've been disappointed. As I've said, you're paying for design, not space, when you book this room option.
One thing in particular that surprised me about my Royal Room was the color scheme.When I think of a princess-themed room, I think of pinks, purples, glitter, and eye rolls from dads and little pirates in training. Instead, I found mostly royal blues and golds and dark woods that was much more regal and classy than sparkly. Disney seems to have managed a balance between enchanting little princesses and appealing to adults, which means that everyone in the family can feel comfortable and enjoy a Royal Room.
I would most definitely recommend a Port Orleans Riverside Royal Room to others. My family and I were able to enjoy all the benefits of my favorite Moderate Resort, but with extra-magical surroundings that only made our trip all the more memorable. But what do you think? Have you ever stayed in a Royal Room? What was your experience?