Resort Rundown: Disney's Art of Animation Overview
Those that are drawn to the charm of Disney animated films will find themselves on the right page at Disney's Art of Animation Resort. This value resort is a guest favorite in its category. Disney characters are everywhere, making for great photo opportunities and an atmosphere that is perfect for kids, and kids at heart. The vast majority of the accommodations are family suites, making this the highest-priced resort in its category, but many families find it to still be a strong value. 
Before we go over the rest of the resort, it should be noted that the resort's main pool, The Big Blue Pool, will be closed for refurbishment in fall 2020. Here is the official statement from Walt Disney World:
"Beginning in fall 2020, The Big Blue Pool will be closed for refurbishment. While this work takes place, our other exhilarating pool and recreation offerings will remain open for your enjoyment—including Flippin' Fins Pool, Cozy Cone Pool, and the Schoolyard Sprayground.
Noise may be heard while this work is being completed, but noise should not be heard from Guest rooms between dusk and 9:00 AM. We apologize for any inconvenience this may cause, and appreciate your patience and understanding."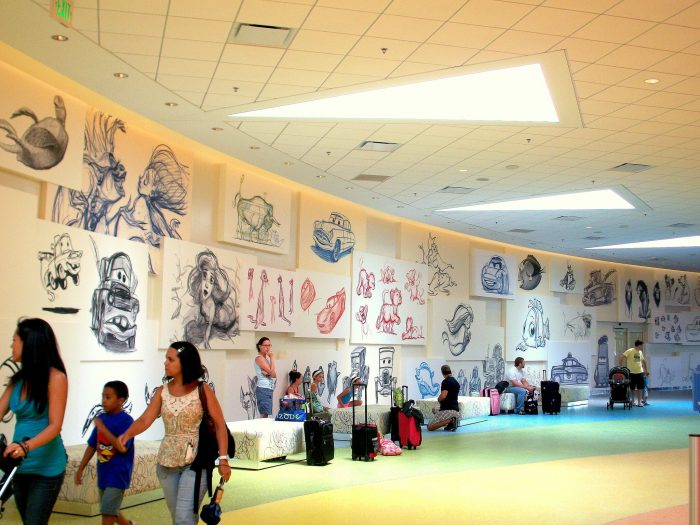 Location
This resort is right across the street from ESPN Wide World of Sports, though you can't really walk to it. The closest theme park to Disney's Art of Animation Resort is Disney's Hollywood Studios, though Epcot is nearby too. With the addition of Disney's Skyliner gondola transportation system, Art of Animation is connected to Disney's Hollywood Studios and Epcot in a whole new way. There are no attractions within walking distance, however, it is connected to Disney's Pop Century Resort if you do want to stretch your legs and get a slight change of scenery.
Rooms 
Most of the units at Art of Animation are family suites. There are groups of buildings each themed around a different Disney or Pixar animation film. There are no view types for any of the rooms, so your view can be either of the parking lot, courtyard, or pool.
Speaking of views, you can use the awesome Touring Plans Room Finder to help you narrow down the exact room location you would like. You can plug in your preferences and find rooms that match your needs. Then when you make your reservations and check in you can request your desired rooms. This tool is free to use.
It is worth noting that Value category resorts consist of clusters of buildings with exterior hallways to access your room. This can be a little rough if the weather is very hot, very cold, or rainy.
The regular rooms are themed after "The Little Mermaid" and have fun details that replicate the film's color palette. The seashell shaped headboards and scalloped shaped chairs add whimsey and characters from the movies accent the walls. There are no in-room coffee makers at this room type, but a mini-fridge is supplied. Two double size beds or one king bed is available. 
Family Suites
Those traveling with children are exactly who the family suites are designed to attract. In the family suites you'll find more space, more amenities, and bigger beds. When booking your family suite you can choose your suite to be located in one of three movie-themed sections. You can choose between "Cars", "Finding Nemo", or "The Lion King". All suites have the exact same set up, the only differences are the decorations and the location of the buildings.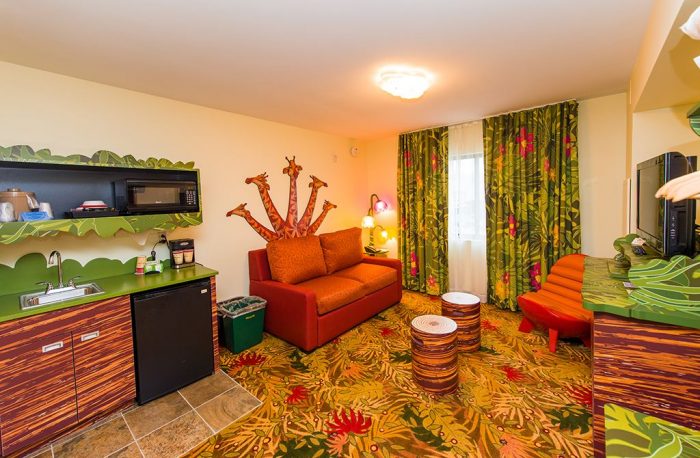 Each family suite includes: two bathrooms, kitchenette with coffee maker and microwave, and a small dining area (table pulls down to a bed). There is a separate living room with a TV and a double size sleeper sofa, the first bathroom is next to the living room and the dining table that converts to a double bed is across from the bathroom. A separate master bedroom with a king bed has its own TV and its own bathroom. This gives parents and kids their own space each designed with them in mind. 
 Dining
Value resorts are a little skimpy on dining options, in fact, there is only one counter service location at Art of Animation, and one poolside bar. The counter service option, Landscape of Flavors, has a wide variety of choices in its food court style set-up. The Drop Off pool bar is a fun place to grab a cold one, and when you're ready to just relax in your room or suite you can opt for pizza delivery. 
You can also walk across Hourglass Lake to Disney's Pop Century Resort to visit their counter service location, which is very similar to Landscape of Flavors, but has a different menu. Or, you can board a Skyliner gondola, which will take you to Disney's Caribbean Beach resort, and explore their dining options too.
Pools
You can really make a splash at Art of Animation resort as you enjoy three pools and a water playground. The main feature pool is The Big Blue Pool which is themed to Finding Nemo and also offers the Schoolyard Sprayground. This is the largest pool of any Walt Disney World-owned hotel, and it is zero entry, which is great for younger swimmers. 
The Cozy Cone Pool (in the "Cars" section) and the Flippin' Fins Pool (in "The Little Mermaid" section) are much simpler pools. These two pools are great if your room is in the immediate area and you're looking to relax close by.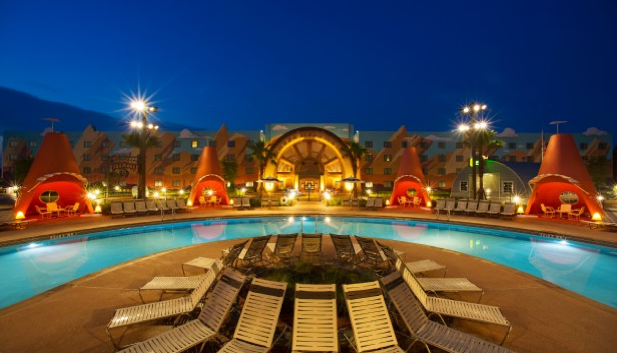 Recreation 
Guests can also enjoy movies under the stars on the lawn area between the "Finding Nemo" buildings and "The Lion King" buildings. In addition to a splash playground there is a regular playground near the "Finding Nemo" buildings. A 1.38 mile jogging trail provides scenic views of the resort, and the Pixel Play arcade is fun for kids and adults as it is a mix of classic games with new ones. 
Transportation 
It used to be that Value resorts only offered bus transportation. Now, Art of Animation and Pop Century Resorts have a Skyliner station that brings guests to Disney's Caribbean Beach resort, which is the hub of the Disney Skyliner system. From that hub guests can connect to Disney's Hollywood Studios or to Epcot. It is about a three-minute ride to the hub then an additional three to four minutes to Hollywood Studios and about 10 minutes to Epcot.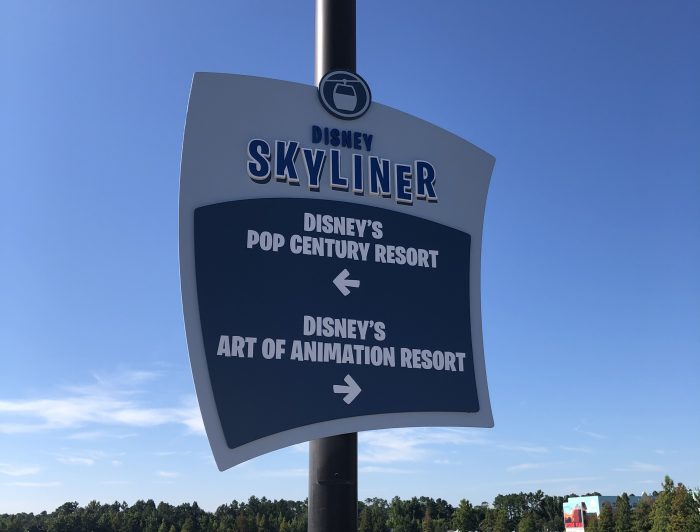 For all other theme parks, water parks, and Disney Springs, Art of Animation guests can utilize complimentary bus transportation which arrives about every 15 minutes.
More Information
Would you like to see more? Check out our Resort Overview view: 
Take a look inside a standard room:
Tour a "The Lion King" family suite:
We sure ran through a lot of information about Disney's Art of Animation , so here's a handy-dandy infographic that sums it all up: