REVIEW: ABC Commissary Reopens with a NEW Menu
Disney's Hollywood Studios is giving us an October surprise of its own. ABC Commissary has reopened with a new menu, and it's actually pretty good. Disney's Hollywood Studios is one of the busiest parks since reopening in July, and while the quick service dining options are plentiful, it's nice to have another place to put people. Our team visited to check out some of the new menu and plot twist, some of the items are so good we may return to order them again!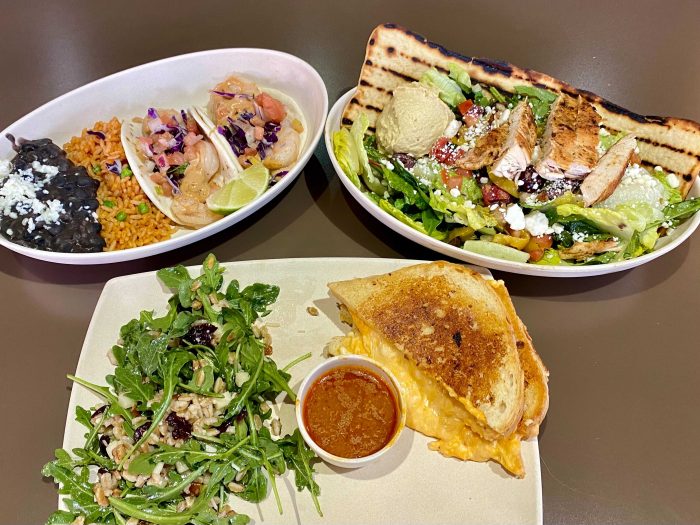 Disney's Hollywood Studios has the worst layout of any of the Walt Disney World theme parks. And ABC Commissary has a strange location, tucked along a slender alley known as Commissary Lane, behind the Hyperion Theater and Echo Lake, a short distance from the Chinese Theater ( home to Mickey and Minnie's Runaway Railway). You may feel a little cramped as you head toward ABC Commissary. There is amble seating inside, where the dining area has costumes and other interesting items from ABC television shows. There are tables outside too, along Commissary Lane. This location is meant to feel like a cafeteria at a working television or movie studios, which is part of the reason for its unusual location.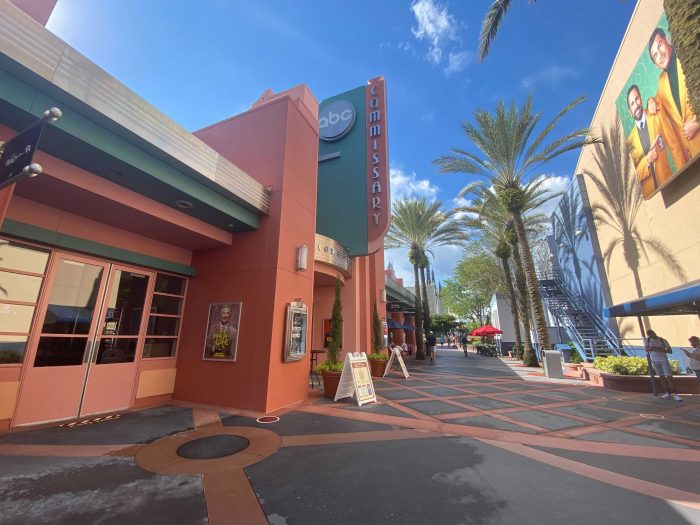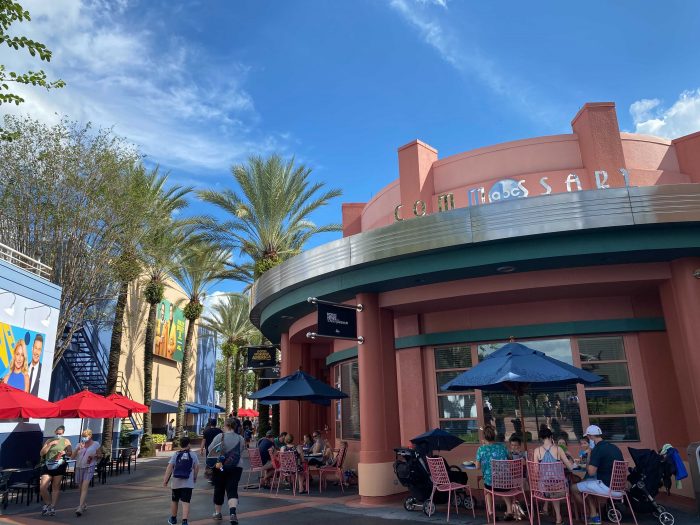 Our readers give ABC Commissary a 78% thumbs up rating, which is relatively low. It is ranked number 83 out of 108 reviews, but hopefully that ranking will improve with this new menu.  Mobile ordering is used here, which is very convenient. We recommend placing your order ahead of the lunch rush, while waiting in line at an attraction, then when you're done at the attraction you can check-in for your food to be prepared.
The menu at ABC Commissary has been revamped, with a focus on fresh flavors that won't weigh you down. Our team ordered the following, all of which are new menu items:
Buffalo Chicken Grilled Cheese Sandwich: Grilled Sourdough toasted with Buffalo Chicken, Monterey, Provolone, Cheddar, and Cream Cheese served with a side of Buffalo Sauce and your choice of side. – $10.99
Mediterranean Salad with Chicken: Chicken Breast served over Mixed Greens with Tomatoes, Cucumber, Pepperoncini, Kalamata Olives, and Feta tossed in a Mediterranean Vinaigrette served with Hummus and Grilled Flatbread – $11.99
Shrimp Tacos: Sautéed Shrimp on Flour Tortillas topped with Cabbage Slaw, Chipotle-Mayonnaise, and Mango Salsa served with Mexican Rice and Black Beans topped with Queso Fresco – $12.99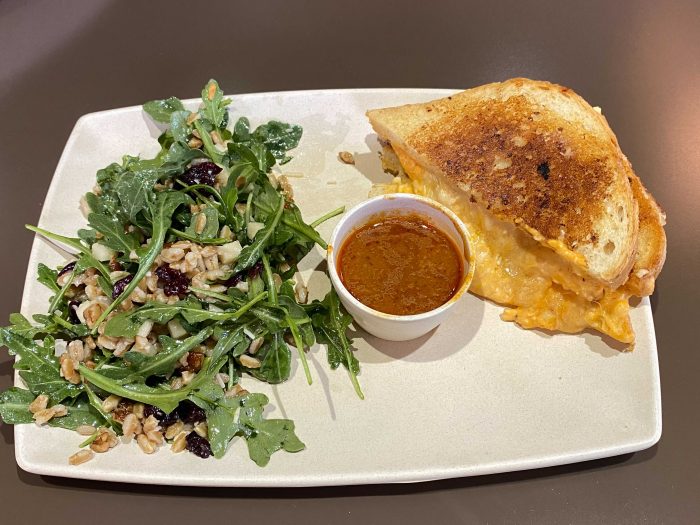 Up first, we'll start with something fiery. The Buffalo Chicken Grilled Cheese Sandwich is packed with spicy Buffalo flavor. There's four different kinds of cheese in this grilled cheese, but the sauce overpowered the creamy quad-blend of cheese. This would heat things up on a rare chilly Florida day. This item comes with your choice of side, we went with the Arugula-Farro Salad which did help tame the spice and is a nice healthful option.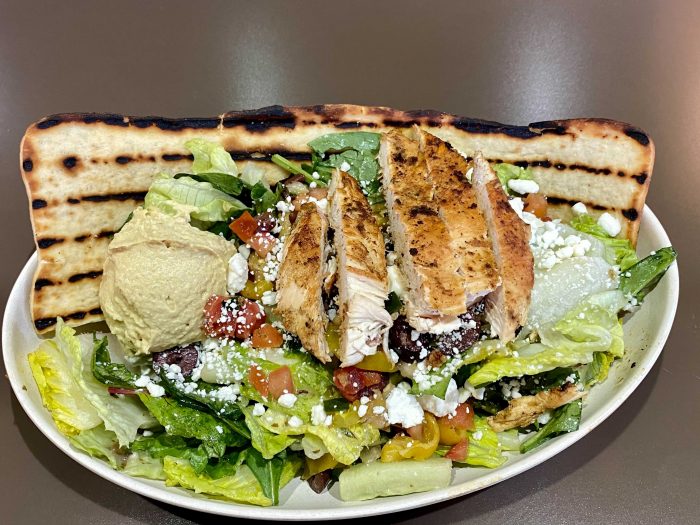 Now to cool things down, the Mediterranean Salad with Chicken, is delightful! The toppings are plentiful and fresh. Usually the chicken that comes with a quick service salad from Disney is rubbery and gross, but we were pleasantly surprised with this salad. The hummus and grilled flatbread are a great addition that add value. This is on our list to order again sometime.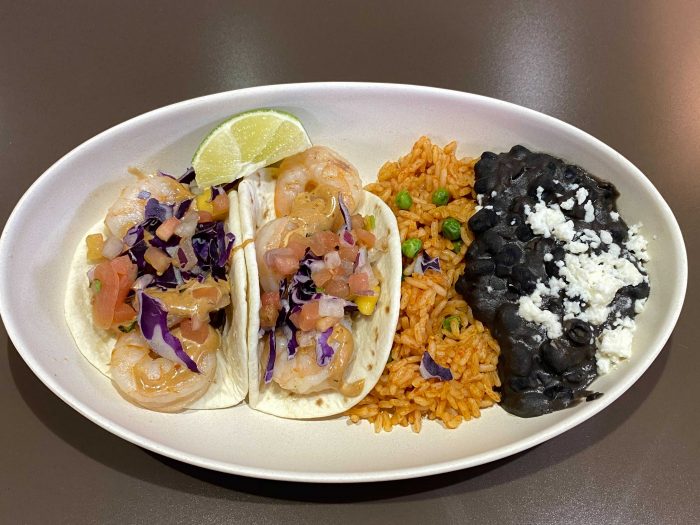 The Shrimp Tacos are the surprise hit of the bunch. The shrimp is spicy, and probably made a little more so because of the Chipotle-Mayonnaise, but not overpowering. The toppings of Cabbage Slaw, Chipotle-Mayonnaise, and Mango Salsa are California-inspired rather than authentic Mexican. The black beans turned out to be one of the best sides our team has had at Walt Disney World in a while. We didn't try the Pork Carnitas Tacos, but if they're anything like the Shrimp Tacos we think they'll be delicious. There are two plant-based options and they both sound delightful: Curry Rice Bowl with Tofu and a Plant-Based California Burger.
There so many places to eat at Walt Disney World. Let us help you navigate it all and find the best options for your family. Become a TouringPlans Subsriber and you'll have everything you need for the best Disney trip ever!
Which of these new items sounds the best to you?  Do you think ABC Commissary will redeem itself with the new menu?