REVIEW – B.B. Wolf's at Disney Springs Offers Hearty Gourmet Hot Dogs and Sausage
At Walt Disney World, there's no better place for dining that runs the entire spectrum from casual to classy than Disney Springs. Lots of attention is paid to the more refined options at Disney Springs, but if you're looking for something easy and casual, there's some great options too. B.B. Wolf's Sausage Co. is an unassuming stand along the lake at Disney Springs Marketplace. It is often overlooked, but if you're in the mood for a hearty meal without a hefty price tag B.B. Wolf's is a decent option.
Our readers have submitted over 500,000 surveys over the past few years and give B.B. Wolf's Sausage Co. a low thumbs up rating of only 77%. This puts it at number 107 of 108 quick service options at Walt Disney World. With this in mind, our fearless field research team decided to pay a visit to B.B. Wolf's to  see what's holding this location back.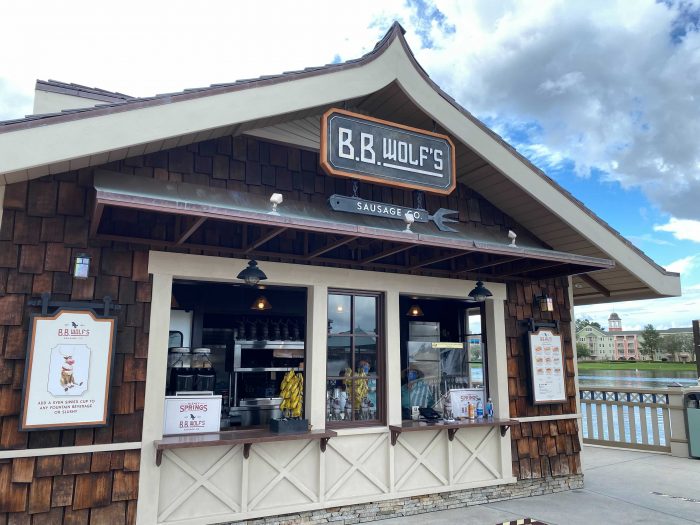 This walk-up kiosk by the lake it one of three gourmet snack kiosks operated by Disney at the Marketplace. Daily Poutine is nearby, as is AristoCrepes, each with the same style of operation – walk-up, order, and enjoy your food anywhere you like in Disney Springs. Interestingly enough, Daily Poutine has much higher ratings than B.B. Wolf's. Of course, Poutine seems much more a specialty food than gourmet hot dogs.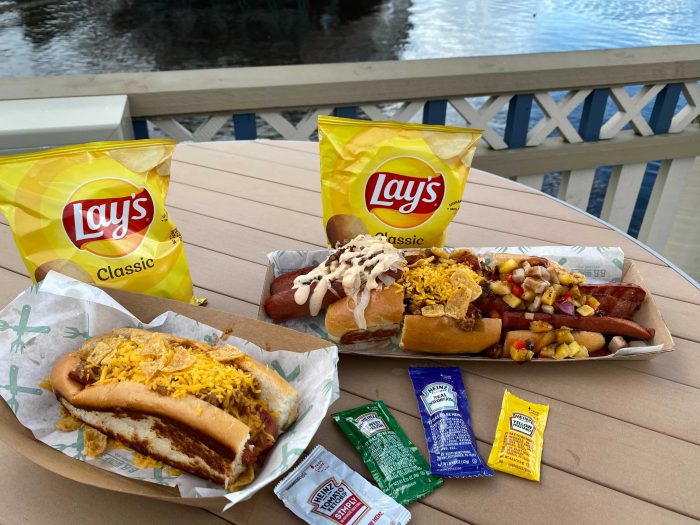 The menu at B.B. Wolf's is all sausage, which is pretty savage of Disney to make a gourmet hot dog stand and theme it after the Big Bad Wolf who antagonizes three little pigs. Highlights of the menu include the Hawaiian Island Dog, New York Pastrami Dog, and the Plant-Based Bratwurst Sausage. One of the things that holds B.B. Wolf's back is each gourmet dog is served with a sad, disappointing bag of plain Lay's potato chips. We'd almost rather they not serve anything with the dogs and lower the price by 50 cents.
Our team selected two popular items on the menu:
Texas Chili-Cheese Dog – All-Beef Quarter Pound Hot Dog, Topped with Chili, Cheddar, and Corn Chips on a House-Made Roll, Served with Chips $11.49.
Three Little Pigs – Three Mini Versions of our Specialty Dogs: Pastrami Reuben Dog, Hawaiian Island Dog, and Texas Chili-Cheese Dog, Served with Chips $13.99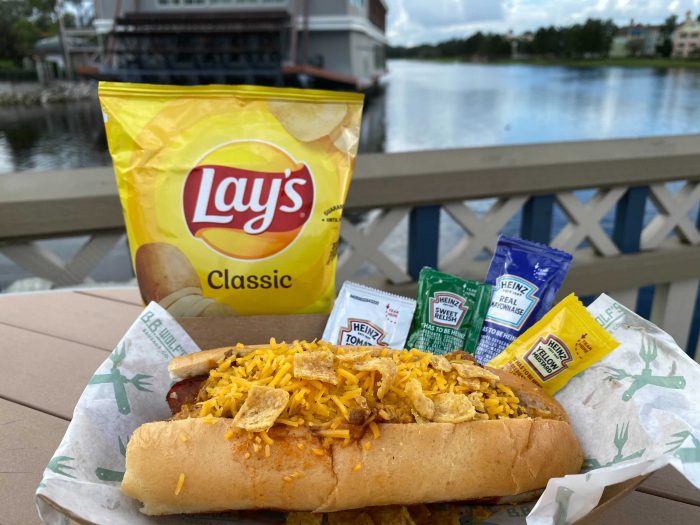 The Texas Chili-Cheese Dog is hearty and sloppy. You'll definitely want to grab multiple napkins before diving in, and you may need to be hosed off afterwards. The house-made roll elevated this super casual plate. We found the corn chips on top could have been more plentiful and we suggest asking for extra if you want some nice crunch. For under $12.00 it is not a bad deal considering many quick-service options at Walt Disney World run $12.00 and up.
If you'd rather keep yourself open to sampling the many flavors of Disney Springs then the Three Little Pigs will give you a way to sample some of the signature flavors here. If you split this hot dog flight with someone else you'll be satisfied but still have room to try some of other great food around Disney Springs.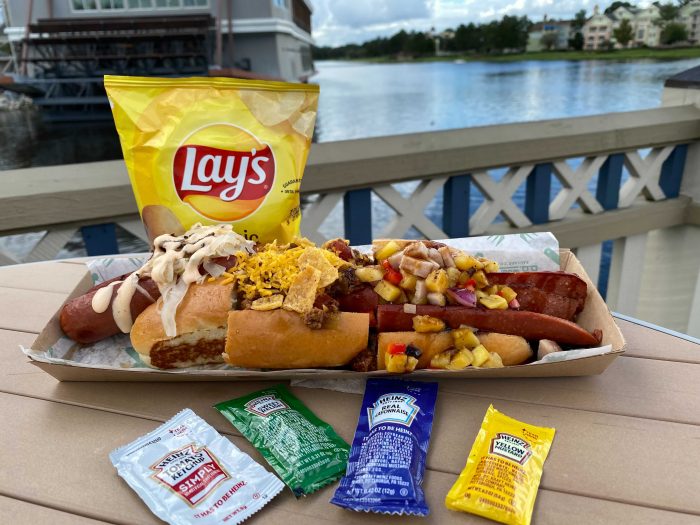 If you do decide to huff and puff and pay a visit to B.B Wolf's take note of the weather vane atop the kiosk. Grab a spot along the water and enjoy the views as you chow down on messy, but yummy food. One drawback of this location is it can be quite slow to get your food once you've placed your order. Due to the limited setup of this location, no mobile ordering is available, so this is not a quick and easy spot. The slow service is one of the reasons for such poor ratings here.
We've got listings and ratings for every Walt Disney World restaurant. You can access these ratings on our site as well as on-the-go in our Lines app. Our site also offers the free Menu Search tool so you can see where to find your favorite foods at Walt Disney World.

Have you ever eating at B.B Wolf's Sausage Co.? Do you think it deserves a better rating?