In Praise of the Minor Attraction
Parks reporter Chrissy and I recently went head to head, testing how long it takes to complete the Touring Plans' 18 Magic Kingdom attractions most requested by adults.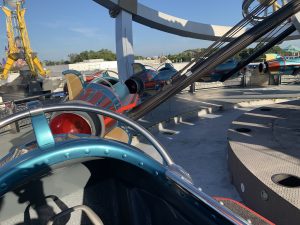 Over the course of a full day, we chugged through headliners like Space Mountain, Splash Mountain, and Pirates of the Caribbean. Chrissy, using the touring plan, got through the entire list and I got through most of the biggies, but we did so putting in 11+ plus hours of time in the park, much of which was wait time. Personally, I logged a 55-minute wait for Pirates (a 7-minute long ride) and a 66-minute wait for Seven Dwarfs Mine Train (a 3-minute long ride), among others.
I admit to feeling more than a little salty (and sweaty) after my Mine Train wait. It's a good ride, but I'm not sure it justifies a wait that's 22 times longer than the attraction itself.
Fast forward a few days later and I decided to finish off the rest of the currently open Magic Kingdom attractions. The park's official open time was 9:00 a.m. I arrived early and, as is typical these days, found the park fully operational when I walked in at 8:20. Instead of rushing to boffo hits like Space Mountain or the Mine Train, I ambled over to the less-lauded Astro Orbiter.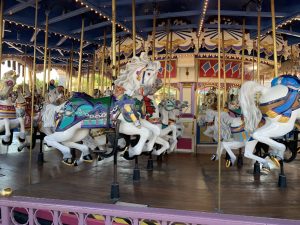 There was no wait. I had the entire ride to myself. When I finished, the cast member attendants asked me if I wanted to stay on and ride again. I declined and headed over to Tomorrowland Speedway, rode immediately, and was also asked if I wanted another turn.
Before 10:00 a.m. I had ridden Astro Orbiter, Tomorrowland Speedway, Mad Tea Party, Dumbo, the Barnstormer, the Carousel, and the Magic Carpets. That's seven attractions in 100 minutes.
I then got a Citrus Swirl, walked through the Swiss Family Treehouse, watched the Enchanted Tiki Room and Country Bears shows, saw two cavalcades and the Cadaver Dans, watched the glassblower on Main Street, did a little shopping, and left the park by noon in a wonderful mood.
Overall, in just under four hours I experienced 10 attractions, ate, saw the available entertainment, puttered around a bit, and felt some of the old Disney magic – all without wilting in the heat.
To be fair, I wouldn't want every visit to the Magic Kingdom to look like this. No adult really needs three versions of spinner rides in a single day, but as a palate cleanser, these minor attractions were exactly what I needed to get my Disney mojo back. They were quick fun with no fuss.
And of course my minor attraction morning, followed by a dip in the hotel pool, would have been a completely perfect day for a young child.
Minor attractions for the win!
What are your thoughts? Do you have must-do minor attractions or plan a "majorly minor" day? Let us know in the comments.