Review: Cruising on the Crystal Symphony
As our kids have gotten older, we've been trying out different cruise lines to see how they compare now that Disney's fantabulous kids clubs no longer have such a huge impact on our experience.  Last week we took our first cruise since the start of the pandemic, and I'd love to share with you what we saw, heard, and ate (especially ate!) on the Crystal Symphony.
About The Ship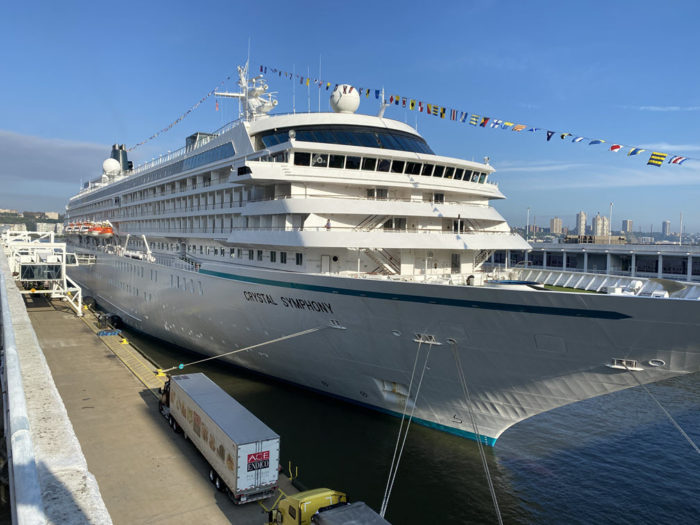 The Symphony is one of Crystal's two Ocean cruise ships, built in 1995 and extensively refurbished in 2017.  Viewed from the port, her smaller size compared to ships from lines such as Disney, Norwegian, and Royal Caribbean is apparent, as is the lack of flash on the upper deck. Don't let that fool you though; from the moment you step foot off the gangplank the Symphony oozes elegance, class, and comfort.
Eight of the Symphony's twelve decks are routinely accessible to passengers; we embarked onto Deck 6 where most of the ship's entertainment venues and shopping are located, as well as the specialty dining. Deck 5 immediately below contains the atrium and the main restaurant, while Deck 7 above is the Promenade, with a continuous outside walkway around the whole ship surrounding Oceanview cabins on the interior.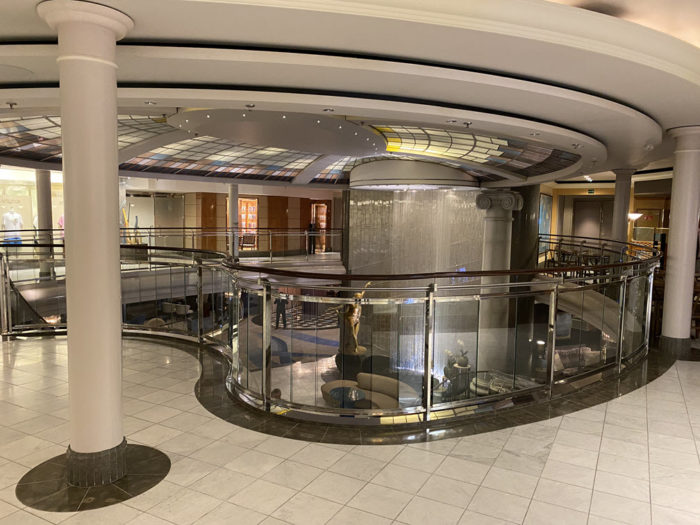 Continuing upward, Decks 8, 9, and 10 are passenger cabins and then we arrive on Deck 11, where the remainder of the dining is located along with the pool, sun deck, kids clubs, and a multi-purpose lounge area.  One thing that we really enjoyed about the Symphony's sun deck was the variety of seating; the big round lounge chairs that you can just see in the bottom corner below were my favorites.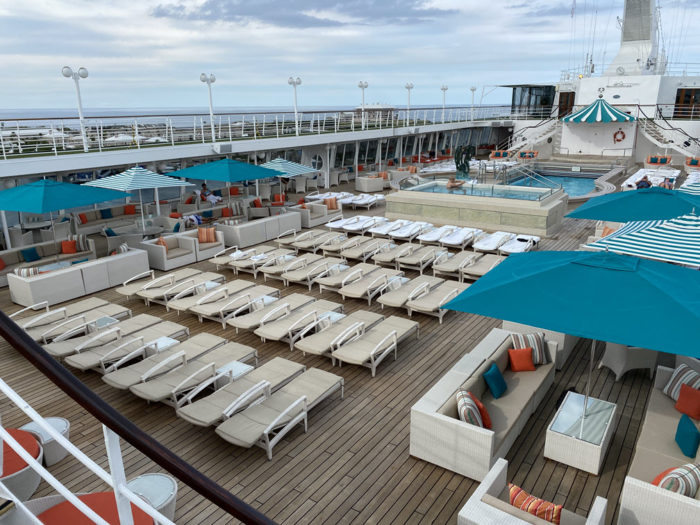 Deck 12 was home to the Spa and the well-equipped Fitness area, as well as a second walking track, the tennis court, and a putting green and driving net.
About the Food (the FOOD!)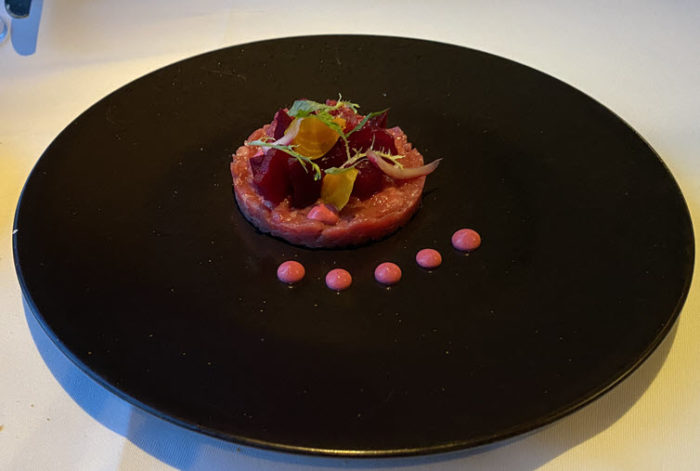 You may have already seen some hints that we found the food on the Symphony to be superior, by far the best of the four lines on which I've sailed. It wasn't just the ambition of the fine dining menus, but little things that contributed to the overall quality. Meats were routinely served at the perfect temperature (even when ordered rare or medium rare), juices were fresh squeezed (not only orange, but grapefruit as well), and the petite treat desserts at the buffet which can so often be dry and tasteless were flavorful, interesting, and delicious.
Main Dining Room
Waterside is the ship's main dining room, with open seating for breakfast, lunch, and dinner.  Breakfast is a fixed menu featuring routine fare alongside offerings from global cuisines such as the all-in-one Japanese: Miso Soup with Tofu, accompanied by grilled salmon or black cod along with sticky rice, a steamed vegetable, a small omelet, and pickles.
Dinner at Waterside features a dual menu, with the "Modern" side showcasing nouveau cuisine with occasional touches of molecular gastronomy, and the "Classic" side featuring more traditional dishes.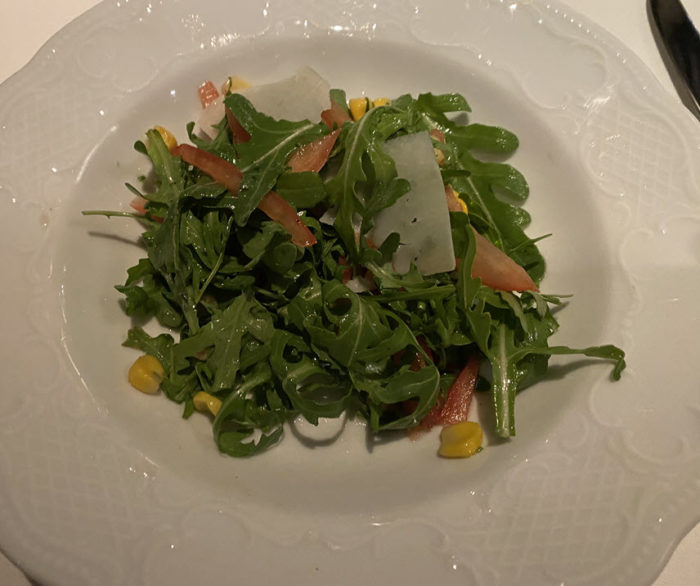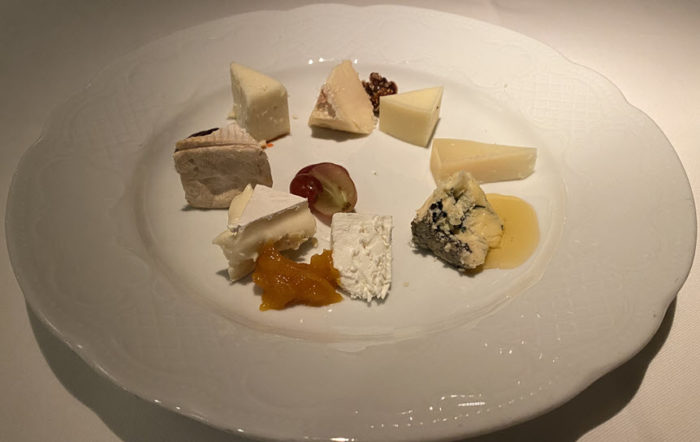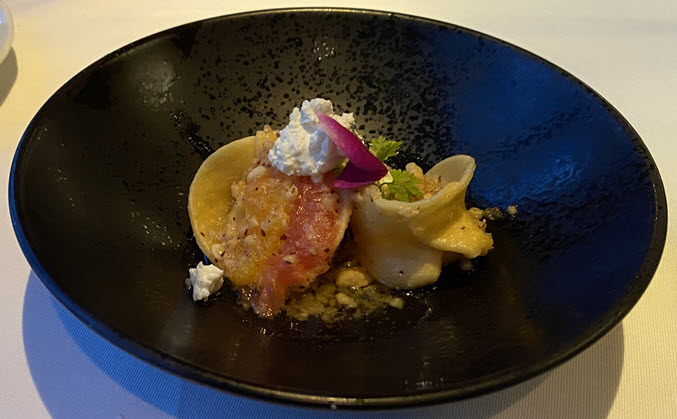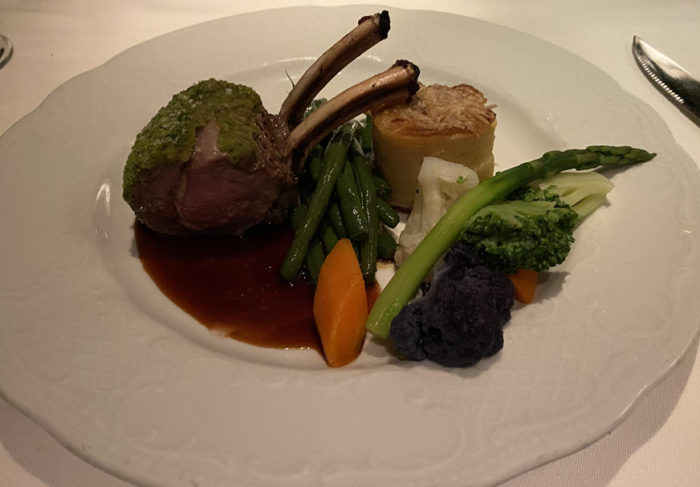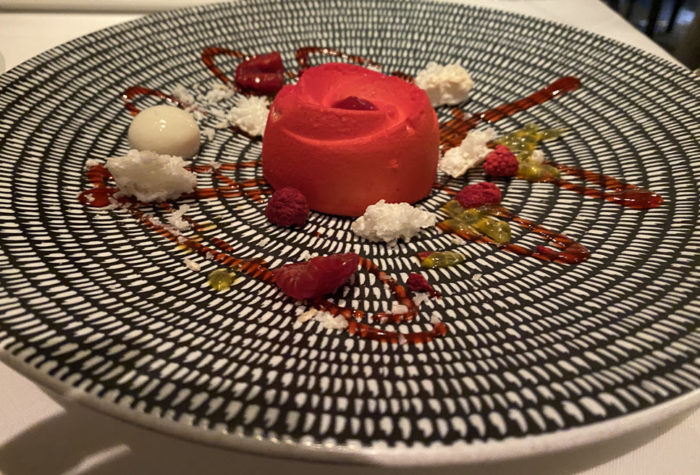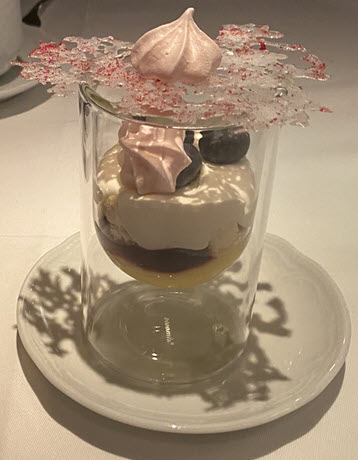 Although we encountered the occasional dish that simply wasn't to our taste — because we didn't hesitate to try more than half the menu on each visit! — the quality was routinely superb and our waiter was quick to steer us away from the occasional plate that might not be up to snuff or was generally not a favorite of other diners.  For those who love to sample, as we did, many entrees on both the lunch and dinner menu can be served at a half size.
Marketplace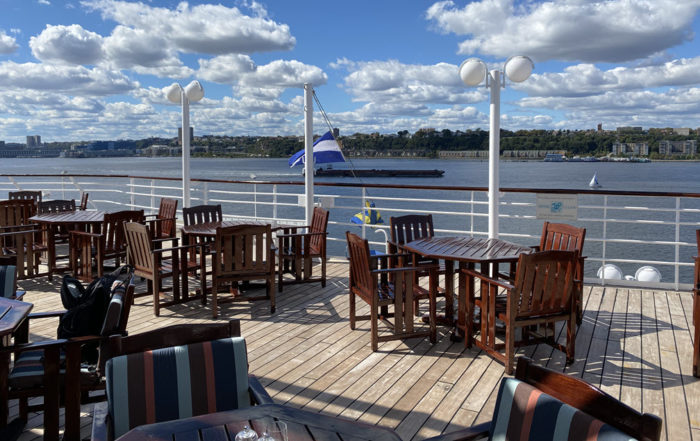 Marketplace is the Symphony's buffet, serving breakfast and lunch daily.  Breakfast has all the usual offerings with a wider variety than you might find on other ships, including multiple muesli mixes and a fruit station that moves beyond the standard melon and grapefruit to include papaya and mango. For lunch the everyday stations such as salad, charcuterie, and dessert are joined by a daily specialty offering; sushi on one day, make your own panini on another, etc.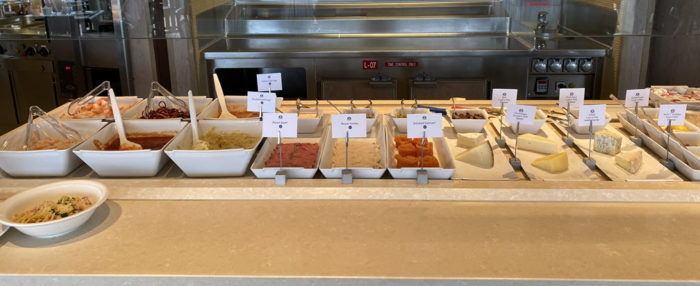 Even Crystal's chefs appear unable to overcome the laws of thermodynamics; heated entrees on the lunch buffet were a rare low note, although a sailing with more passengers might have seen these benefit from less time in the holding pans.  The carving station and made to order hot entrees were of the usual high quality.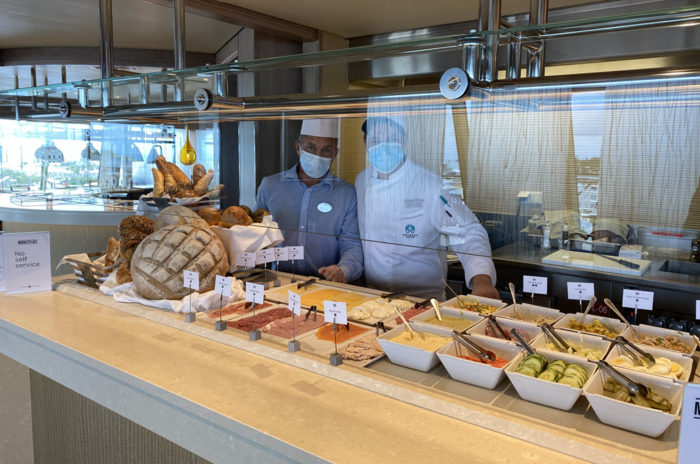 Specialty Dining
The Symphony has two specialty restaurants, Umi Uma/Sushi Bar and Prego. Guests have a number of free reservations per sailing, with additional visits at $30 per person subject to availability. As you might guess from the names, Umi Uma offers Japanese cuisine with a focus on seafood, and Prego serves dishes from the Italian repertoire.  We tried both of these restaurants and while there are no pictures, I can assure you the food was absolutely delicious.  In a noticeable departure from our experience on some other lines, it was not more delicious than what was available in the main dining rooms; the difference was the focus on specific cuisines and the number of dishes containing specialty ingredients.
On Deck 11, Silk serves Chinese cuisine for lunch and dinner; reservations are required for dinner but there is no upcharge for multiple visits.  At dinner time the Marketplace converts to Churrascaria, a format that will be familiar to patrons of 'Ohana or Fogo de Chao.
Anytime Eating
Where to get food if it isn't a meal period? I'm sure you'll be unsurprised to learn that just like every other cruise ship I've ever heard of, it's well nigh impossible to starve on the Symphony. The aforementioned Silk serves lunch on the late schedule, from 1-3 p.m. after the buffet and main dining room have closed.  The Trident Grill serves burgers and fries from lunch through the early evening.
On Deck 6, The Bistro serves specialty coffee and tea from early morning until late evening, along with a selection of pastry and savories.  In the late evening, bar snacks are available in many of the bars and lounges, usually pizza and sliders or the like.  And of course, there's always Room Service — it's available 24 hours a day and during meal periods you can order from the main dining room. (Penthouse cabins can order from the specialty restaurants as well.)
Last but not least, one of my favorite meals was served every day in the Palm Court – Afternoon Tea!  If Tea at the Grand Floridian is on your must-do list for any Disney trip, then this just might be your boat.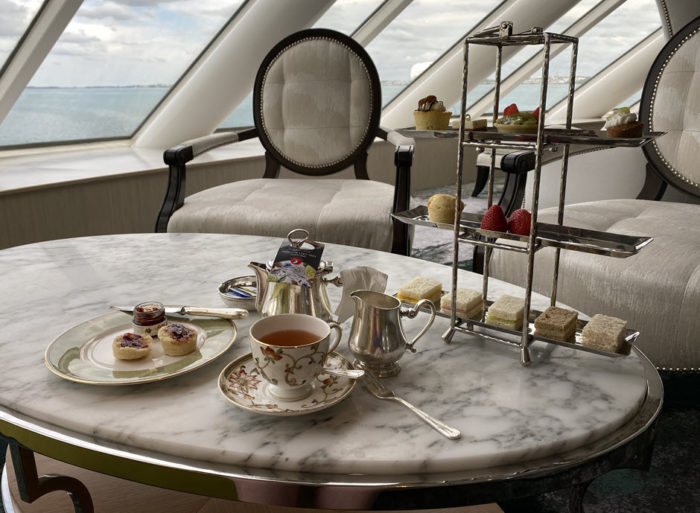 How Were the Cabins?
The Symphony does not have inside cabins. Over half the staterooms have verandahs, and about 20-25% of the cabins are Penthouse class staterooms and suites, which come with butlers. We were in a Deluxe Verandah Stateroom on Deck 9, decorated in light woods and earth tones.  We found ample storage, excellent use of space, and a full tub in the well-accessorized bathroom.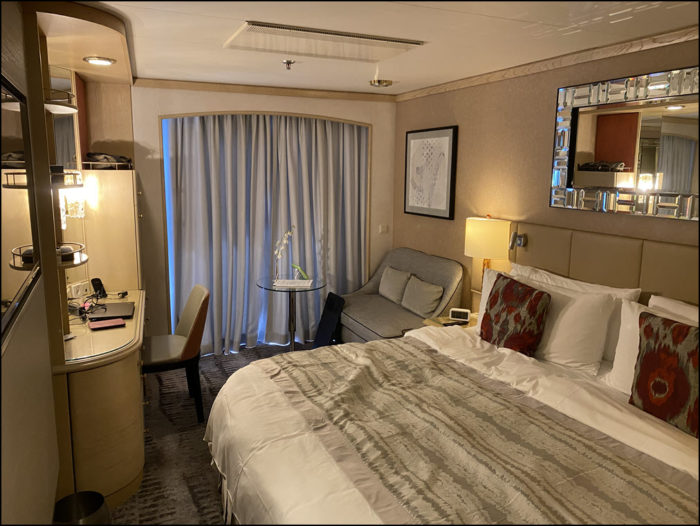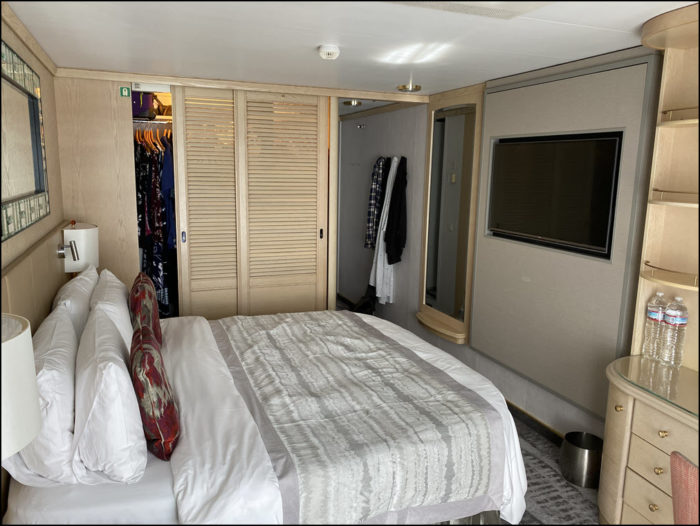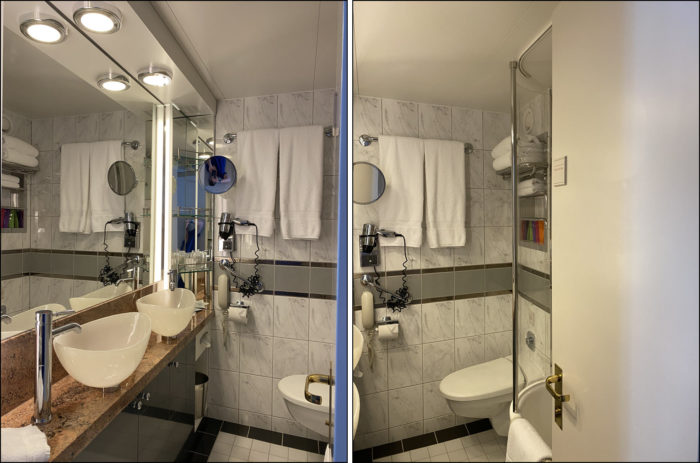 We were able to tour other cabin classes on one of the sea days.  The Oceanview rooms were very similar to the cabin we were in, with a sizeable picture window instead of the verandah. The next class above us made good use of an additional 100 sq. feet and felt noticeably more spacious in both the living area and the bathroom, well equivalent to the amount of space in an average hotel room. Higher classes had even swankier features such as jetted tubs and walk-in closets.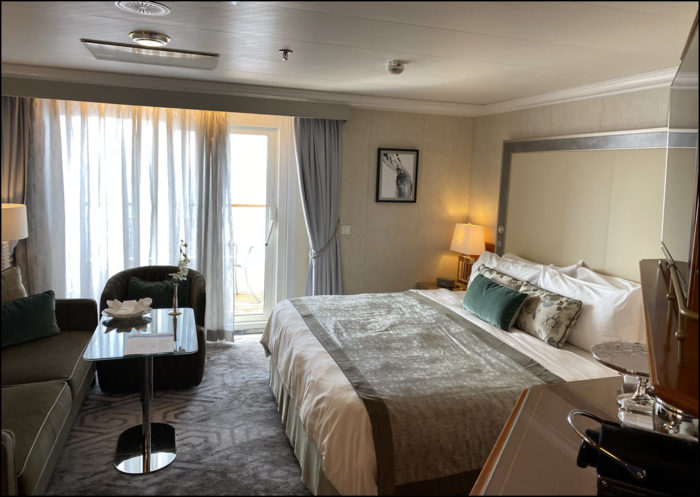 What's to Do?
A variety of programming was offered on sea days, with usually two to three options in each spot from about 10 a.m. to 1 p.m., and a lighter schedule through until dinner time.  Offerings ranged from lecture series to computer and media classes; my husband really enjoyed the continuing series of golf lessons offered twice a day by a golf professional. Standards such as bingo and trivia were mixed in here and there, but not offered continuously as they are on some lines. Fitness events included yoga and table tennis sessions. I found the pacing to be really nice, giving a rhythm to the day that made it easy to find unstructured time for relaxation.  If your usual cruise experience is to move from activity to activity to fill up your time, you might feel that the schedule is a little thin.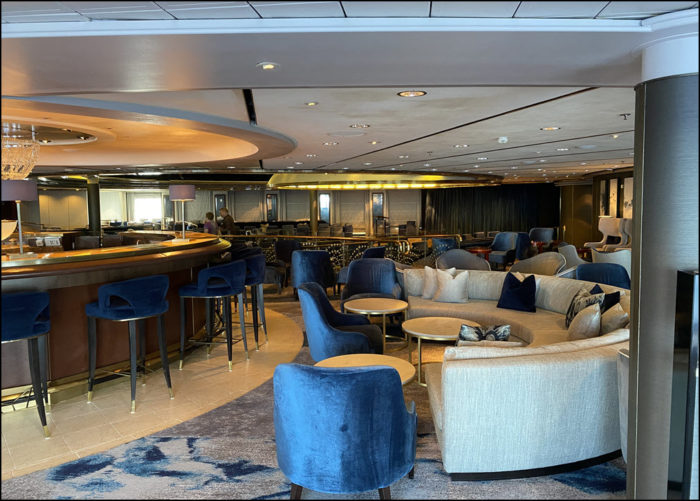 Live music is heavily featured in the evening entertainment, with acts ranging from piano bar to cabaret to musical revue in 3-4 different locations every night.  We enjoyed excellent performances from the ship's show band, dance ensemble, and featured vocalists.  We somehow managed to miss the Crystal Magicians, but they were highly recommended by other passengers.
In addition to daily programming, the ship has a spa, a fitness center, a library, a casino, and several bar and lounge areas that are open throughout the day.
What's for Kids?
Our sailing had no children under 18 aboard; this was a result of both the time of year and the vaccination requirement for passengers.  However, Crystal is routinely cited as one of the best luxury lines for cruising with kids.

Both the Symphony and Serenity (the Symphony's not-quite-a-sister ship) have dedicated kids club areas, and during holiday and summer sailings maintain a Junior Activity staff to keep kids entertained. In-stateroom babysitting is available on all sailings. You should be aware that the max occupancy of the Symphony's cabins is 3, so if you're bringing more than one little one you'll need to arrange either connecting or adjoining staterooms.
Junior Activity Programming and in-room babysitting are currently suspended due to COVID, but when they return I would expect that they are the same high quality offering we experienced overall on this line.
How About COVID?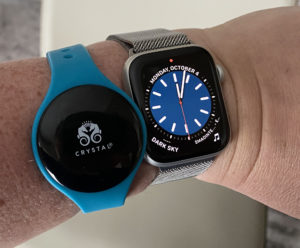 Per Crystal's policy, all eligible passengers must be fully vaccinated. In addition, a rapid antigen test was administered prior to boarding.  (Depending on destination, additional test requirements may apply.)  Contact tracing wristbands were given to each passenger to be worn whenever we were outside of our staterooms; these were also worn by the crew.
Hand sanitizer and temperature checks were standard when entering any dining venue, and buffet-style offerings in the Marketplace and Bistro were not self-service, with crew members serving instead. In public locations masks were required for crew but optional for passengers. Most passengers did not wear masks except in more crowded settings and the number of masks we saw dropped off as the days of the cruise passed by.
On our cruise onboard PCR tests were part of Bermuda entry requirements and were carried out with little fuss on the second day.  It was made clear when we booked the cruise that should any passengers test positive or be deemed close contacts they would be required to quarantine until the next port and potentially to fly home from there without continuing on the cruise.  Travel insurance that covers COVID-related outcomes was a requirement of booking.
So What Wasn't Good?
Only one thing leaps instantly to mind, but that thing is: the internet.  Unlimited WiFi internet was included, and the service was a little slow but otherwise fine in port.  Sea days were a different story, with very noticeable lag and web pages taking minutes to fully load.  Messaging apps such as Facebook Messenger and Slack were quite usable, and I was able to upload pictures here and there without a problem.  My NYT daily crossword streak also survived the trip.  But if you're accustomed to scrolling through social media and quickly clicking through to read articles, or keeping up with daily activities in online games, you may be frustrated.
Runner up: it's true that I missed a lot of movies in 2020, but I'm not sure I would have heard of the movies in the Hollywood Theater lineup even in a normal year.  If you're used to the headliners shown on Disney's ships, you may be disappointed.
The Overall Experience
Crystal is a luxury line and normally maintains a high crew to passenger ratio. Our sailing had about 155 passengers on a boat with a max capacity of 848; at only 20% occupancy, we definitely felt pampered.  One thing I haven't mentioned yet is that Crystal's fares are all-inclusive, with gratuities, internet, and drinks including alcohol and soda covered by the cruise fare. They're serious about this: on the last night of the cruise there was no envelope at our stateroom door in case we wanted to leave a little something extra, and we had to make an unprompted journey to the reception desk to leave a tip for our amazing head waiter.
The inclusions really made the cruise feel special in a number of ways that you might have to experience to appreciate.  It was lovely not to be signing a slip every time you ordered a drink on deck or with a meal.  In fact, we had onboard credit through our travel agent and somewhere around the third day it occurred to us that we were going to have to make an effort to use it because it wasn't just going to magically disappear in a flurry of little drink slips.  (Never fear, we put it to good use at the Spa.)  The ship felt comfortable, and one thing we loved was the way the space was utilized, with plentiful small lounge areas if you wanted to be out of your cabin but not lost in a sea of lounge chairs.

Between the food, the service, and the entertainment, there were moments when we felt – and I know this sounds corny – like we had stepped into a James Bond film.  Not the parts with the car chases of course, but the parts where he goes to swanky places, drops into happening nighttime hotspots, and orders martinis: shaken, not stirred?  That was us, and it was really fun.  I'd do it again in a heartbeat.
Want to Try It?
The Symphony continues to sail 7-day voyages to Bermuda out of New York City through mid-November, when she moves to Miami to offer 7 and 21-day Caribbean itineraries through March before heading off to segments in Europe and the Mediterranean.  Crystal's other ocean cruise ship is the Serenity; she's slightly larger but configured with the same venues, and is cruising out of Miami through the end of January.  Both ships currently have fares that are surprisingly comparable to Disney and Royal Caribbean sailings, and if you'd like to give this luxury experience a try, a TouringPlans Travel Agent can hook you up.
Have you ever sailed on Crystal?  What was your experience like?  Let us know in the comments!