Aloha Isle – A Tropical Hideway
If you didn't get a Dole Whip at Walt Disney World, did you even go?
A Dole Whip is a cult-classic treat at Walt Disney World with an ever-expanding menu of flavors and even lines of merchandise! And while there are a number of locations to satisfy a Dole Whip craving at Walt Disney World these days, the OG home of the Dole Whip is Adventureland's Aloha Isle at the Magic Kingdom.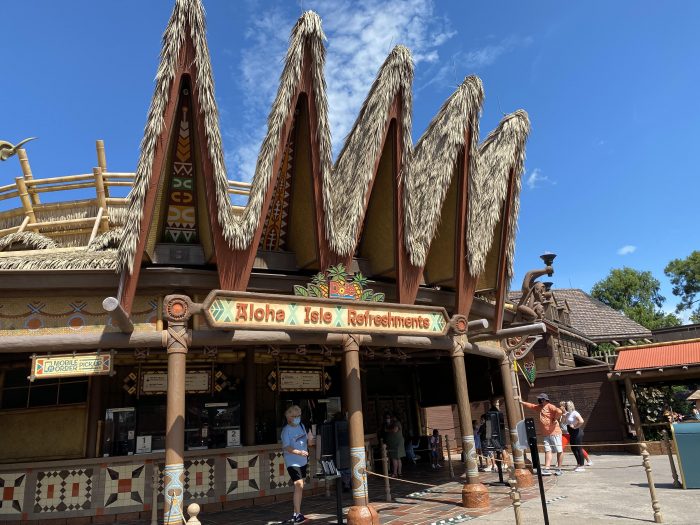 Aloha Isle sits behind the Magic Carpets of Aladdin and next to Walt Disney's Enchanted Tiki Room in Adventureland. And while its menu varies throughout the year, you can also count on the classic Pineapple Dole Whip or the Pineapple Float (choose your fighter!).
If you consider Dole Whip as a perfectly accessible breakfast or brunch item (no judgment), you can indulge as early as 10:00 a.m. up to park closing at this partially covered, thatched roof stand that blends into the design of Walt Disney's Enchanted Tiki Room.
However, Aloha Isle didn't always occupy this corner of Adventureland. In fact, it was originally located where Sunshine Tree Terrace is today. But due to its popularity, the locations switched places to accommodate more Dole Whip fans with its multiple registers.
And while the additional space has helped, expect crowds and long lines up from the onset of lunch up to an hour or so before park closure.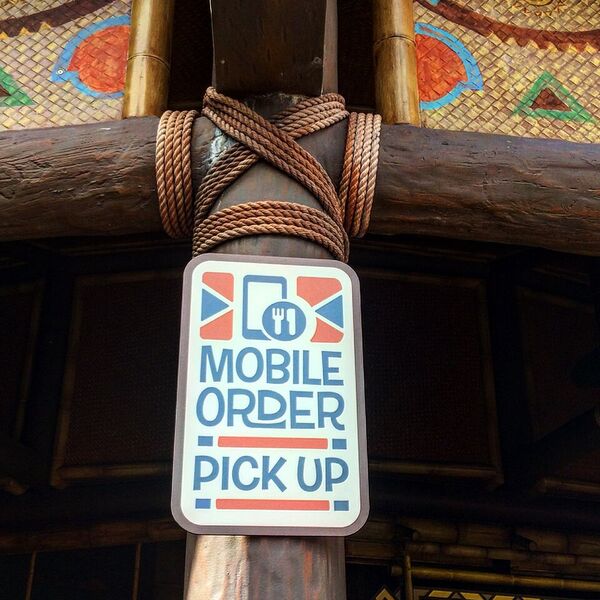 Now Aloha Isle does offer Mobile Order, but be aware that your tropical treat isn't prepared until the app informs you that your order is ready. Currently, Cast Members require guests who utilized Mobile Order and have received their phone notification to wait on social distancing markers until it's their turn at the counter.
Of course, this means clusters of guests waiting to be notified hover near the line.
So you've got your Dole Whip, and it's quickly melting down your hand in the Florida heat. Where do you go?
At times, there are tables and seating to the right of Aloha Isle near the breezeway to Frontierland. But that's not always the case these days due to COVID-19. Head on into Frontierland for seating or deeper into Adventureland for a table at Tortuga Tavern or the little alcove to the left before you reach the Pirates of the Caribbean show building.
Now let's get to the menu, shall we?
Kakamora Float – $6.99


Coconut soft-serve in a cup of fresh pineapple juice along with Blue Curacao syrup and topped with a chocolate Kakamora cake pop from Moana! It's also available with a souvenir Tiki Sipper for $11.99.

Pineapple Float – $5.99

Pineapple DOLE Whip served in a cup of fresh pineapple juice. You can also enjoy just vanilla or pineapple and vanilla swirled in pineapple juice.

Raspberry Swirl Float – $5.99

Raspberry and Pineapple swirled in a cup of fresh pineapple juice.

Coconut Cup – $4.99

Coconut Dole Whip or Coconut and Pineapple Dole Whip swirled!.

Pineapple Dole Whip Cup – $4.99

Pineapple Dole Whip, Vanilla Dole Whip, or both swirled together.

Raspberry Swirl Cup – $4.99

Raspberry and Pineapple Dole Whip swirled together.
Pineapple Float with Tiki Sipper – $10.99

Pineapple Dole Whip or Vanilla Dole Whip or both flavors swirled together in a cup of pineapple juice and served in a souvenir Tiki Sipper.

Dole Whip Pineapple Juice – $3.99
Dasani Bottled Water – $3.50
Hot Cocoa – $3.29
Is Aloha Isle a must-do destination during your day at the Magic Kingdom? Which flavor of Dole Whip is your fave? Let us know in the comments! 
First published May 4, 2021. Updated October 14, 2021.