REVIEW: Love It or Hate It, Disneyland's Pizza Planet Has Reopened
Alien Pizza Planet is a quick service restaurant in Tomorrowland at Disneyland in Anaheim, California. This eatery, which is themed after Pizza Planet in the original Toy Story film, has been closed since March, 2020. In this post we'll review a couple of the entrees and see what, if anything, has changed since the location reopened in late June.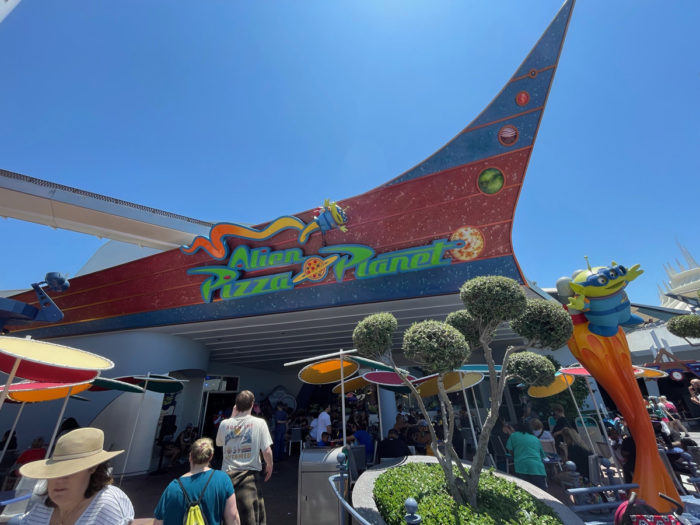 Outside the restaurant you'll find that familiar font from its appearance in Toy Story. Other than that there's not many other visual similarities from how it appeared in the movie.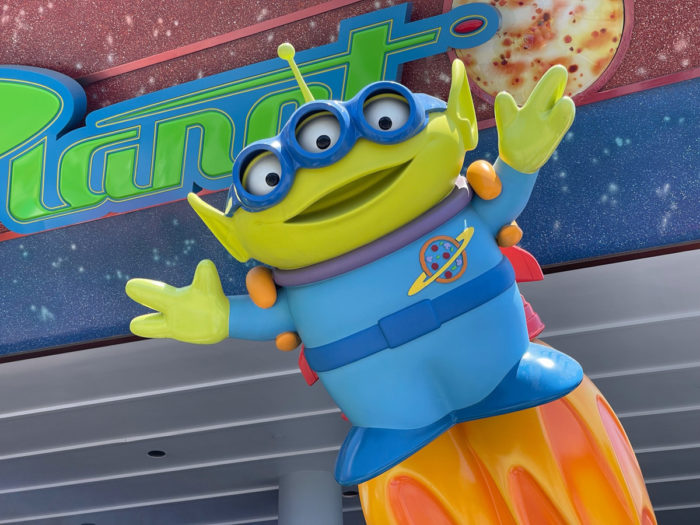 Figures of those lovable Little Green Men are stationed out front.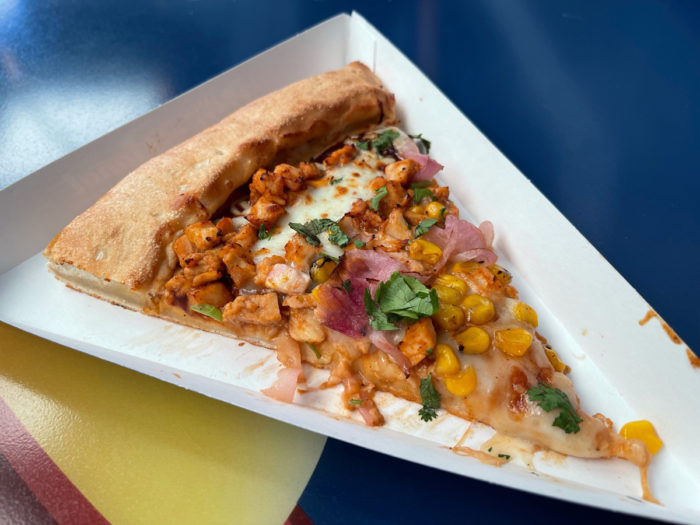 Here's a look at a slice of the BBQ Chicken Pizza, which is topped with Diced Chicken Breast, Red Onions, BBQ Sauce, Roasted Corn, and Cilantro.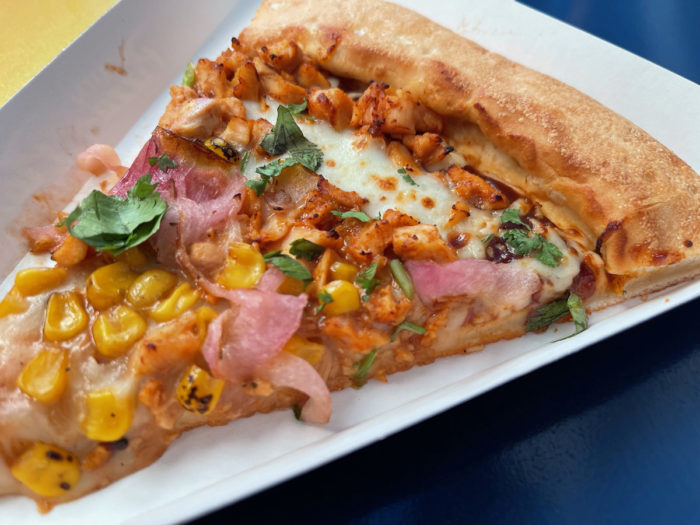 Here's a closer look. A positive is that they don't skimp on the toppings. It's a totally fine, yet unremarkable slice of pie. If you want an idea of how it tastes, imagine a generic pizza place you'd see in an airport. "Any pizza is good pizza," you say to yourself as you spend way too much on something you know will be just good enough to not make you completely hate life. Then to your surprise it ends up being decent. That's this pizza. A single slice will cost you $8.99, while a whole 16" pizza will set you back $43.99 (that's not a typo). There's also pepperoni or plain cheese pizza available.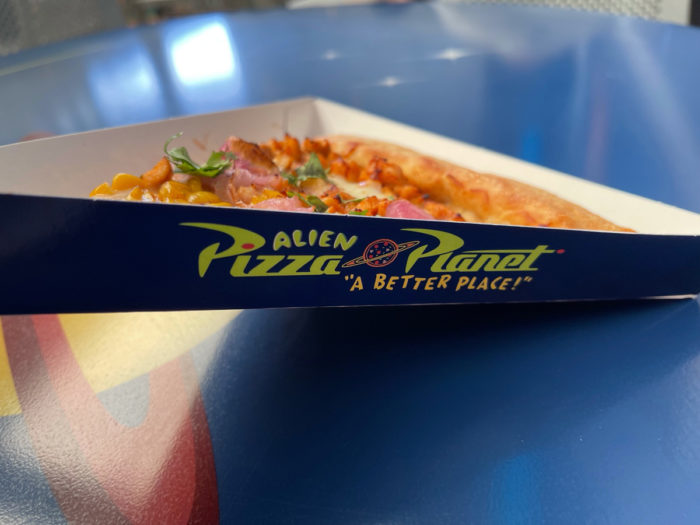 Alien Pizza Planet does have themed pizza trays. If I was rating it this alone would raise the restaurant a full letter grade.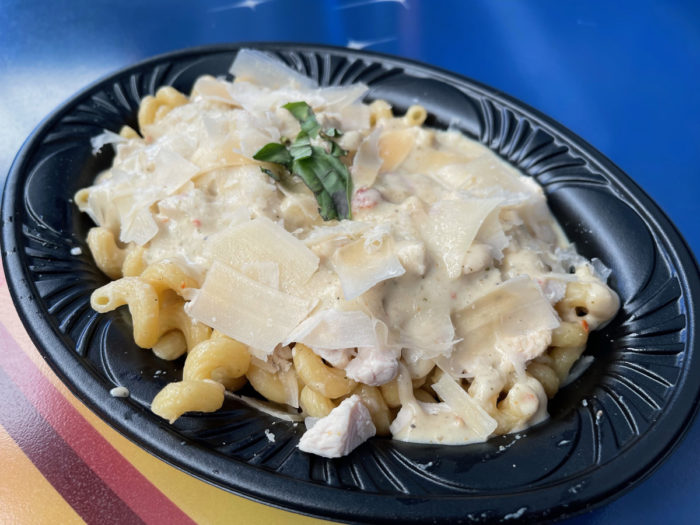 If you're not in the mood for pizza, Alien Pizza Planet has a couple of pasta dishes as well. Here's the Count Down Chicken Fusilli. This dish is made up of Fusilli Pasta topped with Seasoned Grilled Chicken, a Parmesan-Pesto Cream Sauce with Sun-dried Tomatoes and Shaved Parmesan Cheese.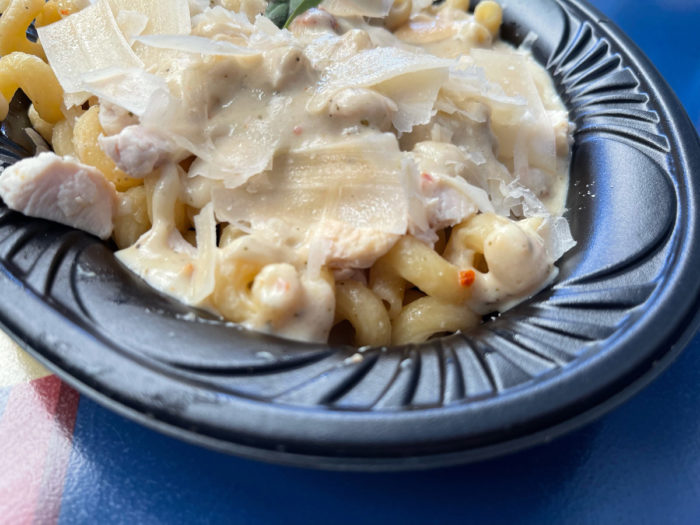 Like the pizza, the Count Down Chicken Fusilli another decent dish. Nothing about it stands out, but it's also not the worst thing in the world. I will say that I can not imagine eating this on a hot day. Eating a huge plate full of pasta drenched in thick and heavy cream sauce and a mountain of cheese while walking around a hot and busy theme park sounds like it should be a punishment for some low-level crime.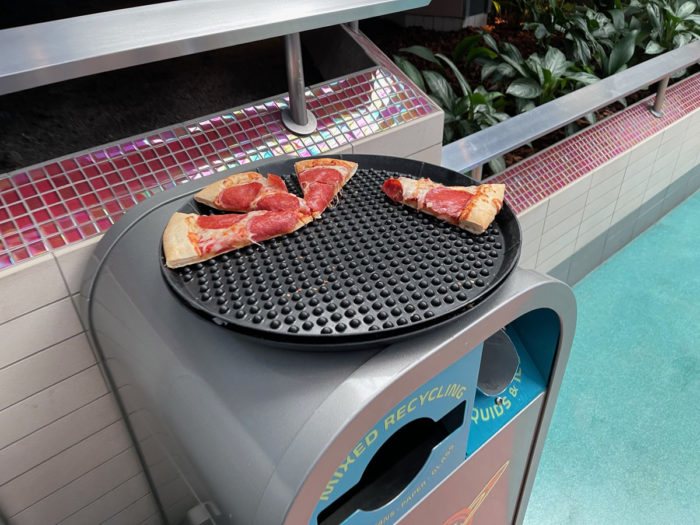 On my way out I saw that someone left $33.96 worth of uneaten pizza slices on top of a recycling bin.
Now you know what to expect about Alien Pizza Planet at Disneyland. Are you a fan of this location? Do you feel the same way I do? Let me know in the comments.